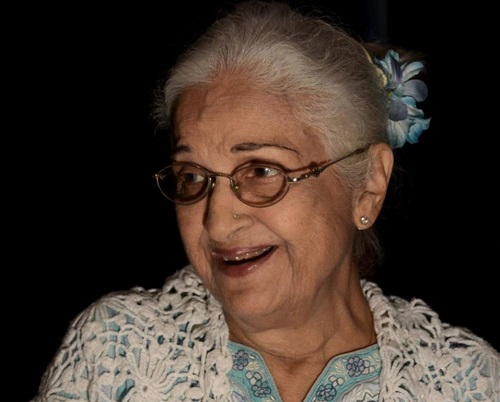 Kamini Kaushal is a veteran Indian actress and film producer who is known for appearing in the Hindi films 'Neecha Nagar' (1946) and 'Biraj Bahu' (1954).
Wiki/Biography
According to some sources, Kamini Kaushal was born as Uma Kashyap [1]Outlook India was born on Thursday, 24 February 1927 whereas according to some other sources, she was born on Sunday, 16 January 1927 [2]YouTube – Sansad TV (age 96 years; as of 2023) in Lahore, Punjab Province, British India (now Punjab, Pakistan). According to source 1, her zodiac sign is Pisces, and according to source 2, her zodiac sign is Capricorn. She pursued a BA (honours) in English Literature at Kinnaird College for Women, Lahore. [3]Filmfare At the age of 7, she appeared in the Hindi film 'The Tragedy,' which was directed by her brother.
Physical Appearance
Height (approx.): 5′ 6″
Hair Colour: Grey
Eye Colour: Brown
Family
She belongs to a Punjabi family. [4]Rediff
Parents & Siblings
Her father, Prof. Shiv Ram Kashyap, was a professor of Botany at the University of Punjab in Lahore. He is also considered the father of Indian Botany, and he discovered six species of plants. When Kamini was nine years old, her father passed away. She has two elder brothers named Amar Nath Kashyap and Kedarnath Kashyap and two elder sisters named Usha Kahyap and Pushpa Kashyap. Amar was an assistant commandant at the Royal Bombay Engineers Group.
Husband & Children
In 1948, after her elder sister Usha died in a car accident, Kamini got married to her brother-in-law Braham S Sood, who worked as a chief engineer at Bombay Port Trust. From her elder sister, she has two daughters named Kumkum Somani and Kavita Sahni. Kumkum is an author and Kavita is an artist. Kamini and BS Sood have three sons together named Rahul Sood (filmmaker), Vidur Sood (owner at VideoVid Productions), and Shravan Sood (businessman).
Relationships/Affairs
In the 2019 book 'Dilip Kumar: Peerless Icon Inspiring Generations,' it was reported that Kamini was the first love of the veteran Indian actor Dilip Kumar. However, Dilip did not confess his love for Kamini in public. Kamini's brother was against their relationship as Kamini was a married woman, and he did not approve of her extramarital affair with Dilip. According to some sources, Kamini's brother was so upset with their affair that he shot himself. Reportedly, after this shocking incident, Dilip and Kamini ended their relationship. [5]The Times of India In an interview, while talking about Kamini, Dilip said,
She (Kamini) was the only one with whom I achieved total identification. I think everybody falls in love only once. 'Again' – if there is an 'again' – is merely an imitation of the brilliant flame, the blinding light, the days of trance, the nights of impatience and waiting, and days of such happiness that one cannot believe they will last."
Autograph
Career
Radio
At the age of 9, she started working for the radio play 'Uma' in Lahore. While she was studying in college, she did a radio play for Akashwani. The Indian filmmaker Chetan Anand once heard her on the radio show and offered her a role in the Hindi film 'Neecha Nagar' (1946).
Film
In 1946, she made her debut as an actress with the Hindi film 'Neecha Nagar' in which she played the role of Roopa.
She played lead roles in many popular Hindi films like 'Nadiya Ke Paar' (1948), 'Ziddi' (1948), 'Bade Sarkar' (1957), 'Jailor' (1958), 'Night Club' (1958), and 'Godaan' (1963).
Kamini, along with the Indian actor Rajesh Khanna, was paired in three Hindi films 'Do Raaste' (1969), 'Prem Nagar' (1974), and 'Maha Chor' (1976).
She did eight films with the Indian actor Manoj Kumar. Some of such films are 'Upkar' (1967), 'Purab Aur Paschim' (1970), 'Roti Kapda Aur Makaan' (1974), 'Sanyasi' (1975), and 'Santosh' (1989).
She has also played supporting roles in Hindi films like 'Chennai Express' (2013) and 'Kabir Singh' (2019).
TV
In 1984, Kamini acted in the British TV serial 'The Jewel in the Crown,' in which she played the role of Aunt Shalini. The TV serial was aired on BBC.
From 1989 to 1991, she did a puppet show for children 'Chand Sitare,' which was aired on Doordarshan.
She has acted in a few other Hindi TV serials like 'Waqt Ki Raftar' (1999; DD National) and 'Shanno Ki Shaadi' (2005; Star Plus).
Other Work
Kamini has also worked as a story writer for the children's magazine 'Paraag' in which she introduced characters like Bunty, Chotabhai, and Motabhai, which were loosely based on her son and his cousins. In 1986, Kaushal made an animation film 'Meri Pari.' She has been featured in the print advertisements of various brands like Lux Soap and Surf.
Kamini has started a film production company named Gudia Ghar Productions, and under her banner, she has produced various puppet shows. In 1953, she produced the Hindi film 'Chalis Baba Ek Chor.' She has worked as a playback singer in the Hindi film 'Gyaniji' (1977).
Awards
1947: Montreal Film Festival Award for her performance in the Hindi film Neecha Nagar
1955: Filmfare Award for Best Actress for the Hindi film Biraj Bahu
1964: BFJA Award for Best Supporting Actress for the Hindi film Shaheed
2011: Lifetime Achievement Award by Kalakar Awards
2013: Kalpana Chawla Excellence Award
2015: Filmfare Lifetime Achievement Award
2015: BBC's 100 Women Award
2020: Screen Award for Best Supporting Actress for the Hindi film Kabir Singh
Favourites
Facts/Trivia
In an interview, Kamini shared that in her teens, she never had time to get into a romantic relationship. She said in her younger days she was busy doing various sports like swimming, horse riding, cycling, and skating. Even in her old age, she enjoys swimming.
While she was in school and college, she participated in various theatre plays. However, she was never interested in making her career as an actor. In an interview, she shared that once while she was participating in a theatre play in college, the Indian actors Ashok Kumar and Leela Chitins were invited as the chief guests. She said,


We were to perform for the war relief fund in college. Ashok Kumar and Leela Chitins were the chief guests. After the show we went to meet him. I thought of having some fun. As he stood talking to the students, I pulled his hair from behind."
In 1950, after her marriage, she lived in a manor-type house "Gateside" in Mazagaon, which was allotted to her husband.
She is an avid animal lover. In her younger days, she used to own a monkey, a goat, 50 rabbits, a squirrel, and a few pet dogs. She also owns a pet cat named Minnie Mow.
Kamini is a trained Bharatnatyam dancer. She did her training in Bharatnatyam under her guru K. Mahalingam Pillai at Mumbai's Sri Rajarajeswari Bharata Natya Kala Mandir.
The Indian film director Chetan Anand gave her the name Kamini. [6]

Filmfare In an interview, while talking about it, Kamini said,


Chetan's wife Uma Anand was also part of the film. My name also being Uma, he wanted a different name for me. I asked him to give me a name beginning with 'K' to match with the names of my daughters Kumkum and Kavita."
On 7 March 1952, she became the first Indian actress to be featured as a Filmfare magazine cover girl. [7]

YouTube – Shemaroo
Kamini was one of the Indian actresses who got an opportunity to organise events in the presence of former Indian Prime Minister Indira Gandhi.
She is the first Indian heroine in the lead role for whom the legendary Indian singer Lata Mangeshkar lent her voice in the Hindi film 'Ziddi' (1948). [8]

Rediff
Kamini's trademark style is putting a flower in her hair.
Her son once shared that Kamini was one of the most down-to-earth Indian actresses. In her younger days, she used to do the household work on her own including mopping the floor.