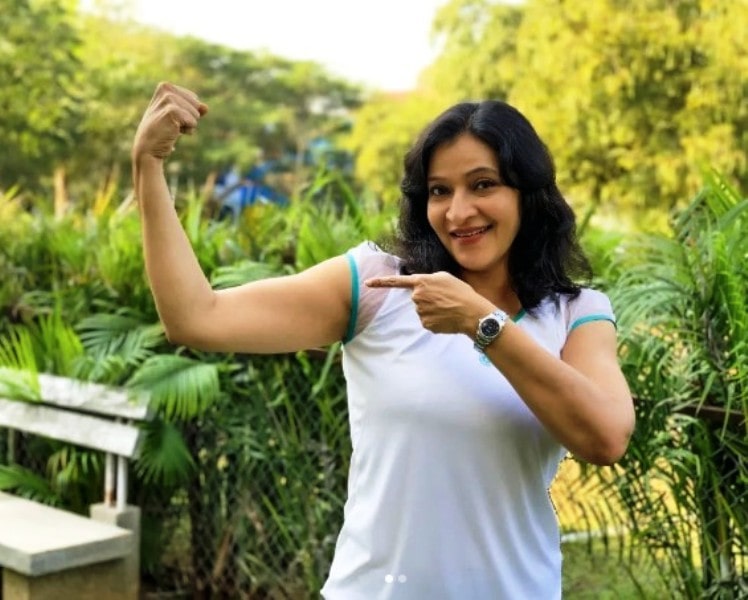 Manjula Ghattamaneni is an Indian entrepreneur, director, producer, and actor, who has worked predominately in the Telugu film industry. She is the elder sister of Tollywood superstar Mahesh Babu and the daughter of actor Krishna, who died on 15 November 2022 while undergoing treatment in Hyderabad after he suffered a cardiac arrest. [1]NDTV
Wiki/Biography
Manjula Ghattamaneni was born on Sunday, 8 November 1970 (age 52 years; as of 2022) in Madras (now Chennai), Tamil Nadu, India. She holds a graduate degree. [2]Manjula Ghattamaneni's official website
Physical Appearance
Height (approx.): 5′ 5″
Hair Colour: Salt and Pepper
Eye Colour: Dark Brown
Family
Parents & Siblings
Her father, Ghattamaneni Siva Rama Krishna Murthy (aka Krishna), was an actor, who died on 15 November 2022. Her mother, Indira Devi, was a homemaker. She died in Hyderabad on 28 September 2022 at the age of 70.
She has 2 brothers and 2 sisters. Her elder brother Ramesh Babu was an actor who died on 8 January 2022.
Her younger brother Mahesh Babu is a well-known South Indian actor.
Her elder sister Padmavathi Ghattamaneni is a film producer.
Her younger sister's name is Priyadarshini Ghattamaneni.
Husband & Children
Her husband, Sanjay Swaroop, is an actor and producer. She got married to him in 1999. Her daughter's name is Jhanavi Swaroop.
Other Relatives
Her stepmother, Vijaya Nirmala, was an actress, who died after suffering a cardiac arrest on 26 June 2019. Her elder stepbrother, Vijaya Krishna Naresh, is an actor, politician, and social activist.
Relationships/Affairs
Before getting married to Sanjay Swaroop in 1990, Manjula was in a relationship with him. According to Manjula, initially, her parents were completely against their marriage as Sanjay was from a different caste. It took Manjula seven years to convince her parents to allow them to get married. While talking about it, she said,
My dad and the rest of the family were against our love as Sanjay, and I are from different castes. It took me seven years to convince my family, and with the blessings of our families, we are married. Sanjay is my best friend, my soul mate, and my perfect partner."
Religion
Manjula Ghattamaneni follows Hinduism.
Caste
Manjula Ghattamaneni belongs to a traditional Chowdhary family of the Kamma caste. [3]The News Minute
Career
Assistant Director
After completing her graduation, Manjula Ghattamaneni began her career in the Telugu film industry as an Assistant Director. She helped her father, Krishna, in directing several Telugu films like Balachandrudu and Anna Thammudu, which were released in 1990.
Actor
While assisting her father, Manjula expressed her desire of becoming an actress; however, her father did not agree with her demands as acting wasn't considered a reputable career choice for women during those days. Talking about it, she said,
My interest in acting became a strong desire now. Gathering all my guts, I broke the news to my dad and family that I want to be an actress. They told me firmly that under no circumstances can this happen. So, I continued my journey as an assistant director."
Later, Manjula Ghattamaneni presented her portfolio to her father and once again expressed her desire of pursuing a career in acting. After Manjula managed to convince her father to allow her to pursue an acting career, Krishna announced that he would launch Manjula as an actor in one of his films. The announcement, however, met with severe criticism from Krishna's fans and followers as a result of which he had to withdraw his announcement. Later, Manjula moved to Bombay, where she tried to circulate her photographs in several ad agencies with the help of a friend. Krishna later announced that he would launch Manjula in a film as an actress. He once again had to discard his plans after the announcement met with a severe public backlash. Talking about it, Manjula said,
Realizing how much it meant to me to be an actress, once again, my dad planned my movie career as an actress. He set up a great project and made an announcement again that I was going to be acting. The minute the news was out, thousands of my dad's fans came to his studio with black clothes and kerosene bottles, saying that they were going to burn themselves if he did not take back the announcement he made about me. Padmalaya studio was filled with fans staging a dharna. My dad had no choice but to take back the announcement."
Before making her acting debut in 1998 with the Malayalam film Summer in Bethlehem as Aparna, Manjula was offered a role in a Telugu film; however, she once again had to shelve her acting project as her brother Mahesh Babu was about to venture into the film industry.
Manjula made her debut in the Tamil film industry after she landed the role of a terrorist named Shabana in the 1999 film Rajasthan. The film was partially shot in Telugu.
Manjula made her Tollywood debut with the 2002 film Show as Ridhima. In 2001, the film received National Film Award for being the Best Feature Film.
Manjula played the role of a character named Pooja in the 2009 Telugu film Kavya's Diary. Manjula acted alongside Ram Charan in the 2010 Telugu film Orange in which she played the role of Ram's sister. Manjula was seen playing the role of a character named Manjula in the 2013 vigilante Telugu film Sevakudu. Manjula played the role of Dr Mitra, a therapist, in Malli Modalaindi, a Telugu film released in 2021.
Producer
Manjula Ghattamaneni made her debut as a producer in the Telugu film industry in 1990 with the film Balachandrudu.
Manjula also produced Show, which is her debut Telugu film as an actor. The film won a National Film Award for Best Feature Film in 2001. Manjula produced the 2004 Telugu film Naani, which featured Mahesh Babu and Ameesha Patel in the lead role. The film did not perform well at the box office and was a flop. Talking about the film, Manjula said,
I put a project together with the powerhouse of the best talents onboard- Mahesh Babu, AR Rahman, Ameesha Patel, and S J Surya. I didn't imagine even in my wildest dreams that this movie would be a flop. So when it flopped, it hurt me. Failure hurts badly."
Manjula co-produced Pokiri, a 2006 Telugu film, which won the Nandi Award for Best Popular Feature Film in 2006.
Manjula, along with her husband, Sanjay Swaroop, co-produced Kavya's Diary, which was a Telugu film that was released in 2009. Manjula co-produced the 2010 Telugu romantic drama film Ye Maaya Chesave.
In 2019, Manjula made an announcement in which she said that she will produce a Telugu web series titled Nasha, featuring Hansika Motwani. In the series, Manjula will be playing an important role as well.
Director
Manjula Ghattamaneni made her debut as a director in the Telugu film industry with the 2018 romantic drama film Manasuku Nachindi. The film did not perform well at the box office.
Entrepreneur
Manjula Ghattamaneni is also a businesswoman, who sells organic products to her customers through her official website. The name of her company is Sow Fresh.
Awards
In 2001, for the Telugu film Show, Manjula Ghattamaneni received Nandi Special Jury Award for Best Producer.
In the same year, Manjula Ghattamaneni won the 49th National Film Awards for the Telugu film Show. The award was given to her by President APJ Abdul Kalam.
Facts/Trivia
During an interview, Manjula said that she began practising yoga and meditation after suffering from depression as she was unable to pursue a career in acting. While talking about her depression, Manjula said,


I had a dream of becoming an actor. Fans didn't want me to act as they respected my dad so much that they couldn't accept his daughter to be romancing and running around trees with other heroes. Not just the fans but also the rest of my family, relatives, and society – no one could accept me becoming an actress. I felt victimized and could not accept it. The idea of giving up acting was so depressing that I just couldn't cope up. I hit the rock bottom of my life. I lost all confidence as a person. I thought I was useless, a failure. I struggled to get out of bed every morning. I could not do even small things. To overcome this, I read books, attended transformational classes. They helped me to some extent but could not give me all the answers. One night, just out of sheer frustration, I started praying. As I started meditating regularly, I understood my belief about acting was contradictory to what I wanted. I want to be an actress, but somewhere I had this incorrect belief that it was not respectable for girls to act. For the first time in my life, I became aware of it. The minute I realized this belief in me, I gradually started changing my belief to – "it is okay for women to be in the movies."

She also said that she had completed more than 10,000 hours of yoga and meditation as she had been practising yoga and meditation for the last 30 years. Talking about it, during an interview, Manjula said,

I have invested over 30 years of my life in self development. On this journey of self development, I met many Masters and teachers who taught me great truths about life. I meditated for 20 years and also have completed more than 10,000 hours of meditation."
Manjula is an animal lover. She has a pet dog named Snowy.
Manjula Ghattamaneni follows a non-vegetarian diet.