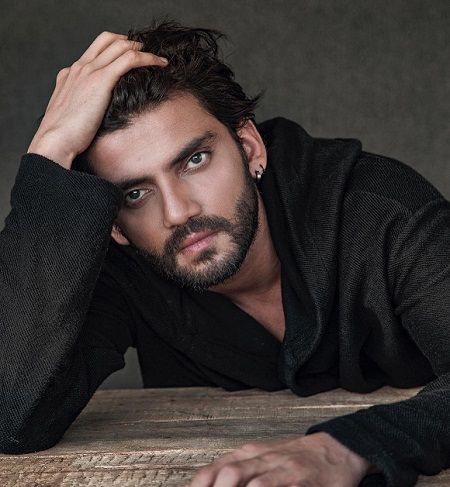 Zaheer Iqbal Ratnasi is an Indian actor and an established businessman. He came into the spotlight after playing the role of Kabir in the Bollywood film "Notebook."
Wiki/Biography
Zaheer Iqbal was born as Zaheer Iqbal Ratansi on Saturday, 10 December 1988 (age 33 years; as in 2021) in Mumbai, Maharashtra. His zodiac sign is Sagittarius. Zaheer Iqbal completed his schooling at Bombay Scottish School, Mumbai, where Bollywood actor Ranbir Kapoor was his senior.
Physical Appearance
Height (approx.): 5' 10"
Weight (approx.): 80 kg
Hair Colour: Brown
Eye Colour: Hazel Green
Body Measurements (approx.): Chest 42″, Waist 32″, Biceps 16″
Family
Zaheer belongs to an upper-class business family. [1]Asianet Newsable
Parents & Siblings
His father, Iqbal Ratnasi, is a jeweller and builder.
Not much is known about his mother's name or profession.
He has an elder sister, Sanam Ratnasi, who is associated with the Indian film industry as a Celebrity Stylist.
He has one younger brother, Mohammad Ladha, who is a Computer and Information Sciences graduate from Auckland University of Technology.
Wife
Zaheer Iqbal Ratnasi is unmarried.
Affairs
Zaheer Iqbal was rumoured to be dating the actress Deeksha Seth.
Later, various sources reported that he was dating the Bollywood actress Sana Saeed.
In June 2022, Zaheer Ratnasi, through his Instagram account revealed that he was in a relationship with the Bollywood actress Sonakshi Sinha.
Religion
Zaheer Iqbal Ratnasi follows Islam. [2]India Today
Career
Family construction business
After completing his graduation, Zaheer Iqbal started to work with his father, Iqbal Ratnasi, in their family-owned construction business. In an interview, he claimed,
Before making an entry into the film industry, I was looking after my father's construction business. I still am today. Whenever I am at a construction site with my father, I toy around in the bulldozers and trucks. These are massive pieces of machinery, which I like to play with."
During Zaheer's elder sister's wedding ceremony, Salman Khan asked Zaheer if he would like to work with him in the film industry. While giving an interview, Zaheer said,
Salman Bhai and I were at Sanam's marriage ceremony, where he saw me dancing. Earlier he had to go to Rajasthan for some urgent work, but due to some issue or the other, his departure got delayed. So, he decided to come to my sister's wedding instead. He joined me on the stage and we both danced for almost an hour, non stop. A few minutes after our dance, Salman bhai approached me and asked, What are you upto nowadays? To which I replied, not much. He then, while hugging me, told me that I could become a great actor and asked me to drop everything that I was doing, at that time, and join him in the film industry."
Since Zaheer did not come from a family with an acting background, he, for two to three years, worked as an assistant to Salman Khan. While working as an assistant, Zaheer gained knowledge about acting, which was beneficial for his acting career. In an interview, Zaheer said,
For two or maybe three years, I used to go to Salman Bhai's shoots. There he would often practice his dialogues and dance steps with me. He, at first, would ask me to deliver the dialogues and then corrected me, whenever I made a mistake, which improved my dialogue delivery in the films."
To improve his acting skills, Zaheer attended numerous acting and dancing workshops. He was even asked by Salman Khan to join a Martial Arts training institute. During an interview, Zaheer stated,
I was very impatient and often asked Salman Bhai when I would be given my chance in the films. He told me that I wasn't ready yet, and asked me to attend tons of acting and dancing workshops. He even asked me to undertake martial arts training."
As an assistant, Zaheer had to go through the scripts, that were presented to Salman Khan. The reason why Salman made him read the scripts was to make him understand the concept behind a film's story, which would aid Zaheer in choosing films that are more beneficial for him. In an interview, he stated,
I used to read scripts with Salman Bhai. I read the scripts for almost 6 years. Salman Bhai made me read those scripts so that I can achieve a better understanding of the scripts and choose movies accordingly in the future."
Apart from being an assistant to Salman, Zaheer also worked in the film industry as an Assistant Director.
In 2014, he worked with Salman's younger brother, Sohail Khan, and assisted him in directing a film titled "Jai Ho."
Actor
In 2019, Zaheer Iqbal made his acting debut with the critically acclaimed Bollywood film, "Notebook." In the film, he played the role of Kabir, opposite Pranutan Bahl, who is Mohnish Bahl's daughter.
In 2021, Zaheer Iqbal was offered a role in the film "Double XL." The film has Huma Qureshi and Sonakshi Sinha in lead roles. It was reported that in 2022, Zaheer Iqbal walked out of a role offered to him in Salman Khan's film, "Kabhi Eid Kabhi Diwali." [3]The Times of India
Awards
In 2020, Zaheer Iqbal Ratnasi was awarded the Lions Gold Award. The award was presented to him under the category of "Path Breaking Debutant of The Year" by Lions Club.
Bike Collection
Zaheer Iqbal Ratnasi owns a Ducati.
Zaheer Iqbal Ratnasi owns a Royal Enfield.
Car Collection
Zaheer Iqbal Ratnasi owns a BMW 5 Series 530d.
Favourites
Film(s): Andaz Apna Apna, Hum Tum, Jaane Kahan Se Aayi Hai
Travel Destinations(s): United Kingdom, Maldives
Book: Many Lives, Many Masters by Brian Weiss
Bodybuilder: Dennis James
Mobile Application: CSR Racing
Restaurant(s): Bhaijaanz, Drop
Facts/Trivia
Zaheer Iqbal is a fitness enthusiast. He resorts to various methods for maintaining his physical fitness, such as riding a bicycle. While giving an interview, he said,


When I broke two of my fingers, I could not exercise for two months, at all, and I began to feel more and more stressed out. It was at that time I realised how important it is to exercise regularly, even if it is for half an hour."
Zaheer Iqbal, regularly, participates in activities like swimming, marathon running, and cross-country cycling.
Zaheer Iqbal is fond of kids and he loves spending his time with them.
Zaheer Iqbal Ratnasi enjoys speed driving. In 2017,  he was fined for exceeding the speed limit on the Bandra–Worli Sea Link in Mumbai.
Zaheer Iqbal knows Salman Khan since Iqbal was a kid. Zaheer idolizes Salman Khan.
Zaheer Iqbal was a classmate of Arpita Khan in his school days, and Salman Khan often noticed Zaheer's performance during various events held at his school's annual function. According to Zaheer, Salman often referred to him as 'Hero.'
In 2016, Zaheer Iqbal, along with his friends, participated and won a 7 kilometres long obstacle challenge championship called Mud Rush.
Zaheer once stated that It was his childhood dream to become an actor in the film industry. In an interview, Zaheer revealed,


I wanted to be an actor and I was very crazy about it. I and my friends had even planned to make a movie, where I would be an actor while three other friends of mine would become producer, scriptwriter and director."
Zaheer Iqbal's nickname Zahero was given to him when he was a child by Salman Khan.
Zaheer Iqbal knows how to play the guitar. He began learning to play the guitar in 2020.
In 2019, Zaheer Iqbal was featured on the cover of a magazine titled Health & Nutrition.
Zaheer Iqbal likes cricket. He, in 2020, participated in the Celebrity Cricket League (CCL), a cricket tournament, which is held especially for Bollywood celebrities in Mumbai.
Salman Khan once told Zaheer Iqbal that he had borrowed Rs 2011 from his father, which Salman wanted to repay with interest by making Zaheer a Bollywood actor, worth Rs 200 Crore. Recalling the incident, Zaheer, in an interview, said,


I remember Salman Bhai saying, that he still owes 2011 Rupees to my father, a sum he had taken to take out his girlfriend. He once told me that he will repay the money to my father with interest by making me a 200 Crore star in Bollywood. That would be his interest in the Rs 2011, which he borrowed."
Zaheer Iqbal once stated that he not only wanted to work in Bollywood but would also would love to try his acting skills in the regional film industries as well. While giving an interview, he stated,


I am looking forward to working with the Tamil, Telugu, Punjabi and Gujarati film industries. I want to explore new options and opportunities. I am quite sure that my work in any of the regional cinema would make people fall in love with me as well as my skills."
Zaheer Iqbal is a die-hard fan of the renowned Bollywood actress Madhuri Dixit. In an interview, he claimed,


Madhuri Dixit is my most favourite actress. In fact, she is a lady, who is loved by our entire family. She is the love of my dad and my grandfather as well."
When Zaheer Iqbal was in school, he and his friends, once, planned to make their way into Bollywood when they would grow up. In an interview, Zaheer said,


I wanted to be an actor and I was very crazy about it. I and my friends had even planned to make a movie, where I would be an actor while three other friends of mine would become producer, scriptwriter and director."
In 2022, Zaheer Iqbal was presented with the UAE Golden VISA. The honour was bestowed upon him by the Dubai Government.
Zaheer Iqbal is a Hodophile (one who loves travelling). He loves to visit and explore new places. He does not like the idea of solo travelling and often travels with either his friends or his family. In an interview, he said,


I like to travel to new places. But I do not like the idea of solo travelling. What is the point of visiting and exploring a beautiful place when you cannot cherish the moment with anyone who's close to you? So I, prefer travelling with either a buddy or with family."
Zaheer Iqbal, apart from playing cricket, also plays table tennis.
Zaheer Iqbal is a smoker.
On several occasions, Zaheer Iqbal has been spotted drinking.