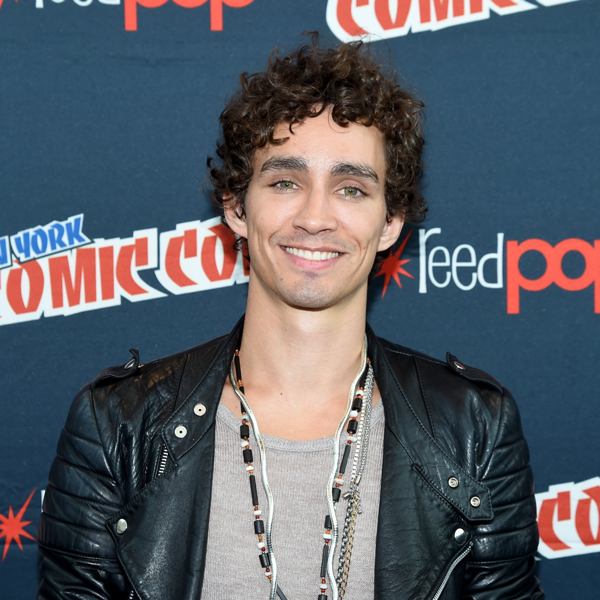 Robert Sheehan is an Irish model-actor. He is best known for his roles in television series 'Misfits' as 'Nathan Young,' in 'Love/Hate' as 'Darren Tracey,' and Netflix's 'The Umbrella Academy' as 'Klaus Hargreeves'.
Wiki/Biography
Robert Sheehan was born as Robert Michael Adam Sheehan on January 7, 1988 (age 32 years; as in 2020), in Portlaoise, County Laois, Ireland. Since childhood, Sheehan was very passionate about acting. He played 'Oliver' in his school play, 'Oliver with a Twist'. At an early age of just fourteen, Sheehan auditioned for a movie 'Song for a Raggy Boy' and won the role. He did his schooling from St Paul's, Portlaoise, and later, he went on to study film and television at Galway-Mayo Institute of Technology.
Physical Appearance
Height (approx.):  6′
Hair Color: Dark Brown
Eye Color: Hazel Brown
Body Measurements(approx):
Chest: 40 inches
Waist: 32 inches
Biceps: 14 inches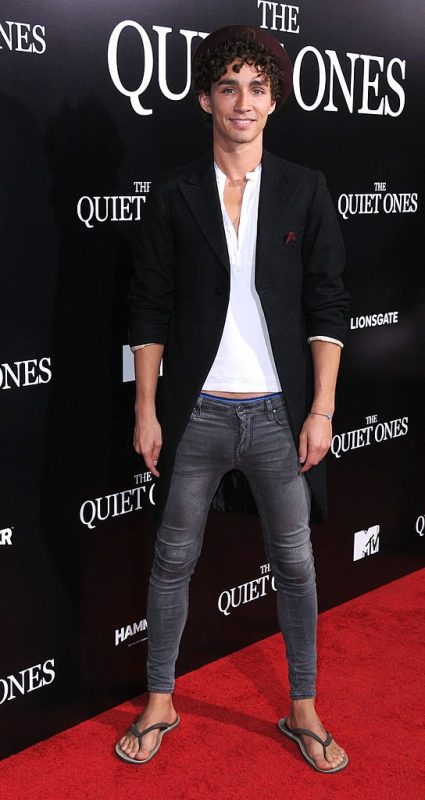 Signature/Autograph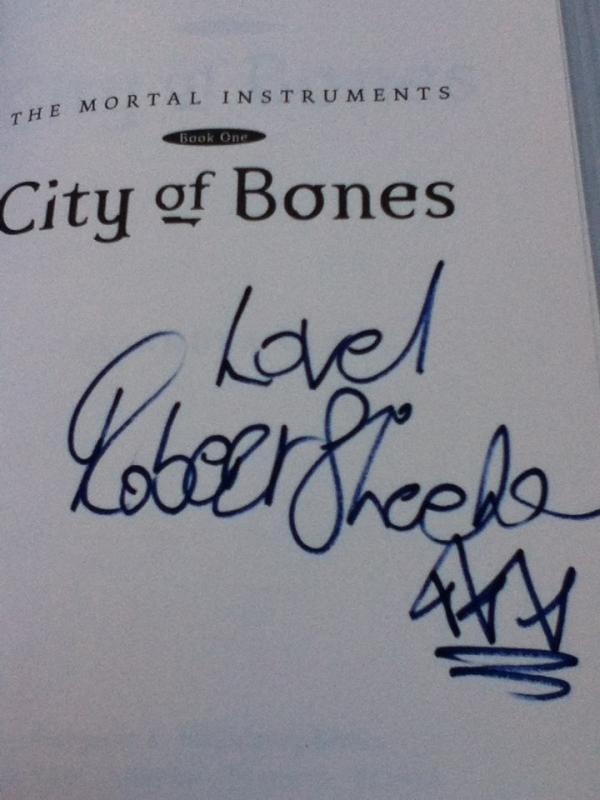 Family & Ethnicity
Robert Sheehan has an Irish origin. He claims himself to be agnostic. In an interview, he said,
I don't know. I'm one of those folks who considers myself agnostic. I think there's probably something out there but I'm not willing to commit myself to any of the institutions of thought that currently exist.' [1]Independent.ie
Parents & Siblings
Robert Sheehan's father, Joe Sheehan, was a garda (policeman in the Republic of Ireland). His mother's name is Maria Sheehan. The elder brother, Brendan Sheehan is also an Irish actor. His sister's name is Shauna Sheehan. Robert is the youngest of the three siblings. Although Robert's family hails from Portlaoise, they are currently living in Cork, Ireland.
Relationships, Wife & Children
Robert Sheehan is unmarried (as in 2020), but was in a relationship with Sofia Boutella, an Algerian-French actress for a period of approximately four years (2014-18). In an interview, he disclosed the reason behind their breakup. He said,
We had a similar life, which was problematic. Long distance. A lot of long distance, which was tough. It put a strain on things". [2]HotPress
Career
Television
Robert Sheehan made his television debut in 2004 in an Australian-Irish television series titled 'Foreign Exchange.' He played the role of 'Cormac MacNamara', one of the smartest students at O'Keeffe's College.
Later, he appeared in another television series, 'Young Blades' (2005), in which he played the role of 'Louis XIV'.
Thereafter, he appeared in various television series, such as The Clinic (2006), Bel's Boys (2006), The Tudors (2008), Rock Rivals (2008), Bitter Sweet (2008), and Red Riding (2009). One of the prominent roles of Robert Sheehan was in 'Misfits (2009),' a British science-fiction comedy television show. Robert played the role of 'Nathan Young,' which lead to his nomination in BAFTA, in the category of 'supporting actor.' Despite being one of the protagonists of the show, and massively loved by the audience, Robert left the show at the beginning of the third season.
In 2010, he appeared in 'Coming Up.' Another notable role of Robert Sheehan was in the series 'Love/Hate (2010)'. Robert played the role of 'Darren Tracey', a troubled young man who got himself into some bad situations. The character was a big hit among the ladies, and hearts broke across the country when Darren was killed in 2013. Robert was nominated twice for IFTA awards for the role of 'Darren Tracey.'
Afterwards, he had a series of other roles in shows like The Borrowers (2011), Accused (2012), Me and Mrs Jones (2012), Fortitude (2017), Genius: Picasso (2018), and The Young Offenders (2018). In 2019, the role of 'Klaus Hargreeves' in 'The Umbrella Academy' was yet another outstanding role portrayed by Robert Sheehan. 'The Umbrella Academy' became an instant fan favourite Netflix series.

Short Film

Robert Sheehan's debut in short films was 'An Cuainín (2003). Later, he was seen in 'A Dublin Story (2003)', and Lowland Fell (2008)
Film
Robert Sheehan made his debut in films at a very young age of just fourteen with the film 'Song for a Raggy Boy (2003).'
Eventually, Robert Sheehan made an appearance in films like Ghostwood (2006), and Summer of the Flying Saucer (2008). He is well-known for his character 'Luke', a teen drug-dealer, in Cheerybomb (2009).

He was also a part of movies like Season of the Witch (2011), Demons Never Die (2011) Killing Bono (2011), The Mortal Instruments: City of Bones (2013), The Road Within (2014), Moonwalkers (2015), Messenger (2015), Jet Trash (2016), Three Summers (2017) Geostrom (2017) The Song of Sway Lake (2017), and Mute (2018). In 2018, he played the character of 'Tom Natsworthy' in movie 'Mortal Engines.'

Controversies
While flying home from Toronto, after auditioning for the movie, 'The Mortal Instruments,' Robert Sheehan had a troublesome experience with the flight's cabin crew. Robert, along with his fellow auditionee, and honeymoon couple who were travelling along, got heavily drunk during the flight. In an interview he said,


We ordered some Caesars, which are like Bloody Marys, and one thing or another led to me buying a bottle of whisky"
The next thing he remembers is that he was being slammed by the air hostesses who were threatening to report Robert and his fellow drunkards for being wasted on the flight. The crew confiscated the whiskey bottle during the flight. After a few weeks, when Robert got the wiskey bottle out to celebrate his success at getting the role in film 'The Mortal Instruments,' he found that it had been spoilt with salt by the cabin crew. [3]The Guardian
While most of the celebrities are of the opinion that it's unethical to sexually indulge with a fan, Robert Sheehan has claimed to have taken the immoral ground. When asked in an interview, "Have you ever shagged someone who came up to you and said, 'Hi, I'm a fan of your work'?" , Sheehan replied, "Absolutely! Yes, I have." This was a contradictory statement, as earlier, the charming Irish actor had disagreed on such an idea when in an interview, he said,


I'd never shag a fan'….. 'If you sleep with this person, it is exploitative, and you are somehow taking advantage of the fact that they've put you on a pedestal'. [4]Hot Press

In the Hot Press interview, Robert Sheehan informed how bad weed encouraged psychosis and paranoia (mental disorders). Apparently, in Ireland, weed is grown by some illegally living Chinese men, who don't use proper fertilisers, resulting in the high concentration of THC level (The main psychoactive compound that produces the high sensation). So, to tackle the problem, Sheehan suggested that the government should take control over it. [5]

Hot Press
The weed in Ireland is really bad. It's dangerous…..So, it should be fucking legalised. It's a massive shame on the government for having not legalised it".
Awards
IFTA "Rising Star"- (nominated)
BAFTA "Supporting Actor"- Television (nominated)
IFTA "Actor in a Lead Role" – Television (nominated)
IFTA "Actor in a Supporting Role" – Television (nominated)
IFTA "Actor in a Lead Role" – Television (nominated)
IFTA "Actor in a Supporting Role" – Drama (nominated)
Favourite Things
Actor: Richard John Harris
Rugby Players: Ronan O'Gara, Brian O'Driscoll
Salary & Net Worth
The Net Worth of Robert Sheehan is $2.5 million (as on April 12, 2019). [6]Looper
Facts/Trivia
Robert Sheehan occasionally smokes weed. When asked in an interview, "How old were you when your first tried a joint", Robert replied,


I was 17. It was in Vancouver. Vancouver is known globally for having some of the best weed in the world."
He consumes alcohol as well but prioritizes weed. According to him, weed doesn't disrupt one's functionality.
What I like about weed is that it isn't a depressant at all, whereas alcohol is." [7]Hot Press
Robert Sheehan also possesses the talent of playing instruments like the banjo, the bodhrán, and the spoons. He also participated in 'Fleadh Cheoil,' an Irish music festival.
Robert Sheehan miserably failed in his examinations when he was studying at Galway-Mayo Institute of Technology. He was an absentee student and spent months shooting for the movie 'Summer of the Flying Saucer' in 2008. So, he left the course and did not return for the repeats.

Sheehan has surprisingly supportive parents. It was his mother who encouraged him to take the auditions for the movie 'Song for a Raggy Boy'. He revealed during an interview that his mother was virtually his manager as well as his chauffeur in the early days of his career, driving him to auditions and film sets. He was a pampered child as he was the youngest of the three siblings.
Robert Sheehan used to play the role of a crippled boy in a theatre drama 'The Cripple of Inishmaan' performed by the Laois Open Door theatre group in the initial days of his acting career.
Robert Sheehan has confessed to having experimented with his sexuality. He says,


I had a couple of experiences when I was younger, with dudes, where I tried it, experimented, to see if it did anything for me. And it didn't. [8]Hot Press

Sheehan is an active supporter of the LGBTQ community and has spoken out about it in a YouTube video.
In 2020, Robert Sheehan was included in the list of 'The 50 greatest Irish film actors of all time' [9]

The Irish Times
Robert is an environmental conservationist. Apparently, he is trying to be kinder to the environment by eliminating the use of toothpaste filled in plastic tubes. As plastic results in landfilling, and consecutively to soil and land pollution, Robert has been making an effort to spread awareness to protect ' the mother earth.'

Robert Sheehan campaigns for a charity that supports those diagnosed with Epidermolysis Bullosa (EB), a genetic skin condition.