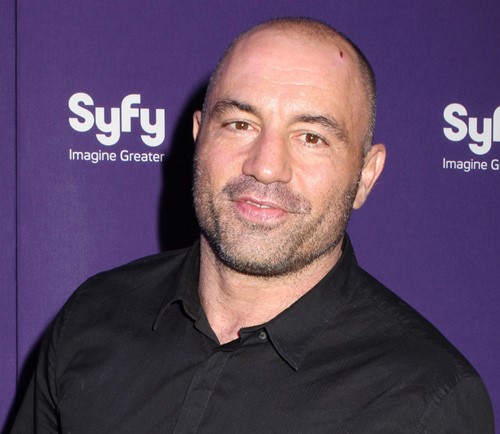 Joe Rogan is an American comedian, podcast host, and mixed martial arts (MMA) color commentator. He is well-known for his stand-up comedy sets, and his podcast 'The Joe Rogan Experience.'
Wiki/Biography
Joseph James Rogan [1]Apple TV a.k.a. Joe Rogan was born on Friday, August 11, 1967 (age 53 years; as of 2020) in Newark, New Jersey, U.S. His zodiac sign is Leo. Joe was eleven, they settled in Newton Upper Falls, Massachusetts, where he went to Newton South High School to complete his schooling. At the age of fourteen, he took up karate and became a four-time full-contact taekwondo state champion. At the age of 19, he won the U.S. Open Taekwondo Championship. Later, he stopped fighting because of constant headaches, and he feared that it would get worse with time. He attended the University of Massachusetts but dropped out early.
Physical Appearance
Height (approx.): 5′ 7″
Eye Color: Black
Hair Color: Bald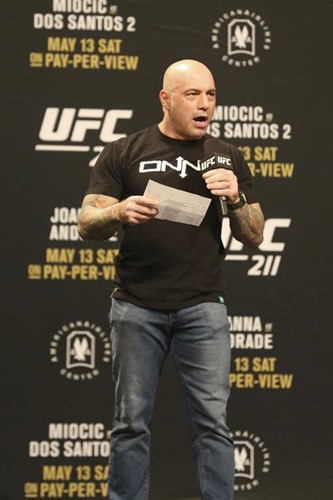 Family & Ethnicity
Joe Rogan's father had his ancestral roots in Ireland. In a tweet on his Twitter account, Joe mentioned that he is 3/4 Italian and 1/4 Irish. [2]Twitter
Parents & Siblings
Joe's father's name is Joseph, and he is a retired police officer living in New Jersey. His mother was a free-spirited person and she consumed alcohol and cannabis products. They got divorced when he was five years old. Later, his mother got remarried to a hippie guy, and reportedly, she used to visit a gay couple next door, and they all would get naked and play bongos and smoke pot.
Wife & Children
Joe Rogan got married to a former cocktail waitress, Jessica Ditzel in 2009. The couple has two daughters together, and he is also the stepfather of Jessica's daughter, Kayja Rose.
Signature/Autograph
Career
Joe Rogan initially considered a career in kickboxing, but his friends pushed him to perform a set at a stand-up comedy show as he would make jokes and do impressions to make them laugh. On August 27, 1988, he performed at an open-mic night at the Stitches comedy club in Boston. While working on his stand-up sets, Rogan had other jobs to keep himself financially afloat such as teaching martial arts at Boston University, delivering newspapers, driving a limousine, doing construction work, and working as a driver for a private investigator. In 1990, Rogan moved to New York City to work as a full-time comedian.
Television
In 1994, Joe Rogan made his television debut with Fox sitcom 'Hardball,' where he played the role of Frank Valente, a young star player of a professional baseball team. In 1995, Rogan was roped in to be a part of the NBC sitcom 'NewsRadio' as Joe Garrelli, an electrician and handyman who worked at the news radio station. Rogan believed that was an easy job but he got tired of playing the same character every week. Later, he also worked on the pilot for the show 'Overseas.'
In 1997, Rogan started working as backstage and post-fight interviewer for the mixed martial arts league, Ultimate Fighting Championship. However, after two years, Rogan decided to quit the league as his salary could not cover the cost spent by him to travel to the events. In 2001, Rogan went to some UFC fights, and he became friends with president Dana White. He offered Joe Rogan a job to become a color commentator, but Rogan declined and said that he just wanted to come to the fight and drink. Initially, Rogan did the commentary for free in exchange for prime tickets for the fights for him and his friends, however, after a few fights, Rogan accepted the pay for the job. In 2001, Joe Rogan was offered to be the host of the American version of the stunt game show 'Fear Factor.' He accepted the offer and worked with them till 2006. The show increased Rogan's exposure and increased the number of audience at his stand-up gigs.
Joe Rogan's role as the host for Fear Factor opened up more television opportunities for him. In 2002, Joe was roped in to be a part of the American sitcom 'Just Shoot Me' for a single episode. Rogan became the co-host for the fifth season of the show 'The Man Show' which aired on Comedy Central. In 2005, he was hired as the announcer for The Ultimate Fighter. Over the years, Joe hosted several shows for the UFC franchise and worked on his stand-up comedy specials.
Movies & Documentaries
Over the years, Joe has worked in several movies like It's a Very Merry Muppet Christmas (2002), Zookeeper (2011), Here Comes The Boom (2012), and Bright (2017). He was also a part of several documentaries like 'The Union: The Business Behind Getting High' and 'American Drug War: The Last White Hope' in 2007.
Comedy Specials
Joe Rogan moved to New York City in 1990 to pursue a career in stand-up comedy. He recorded his first stand-up comedy set in December 1999, and it was released with the title 'I'm Gonne Be Dead Some Day' in August 2000. Rogan was working more on the television and decided to take a break from TV and focus on his stand-up career. In 2006, Joe started doing comedy tours across states with his friends, and he hired two full-time videographers to film them during the tours and use those video clips for his JoeShow web series on his website. In May 2005, he signed a contract with a talent agency, and two months later, Rogan recorded 'Joe Rogan: Live' in Phoneix, Arizona, which was his second stand-up comedy special.
Joe Rogan released his fourth comedy special 'Shiny Happy Jihad' in 2007. He was the host of the CBS entertainment show 'Game Show in My Head' which was produced by the American model, actor, and entrepreneur Ashton Kutcher. In 2011, Rogan was again offered the role to be the host for the seventh and final season of Fear Factor, and he accepted the offer. Later, in 2011, Rogan recorded his sixth comedy special 'Joe Rogan: Live from the Tabernacle' which was released in December 2012. The show was listed on his website for $5.
The Joe Rogan Experience Podcast
Joe Rogan introduced a free podcast with his fellow comedian friend Brian Redban. The podcast went live in December 2009, and the duo recorded their first episode on 24 December. The podcast became famous and made a place for itself in the top 100 podcasts on iTunes. Joe invites people from all sorts of backgrounds on his podcast where they talk about current events, conspiracy theories, businesses, comedy, hobbies, and several other topics. The podcast received over 16 million downloads every month in October 2015.
After successfully running the podcast for so many years; On May 19, 2020, Rogan signed a multi-year licensing deal with the online music streaming platform, Spotify. This is one of the largest licensing agreements in the podcast business with an estimated value of $100 million. The podcast was made exclusive on the platform from January 2021 onwards, and the video version of the podcast will be available on YouTube.
Awards, Honours & Achievements
MMA Personality of the Year in 2020
MMA Personality of the Year in 2017
MMA Personality of the Year in 2016
MMA Personality of the Year in 2015
MMA Personality of the Year in 2014
MMA Personality of the Year in 2012
MMA Personality of the Year in 2011
Best Television Announcer in 2010 and 2011
Controversy
After listing Joe Rogan's 'The Joe Rogan Experience' podcast on Spotify, the music streaming giant has been removing some of the controversial episodes of the podcast from the platform. The streaming giant has removed about forty-two episodes of the podcast from their library. Out of these 42 episodes, four episodes with the comedian Chris D'Elia, who was accused of 'grooming' underage girls and soliciting child pornography were also removed. [3]

Huff Post
In September 2020, Joe Rogan faced backlash from the LGBTQ community as one of his podcasts was considered transphobic by the community. However, Spotify CEO Daniel Ek defended Joe Rogan by saying that a team of experts has reviewed the episode in question and ruled out that it meets the content guidelines and won't be removed from the platform. [4]

VICE
During the 2020 US Elections, Democratic presidential candidate Bernie Sanders faced backlash from liberals and the LGBTQ+ community as he accepted the endorsement from Joe Rogan, a comedian who was disliked by many people. In his podcast episode, Joe Rogan supported Bernie Sanders and said he would vote for him. This clip from the podcast was later shared by the Sanders campaign and some supporters criticized this move. Joe Rogan was labeled as transphobic by the LGBTQ+ community because of some comments he has made previously on his show. [5]

BBC
In April 2021, Joe Rogan Entertainment guest Ali Macofsky was talking about the American YouTuber Trisha Paytas with Joe Rogan. During the podcast, she mentioned that Paytas has an OnlyFans account, and in response to this, Rogan asked his staff to get a picture of Paytas in a bikini. After looking at the picture, he responded "you can keep that." When Paytas saw the video of Rogan mocking her, she posted a video of her response to Rogan's comment on her bikini picture.
CLAP BACK: Trisha Paytas responds to Joe Rogan saying "You can keep that" after seeing pic of Trisha in bikini. Trisha says "This has been a pattern. Old, conventionally unattractive men … radiate small dick energy. And once again, not a diss, a lot of people like small dicks." pic.twitter.com/PmGeLxyvrL

— Def Noodles (@defnoodles) April 14, 2021
Political Views
According to CNN, Joe Rogan was described as 'libertarian-leaning.' Rogan identifies himself as a person who is socially liberal. He supports same-sex marriage, gay rights, women right's, supports the usage of recreational drugs, universal healthcare, and basic income. However, he also supports gun rights and the Second Amendment that allows a person to keep arms and ammunition.
Views on drugs and spirituality
Joe Rogan is a huge supporter of the legalization of the use of cannabis as he believes that it holds several benefits. He was the host of the Canadian documentary film 'The Union: The Business Behind Getting High.' The film explored the growth, sale, and trafficking of cannabis by interviewing the growers, police officers, doctors, etc. He also featured in the documentaries 'Marijuana: A Chronic History' and 'The Culture High.'
Rogan has been an active user of isolation tanks for meditation and sensory deprivation. His personal experience in the isolation tank has helped him discover the nature of consciousness and helped him in becoming more aware of his potential which improved his performance in several physical and mental activities.
Other Advocacy
Joe Rogan is fond of hunting and he is a part of the 'Eat What You Kill' movement. The movement focuses on boycotting factory farming and the mistreatment of animals raised for food. During an interview with a magazine, he said-
Yes, I get some grief for it. But you know what's unexpected to me? How little rational thought comes from vegans who own pets and feed them murdered animals. I'm like, 'Whoa, what the fuck is going on here?'"
Joe Rogan is against the culture of infant circumcision stating that there is not enough scientific evidence available to prove the benefits of this practice. He compares this act as similar to that of female genital mutilation as both the practices are non-consensual in nature.
Car Collection
1965 Custom Corvette Stingray
Hennessey Velociraptor 600
Facts/Trivia
On June 26, 2012, Joe Rogan received a black belt in 10th Planet Jiu-Jitsu, California.
In September 2020, Joe Rogan moved to his new home in Austin, Texas. He shelled out about $14.4 million for a lakefront residential estate in Austin. The country home measures 10,890 square feet and comes with eight bedrooms and ten bathrooms. The property was previously owned by the architect and designer Benjamin Wood, who renovated the property to give it a much sleeker look.
On one of the episodes of The Joe Rogan Experience, his guest Jamar Neighbors asked Joe if he would take the vaccine or not. Joe responded to this by saying-


No. I mean, I would if I felt like I needed it. I just feel like if you maintain your health—and I think for some people it's important, for some people it's good." [6]Men's Health
Joe Rogan is a dog lover, and he has a golden retriever named Marshall Mae.
After his parent's divorce, Rogan has not seen his father. During an interview with the magazine Rolling Stone, Joe talked about his father and said-


All I remember of my dad," he says, "are these brief, violent flashes of domestic violence. And when I was five, I had a fight with one of my cousins — punched him in the face over something stupid. My dad pulled me aside and when I told him the truth, he was happy that I punched my cousin. But I don't want to complain about my childhood. Nothing bad ever really happened to me. He was just a very violent, scary guy."
Joe Rogan is fond of hunting, and he has a freezer in his garage which is full of meats of the animals he hunts. He then cooks food for his family with these meats.
Joe Rogan injects himself with testosterone and human growth hormone every week to improve his health and look better. Joe often uses the focus improving drug, Nuvigil to stay focused throughout the day. He starts his day with a smoothie that consists of spinach, celery, kale, four cloves of garlic, ginger, coconut oil, and an apple.
Joe Rogan is a supporter of the consumption of psychedelic drugs and he himself consumes dimethyltryptamine, popularly known as DMT.
Joe Rogan has vitiligo on his hands and feet.
Rogan has attended a Catholic school in first grade and he was raised Roman Catholic; however, he does not follow any organized religion and identifies himself as agnostic.
In October 2019, Joe Rogan confirmed that he is a cousin of the lead vocalist of My Chemical Romance, Gerald Way. He further added that they have never met.
Joe Rogan has tattoos on both his arms.
Joe Rogan follows a strict fitness routine. He also has his own line of gym equipment where he sells kettlebells shaped like a gorilla's face.