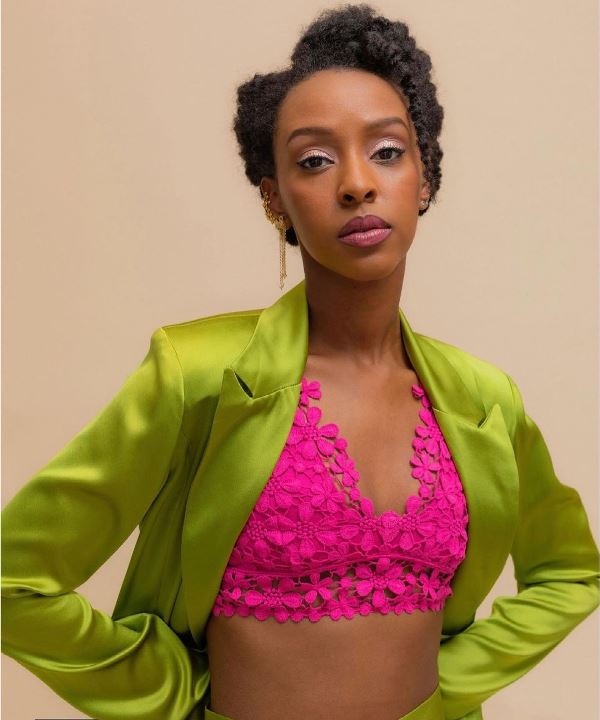 Ebony Obsidian an American actress who is well known for starring in the YouTube series Tough Love (2015-2018), the Oscar-nominated film If Beale Street Could Talk (2018), and the television series Sistas (2019).
Wiki/Biography
Ebony Obsidian was born on Saturday, April 16, 1994 (age 27 years; as of 2021), and she hails from New Paltz, New York, U.S. Although Ebony was a versatile kid who was interested in performing arts since childhood, she never contemplated a career in acting. In an interview, she said,
Yeah, for sure. When I was younger, I was doing all the same things. I was acting, I was singing, I was writing. But I never really saw them as a career, to make money from them."
At the age of 12, she crashed an audition in a nearby city and ended up performing in front of just over 1,000 people. In an interview, while describing the event, she said,
But I had been listening to the radio one day, which I never do, when I was like 12 and there was an audition in a nearby city which then sent me to Philadelphia. I found myself on a stage in front of just over 1,000 people acting out a monologue, which was new and scary but a major high."
She briefly pursued a bachelor's degree, majoring in journalism. [1]Jezebel Before venturing into the entertainment industry, Ebony was working at three different jobs simultaneously. In an interview, she said,
I was working three jobs, I was a barista, I was a server and I was working at a clothing store too, at the same time… I was kind of doing all the things that people told me to do. Be responsible, earn money, go to college, get a degree, you know, the structure of life that I think, at least in this country, is very important, or I guess, smiled upon. It doesn't work for me, I was not happy, I was not okay."
Unable to juggle between three jobs, she confessed her inclination towards pursuing a career in acting to her mother, who was supportive of her decision. Consequently, Ebony enrolled herself in The William Esper Studio, a drama school in New York City, where she mastered The Meisner technique of acting. [2]Indie Activity
Physical Appearance
Height (approx.): 5′ 5″
Hair Color: Black
Eye Color: Black
Family & Ethnicity
She has an Eritrean Habesha descent. [3]Ebony Obsidian's Twitter Not much information is available regarding her family.
Career
Feature Films
Ebony Obsidian made her film debut with the 2014 American superhero film 'The Amazing Spider-Man 2' in which she made a brief appearance as a graduate.
While training at the William Esper Studio, she starred in the independent films The Vixens (2015) and Where Hearts Lie (2016). She first garnered significant attention with the 2018 American romantic drama film 'If Beale Street Could Talk,' Obsidian played the protagonist's outspoken and bold sister named Adrienne Hunt, who despises anyone who threatens the unity of her family. The critically acclaimed film centers around a young woman named Tish who embraces her pregnancy out of wedlock while trying to prove the innocence of her childhood friend and lover wrongly accused of rape. The film was nominated for over 130 awards, including 3 Oscars, 2 Golden Globes, 2 BAFTAs, and 5 Critics' Choice Awards.
Other films in which Obsidian appeared include Where Hearts Lie (2016) and My Brothers Keeper (2017)
Short Film
She made her short film debut with 'Punkin Pie' (2015) in which she played the role of Katrina Richardson, a daughter who must save her mother from an abusive relationship to which her mother is addicted.
Later, in the same year, she starred in 'Traces: A Post Traumatic Love Story,' an aggressive short film that is cushioned by dry sarcasm. In the short film, Obsidian played the role of Amber, a young bomb disabler struggling to fit back into the regular world.
In 2016, she starred in the short film 'Twelve Dollar Words' in which she played the role of  Treasure who, after a failed proposal, argues with Thomas about their inescapable relationship.
In the 2017 short film 'Capital Inferno,' she played the role of a young businesswoman named Jamie who struggles to keep her dying father's company afloat by seeking the help of a mysterious investor.
In the 2019 short film 'Swipe,' Obsidian played the role of a girl who finds out that she has a match on a dating app with a stranger despite swiping him to the left moments ago. As a result, she begins to fear that the stranger is dangerously close to her. The acclaimed short film garnered numerous titles including 'Best Thriller' at Dublin Independent Film Festival (2020) and 'Best Short' at the Independent Horror Movie Awards (2020).
Other short films under her belt include GoFish (2015), Such A Deal (2019), and About The People (2019).
Television 
In 2015, she made her television debut when she played the role of Brie Kiernan in 'The Creators: TV Series Sizzle Reel.' In the one-hour scripted television drama, a world-renowned artist commits suicide, which leads to her daughter inheriting a Brooklyn warehouse that once housed one of the longest-running controversial artist collectives on the east coast.
In 2017, she made a guest appearance on the American comedy-drama show 'Master of None.' Obsidian played the role of Michelle in an episode titled "Thanksgiving."
She struck stardom with the 2019 American comedy-drama 'Sistas' in which she played the role of Karen Mott, a hair salon owner in a complicated relationship who is also the love interest of a newly-separated married man. The series follows a group of single black women from different walks of life who bond over one common question, "Why am I single?."
OTT/Web Series 
In 2015, she made her digital debut with the series 'No Homo' in which she played the role of Lisa. The series centers around two friends who pose as gay men to trick girls into sleeping with them.
In the YouTube series 'Tough Love' (2015-2018), she played the protagonist Alicia Davis, who has an unbreakable bond with her longtime boyfriend Quincy. Nominated for a Daytime Emmy Award in 2017 in the category of Outstanding Digital Daytime Drama Series, the series follows six millennials who experience the struggles of life, relationships, and love in NYC.
In 2019, Obsidian starred in the Hulu's America drama 'Wu-Tang: An American Saga' in which she portrayed the recurring role of Nia, Divine's supportive girlfriend and the grounding force in his life who rooted for him in his struggling days. The series showcases the real-life story of hip-hop pioneers of the Wu-Tang Clan, an American hip-hop group that formed in 1992.
She played the recurring role of Carol Hawthrone in the 2020 American drama 'Hunters.' Set in the 1970s, the show is about Nazi hunters in Brooklyn. In the series, Carol Hawthrone is the romantic interest and the neighbor of Jonah, one of the hunters, who is in the midst of the chaos.
Other
Apart from films, Ebony had the opportunity to work with multi-award-winning Director, Writer, and Choreographer Rajendra Ramoon Maharaj in the world premiere of the documentary play with music 'Black Footnotes' (2015). In the theatrical production, Ebony Obsidian played the role of one of the obstetricians who died of a tragic and premature death in 1902. She began her career as a singer in 2015 when she worked as a playback singer for the song "Hold Me," featured in Season 1 of the YouTube Series 'Tough Love.' Not only did she sang it, but also showcased her excellent songwriting skills through the lyrics. In 2020, she released another single named 'EIL' (Everything is Love).
Favorite Things
Book: Milk and honey (2014)
Actress(es): Regina King, Aunjanue Ellis, Angela Bassett
Facts/Trivia
While talking about ambitions to work behind the camera at some point, Ebony, in an interview, said,


Absolutely. For me, it isn't a matter of if but when. My fascination with people, circumstances, and the world we live in has never been limited to acting."

In the interview, she also revealed the foundation stone of her acting career was laid down by her remarkable writing skills. She said,

In fact, acting joined the party late. Writing is the foundation of my creative expression, which turned into reading my pieces out loud, which turned into performing for an audience, leading up until now. I'm very excited to share my next form of artistry with the world."

For a photoshoot with the BARE Magazine, Ebony requested that the designer of her wardrobe must be a person of color, i.e., a person who is not considered "white." While explaining her demand for a designer of color, she said,


My draw to designers of color stems from my love of cultures. Every piece is its own story, and that story is inspired by the individual who created it and the background they come from. Also, so many pioneers of fashion come from communities of color, many of whom will never be recognized for their contributions. When I wear a piece of clothing it's not only because it's attractive, but because I have respect and admiration for the creativity behind it."

When asked to list down her bare essentials in an interview, Ebony said,


My bare essentials are a pen and notepad for writing, Mama Earth Healing chap stick, created by my good friend Jonathan, and a good book."

Unlike people who go strictly by the script, Ebony is an improviser. In an interview, she revealed that while shooting for the short film 'Twelve Dollars Short,' during a scene, an actor threw a backpack that landed at Ebony's feet. At first, she was stunned by the unexpected turn of events, which led to an awkward silence. However, she decided to kick the backpack back on the actor's face, which pleased the director, although it wasn't in the script.
The short film Swipe (2019) earned Ebony the Best Actress Award at the Independent Horror Movie Awards (2020) and a nomination for the Best Female Performance at the Shiver International Film Festival (2021).