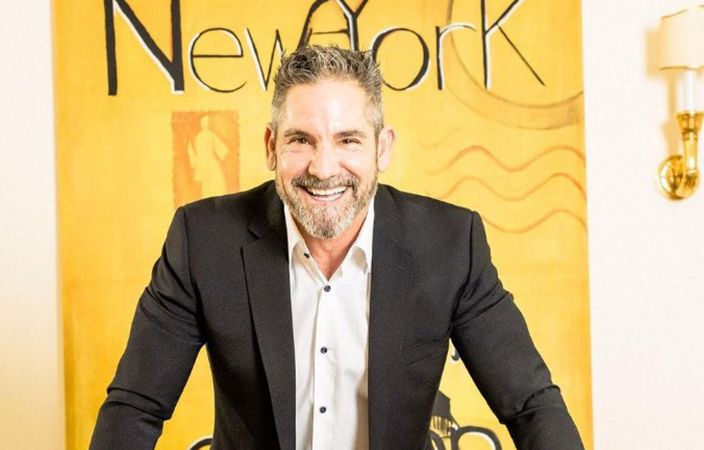 Grant Cardone is an American entrepreneur, motivational speaker, real estate investor, sales coach, and author. He is known for launching 10X Growth Conference, which is known to be the world's largest business and entrepreneur conference. [1]GC – Grant Cardone
Wiki/Biography
Grant Cardone was born on Friday, March 21, 1958 (age 63 years; as of 2021), in Lake Charles, Louisiana, United States. His zodiac sign is Aries.
In 1979, he attended McNeese State University, Lake Charles, Louisiana, to pursue a course in accounting and graduated in 1983. He gained his Master's degree in sales from Cardone University, Miami, Florida. [2]LinkedIn – Grant Cardone
Physical Appearance
Height (approx.): 6′
Eye Color: Hazel
Hair Color: Salt & Pepper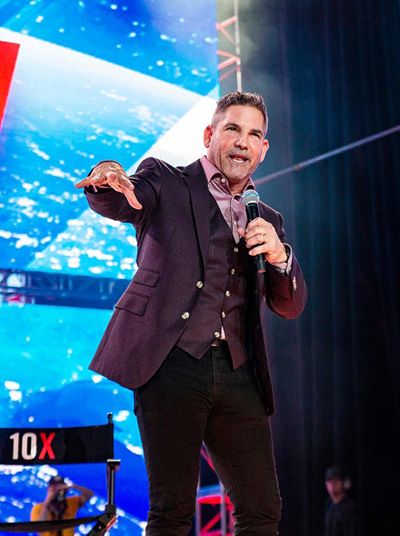 Family
Parents & Siblings
His father's name is Curtis Cardone Sr., and his mother's name is Concetta Cardone. He lost his father, who had a sudden heart attack, at the age of ten.
He had a brother named Curtis Cardone Jr., who died at the age of twenty-five.
He has a twin brother named Gary Cardone.
He has two sisters, Pam Scott and Diane Cardone.
Wife & Children
He is married to Elena Cardone (nee Lyons), an actress and a model, since 2004.
The couple has two daughters, Sabrina Cardone and Scarlett Cardone.
Career
Entrepreneurship
After graduation, he did a few jobs but was fired from them soon. He was suffering from drug addiction at that time. After rehabilitation, he put his focus on sales and began working as a salesperson at the age of 25. Talking about it in an interview, he said,
I hated sales but also hated my life. I especially hated being broke, having dead-end jobs, and not being able to pay the rent. I also wanted to be sure that I didn't use drugs again. I had to channel all that into something. I used work — the crummy sales job that nobody liked. I decided I was going to get good at that job."
At the age of 29, he started his first business, a consulting company for the automobile industry. Talking about his first business in an interview, he said,
I began consulting manufacturers and car dealers in the USA and Canada on how they could change their processes to be more consumer-friendly, fast, profitable, and effective with both customers and dealers. I still have that company today. I had an idea of changing the auto industry. And I think everybody could learn from this too. I went up to the auto industry and had them paying me to learn about this idea. They were essentially investors without being investors."
Soon, more people asked for more consulting sessions. People paid him to just speak about business ideas. He began traveling around countries and became a public speaker. He gives speeches on sales, marketing, branding, real estate, relationships, investments, wealth, and more. In February 1989, he founded Grant Cardone Enterprises, a company that provides tools for individuals, salespeople, businesses, and executives to improve and maximize their opportunities.
In June 1990, he founded Grant Cardone Sales Training University, Miami, which offers training programs and courses on prospecting, sales, negotiation, closing, money and finances, and motivation.
In 1996, he founded real estate company Cardone Capital in Miami/Fort Lauderdale Area. Since the mid-1990s, through his real-estate company, he has been investing in multi-family real estate across California, Arizona, Texas, North Carolina, Tennessee, Georgia, Alabama, and Florida.
In 2012, he made the single largest private acquisition in Florida, consisting of 5 properties. Along with it, Grant has worked with small and Fortune 500 companies, helping them grow their sales. Some of the famous companies he has worked with are Google, Sprint, Aflac, Toyota, GM, and Ford.
Books
In 2000, he turned author with his book 'Control Without Confrontation: Automotive Sales Program.' He wrote other sales programs and books like Maximizing Every Opportunity: Automotive Sales Program (2005), Selling: The Secret to Success (2008), Sell To Survive (2008), and If You're Not First, You're Last (2010). In 2011, he authored a book titled 'The 10X Rule: The Only Difference Between Success and Failure.' The best-seller book has a Spanish edition and quotes and several summary versions.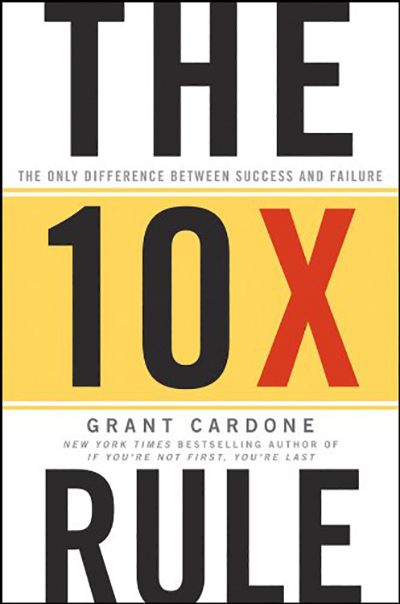 His other successful book is 'The Millionaire Booklet: How to Get Super Rich' (2016), which has Hmong, Hebrew, and Norwegian editions.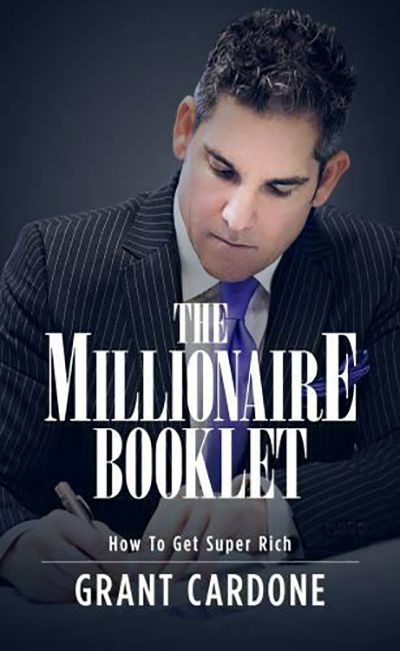 He later published other books such as Sell Or Be Sold: How to Get Your Way in Business and in Life (2011), Closer's Survival Guide (2011), Secrets of Selling (2014), Obsessed: How to Demand Business Success and Get It (2014), How to Create Wealth Investing in Real Estate (2018), Dominate Your Market (2019), If You're Not First, You're Last LIB/e (2021), and Be Obsessed Or Be Average LIB/e (2021).
10X Movement
After writing the 10X Rule in 2011, he launched the 10X Growth Conference in 2017. People attend the three-day event to learn strategies from world-class entrepreneurs in one place. The event is the world's largest business and entrepreneur conference, and the phenomenon came to be known as the 10X Movement.
Television
In 2011, he made his television debut with his reality show 'Turnaround King,' where he brings failing businesses back into the track. The show aired on National Geographic.
He then appeared in other television programs like Ed Mylett Show (2017), The American Dream (2017), Dhar Mann (2020), London Real (2020), and CovAID Festival Live! (2020). In 2021, he appeared in season 2 of the reality TV show 'Undercover Billionaire' broadcast on the Discovery Channel.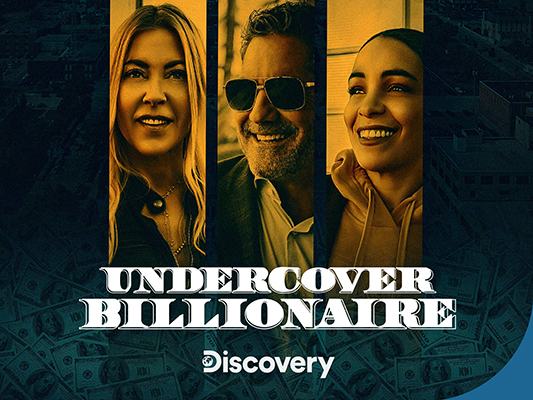 The series features him going undercover, along with Monique Idlett-Mosley and Elaine Culotti, to a city and attempt to start a business with a valuation of $1 million in 90 days. He also owns Grant Cardone TV, a channel where he has more than eighteen shows for entrepreneurs who want to increase their revenue, grow their brand, and create a legacy of wealth.
Religion/Religious Views
He was brought up in a Catholic family. He is a follower of Scientology, a set of beliefs and practices and associated movement defined as a cult, which regards human as an immortal, spiritual being (Thetan) that is resident in a physical body. [3]The Hollywood Sentinel Talking about it in an interview, he said,
I was brought up Catholic, so a person can read that book and still be a Catholic, or a Muslim, or agnostic, or whatever you want to be, Baptist, or Protestant, or Mormon. That book is about your mind, and regardless of whether you're a Mormon, or Muslim, or Catholic, or whatever you believe in, that book (Dianetics) is just about how your mind works. And that was the problem I was having in my life. Drugs basically disguised the problems in my mind, and it covered things up, until the drugs wore off, and it was like, oh! problem! And that book really, really woke me up."
He further added,
I figured it must be something interesting if it is getting everyone so jacked up, I will go check it out and discover what the truth is for myself. I like looking at things that are new and that other's either don't understand or just refuse to even consider. The fact is history proves that when masses of people make a decision one way or the other regarding any topic most of the time the masses are wrong. Scientology and Dianetics is a great thing, I know it helps people, it has made my life incredibly rich in every way….and no one should be threatened by it just because it is new. It solves problems, it puts man in a position to be in control of his / her life, and wakes people up so they can discover what is true for them. The biggest secret about Scientology is how many wildly successful business people use it in their businesses to create success."
Awards & Achievements
Small Business Influencer Awards 2015
in the category New Outlet
in the category corporations
Other Awards & Achievements
McNeese State University Distinguished Alumnus Award in 2010
Axiom Award for his book 'Sell Or Be Sold: How to Get Your Way in Business and in Life' (2011)
Named number-one sales trainer in the world by Forbes
Named number one of the "25 Marketing Influencers to Watch in 2017" by Forbes
Controversy
In 2021, Luis Pino, a Los Angeles-based entrepreneur, filed a lawsuit against Grant Cardone, alleging that he invested in Cardone Capital and was misled. The lawsuit alleged that the company ignored warnings from a Securities and Exchange Commission enforcement lawyer to remove misleading claims about monthly distribution investors receiving about a 15 percent annual return on their investment. The lawsuit was dismissed after U.S. District Judge John F. Walter concluded that Pino failed to adequately allege that Cardone made material misstatements and omissions about a 15 percent annual rate of return on any investments. [4]The Real Deal
Signature/Autograph
Aircraft Collection
Car Collection
2021 Rolls-Royce Cullinan
Property
He lives in a $10 million condominium on the 33rd floor of the Porsche Design Tower Miami in Sunny Isles Beach, Florida. [5]Grant Cardone – Facebook
Net Worth & Assets
According to his LinkedIn page, he has an estimated $2.1 billion of assets under management. [6]LinkedIn – Grant Cardone His net worth as of 2020 is $300 million. [7]Meaww
Favorite Things
Historical Figure(s): Genghis Khan, Alexander The Great
Entrepreneur: John D. Rockefeller
Book(s): The Millionaire Next Door: The Surprising Secrets of America's Wealthy by Thomas J. Stanley, Think and Grow Rich by Napoleon Hill, Dianetics: The Modern Science of Mental Health by L. Ron Hubbard
Facts/Trivia
In his spare time, he likes traveling with his family, partying, and reading. He also likes horse riding with his daughters.
After losing his father at the age of ten, he did not have a person to look up to for guidance as his mother always tried to make ends meet for the family. He became rebellious and his grades dropped. He also became addicted to drugs and alcohol. [8]

Grant Cardone – Interview Talking about his father's death and its impact on him and his school, he said,


It left a massive void in my life. The person I looked up to for guidance, success, an example of how to work, the provider, and the strength of the family was gone. My mother was left to manage three teenage boys and the little bit of money my dad had left. The family immediately went into turmoil with the loss of my dad. While my mom should have been experiencing the loss of her lifelong romance she was faced with the fear and uncertainty of raising five kids as a single mother. For many years I lived in grief, anger, and resentment over the loss of my dad. I watched in envy and resentment of other kids spending time with their dads and it enraged me. I had become openly rebellious, a problem at school, my grades dropped to just above passing levels and I turned to drugs and alcohol. I had become an outcast in the school system and a black sheep of the family. I hated everything; the schools, teachers, authority figures, my peers, and myself."
Describing his teenage years in an interview, he said,


Doing drugs is what I'm doing. At 15 or 16 years old…I smoked weed for the first time. We were in Louisiana—we're shooting guns…anything that moves, we shoot it. I had a rifle at 12 years old, we were wild man. We're having mud wars in the lake with the neighbors and smashing eggplants on their cars. I'm bored so I smoke some weed at 16. Next day I smoked it again. But within probably two years, I was doing drugs every day. Not just weed, other stuff, anything. I'm smoking, I'm popping pills. Any drug."
For many years, he was addicted to drugs, and his life got worse. He was fired from jobs, overdosed, and in debt. At the age of 25, he underwent rehabilitation and began focusing on his work. According to him,


I was a good kid raised in a good family that turned bad because there was no father figure to guide, mentor, and discipline me. While treating the symptoms, treatment centers easily overlook the root cause. The problem wasn't the drug for me. The problem was what got people like me to these drugs in the first place. And that was never addressed while I was in rehab. But I kept strong and left with a feeling of gratefulness, with the thought of going just 24 hours without a drug. I have not used a drug, any kind of drug, since then."
Grant has a self-titled YouTube channel, which he started on Oct 16, 2007. The channel host more than 6 million subscribers.

He is a philanthropist and believes in giving back what you get. He is the founder of Grant Cardone Foundation, a charity that partners with community organizations, municipal agencies, corporations, and other non-profit entities to provide mentoring and financial literacy education to kids in need, especially those who lack father figures in their lives. He created the foundation as a result of losing his father at a young age, which affected him emotionally, socially, and academically.
He considers entrepreneurs Warren Buffett and Mark Cuban and author Napoleon Hill as his mentors. Talking about mentors in his life, he said,


I've had many mentors. That doesn't mean I sit with them in person over coffee. I can be mentored by someone through one of their books."
He is a regular commentator and has made guest appearances on Fox News, Fox Business, CNBC, and MSNBC. He has written articles for publications like Forbes, Success Magazine, Business Insider, Entrepreneur.com, and Huffington Post.
He is a cat lover and owns a pet cat.
He has a tattoo on the back of the forearm of his left hand.