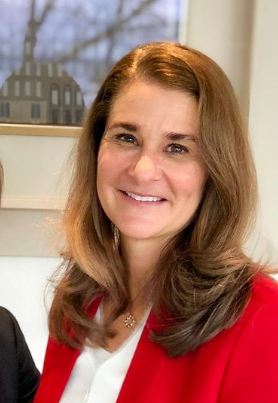 Melinda Gates is an American businesswoman, philanthropist, and global advocate for women and girls. She is the co-chair of the "Bill & Melinda Gates Foundation," the world's largest private charitable foundation. Melinda is the former wife of the American business magnate Bill Gates.
Wiki/Biography
Melinda Gates was born as 'Melinda Ann French' [1]Biography on Saturday, August 15, 1964 (age 57 years; as of 2021), in Dallas, Texas, US. Her zodiac sign is Leo.
She did her schooling at Dallas' St. Monica Catholic School. She was good at academics in childhood and always topped her class. When Melinda was 14 years old, her father bought her an Apple II (an 8-bit home computer). He also introduced her to a math teacher named Mrs. Bauer.
Melinda developed an early interest in computer science and the BASIC programming language while studying advanced math from her teacher. In 1982, she graduated from Ursuline Academy of Dallas as valedictorian.
Later, she went on to pursue her computer science interest in college and attained a bachelor's degree in computer science and economics from North Carolina's Duke University in 1986. A year later, she obtained an MBA with a focus in economics, from Duke's The Fuqua School of Business. [2]LinkedIn During her college days, she was a member of the Kappa Alpha Theta sorority, Beta Rho Chapter.
Physical Appearance
Height (approx.): 5′ 7″
Hair Color: Golden Brown
Eye Color: Brown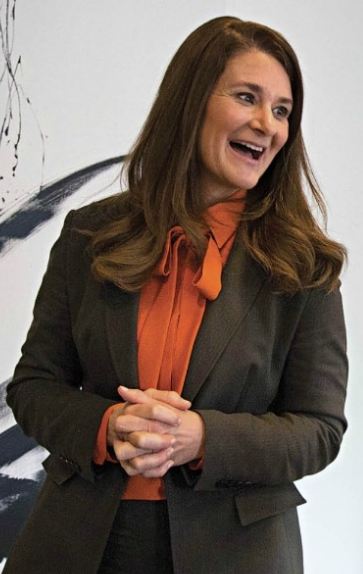 Family & Ethnicity
Melinda Gates is a Roman Catholic. [3]The Guardian
Parents & Siblings
Melinda Gates was born to Raymond Joseph French Jr. (an aerospace engineer) and Elaine Agnes Amerland (a homemaker). She has an elder sister and two younger brothers.
Relationship, Husband & Children
Melinda joined Microsoft as a product manager in 1987. In the same year, she sat together with Bill Gates (an American Business tycoon) for dinner at a trade fair in New York.
The duo began dating and ended up tying the knot in 1994 in a private ceremony on the Hawaiian island of Lanai.
Bill Gates said in a Netflix documentary,
We cared a lot for each other and there were only two possibilities: either, we were going to break up or we were going to get married."
During an interview, talking about Gates, Melinda said,
Methodical it seems even in matters of the heart – writing a list on a whiteboard with the pros and the cons of getting married."
Melinda gave birth to their first child, a daughter named Jennifer Katharine Gates, in 1996.
The couple later became parents to two more children: a boy named Rory John and a girl named Phoebe Adele.
The couple decided to end their 27-year-long marriage in 2021. In May 2021, while announcing their divorce, the couple tweeted,
After a great deal of thought and a lot of work on our relationship, we have made the decision to end our marriage. Over the last 27 years, we have raised three incredible children and built a foundation that works all over the world to enable all people to lead healthy, productive lives. We continue to share a belief in that mission and will continue our work together at the foundation, but we no longer believe we can grow together as a couple in the next phase of our lives. We ask for space and privacy for our family as we begin to navigate this new life."
After the couple announced their divorce, their daughter Jennifer Gates wrote on Instagram,
It's been a challenging stretch of time for our whole family. I'm still learning how to best support my own process and emotions".
Career
As a Businesswoman
Melinda started her career as a mathematics and computer programming teacher. In 1987, she joined the Microsoft Corporation as a product manager, developing multimedia and interactive products like Cinemania, Encarta, Publisher, Microsoft Bob, Money, Works (Macintosh), and Word. Melinda also worked on the budget trip-planning website Expedia, which later became one of the most popular travel booking websites. Her hard work earned her the position of General Manager of Information Products in 1990. She held the position till 1996, and subsequently, she resigned from Microsoft to focus on her family. From 1996 to 2003, she worked as a member of Duke University's Board of Trustees. In 2004, Gates became one of the Board of Directors of The Washington Post company. Melinda was also on the board of directors at Drugstore.com but left it in August 2006 to focus on her philanthropy work.
As a Philanthropist
Melinda and Bill Gates established the Bill & Melinda Gates Foundation in 2000 in Seattle with an objective to focus on public health, education, and climate change. In 2006, Gates restructured the organization into three departments: worldwide health, global development, and U.S. community and education.
As the founder of the organization, Gates has worked to develop prevention strategies, provide vaccines and treatments for diseases such as HIV/AIDS, malaria, and tuberculosis.
In 2011, her organization restated its mission as: "improving equity in four areas: global health, education, access to digital information via public libraries, and support for at-risk families in Washington State and Oregon." The following year, Melinda pledged $560 million towards improving access to contraception for women in poor countries. Gates remained committed to change the state of education in the United States, and through her foundation's Gates Millennium Scholars program, she has helped students fund their studies. Over the years, her foundation has emerged as one of the most powerful and influential forces in global public health. The organization has spent more than $50 billion over the past two decades to combat poverty and diseases. At the end of 2019, Bill & Melinda Gates Foundation's net assets were worth $43.3 billion (according to the full-year financials shown on its website), making the foundation the largest private philanthropic foundation in the United States and the world.
In 2015, Melinda founded Pivotal Ventures as a separate, independent organization. The organization was initiated to identify, develop, and implement innovative solutions to problems affecting US women and families.
Apart from the US, Melinda has worked to improve the conditions of poor living in countries like India, South Africa, Nigeria, and Kenya.
As a Writer
In 2019, Melinda stepped into writing with the book "The Moment of Lift: How Empowering Women Changes the World." The book traces an awakening to the link between women empowerment and the health of societies.
Awards & Honors
Melinda and Bill Gates received the Award for "Greatest Public Service Benefiting the Disadvantaged," an award given out annually by Jefferson Awards (2002).
Melinda and Bill Gates were named Persons of the Year alongside Bono by Time (2005).
Melinda and Bill Gates received the "Spanish Prince of Asturias Award for International Cooperation" in recognition of their world impact through charitable giving (2006).
Melinda and Bill Gates were awarded the "Insignia of the Order of the Aztec Eagle" for their philanthropic work around the world in the areas of health and education (2006).
Melinda received an honorary doctorate in medicine from the Karolinska Institute in Stockholm, Sweden (2007).
Melinda and Bill Gates received honorary degrees from the University of Cambridge (2009).
Melinda was awarded an honorary Doctor of Humane Letters by Duke University as a tribute for her philanthropic commitment (2013).
She was ranked #3 in Forbes 2013, 2014, 2015 and 2017 lists of the 100 Most Powerful Women.
She was ranked #4 in Forbes 2012 and 2016 lists of the 100 Most Powerful Women.
Melinda was ranked #5 in 2020, and #6 in 2011, 2018, and 2019 Forbes lists of the 100 Most Powerful Women.
Melinda was awarded the UCSF medal (2013).
Appointed an honorary Dame Commander of the Order of the British Empire (2013)
Melinda and Bill Gates jointly received India's third-highest civilian honor, Padma Bhushan, in recognition of their philanthropic activities in India (2015).
Melinda and Bill Gates received Presidential Medal of Freedom from Barack Obama for their philanthropic efforts (2016).
Melinda and Bill Gates were awarded France's highest national award, the Legion of Honour, in Paris for their charity efforts by the French President François Hollande (2017).
She was ranked #12 in the list of 200 Most Influential Philanthropists and Social Entrepreneurs Worldwide by UK-based company Richtopia (2017).
Awarded the Otto Hahn Peace Medal 2016 of the United Nations Association of Germany (DGVN), Berlin-Brandenburg (2017).
Signature
Favourite Things
TV Show: The Colbert Report (2005-2014)
Facts/Trivia
It was Melinda's mother, Elaine, who herself never went to a college, who placed an emphasis on her kid's higher education. Elaine made her family maintain their rental properties on the weekends in order to provide for Melinda and her siblings' school and tuition fees.
Melinda loved playing soccer in her high school and college days. Even now, she has a keen interest in the game, and she enjoys watching soccer matches whenever she gets time.
Reportedly, Melinda and Bill Gates hired all the local helicopters on their wedding day to halt the unwanted guests flying over their wedding venue.
In 1993, Melinda and Bill Gates went on a vacation to Africa. While they were on a safari to see the animals, they were profoundly disturbed by systemic poverty there. The trip later planted the seed for the "Bill & Melinda Gates Foundation."
Melinda is inspired by the Pakistani activist Malala Yousafzai.
In March 2014, Melinda and Bill Gates appeared as a speaker at Vancouver's first TED conference. They discussed some of their philanthropic work with the "Bill & Melinda Gates Foundation" at the conference.
In May 2014, she attended a talk about saving newborn lives with health ministers and experts from around the world at the World Health Assembly in Geneva.
In April 2015, Melinda met the Indian Prime Minister Narendra Modi and appreciated his pro-poor initiatives like Pradhan Mantri Jan Dhan Yojana. Melinda, on behalf of her foundation "Bill & Melinda Gates Foundation," offered Mr. Modi on working together on sanitation and nutrition solutions for India's most vulnerable.
After Melinda and Bill Gates announced their divorce, the talks about Bill's relationship with his ex-girlfriend Ann Winblad started to resurface. During an interview in 1997, Bill Gates revealed that he made an arrangement with Melinda to continue his annual vacations with his ex-girlfriend, software entrepreneur, and venture capitalist Ann Winblad, even after their marriage. However, it is not known if the tradition still continues. [5]

New York Post
According to Bloomberg Billionaires Index, Bill and Melinda Gates jointly held an estimated $146 billion in 2021. The pair have, however, made no public hint of their financial plans. While announcing their divorce, Melinda and Bill emphasized that they will cooperate on continuing their philanthropy.