Stockton Rush (1962-2023) was an American engineer, pilot, and businessman. He was the co-founder and CEO of OceanGate Inc. He made headlines in the 2023 Titan submersible incident, a tourist expedition in which the Titan submersible carried five passengers, including Stockton Rush, the co-pilot of Titan, disappeared in the North Atlantic Ocean while it was on its way to view the wreckage of the Titanic on 18 June 2023. In June 2023, he was declared dead at the age of 61.
Wiki/Biography
Richard Stockton Rush III [1]The New York Times was born on Saturday, 31 March 1962 (age 61 years; as of 2023) in San Francisco, California. His zodiac sign is Aries. When he was a child, he wanted to be an astronaut. At the age of 18, he received his commercial pilot's license in 1980. He graduated from Phillips Exeter Academy in Exeter, United States, in the 1980s. [2]The New York Times He wanted to become a military pilot; however, he could not do that due to his visual acuity. Later, he moved from San Francisco to Seattle to join McDonnell Douglas, an American aerospace manufacturing corporation, as a flight test engineer to work on F-15 Eagle jets. At the age of 19, he earned a rating of DC-8 Type/Captain at the United Airlines Jet Training Institute. In 1984, he completed his graduation in aerospace engineering at Princeton University in New Jersey. [3]The New York Times In 1989, he completed a Master of Business Administration at the University of California, Berkeley. [4]LinkedIn – Stockton Rush
Physical Appearance
Height (approx.): 5′ 11″
Hair Colour: Grey
Eye Colour: Hazel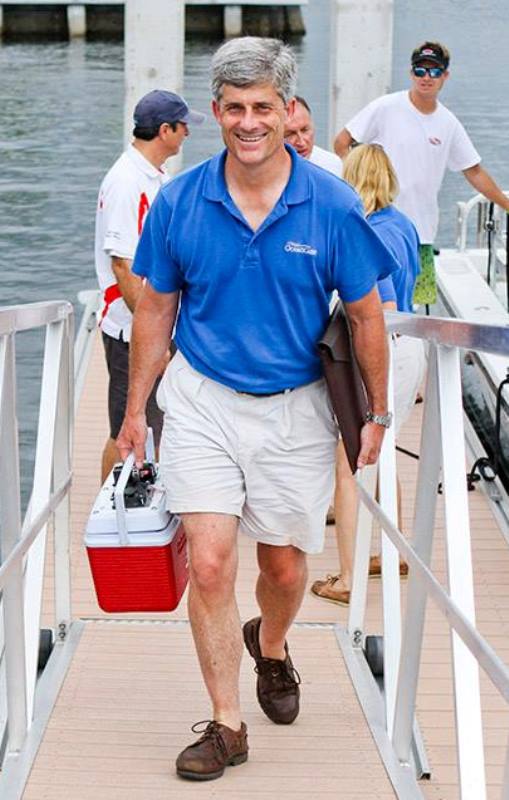 Family
He belongs to a wealthy family in San Francisco. His maternal grandfather, Ralph K. Davies, was an American businessman and a political appointee. His maternal grandmother, Louise M. Davies, was a philanthropist, and Louise M. Davies Symphony Hall in San Francisco was named in her honour. Stockton Rush is a descendant of two prominent figures from the founding period of the United States, Benjamin Rush and Richard Stockton. Benjamin and Richard played significant roles in the American Revolution and are known as signatories to the Declaration of Independence.
Parents & Siblings
His father, Richard Stockton Rush Jr., was chairman of the Peregrine Oil and Gas Company in Burlingame, California, and the Natomas Company in San Francisco. His mother's name is Ellen Rush. Stockton Rush III has four elder siblings; two sisters named Deborah and Catherine. On 31 December 1999, his father passed away from a brief illness.
Wife & Children
In 1986, Stockton got married to Wendy Weil, the director of communications at OceanGate and a licensed pilot.
According to archival records, Wendy is a descendant of two first-class passengers who tragically lost their lives when the ocean liner Titanic sank in 1912. She is the great-great-granddaughter of Isidor Straus, an American businessman and politician, and Ida Straus, a homemaker. Isidor and Ida were two of the wealthiest passengers who were on board the Titanic. [5]The New York Times
Stockton Rush is survived by two children; a girl and a boy.
Career
Engineer
In 2006, Rush built a submersible after he bought components from a private company and utilised blueprints provided by a retired U.S. Navy submarine commander. He wanted to explore the waters of Puget Sound, an inlet of the Pacific Ocean, withing getting trained for scuba diving. The submersible built by him was 12 feet in length and could dive up to 30 feet deep.
Businessman
He was the director of BlueView Technologies in Washington. In 2009, he co-founded OceanGate Inc. with his business partner Guillermo Söhnlein in Washington, after experiencing a demand for underwater ocean tourism.
According to Stockton, the objective of OceanGate was to utilize commercial tourism as a means to fund the advancement of deep-diving submersibles. These submersibles would then enable various commercial ventures such as resource mining and disaster mitigation. In 2018, he led an expedition in the San Juan Islands with a team of some scientists and researchers to take a close look at sea urchins and check whether the habitat of sand lance, a fish, is changing. As of 2021, the underwater chartered expedition cost around $250,000 per person. [6]Hindustan Times In 2022, Rush, along with four other individuals; Renata Rojas, a banker, Oisin Fanning, a businessman, Jaden Pan, a television professional, and Steve Ross, an oceanographer, embarked on a descent to explore the wreckage of the Titanic; however, they encountered technical difficulties specifically related to the pilot's controller, which complicated their exploration of the debris.
Death
On 22 June 2023, he died after the implosion of the Titan submersible in the North Atlantic Ocean. [7]The New York Times On 18 June 2023, Titan, a submersible, went missing in the North Atlantic Ocean, about 400 nautical miles (740 km) away from the coast of Newfoundland. Inside the submersible was a group of tourists, including individuals like Hamish Harding, a businessman and explorer, Paul-Henri Nargeolet, a deep sea explorer, Shahzada Dawood, a businessman, Shahzada's son Suleman Dawood, and Stockton Rush, the founder of OceanGate. They were on an expedition to witness the wreckage of the RMS Titanic. After Titan went missing, the US military helped in searching for the submersible. On 22 June 2023, it was announced that Titan had experienced an implosion, most likely during the descent, resulting in the instantaneous death of the five individuals on board. [8]The New York Times
Facts/Trivia
Stockton Rush was an adrenaline junkie and loved to take risks. In an interview, while talking about his love for taking risks, he said,


I mean if you just want to be safe, don't get out of bed, don't get in your car, don't do anything. At some point, you're going to take some risk, and it really is a risk-reward question. I think I can do this just as safely by breaking the rules." [9]The New York Times
In 2012, he founded OceanGate Foundation, a nonprofit organization, dedicated to promoting technological advancements in the fields of marine science, history, and archaeology. The foundation aimed to support and facilitate research and exploration in these areas.
In a 2017 interview, he said that he wanted to be the first person on Mars.
In an interview, while talking about underwater ocean tourism using deep-diving submersibles, he shared that having trips in the Titan submersible gave him the adventure that he wanted. He said,


It really is a life-changing experience, and there aren't a lot of things like that. Rather than spend $65,000 to climb Mount Everest, maybe die, and spend a month living in a miserable base camp, you can change your life in a week. I wanted to be sort of the Captain Kirk. I didn't want to be the passenger in the back. And I realized that the ocean is the universe. That's where life is." [10]The New York Times