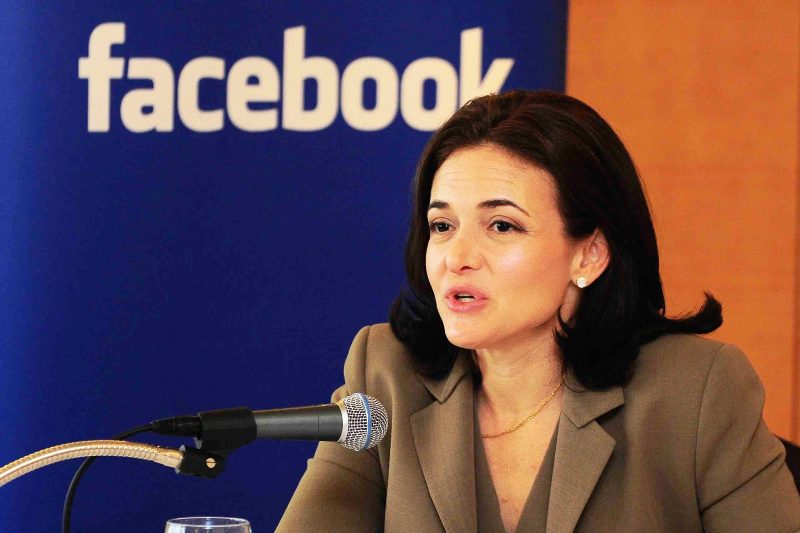 Sheryl Sandberg is an American business executive, billionaire, and philanthropist, who served as the Chief Operating Officer (COO) of Meta (formerly known as Facebook) from 2008 to 2022 after which Javier Olivan succeeded her. Sandberg is also the founder of LeanIn.Org. In June 2012, she was elected to Facebook's board of directors, becoming the first woman to serve on its board. Prior to joining Facebook as its COO, Sandberg was vice president of global online sales and operations at Google. Before that, Sandberg served as chief of staff for United States Secretary of the Treasury, Lawrence Summers.
Wiki

/Biography

Sheryl Kara Sandberg [1]The New York Times was born on Thursday, 28 August 1969 (age 53 years; as of 2022) in Washington, D.C.

Her family moved to North Miami Beach when she was two. After attending Highland Oaks Middle School in North Miami-Dade, she enrolled in the North Miami Beach Senior High School. She taught aerobics while in high school.

From 1987 to 1991, she pursued a Bachelor of Arts in Economics at Harvard University, Cambridge. While majoring in economics, she took Lawrence Summers's class in Public Sector Economics. She also received a Master of Business Administration from the Harvard Business School in 1991; she graduated with summa cum laude, the highest distinction from Harvard, and Phi Beta Kappa, an academic honour. [2]Sheryl Sandberg- LinkedIn After her first year, she won a fellowship. During her Harvard Days, she promoted a group called Women in Economics and Government that she co-founded. She also made acquaintance with Professor Lawrence Summers, who became her mentor and thesis adviser on how economic inequality contributes to spousal abuse.
Physical Appearance
Height (approx.): 5′ 4″
Hair Colour: Black
Eye Colour: Black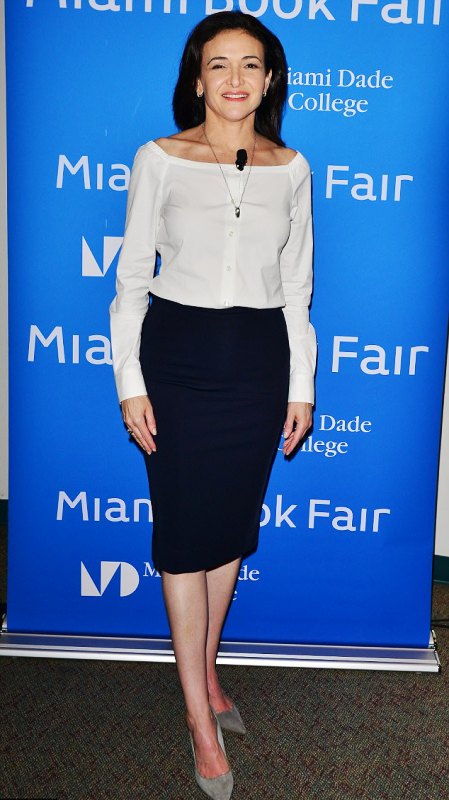 Family
Parents & Siblings
Her father, Joel Sandberg, is an ophthalmologist, who is a partner in Eye Surgery Associates in Hollywood. Her mother, Adele Sandberg, teaches English as a second language at an EF International Language School in Miami Beach. She has two younger siblings, David, a pediatric neurosurgeon, and Michelle, a paediatrician.
Husband & Children
From 1993 to 1994, she was married to the Washington businessman Brian Kraff. In 2004, Sheryl Sandberg got married to the American management consultant and businessman David Bruce Goldberg (better known as Dave Goldberg) at the Boulders Resort in Carefree, Ariz. At that time, Sheryl was working as the vice president for online advertising sales and operations at Google in Mountain View, Calif, while David held the position of Vice President at Yahoo, Los Angeles. Together, they have two children, a son (born in 2005) and a daughter (born in 2007).
On 1 May 2015, Dave Goldberg suddenly died while vacationing with Sandberg at a private beach-front villa near the Four Seasons Hotels and Resorts in Punta Mita, Mexico. Later, Sandberg revealed that Goldberg died due to an arrhythmia caused by undiagnosed coronary artery disease. In 2022, Sandberg got married to Tom Bernthal, the former NBC News producer who founded the marketing and consulting firm Kelton Global, Trail Creek Ranch in Jackson, Wyoming. Tom Bernthal has three children from his previous marriage.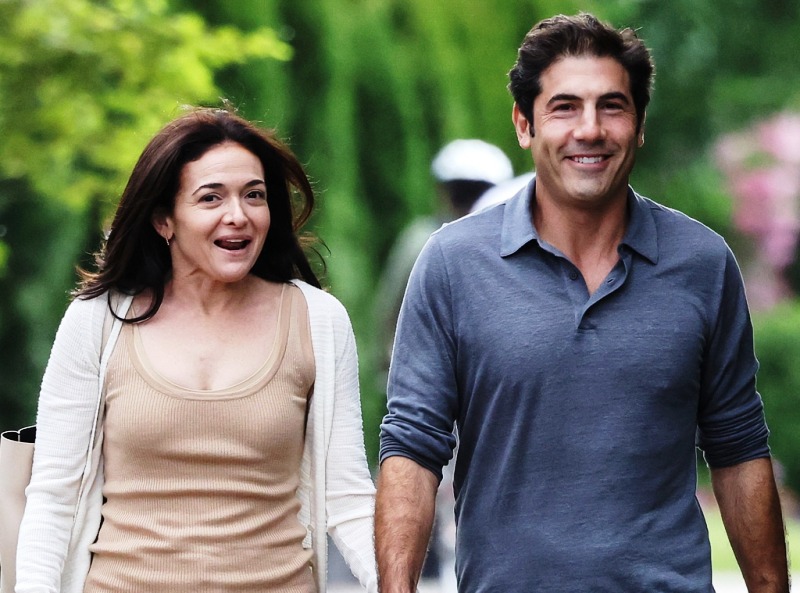 Others
Sheryl Sandberg's mother-in-law Paula Goldberg (Dave Goldberg's mother) is the founder and executive director of the Pacer Center in Minneapolis, which advises and assists the parents of disabled children. Her late father-in-law Mel Goldberg (Dave Goldberg's father) was an associate dean and a professor of law at the William Mitchell College of Law in St. Paul.
Her brother-in-law Jon Bernthal (Tom Bernthal's brother) is an actor who is known for starring in Netflix's The Punisher.
Relationships/Affairs
Sheryl Sandberg and Dave Goldberg first made acquaintance in 1996. In 2001, when Yahoo bought Launch, Goldberg became head of Yahoo Music in Los Angeles. In 2002, he started dating Sandberg, who was then an advertising executive at Google in the Bay Area, after going on a trip. In an interview, Goldberg revealed that they flipped a coin to decide whether they would be living in Los Angeles or Bay Area. As he lost the coin flip, he moved to Bay Area and commuted from there to L.A.
From 2016 to 2019, she was in a relationship with American businessman Bobby Kotick, the CEO of Activision Blizzard.
She started dating Tom Bernthal in 2019. The couple was first introduced to each other by Sandberg's late husband's brother.
Religion
Sheryl Sandberg belongs to a Jewish family. Her parents helped found the South Florida Conference on Soviet Jewry after a rabbi at their synagogue asked for volunteers. Thereafter, their home became an unofficial headquarters for Soviet Jews wanting to escape anti-Semitism and a temporary hotel for many who had finally won the right to emigrate. [3]The New Yorker
Signature/Autograph
Career
In January 1991, when Lawrence Summers became the chief economist at the World Bank,  he recruited Sandberg as a research assistant. Sandberg worked for Summers for about two years. In this capacity, she worked on health projects in India—leprosy, AIDS and blindness. Thereafter, she went on to attend Harvard Business School, and took a job at McKinsey & Company, while she was briefly married to Brian Kraff.  In 1995, she joined Treasury Department when Summers became the Deputy Treasury Secretary under Robert Rubin, in the Clinton Administration. In 1999, she became the Chief of Staff to the for United States Secretary of the Treasury Lawrence Summers in Washington. After the Democrats lost the 2000 election, she decided to move to Silicon Valley to join the technology boom.
Google
In 2001, she joined Google as the business-unit general manager. At that time, it was a private company, barely three years old, with no steady revenue stream. Sandberg helped oversee the arrangement when AOL made Google its search engine in 2002 and agreed to pay at least hundred and fifty million dollars annually. She oversees the company's business operations including sales, marketing, business development, human resources, public policy and communications. In November 2001, she became Vice President, Global Online Sales & Operations at Google, a position she served until March 2008. At Google, she was also involved with its charitable arm Google.org
Meta (formerly known as Facebook)
In March 2008, he assumed the position of Chief Operating Officer at Facebook, the company's second-highest rank. For fourteen years, she was the company's second most-recognized face after CEO Mark Zuckerberg. After four years, she was elected to Facebook's board of directors, becoming the first woman to serve on its board. [4]The Wall Street Journal As COO, Sandberg made Facebook a platform for small business advertising. Her efforts increased the company's ad revenue by 37% during 2021, to nearly $115 billion. On 1 June 2022, Sandberg announced that she would be stepping down as COO via a Facebook post, saying that she would focus on her philanthropy as well as parenting her five children with Bernthal. However, she said that would stay the company's board member.
Others
Her first public company board position was in 2009 when she joined the board of directors of Starbucks. In the same year, Sandberg was also named to the board of The Walt Disney Company. Apart from that, she is named to the boards of Women for Women International, the Center for Global Development, and V-Day. Previously, she has served as a board member of Brookings Institution and Ad Council.
Philanthropy
LeanIn.Org (Sheryl Sandberg & Dave Goldberg Family Fund)
In 2013, Sheryl Sandberg founded LeanIn.Org (also known as Lean In Foundation), a 501(c)(3) nonprofit organization, that provides support to women in three main ways — community, education, and coordinated peer groups that meet to share their experiences and learn together. The organisation was founded following the success of her bestselling book Lean In: Women, Work, and the Will to Lead (2013). The organization has launched various popular campaigns like #BanBossy and #LeanInTogether. A self-censorship campaign, #BanBossy criticized the use of the word "bossy" to describe assertive girls and women, proposing that the word is stigmatizing and may discourage girls and women from seeking positions of leadership.  In 2016, Sandberg renamed Lean In Foundation to the Sheryl Sandberg & Dave Goldberg Family Foundation, in the memory of her late husband. She roughly donated $350 million worth of Meta Platforms shares, as well as $30 million worth of SurveyMonkey shares, to the Sheryl Sandberg & Dave Goldberg Family Fund.
OptionB.org
In 2017, Sheryl founded OptionB.Org, an initiative of the Sheryl Sandberg & Dave Goldberg Family Foundation. The organisation aims to help people build resilience, both in the face of adversity and in their everyday lives, and better support loved ones who are coping with challenges. At optionb.org, people can find and share personal stories, join groups for solidarity and support, and access resources to help them build resilience.
The Giving Pledge
Sheryl and her husband, Dave, were actively associated with The Giving Pledge, a campaign that encourages extremely wealthy people to contribute a majority of their wealth to philanthropic causes.
Controversies
Russian interference in the 2016 United States elections
The Russian government interfered in the 2016 U.S. presidential election with the goals of harming the campaign of Hillary Clinton, boosting the candidacy of Donald Trump, and increasing political and social discord in the United States. On May 17, 2017, Mueller was appointed by Deputy Attorney General Rod Rosenstein as special counsel overseeing an investigation into allegations of Russian interference in the elections. The report claimed that the first method of Russian interference used the Internet Research Agency (IRA), a Kremlin-linked troll farm, to wage a social media campaign that favoured Donald Trump and disparaged Hillary Clinton. The Mueller Report found the IRA spent $100,000 on more than 3,500 Facebook advertisements from June 2015 to May 2017, which included anti-Clinton and pro-Trump advertisements. Thereafter, Zuckerberg and Sandberg were immensely criticized after being accused of first ignoring and then trying to conceal Russia's use of the social network to disrupt the elections to deflect public scrutiny onto Facebook's competitors. [5]CNBC However, in her address to the media, she denied the allegations saying,
We were too slow to spot this and too slow to act…But to suggest that we weren't interested in knowing the truth, or we wanted to hide what we knew, or that we tried to prevent investigations, is simply untrue."
Cambridge Analytica data scandal
In the 2010s, personal data belonging to millions of Facebook users was collected without their consent by British consulting firm Cambridge Analytica, predominantly to be used for political advertising. The data was collected through an app called "This Is Your Digital Life", developed by data scientist Aleksandr Kogan. The app consisted of a series of questions to build psychological profiles on users and collected the personal data of the user's Facebook friends via Facebook's Open Graph platform. The app harvested the data of up to 87 million Facebook profiles. Information about the data misuse was disclosed in 2018 by Christopher Wylie, a former Cambridge Analytica employee, in interviews with The Guardian and The New York Times. According to The Wall Street Journal, during a meeting, Mark Zuckerberg blamed Sandberg and her teams for the public fallout over Cambridge Analytica, the research firm that inappropriately accessed private data on Facebook users and used it for political research. [6]The Wall Street Journal
2021 Riot at the U.S. Capitol
On January 6, 2021, following then-U.S. President Donald Trump's defeat in the 2020 presidential election, a mob of his supporters attacked the Capitol Building in Washington, D.C. They sought to keep Trump in power by preventing a joint session of Congress from counting the electoral college votes to formalize the victory of President-elect Joe Biden. Thereafter, many social media platforms including Facebook were blamed for fueling the insurrection at the U.S. Capitol by serving as a medium for organising the mob. Subsequently, Sandberg was immensely criticized for deflecting blame for the Capitol riot. [7]Forbes While downplaying her employer's role as a platform for the organizers of the siege in a live interview, she said,
I think these events were largely organized on platforms that don't have our abilities to stop hate, don't have our standards and don't have our transparency."
Pressuring the Daily Mail to Drop the Story About her boyfriend CEO Bobby Kotick
In 2016 and 2019, Sandberg contacted the digital edition of the Daily Mail, which was reporting on a story about her then-boyfriend, Activision Blizzard Chief Executive Bobby Kotick. The U.K. tabloid would have revealed the existence of a temporary restraining order against Kotick that had been obtained by a former girlfriend in 2014 who alleged that he harassed her at her home. Reportedly, she worked with a team that included Facebook and Activision employees as well as paid outside advisers to persuade the Daily Mail to shelve a potential article when they began dating in 2016 and again around the time they were breaking up in 2019. She allegedly told the Mail in 2016 that if the article were published, it could damage the outlet's relationship with Facebook. [8]The Guardian
Using Corporate Resources to Plan Her Wedding
In 2022, Sheryl attracted controversy when she was reported to be under review for using corporate resources for her personal projects including her second book, her Lean In foundation and her second wedding. [9]The Wall Street Journal The investigation also looked into allegations that Sandberg pressured the U.K.'s Daily Mail to shelve an article about Sandberg's former boyfriend, Activision Blizzard Inc. CEO Bobby Kotick, and a 2014 temporary restraining order against him.
Political Inclination
During the 2016 presidential elections, Sheryl Sandberg supported Hillary Clinton of the Democratic Party. [10]Politico Although she hinted that was likely to support a Democratic candidate in the 2020 elections, she declined to endorse Elizabeth Warren. [11]CNBC
Net Worth
In 2021, she was included in Forbes Magazine's billionaires' list with a net worth of $ 1.7 billion, due to her stock holdings in Facebook and in other companies. As of 2022, her net worth is $1.5 billion. [12]Forbes
Facts/Trivia
She met Mark Zuckerberg in 2007 at a Christmas party hosted by American business executive Dan Rosensweig.
In 2012, she was listed in Time 100, an annual listicle of the 100 most influential people in the world.  In 2022, she ranked 18th in America's Richest Self-Made Women 2022 – Forbes.
She co-authored the book Lean In: Women, Work, and the Will to Lead (2013) with media writer Nell Scovell. The book encouraged women to be ambitious and assert themselves at work as well as at home. It was shortlisted for the 2013 Thinkers50 Best Book Award. In response to the success of the book, Sandberg founded LeanIn.org (also known as Lean In Foundation) in the same year.
Sandberg released her second book, Option B, in April 2017, which she co-authored with professor Adam Grant.
Ever since Facebook went public in 2012, she has been aggressively unloading her stake in the company. In 2022, Forbes calculated that Sandberg had parted with 92% of the shares that she owned as of March 2013; Sandberg owned nearly 17.9 million shares as of March 2013. Within a year after Facebook's May 2012 initial public offering, she offloaded about 30% of her stake; by 2015, an additional 42% of her shares were sold. The share sales slowed down in 2016 before coming to a halt in late 2019. According to FactSet based on public filings, she has sold more than $1.8 billion (pre-tax) worth of Meta stock as of 2022.
Shoshana Zuboff, an American author and Harvard professor, published a book titled "The Age of Surveillance Capitalism: The Fight for a Human Future at the New Frontier of Power" in 2019 in which she labelled Sandberg as "the Typhoid Mary of surveillance capitalism," citing the Facebook scandals involving Cambridge Analytica and the Kremlin during the 2016 election.
She has given the Commencement Address at various recognised institutions like Barnard College (2011), the University of California, Berkeley (2016), Virginia Tech (2017), and the Massachusetts Institute of Technology in Cambridge (2018).
In 2012, The Guardian termed Sandberg as 'The first lady of Facebook.'