Megan Thee Stallion is an American rapper, singer, and songwriter who has won several accolades, including five BET Hip Hop Awards, two MTV Video Music Awards, and a Billboard Women in Music Award. She is famous for her songs Big Ole Freak (2018), Hot Girl Summer (2019), and Savage Remix (2020), which were ranked among the top 10 music albums in the record chart 'Billboard 200.'
Wiki/Biography
Megan Thee Stallion was born as Megan Jovon Ruth Pete [1]Marie Claire on Wednesday, February 15, 1995 (age 26 years; as of 2021), in San Antonio, Texas. Megan spent her childhood in the South Park neighborhood of Houston. She first got interested in rapping after listening to her mother, Holly Thomas, who rapped under the name "Holly-Wood." In an interview, she said,
My mom is the first female rapper I've ever known. I'm thinking, like, Okay, yeah, this is normal. Everybody's doing this."
Instead of putting Megan in daycare, Holly used to take Megan along to the recording sessions. At the studio, Holly thought that her daughter was engaged in coloring books and watching TV, but Megan would attentively notice her mother's work. In an interview, she said,
Really, I was ear to the door, thinking, Yeah, uh-huh, I'ma do that, too."
She attended Pearland High School, Texas, where she was crowned Miss Pearland in ninth grade. In 2013, while pursuing a degree in health-care administration at Prairie View A&M University, Texas, Megan rocked a college party with her raps after which her friend encouraged her to start a YouTube channel. Thereafter, she uploaded freestyle rap videos on YouTube, which captured the attention of her fellow college mates. While sharing this incident in an interview, she said,
So I did a freestyle to "Sho Nuff" by Tela, 8Ball & MJG, and everybody on campus saw it, and they're like, "Oh my God. Yeah. This is it."
Physical Appearance
Hair Color: Black
Eye Color: Black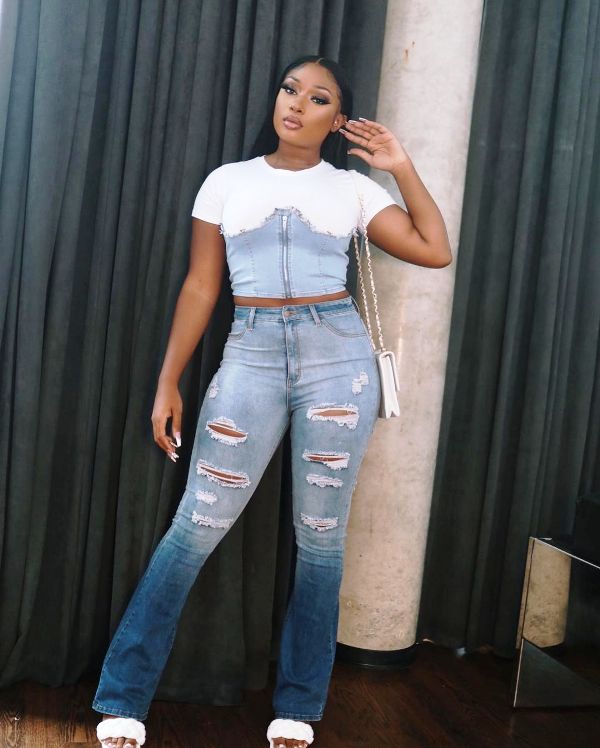 Family & Ethnicity
Megan Thee Stallion is a  Creole, i.e., a person of mixed African and European ethnicity. [3]Twitter
Parents & Siblings
Her mother, Holly Thomas, is a former rapper who also worked as Megan's manager, died in April 2019 due to a brain tumor. Megan's father died in 2011 when she was fifteen years old.
Relationships, Husband & Children
While streaming live on Instagram on February 19, 2021, Megan Thee Stallion disclosed her relationship with the American singer and songwriter Pardison Fontaine. During the live stream, she reciprocated the concerns of her fans regarding a fiery argument between the two that went viral on the internet. She said,
I didn't like what they were trying to say about Pardi. Cause he is so calm and so sweet. And very, you know … That's my boo. And I really like him … He is so perfect and he would never do anything to hurt me, just so y'all know."
Career
Although Megan Thee Stallion started rapping during her college days, a turning point in her journey as a rapper came when a clip of Megan, dominating her male opponents in a freestyle rap battle, went viral on the internet. In 2017, she came into the spotlight with her song Stalli Freestyle.
After signing with 1501 Certified Entertainment at the beginning of 2018, a big breakthrough in her career came in November 2018 when she became the first woman rapper to sign with 300 Entertainment. In the same year, she struck stardom with her second extended play 'Tina Snow,' which featured the hit song "Big Ole Freak."
Megan received critical acclamation for her debut commercial mixtape, Fever, which was released on May 17, 2019. Later, in the same year, she shot to fame with the party song "Hot Girl Summer," which featured popular American rapper-singers Nicki Minaj and Ty Dolla Sign. The song was a big hit and bagged 53 million views on YouTube.
She made her digital debut in 2019 with the horror series 'Hottieween' in which she played the role of a private investigator chasing a gang named 'Fuccbois.'
Although a temporary restricting order was issued against the record label 1501, Megan released the extended play 'Suga' on March 6, 2020. The EP included the song 'Savage,' which went viral on the internet when the popular TikTok user Keara Wilson used it to create a dance challenge.
Controversies
On July 12, 2020, the popular Canadian rapper Tory Lanez was charged for carrying a concealed weapon in his vehicle. During his arrest at the Hollywood Hills, the police pulled over his car and discovered that Lanez was with Megan Thee Stallion, who had an injury on her feet. Earlier, Megan claimed that she had injured her foot on broken glass, but later, she revealed that she had gunshot wounds on her feet for which she underwent surgery. Eventually, she accused Lanez of shooting her, stating,


I didn't tell the police what happened immediately right there because I didn't want to die."

Lanez held all the accusations invalid, citing that he was framed by Megan's PR team. Another fact disclosed by Megan was that she was offered money by Lanez and his team to remain silent regarding the incident. After Lanez was charged with assaulting Megan Thee Stallion, a restraining order was issued stating that Lanez must remain at least 100 yards away from Megan, and he was not allowed to contact her. [4]The New York Times

In February 2021, Megan featured on the cover of Harper's Bazaar magazine wearing a sheer black cape by Chanel, accessorized with earrings by Bulgari on a cover, while in another, she wore a black top by Saint Laurent with a waist belt and a choker with a flower.

Her appearance became a topic for debate as her fans claimed that she was photographed inaccurately as the photographer could not capture her skin tone correctly. On Harper's Bazaar magazine's Instagram post, an anonymous user wrote a comment which read,

Nah this ain't it – photographer didn't even know how to capture Megan's skin correctly.. in any of the pics. Hopefully, he learned a lot from this."

While another user commented,

Yall clearly need a black creative director on set. This is terrible."

Thereafter, the photographer, Collier Schorr, put an end to the debate via a tweet in which he wrote,

Did all that talking nonsense and comes out Meg herself discussed each photo and did the edit in "total collaboration" with the photographer." [5]The Indian Express
Awards/Honors
Won Variety's Hitmakers Award (2019) in the category of Breakthrough Artist
Won Powerhouse Award (2019) at Billboard Women in Music
 Won BET Award for Best Female Hip-Hop Artist (2019)
 Won Soul Train Music Award for Rhythm & Bars Award (2020) for the song "Savage"
 Won People's Choice Awards (2020) in the category of Collaboration Song of the Year
 Won MTV Video Music Award for Best Hip-Hop Video (2020) for the song "Savage"
 Won American Music Award for Favorite Rap/Hip-Hop Song (2020)
Favorite Things
Food: Chocolate, Hershey's with Almonds
Film Series: The Chronicles of Narnia (2005)
TV Shows: My Hero Academia (2016)
Facts/Trivia
Megan Thee Stallion contributed $15,400 worth of Thanksgiving turkeys to 1,050 needy households in November 2019.
She became the Global Brand Ambassador for the American multinational cosmetic company 'Revlon' in August 2020.
Megan's successful career did not distract her from completing her formal education i.e., a degree in healthcare administration. She is determined to set up assisted-living facilities for the elderly in Houston, her hometown. In an interview, she said,


I mean, my grandmother is almost 70, and my great-grandmother was like 87, so just watching her take care of her made me want to create a facility for people who are older to go and have somebody help them with their end-of-life care…I want to give back; this is what I'm gonna do."
During her teenage days, she was referred to as Stallion, a southern slang used for statuesque women, for being extraordinarily tall, which she later included in her stage name.