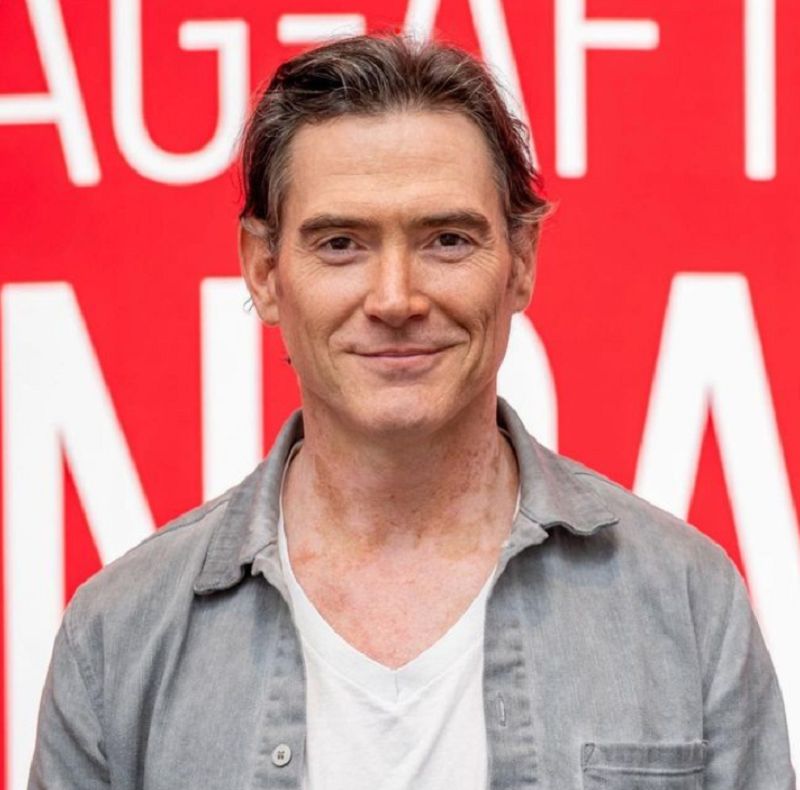 Billy Crudup is an American actor who is known for appearing in leading and supporting roles in films including Almost Famous (2000), Big Fish (2003), and Mission: Impossible III (2006).
Wiki

/Biography

William Gaither Crudup was born on Monday, 8 July 1968 (age 55 years; as of 2023) in Manhasset, New York, U.S. His zodiac sign is Cancer. He did his schooling at Saint Thomas Aquinas High School, Fort Lauderdale, Florida in 1986. He pursued a bachelor's degree in arts at the University of North Carolina at Chapel Hill, North Carolina. In 1994, he pursued his master's degree in fine arts at New York University, Tisch School of the Arts. [1]PBS In addition to this, he also pursued an undergraduate acting course at LAB! Theatre. During his childhood, his parents went through a divorce. Afterwards, they remarried, but unfortunately, they ended up divorcing again later. At the age of eight, he moved with his family from New York to Texas. After some time, they relocated again to Florida. When he was in school, he used to participate in school pageants and get roles in them. He loved entertaining his family and friends by doing funny impersonations.

Crudup belonged to the Beta Chapter of the Delta Kappa Epsilon (DKE) fraternity. When he was studying at LAB! Theatre, while studying acting as an undergraduate, he took on the role of "Schroeder" in the children's musical "You're A Good Man, Charlie Brown!."
Physical Appearance
Height (approx.): 6′ 0″
Hair Colour: Salt and Pepper
Eye Colour: Brown
Family
His family has an ancestor from Scotland, Ireland, and England.
Parents & Siblings
His father's name is Thomas Henry Crudup III, who was a businessman. His mother's name is Georgann, who was a stage and screen actor.
He has two brothers, Tommy Crudup, who is a film producer and Brooks Crudup who is also a film producer.
Wife & Children
Billy got married to Naomi Watts, who is an actress on 9 June 2023.
He has a son, William Atticus Parker, together with his ex-girlfriend Mary-Louise Parker, who is an actress.
Other Relatives
His paternal grandfather's name is Josiah Crudup, who was a Congressman of North Carolina. His maternal grandfather's name is William Cotter "Billy" Gaither Jr, who was a Florida trial lawyer). His step-maternal grandfather's name is James Duncan, who was an episcopal bishop.
Relationships/Affairs
Billy was in a relationship with actress Mary-Louise Parker from 1996 to 2003.
In 1996, he appeared in the Broadway play "Bus Stop," where he met his longtime girlfriend, Mary-Louise Parker. However, they broke up in 2004. While Mary was seven months pregnant with their son, Crudup ended their relationship and started dating actress Claire Danes. Claire received criticism for being involved with Crudup at that time. In an interview, she discussed their relationship and said that she was just 24 years old and deeply in love during that period. In 2004, he started dating Claire Danes, who is an actress. They separated in 2006.
He got into a relationship with actress Naomi Watts and dated her till 2023. In June 2023, he got married to Naomi.
Career
Film
He made his debut with the film Everyone Says I Love You in 1996 and played the role of Ken.
He acted in the movies "Inventing the Abbotts" (1997) and "Without Limits" (1998). In "Without Limits," he played the role of the Olympian Steve Prefontaine. In 1999, he featured in the English version of the animated movie "Princess Mononoke" where he played the role of Ashitaka. In 2006, he appeared in the movie "The Good Shepherd" as a British spy named Arch Cummings.
In 2006, he played a supporting role in Mission: Impossible III. In 2007, he played the main character, Henry Roth, in the film "Dedication." In 2009, he starred in the movie "Watchmen" as the superhero Doctor Manhattan. In 2011, he played the role of former U.S. Secretary of the Treasury, Timothy Geithner, in the movie "Too Big to Fail."
Television
He made his debut with the television show General College in 1987 as Jason Matthews.
Crudup appeared in the Apple TV+ series "The Morning Show." During an interview, he discussed his character Cory in the TV series and described him as a blend of various personalities. In an interview, he said,
There was the CEO of a major corporation at 37. He shat sunshine. Wherever he went, there was never going to be a problem because he was there, because the world had not told him about complexities and failures. He had had nothing but the thrill of his own imagination in real time. There was the pro poker player who would "talk to you constantly to get information, doing social calculus and poker calculus at the same time. That's how you see Cory do a sideways glance in the middle of something, checking to see if there's any information he needs to get to add to his ever-changing algorithm."
Broadway
He made his debut as a Broadway actor with the play Arcadia in 1995.
In 2007, he appeared on Broadway The Coast of Utopia.
In 2010, he played a leading role in the Broadway production of "The Metal Children."
Play
In August 2013, he performed in the play "No Man's Land" and also appeared in "Waiting for Godot" at the Berkeley Repertory Theatre.
In 2009, he played the character Zartan in the video "The Ballad of G.I. Joe," which was featured on the website Funny or Die. In November 2017, he took on the lead role in the play "Harry Clarke" at Vineyard Theatre.
Producer
In 2023, he took on the role of an executive producer for the TV series "Hello Tomorrow!"
Awards, Honours, Achievements
1995: Outer Critics Circle Award for Outstanding Debut of an Actor for the Broadway Arcadia
1998: National Board of Review Award for 'Breakthrough Performance of the Year' for the film Without Limits
1999: Best Actor Award at Paris Film Festival for his performance in the movie "Jesus' Son"
2007: Tony Award for Best Performance by a Featured Actor for his role in Tom Stoppard's "The Coast of Utopia"
2020: Primetime Emmy Award for the show The Morning Show
Facts/Trivia
In an interview, he spoke about his late father, who passed away in 2005. He described his father as someone who had a constant urge to gamble and was always striving for big success in life. He also mentioned that his grandfather, who fought in World War II, believed that toughening up his son by making him feel inadequate was a way to show love. This left a lasting impact on his father, making him feel like he would never be good enough.
In 2000, he was offered the part of Patrick Bateman in the movie "American Psycho," but he declined the role.
In 2000, the movie "Almost Famous" won an Academy Award. In the film, he played the role of a rock guitarist. Interestingly, he was not the first choice for the role; initially, it was offered to Brad Pitt, who opted to appear in the movie "Fight Club" (1999) instead.
In 2002, he was nominated for a Tony Award in the category of Best Actor in a Play for his role in "The Elephant Man."
In 2003, he turned down the opportunity to play the role of Bruce Banner in the movie "Hulk."
In 2005, he was nominated for a Tony Award for his performance as Katurian in the Broadway play "The Pillowman."
In 2005, he went through a screen test and was a potential candidate for the lead role in the movie "Batman Begins."
In 2010, actor Michael Hayden replaced him in the Lincoln Center Theatre production of Henry IV.
In 2011, he was nominated for a Tony Award in the category of Featured Actor in a Play for his role in the Broadway play "Arcadia."
He used to work as a voice-over actor for advertising and promotional campaigns to reach a broad audience. He was the voice of MasterCard's ad campaign, where he would say the word "Priceless." He continued to deliver that line for seven years.
In 2014, Selena Gomez revealed that she had a crush on Billy.
In 2023, Billy and Terry Crews discovered that they were distant cousins, as they both had a common ancestor. While on the set of the PBS show "Finding Your Roots," they learned that 15% of Crews' ancestors from the last five centuries hailed from Scotland, Ireland, and England, which were the same regions where Crudup's family originated from.
In an interview, Billy Crudup shared that during a particular phase in his career, he worked as a historical interpreter at Roanoke Island Festival Park in Manteo, North Carolina. As a historical interpreter, his role involved interacting with visitors and offering information, demonstrations, and reenactments to highlight the historical importance of the park.
He enjoys playing golf, and he frequently practices the sport with his wife's friend, director Bart Freundlich.