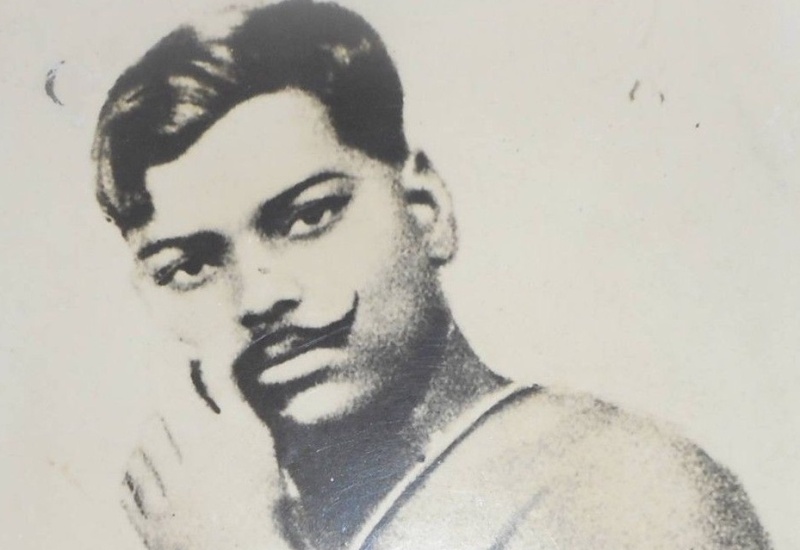 Chandra Shekhar Azad was a renowned Indian freedom fighter. He is well known for reorganising the Hindustan Republican Association (HRA) organisation into its new name Hindustan Socialist Republican Association (HSRA) in 1928 after the death of its founder 'Ram Prasad Bismil.' This organisation was founded by Ram Prasad Bismil, and three other notable party leaders, Roshan Singh, Rajendra Nath Lahiri and Ashfaqulla Khan in 1923. He used to use his pen name "Balraj" while signing the pamphlets that were issued to the general public and British government as the commander in chief of the HSRA.
Wiki/Biography
Chandra Shekhar Azad was born as Chandra Shekhar Tiwari on Monday, 23 July 1906 (age 24 years; at the time of death) in Bhavra, Alirajpur State, British India. [1]Britannica His zodiac sign is Leo. Chandra Shekhar Azad's mother wanted him to be a Sanskrit scholar, thereby, she persuaded his father to send him to Kashi Vidyapeeth, Banaras, to attain his education.
Physical Appearance
Hair Colour: Black
Eye Colour: Black
Family
Parents & Siblings
His father's name was Sitaram Tiwari, and he was a gardener. His mother's name was Jagrani Devi, and she was a homemaker.
His mother was the third wife of his father, whose previous two wives died. His ancestors belonged to Badarka village of Unnao District. His family shifted to Alirajpur State after the birth of his elder brother Sukhdev in search of livelihood.
Religious Views
The religion followed by Azad and his fellow revolutionaries was utilitarian rather than ideological. A member of the Hindustan Republican Association (HRA) organisation named Ramkrishna Khatri, who was recruited by Azad, narrated an incident in a conversation with scholars of the Jawaharlal Nehru University. [2]The Wire He said,
The HRA revolutionaries had planned to rob a monastery in Ghazipur for funding the movement. With this objective, Azad joined the monastery and spent three to four months there waiting to win the confidence of the chief pontiff or for him to die and be assigned the keys to the treasury. The revolutionaries were not even hesitant to kill the pontiff, if he did not die of natural causes. According to Khatri, before taking the task, Manmath Nath Gupta wanted Azad to 'guarantee the death of the pontiff'. However, this plan did not materialise and the party decided to relieve Azad from this task."
He further added about the famous picture of Azad wearing a janeau and twirling his moustaches. [3]The Wire He said,
One of the most famous photos of Azad is where he is seen twirling his moustaches and wearing a janeau. This photograph has been used to question the egalitarian and progressive ideology of the HSRA revolutionaries. The said image was taken when Azad was living in disguise as a mendicant in Jhansi who used to recite the Ramayana. That janeau was part of a disguise. Azad had long ago given up the practice of wearing the janeau and other religious symbols, as per the decision taken by the Central Committee of the HSRA at Feroz Shah Kotla in September 1928."
Formative Years
At the age of fifteen, Chandra Shekhar joined the Non-Cooperation Movement in 1921 soon after completing his school education. He was one of the students of Mahavidyalaya who protested and recited the slogans of Vande Matram and Bharat Mata ki Jai against the British rule under the Non-Cooperation Movement. On 20 December, he was arrested by British officials along with other students. After a week of his arrest, he was presented before the District Magistrate Justice named 'Reverend Tomson Kregat' for court trials. He told his name 'Azad,' his father's name 'Swatantrata' (Independence) and his address as 'Jail' in front of him. Azad was punished for 23 weeks in jail by the angered magistrate with 15 lashes a day.
Freedom Fighter
In 1922, Chandra Shekhar Azad get disappointed after the deferment of the non-cooperation movement by Mahatma Gandhi. Following this, he met another young revolutionary Manmath Nath Gupta to participate in another Indian Independence Movement. Manmath Nath Gupta introduced him to Ram Prasad Bismil who was the founder of the revolutionary movement titled Hindustan Republican Association (HRA). Since then, he began working for the HRA organisation by collecting funds for it. Azad was actively involved in the robberies from the government property. In 1925, the Kakori Train Robbery was executed by Azad. In 1928, he was involved in the shooting of J. P. Saunders at Lahore to take revenge for the killing of Lala Lajpat Rai.
In 1929, he attempted to blow up the train of the Viceroy of India. Motilal Nehru, a leader of the Congress party, frequently supported him by funding him financially for his organisation.
Campaigns in Jhansi
Azad made the forest of Orchha in Jhansi his station for some time. He used to practice shooting at the jungles of Jhansi. He also trained his group members. He started living in a hut that he built near a Hanuman temple on the banks of the Satar River. He lived at this place with Pandit Harishankar Bramhachari for a long time. The children of the nearby village 'Dhimarpura' used to come to him to study. Consequently, he maintained a good reputation among the local villagers. During his stay in Jhansi, he also learned to drive a car at the Bundelkhand Motor Garage in Sadar Bazar. During his revolutionary movement, several other freedom fighters like Sadashivrao Malkapurkar, Vishwanath Vaishampayan and Bhagwan Das Mahaur became an important part of his group. Raghunath Vinayak Dhulekar and Sitaram Bhaskar Bhagwat who were the great congress leaders of that time also got attracted towards his organisation. Rudra Narayan Singh at Nai Basti and Bhagwat in Nagra gave him shelter to live and continue the movement of his organisation. Bundelkhand Kesri Dewan Shatrughan Singh was his great supporter who gave him financial and arms support during the freedom struggle. Bundelkhand Kesri Dewan Shatrughan Singh was the founder of the freedom movement in Bundelkhand.
Reorganising the Hindustan Republican Association (HRA) with Bhagat Singh
In 1923, the Hindustan Republican Association (HRA) was established by Ram Prasad Bismil, Jogesh Chandra Chatterjee, Sachindra Nath Sanyal, and Shachindra Nath Bakshi. In 1925, the group attempted the Kakori train robbery, following this, the Britishers death-sentenced Ram Prasad Bismil, Ashfaqulla Khan, Thakur Roshan Singh and Rajendra Nath Lahiri for their active involvement in the robbery.
During the suppression of the revolutionary activities by the British government after the train robbery, Azad, Keshab Chakravarthy and Murari Lal Gupta escaped from being arrested. Later, Bhagat Singh also joined the movement of Chandra Shekhar Azad and helped Azad in reorganising the Hindustan Republican Association (HRA) into the Hindustan Socialist Republican Association (HSRA) in 1928. This movement followed the socialist principle to attain the freedom of independence. Manmath Nath Gupta, an active member of the group of Azad, gave deep insights into the revolutionary actions of Azad in his biography titled "Chandrashekhar Azad" – History of the Indian Revolutionary Movement (English version of above: 1972).
Legacy
Several Indian movies are made on Azad's life and his struggle for the independence of India. These movies include Chandrasekhar Azad (1963), Shaheed (1965), 23rd March 1931: Shaheed (2002) in which Indian actor Sunny Deol portrayed Azad, Legend of Bhagat Singh (2002) in which Akhilendra Mishra portrayed Azad, Raj Zutshi portrayed Azad in the movie Shaheed-E-Azam (2002), Aamir Khan portrayed Azad in the movie Rang De Basanti (2006), which was directed and produced by Rakeysh Omprakash Mehra. In the movie Rang De Basanti, the lives of the freedom fighters Chandra Shekhar Azad, Bhagat Singh, Rajguru, Bismil, and Ashfaq were compared with today's generation. A 2018 television series titled 'Chandrashekhar' was also telecasted on Star Bharat. Ayaan Zubair, Dev Joshi, and Karan Sharma portrayed Azad in his childhood, teens, and adulthood respectively. Several Indian schools, colleges, universities, public institutions, and roads are named after Chandra Shekhar Azad.
Martyrdom
The CID head of Allahabad police Sir J. R. H. Nott-Bower was given the tip by someone that Azad was having a meeting with his group member Sukhdev Raj at Alfred Park on 27 February 1931. Soon, Bower, along with his police troops, headed towards Alfred Park to arrest Azad. As planned, police personnel surrounded him from all four sides along with their DSP Thakur Vishweshwar Singh with rifles. Soon, a shootout began and Sukhdev escaped the scene without any injury. On the other side, Azad hid behind a big tree and began firing the police personnel. At last, after a long encounter, Azad was left with only one bullet that he shot at himself as he took the pledge to always remain Azad (Free) and never wanted to capture alive by the Britishers. Bower injured his right palm and DSP his jaws in the shootout. Soon, police took the body of Azad to cremate at Rasulabad Ghat without informing the general public. However, people surrounded the cremation park soon after the news of Azad death spread like fire. The general people raised the slogans of praising Azad's initiatives for India's struggle for independence. Veerbhadra Tiwari and Yashpal who were the old comrades were held responsible for tipping off the police about the whereabouts of Azad.
Facts/Trivia
He was also called by the names Azad, Balraj, and Panditji by other freedom fighters during the Indian Independence Movement.
Chandra Shekhar Azad was trained in archery in childhood that he learned from the boys of the Bhils community of Jhabua district. Later, this made him an excellent marksman.
The Urdu name 'Azad' that means 'Free' attached to his name when he was arrested by British police for participating in the non-cooperation movement in 1921, and he declared his name as 'Azad,' his father's name as 'Freedom,' and his address as 'Jail' in front of the judge during court trials.
Chandra Shekhar Azad was also called 'Quick Silver' by his fellow mates because of his restless behaviour.
At a very small age, Chandra Shekhar Azad had to do a job because of the poor financial conditions of his family. His private teacher arranged a government job for him in the tehsil office. However, soon, he left the job as he hated to bow down before the British officials.
In the early 1920s, Azad went to Bombay to find a job, and there he worked as a coolie and painter in the shipping yard for some time. While working on the ship, he came across the worse conditions of the working class, where they had to eat and sleep in a congested ship with no ventilation.
Chandra Shekhar Azad was a huge fan of watching movies. He used to watch films to avoid living in congested rooms of ships.
A picture of Chandra Shekhar Azad surfaces on the internet where he was clicked with the family of his friend Master Rudra Narayan.
Vishwanath Vaishampayan commented on the lifestyle of Azad in a book written by him on Azad's life. He was Azad's colleague and a biographer. He said,


He worked for six out of seven days in the dockyard and whatever money he earned, he bought a movie ticket and a new shirt on Sundays, throwing away the shirt which he had worn the entire week."
His favourite revolutionary couplet while fighting for India's freedom was:


Dushman ki goliyon ka hum saamna karenge, Azaad hee rahein hain aur Azaad hi rahenge."
In 1928, Chandra Shekhar Azad was chosen as the commander-in-chief of the Hindustan Socialist Republican Association (HSRA), and soon after holding the post, he adopted socialist ideology and discarded all the religious and caste symbols like turban, tilak or janeau which all the members of the groups had to follow. His socialist ideology was depicted from one of his sayings to his comrades. Once he said to them,


We are eager to sacrifice our lives fighting against the oppression and slavery under the British Raj, but the magnitude of oppression which exists under British Raj is nothing as compared to what exists in the princely states. Sometimes I think that we should leave British India and move to the princely states and work there. Just think, those animals [princes] who think that keeping ten to twenty women in their harems is their right, what kind of justice will they do to their subjects?"
At Azad Park in Allahabad, his statue was built as a mark of his contributions towards the freedom struggle of India.
The tree where Chandra Shekhar Azad shot himself and attained martyrdom is declared as a memorial place in Indian history by the Indian government. Alfred park was also renamed  Chandra Shekhar Azad Park.
Chandra Shekhar Azad's gun is declared a memorial thing for the general public by the Indian government.