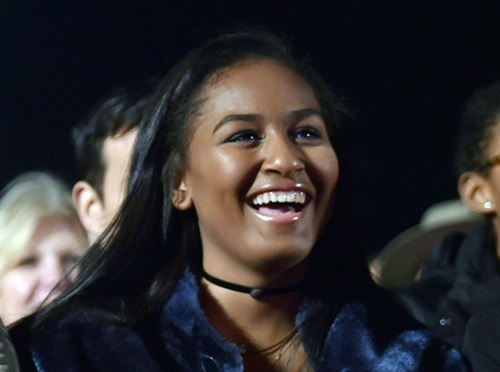 Sasha Obama is the younger daughter of former President of the United States of America Barack Obama, and former First Lady of the United States Michelle Obama. She is well-known for her viral TikTok dance videos with her friends.
Wiki/Biography
Sasha Obama was born as Natasha Obama on Sunday, June 10, 2001 (age 19 years; as of 2020), in Chicago, Illinois, United States. Her zodiac sign is Gemini. Sasha attended the University of Chicago Laboratory School in the year 2008. Sasha was transferred to Sidwell Friends School in 2009 from where she graduated in 2019. For higher education, Shahsha enrolled at the University of Michigan in 2019. [1]The Detroit News
Physical Appearance
Height (approx.): 5′ 9″
Hair Color: Black
Eye Color: Black

Family & Ethnicity
Sasha Obama was born into an African-American family. Sasha Obama's grandmother was an American of European descent, while her grandfather traced his roots from Africa, and Sasha's mother, Michelle Obama, belongs to an African-American family. [2]Washington Post
Parents & Siblings
Sasha Obama was born to Michelle Obama, former First Lady of the United States, and Barack Obama, former President of the United States. She has an elder sister, Malia Obama.
Relationships & Boyfriends
Sasha Obama is in a relationship with Chris Milton. Chris Milton was Sasha's classmate in Sidwell Friends School, and he was Sasha's date for the prom night.
Career
Barack Obama became the president of the United States in 2009, and the family moved from Chicago to Washington DC. During her summer break in 2016, Sasha Obama started working at a seafood restaurant named Martha's Vineyard in Massachusetts, where she worked as the cashier and served at the takeout window. At Martha's Vineyard, worked for four hours, and she was accompanied by six secret service agents who helped her at the restaurant.
Facts/Trivia
Barack Obama and his family have been heavily guarded by the secret service agents for a long time to protect the family from any possible threats. After Obama's second presidential term ended, his daughters, Malia and Sasha, were often spotted by the paparazzi on several occasions.
In January 2013, a cameraman caught Sasha yawning when her father, Barack Obama, was delivering an inaugural speech after his re-election as the President of the United States. The photo went viral on the internet, and it was adored by the people as they loved the candidness of the 11-year-old.

Sasha and Malia Obama attended the Lollapalooza music festival in Chicago, Illinois in 2017. Sasha was spotted kissing a guy named Matt as a Snapchat picture surfaced from the event with the caption 'Matt gonna get Sasha Obama.'
In 2017, Sasha visited Miami, Florida for a vacation with her friends. The group of friends was followed by secret security agents to keep them safe from any threats.
In 2017, Canadian rapper Drake came across a picture of Sasha Obama in which she was wearing a cap from the rapper's clothing brand OVO (October's Very Own). Drake posted the picture on his Instagram profile with the caption "Style Popper."
In an interview with InStyle magazine, Barack Obama praised Sasha and said-


Sasha is completely confident about her own take on the world and is not cowed or intimidated – and never has been – by anybody's titles. If she thinks something's wrong or right, she will say so."

Michelle Obama was invited to a show hosted by the famous American talk show host Ellen DeGeneres. During the interview, Michelle Obama talked about their life once they moved out of the White House in January 2017. They bought a new house two streets from the White House in Washington DC, and Sasha got the biggest room in the house. Sasha's room is a two-room suite, which has a living room area and a bedroom. [3]

People
Sasha Obama has a huge crush on Hollywood actor Ryan Reynolds. She got to meet Ryan at the state dinner that was held in honor of Canadian Prime Minister Justin Trudeau in the year 2016. At the event, Malia was seen supporting Sasha as she gave a thumbs up to Sasha when she was talking to Ryan Reynolds. [4]

CNN
Sasha Obama is also known for her TikTok videos which have gone viral. In one of her TikTok videos, Sasha was seen rapping and dancing to the song of the rapper Moneybagg Yo's song 'Said Sum.' The videos were uploaded on one of her friends' TikTok accounts, but the videos were deleted later in October 2020 from the video uploading platform for security reasons.
In December 2020, a picture surfaced on the internet of a girl who looked just like Sasha Obama. The girl in the picture was wearing a crop top with bikini bottoms and had a tattoo on her ribcage. People on the internet believed it was Sasha Obama because the girl in the picture was seen wearing the same layered necklaces that Sasha wore in her TikTok videos. [5]

DailyMail
In December 2020, Barack Obama released a playlist of his favorite songs of the year 2020 with the help of her younger daughter, Sasha. Obama likes to stay updated with the latest trends in music, and he uploaded this playlist on his Instagram profile with the caption-


Here are some of my favorite songs of the year. As usual, I had some valuable consultation from our family music guru, Sasha, to put this together. I hope you find a new song or two to listen to."

On May 6, 2020, Netflix released the documentary film based on the life of former First Lady of the United States Michelle Obama. The documentary was titled 'Becoming,' and it showed the journey of Michelle Obama from her childhood to becoming the First Lady of the United States. With this documentary, Sasha Obama and Malia Obama made their digital debut.