Vijay Karnik is a retired Indian Air Force Officer who has served as the Wing Commander in the Indian Air Force (IAF). He is famous for his contribution in the 1971 Indo-Pak War in mobilising women of Bhuj to the aid of the Indian Army.
Wiki/Biography
Vijay Karnik was born as 'Vijay Kumar Karnik' on Monday, 06 Nov 1939 (age 80 years; as in 2019) in the Nagpur City of Maharashtra. His zodiac sign is Scorpio. He did his schooling from Nagpur and went to Nagpur University in Wardha to obtain his Bachelor's degree in Science.
Physical Appearance
Eye Colour: Black
Hair Colour: White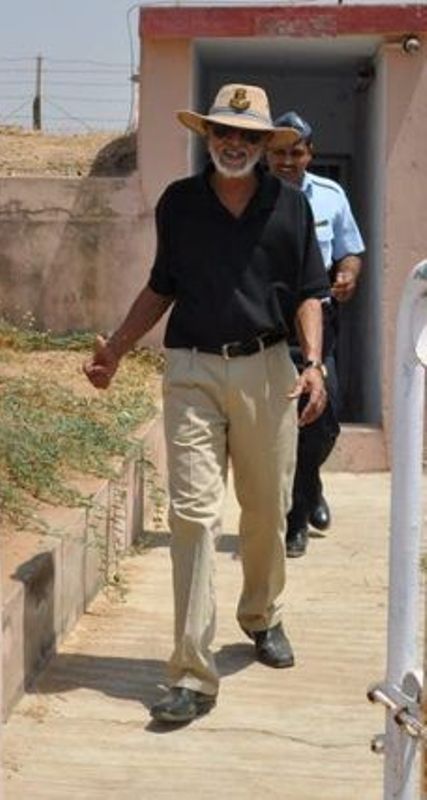 Family, Caste & Wife
Vijay Karnik belongs to the Maharashtrian Chandraseniya Kayastha Prabhu (CKP) community. He was born to Srinivas Karnik (a senior government official) and Tarabai Karnik.
He has three brother's named Vinod Karnik (Major General), Laxman (Wing Commander), and Ajay Karnik (Air Marshal) and a sister named Vasanti. He got married to Usha Karnik (proprietor at Shehnaaz Hussain Franchise) on 20 February 1965.
He has a daughter named Shalakaa Karnik (director at We Can Do It (a theatre group)) and a son named Paresh Karnik (works at The Times Group).
Career
Vijay Karnik was commissioned into the Indian Air Force on 26 May 1962. He served as a Squadron Leader in Bhuj during the Indo-Pakistani War of 1971.
He fought in the Sino-Indian war of 1962, Indo-Pakistani War of 1965, and is specifically known for his contribution in the Indo-Pakistani War of 1971. In 1967, he was posted to 6 Squadron at Pune. He was promoted as Wing Commander on 01 Oct 1985 and got retired from his service on 14 Oct 1986.
The Pearl Harbour Moment of India
During the Indo-Pak war of 1971, on the night of 8 December, Pakistan sent eight squadrons of Sabre jets and dropped more than 14 Napalm bombs on the Bhuj, which destroyed the Indian Air Force Airstrips. The airstrip needed repairs as the airbase had to be operational due to the ongoing war. But, the time was less, and there was a lack of workers for the restoration of the runway. Vijay Kumar Karnik (squadron leader at that time) was in charge of Bhuj Airport and decided to take the help of the locals to rebuild the airstrip. He was able to convince around 300 women from Madhapar, Bhuj to help the Indian Army. Karnik, along with two senior officers, 50 IAF and 60 Defence Corps, ensured that the airstrip was operational despite the bombings. The airstrip was restored in just 72 hours with the collective efforts of Karnik and the 300 village women.
Facts
Vijay likes gardening and travelling.
He likes golfing and believes that Golf is an ancient Indian game.
Karnik admires Maharaja Ganga Singh, the King of Bikaner (1888-1943), who is known to be one of the modern reformist visionaries in India.
Vijay Karnik supports the Bharatiya Janata Party (BJP) and is a follower of Narendra Modi.
Ajay Devgn was roped in for the role of 'Vijay Karnik' in the war drama film titled "Bhuj: The Pride of India" directed by Abhishek Dudhaiya in 2019. The film follows the tale of 300 warrior women and Vijay Karnik's contribution in the 1971 Indo-Pakistani War.
1971. Squadron Leader Vijay Karnik & team. 300 Brave Women. Reconstruction of a wrecked Indian Air Force airstrip. 'Bhuj- The Pride Of India' pic.twitter.com/HZYxPOn0Du

— Ajay Devgn (@ajaydevgn) March 19, 2019
Talking about the film and Ajay Devgn, who portrayed his character in the movie, Vijay says-


We were fighting a war and if there had been any casualties of any of these women, it would have been a great loss. But I took the decision and it worked out. I had briefed them where they could take shelter if attacked and they followed it bravely. Also, I could only see Ajay Devgn essaying my character and I'm glad that he's on board."