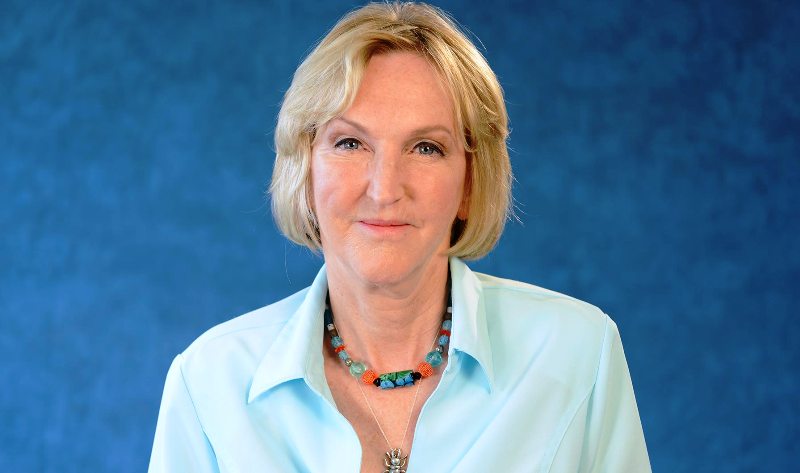 Ingrid Newkirk is a British-American animal activist and the president of the world's largest animal rights organization PETA (People for the Ethical Treatment of Animals).
Wiki/Biography
Ingrid Elizabeth Ward [1]Google books – Ingrid Newkirk: A Biography of PETA's Founder was born on Saturday, 11 June 1949 (age 73 years; as of 2022). Her zodiac sign is Gemini. According to the book Voices from the Underground: For the Love of Animals by Michael Tobias, she was born in Kingston upon Thames in England. However, a blog post on PETA's website states that she was born in Denmark, Europe. [2]Google books – Ingrid Newkirk: A Biography of PETA's Founder
Born to globetrotting parents, she has lived throughout the world while growing up. At 4, she was living in Edinburgh, Scotland. When she was 7, Ingrid and her parents moved to New Delhi, where her father secured a job as a navigational engineer, and her mother volunteered for Mother Teresa and other charities. Following riots in Calcutta, where many were killed at a railway station, numerous children were shipped to orphanages in Delhi. Ingrid grew up playing with these children, while her mother and nuns would tend to their wounds. A genuine vein of philanthropy and animal love has existed in Ingrid's body since childhood. Her early volunteer experiences include packing pills and rolling bandages for people suffering from leprosy, stuffing toys for orphans, and feeding stray animals. The volunteer work developed her perspective that anyone in need, including animals, was worthy of concern. One day, she encountered an extreme case of animal cruelty, when she watched a bullock being mistreated by its owner. Recalling the horrific incident in an interview, she said,
I was 7 or 8, new to India. I had a big plate glass window in front of my dining room, and I was drinking some soup. Back then, there were bullock carts coming along the road, and I was watching, and this man, he took his very thick wooden stick and smashed the bullock repeatedly. The bullock actually fell down. And he took the stick, lifted the bullock's tail, and rammed the stick up inside the bullock. And I just dropped my spoon and ran up to the road. I was only a child, but I took his stick, and I probably would have tried to break his back or his head or something…"
As a child, she witnessed elephant-foot umbrella stands and tiger rugs offered for sale by merchants at Connaught Place in Delhi. She attended The Convent of Jesus and Mary, Delhi. In an interview, she talked about her school days in India and said,
It was the done thing for a British girl in India…But I was the only British girl in this school. I was hit constantly by nuns, starved by nuns. The whole God thing was shoved right down my throat."
In September 1960, Ingrid started attending classes at Ware Grammar School for Girls, now known as Presdales School, in Ware, England, for a few months until December of that year, and then, she returned to India.
In 1967, when she was 18, with the Vietnam War raging, her father was seconded to the United States Air Force. Therefore, she moved to Florida with her father, where he used to design bombing systems for aeroplanes and ships. However, until she was 21, she gave no thought to animal rights or abstaining from the consumption of meat. After her marriage, she moved to Poolesville in Maryland, US, where she pursued a course in stockbroking. [3]Ingrid Newkirk She has worked towards the animal-protection movement since 1972. In 1980, Ingrid founded PETA with Alex Pacheco. It was Pacheco who introduced Newkirk to the concept of animal rights and Peter Singer's book Animal Liberation (1975).  In 1996, Newkirk moved PETA from the Maryland suburbs to Norfolk, Virginia.
Physical Appearance
Height (approx.): 5′ 5″
Hair Colour: Blonde
Eye Colour: Blue
Family
Parents & Siblings
Her father's name is Noel Oswald Wodehouse Ward, and her mother's name is Mary Patricia Ward. Like many impoverished children growing up in London in the 1920s, Mary Ward had a difficult childhood. Mary served in the British Land army during WWII, where she made acquaintance with Noel. Later, Mary and Noel moved to New Dehli, India. In New Delhi, her father worked as a navigational engineer, and her mother volunteered for Mother Teresa and other charities. Ingrid talked about her mother's volunteer work in an interview, and said,
She was always going to Mother Teresa's orphanage in Old Delhi, where she would make simple cotton toys for the children. She also set up a stall at the British Embassy, selling handicrafts to benefit the orphanage. She rolled bandages and packed pills for a leper colony and did charity work for unwed mothers because they were ostracised."
Later, when the Vietnam War raged, her father was transferred to the United States Air Force. Hence, Ingrid and her father relocated to Florida, where he designed bombing systems for aeroplanes and ships. She has no siblings.
Husband & Children
In 1968, Ingrid Newkirk got married to a race car driver, Steve Newkirk. The two made acquaintance in Florida while Ingrid was pursuing her hobby of auto racing. He took her to Watkins Glen race track, where he introduced her to Formula One, the highest class of international racing for open-wheel single-seater formula racing. Ever since then, Newkirk has been a fan of Formula 1 competition. In 1970, the couple moved to Poolesville in Maryland. They got divorced in 1980, but she kept his name. Ingrid has no children. She shared her view about having children and said,
I am not only uninterested in having children. I am opposed to having children. Having a purebred human baby is like having a purebred dog; it is nothing but vanity, human vanity."
Relationships/Affairs
The book 'Monkey Business: The Disturbing Case that Launched the Animal Rights Movement' by Kathy Snow Guillermo mentions a romantic relationship between the PETA founders, Ingrid Newkirk and Alex Pacheco. [4]Google books – Ingrid Newkirk: A Biography of PETA's Founder In the book, the author wrote,
When Pacheco [first] made it clear his feelings for her were growing stronger, Newkirk didn't take it seriously. It was during those days lying on the hot sand and swimming along the reef that Newkirk found, to her surprise, that she had fallen in love."
Once, during an interview, Ingrid shared an instance about her boyfriend, and said,
My boyfriend sent me a roast chicken when I became vegetarian, knowing I wouldn't be able to resist the smell…I had to sit him down and tell him 'I love meat and don't want to give it up so you have to support me to do this." [5]Daily Mirror
Religion/Religious Views
She is an atheist. [6]Freedom From Religion Foundation In her HBO documentary ' I Am an Animal: The Story of Ingrid Newkirk and PETA,' she said,
I'm an atheist. I don't believe in God. I believe that the horrors in this world could not ever have been created by a loving God. I believe in kindness, I believe in personal responsibility, and I believe in being decent to people."
Animal Activism
She has devoted her life to conveying the PETA message,
Animals are not ours to eat, wear, experiment on, use for entertainment or abuse in any other way."
Her journey as an animal activist began in 1970 while she was living in Maryland, studying to become a stockbroker. Her neighbour had abandoned some kittens, whom Ingrid decided to take to an animal shelter. To her amazement, instead of finding homes for the abandoned kittens, the shelter killed them. Although she snapped at the incident, she decided to take a job there to investigate the matter. She secured the job of cleaning kennels. At the shelter, she witnessed animal cruelty to such an extent, that she decided to go for animal euthanasia, the act of providing animals with a painless death. In an interview, while talking about the same, she said,
In the end, I'd go to work early, before anyone got there, and I would just kill the animals myself, because I couldn't stand to let them go through that. I must have killed a thousand of them, sometimes dozens every day. Some of those people would take pleasure in making them suffer. Driving home every night, I would cry just thinking about it. And I just felt, to my bones, this cannot be right." [7]The Guardian
After working at the shelter, she became a deputy sheriff who focussed on animal-cruelty cases for Montgomery County. Her experiences in the animal shelter and later on, including finding a fox and a squirrel caught in steel traps, finding a pig left to starve on a farm, and inspecting laboratories and circus acts for the government, fueled her passion for creating an empathic world for animals. She was further influenced by Australian ethicist Peter Singer's book Animal Liberation (1975). By 1976, she had been placed in charge of the animal-disease-control division of the District of Columbia Commission on Public Health in Washington, D.C. In 1978, she became the first female poundmaster of Washington D.C.,  following which she stopped the sale of animals to vivisectionists. [8]Google books – Ingrid Newkirk: A Biography of PETA's Founder Soon after, she became the director of cruelty investigations for the Washington Humane Society in the U.S. While working as a Maryland state law enforcement officer, she had the highest success rate in convicting animal abusers. In March 1980, Newkirk founded PETA with fellow animal rights activist Alex Pacheco in her suburban Maryland home.
The Silver Spring Monkeys: The Case That Launched PETA
In the summer of 1981, Ingrid Newkirk skimmed through the pages of the U.S. Department of Agriculture's list of laboratories. She picked the closest one, Institute for Behavioral Research (IBR), for investigation. IBR was a federally funded laboratory in Silver Spring, Maryland. In May 1981, her colleague Alex Pacheco got inside IBR as a volunteer and discovered that it was run out of a warehouse by psychologist and animal experimenter Edward Taub, who had no medical training. There, 17 wild-born macaque monkeys from the Philippines were being used for experiments into neuroplasticity with no veterinarian to tend to their severe wounds. Working undercover, he gathered details of what was happening inside IBR and secretly photographed the crippled monkeys and their horrendous living conditions. Ingrid coordinated the first arrest of a laboratory animal experimenter on cruelty charges in the history of the US and closed down IBR.
Ending Car-Crash Tests on Animals
For 10 long years, from 1981, roughly 19,000 animals, which included mice, rats, and pigs were killed in auto safety tests conducted by the General Motors Corporation (GM).  In September 1991, PETA launched the campaign "Heartbreak of America" against GM for using animals in car-crash tests. PETA kept the pressure on the company for months by smashing GM cars outside auto shows and blocking GM's float during the annual Rose Parade in Pasadena, California, wearing animal mascot outfits. After 18 months of hard-hitting PETA demonstrations, GM officially confirmed that it had ended its use of animals in car-crash tests
Rescue Operation at Hegins Annual Pigeon Shoot
In 1992, Ingrid, along with 40 activists, barged onto a field in Hegins, Pennsylvania, where an abhorrent annual pigeon shoot was being hosted in which 5,000 birds were trapped and confined to tiny cages for two days without food or water. They stopped the shooting, grabbed the boxes of birds before they could be released, and scooped up the wounded ones lying on the ground. Following their arrest, the activists decided that instead of paying the fines, they would remain jailed and cost the town high maintenance charges. The goal was to make it too expensive for the city and state to pay for security and jail stints related to the pigeon shoot. The 1992 pigeon shoot cost taxpayers $300,000, which led to the cancellation of the event. [9]PETA
Ban on Foie Gras by Fortnum & Mason
In 2012, PETA released eyewitness video footage recorded at the farms of several of Fortnum & Mason's foie gras suppliers showcasing geese who struggled to stand and even breathe as a result of the force-feeding. In the barbaric process of producing foie gras, known as Gavage, workers grabbed ducks and geese by the neck, shoved metal pipes down their throats, and pump massive amounts of grain and fat into their stomachs several times a day.
Other Operations
In 1983, she spearheaded the closure of a U.S. Department of Defense underground "wound lab" shut down and achieved a permanent ban on shooting dogs and cats in military wound laboratories. Under Ingrid's leadership, the law to create the first-ever spay-and-neuter clinic was passed in Washington, D.C.
She helped achieve the first anti-cruelty law in Taiwan. Since it was founded, PETA has closed the largest horse-slaughter operation in North America, convinced dozens of major designers and hundreds of companies to stop using fur and testing cosmetics on animals, helped schools switch to innovative animal-free dissection tools, and promoted Veganism.
Books Authored
Compassionate Cook: Or, "Please Don't Eat the Animals!" (1993)
250 Things You Can Do to Make Your Cat Adore You (1998)
Free the Animals: The Story of the Animal Liberation Front (2004)
Making Kind Choices: Everyday Ways to Enhance Your Life Through Earth- and Animal-Friendly Living (2005)
The PETA Practical Guide to Animal Rights: Simple Acts of Kindness to Help Animals in Trouble (2009)
Free the Animals: The Amazing True Story of the Animal Liberation Front in North America (2012)
Animalkind: Remarkable Discoveries About Animals and Revolutionary New Ways to Show Them Compassion (2020)
Controversies
Animal Euthanasia
On numerous occasions, Ingrid and PETA have been accused of killing animals they claimed to protect. Reportedly, in 1991, PETA killed 18 rabbits and 14 roosters it had previously rescued from a research facility. Then PETA Chairman Alex Pacheco in an interview said, "We just don't have the money to care for them."  Apparently, PETA spent donations entrusted to it on campaigns attacking medical researchers, meat-eaters, and women wearing furs, instead of caring for flesh-and-blood animals. [10]SFGATE
Awards, Honours, Achievements
Washingtonian of the Year (1980)
Courage of Conscience Award (1995)
Shining World Compassion Award (2007)
Peter Singer Prize for Strategies to Reduce the Suffering of Animals (2016)
Facts/Trivia
Her first dog was an Irish Red Setter named Shawnie. However, she never saw Shawnie again when she moved to India. Later, during her adulthood, she found that the dog died before their departure.
She is known for her media stunts that she organizes to draw attention to animal-protection issues. For example, in her will, she has asked that the meat of her body be used for a human barbecue, her skin be turned into leather products, her feet be removed and turned into umbrella stands, etc. [14]

PETA She has posed naked numerous times for campaigning while protesting wearing fur, using animal skin for leather, meat, and more.
Her hobbies include auto racing and sumo wrestling.
While talking about her favourite meal in an interview, she said,


I like a Wellington. Beautifully made flaky pastry with potatoes, carrots, artichokes and chestnuts in it, and a beautiful pickle."