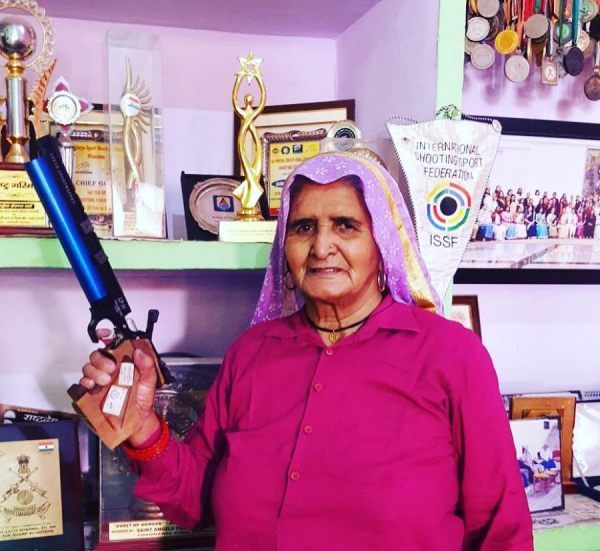 Prakashi Tomar is one of the oldest sharpshooters in the world. She is often referred to as "Revolver Dadi."
Wiki/Biography/Career
Prakashi Tomar was born on 1 January 1937 (age 82 years; as in 2019) in Muzaffarnagar, Uttar Pradesh. Tomar belongs to a family with an agricultural background. Prakashi moved to village Johri, Bhagpat District, Uttar Pradesh after her marriage. She started her career in shooting at the age of 60. It all happened coincidently when she shot her first target. It all began when her daughter, Seema, joined Johri Rifle Club to learn shooting and Prakashi enrouted her to the academy. Her first shot came while she was teaching her daughter Seema to hold the gun. It shocked everyone including the coach, who advised Prakashi to join the shooting range. But as Tomar was a homemaker and had to finish a number of household chores, it was not possible for her to visit the shooting range every day. So, the coach gave her the option to visit the shooting range once a week and continue her practice from her home itself. After 2 years of extensive training, Prakashi entered into a competition in which she competed against the Deputy Inspector General (DIG) of Delhi Police, Dheeraj Singh, and defeated him. The DIG refused getting photographed with Tomar and reportedly commented, "What photograph, I have been humiliated by a woman." Prakashi has won around 25 championships across the country. She has even bagged a gold medal at the Veteran Shooting Championship in Chennai. She has inaugurated many sports events and ranges at her village and in the nearby areas.
Prakashi has also mentored youth from the nearby villages to learn techniques of shooting at her range.
In 2019, a film titled "Saand Ki Aankh" based on the biography of Tomar and her sister-in-law Chandro Tomar was directed by Tushar Hiranandani. The film starred Taapsee Pannu and Bhumi Pednekar in lead roles.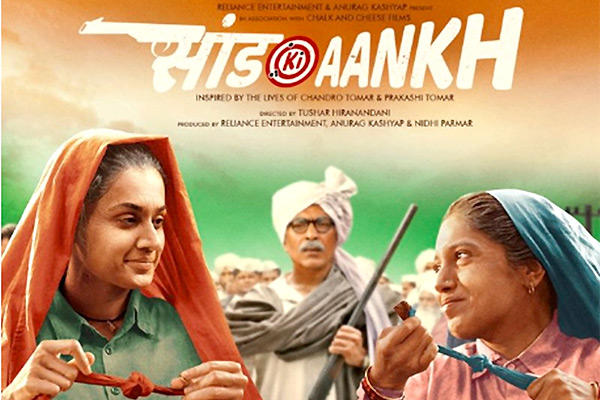 Physical Appearance
Hair Colour: White
Eye Colour: Black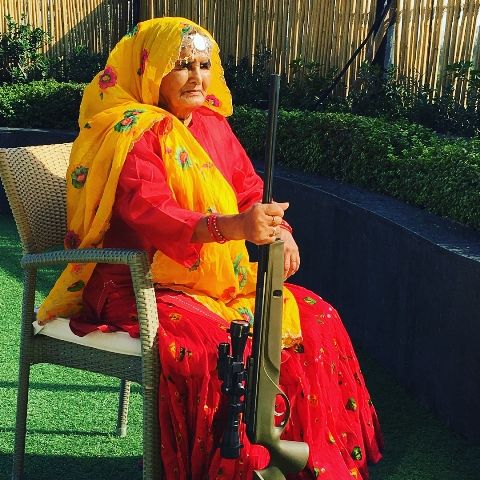 Family, Caste & Husband
Prakashi Tomar belongs to a Jat Family. She is married to Jai Singh and has eight children.
Her daughter, Seema Tomar is the first Indian woman to have won a silver at the ISSF (International Shooting Sports Federation) World Cup. Seema is now commissioned in the Indian Army.
She has 15 grandchildren. Her granddaughters, Ruby and Preeti are also Internationational sharpshooters and Ruby is also deputed as an inspector in the Punjab Police. Prakashi's sister-in-law, Chandro Tomar, is also one of the oldest woman sharpshooter's in the world.
Awards
Icon Lady Award by Ministry of Women and Child Development.
She was among the 100 women achievers felicitated by the President Pranab Mukherjee
Facts
Prakashi has featured in various television shows like India's Got Talent and Satyamev Jaytee.
It is speculated that Prakashi and Chandro Tomar do not talk to each other, except in the presence of media and at award ceremonies.
Prakashi is a huge fan of the cricketer, Sachin Tendulkar.
In October 2019, Prakashi Tomar, along with her sister-in-law, Chandro Tomar, and the cast of the film "Saand Ki Aankh," visited the sets of 'The Kapil Sharma Show' to promote the film.