U. Sharaf Ali is a former Indian professional footballer, who predominantly played as a defender and midfielder. He played with the Kerala Police team for most of his professional football career and played in Kolkata for two seasons. He captained the Indian national football team and the Kerala state football team in various competitions. While playing for the Kerala Police club, U. Sharaf and VP Sathyan formed one of the best defensive partnerships in the domestic league and helped the Kerala Police become one of the best football clubs in the country.
Wiki/Biography
U. Sharaf Ali was born on Saturday, 30 May 1964 (age 58 years, as of 2022) in Areekode, Malappuram, Kerala. [1]Malayala Manorama He studied at Christ College Irinjalakuda. Sharaf Ali was selected for the 1984 Santosh Trophy competition by the Kerala Police team but decided not to participate as he was preparing for his pre-degree examinations. Sharaf Ali was approached by the Left Democratic Front in 2021 to contest in the Kerala assembly elections from his hometown, Eranad constituency, as an LDF-backed independent candidate.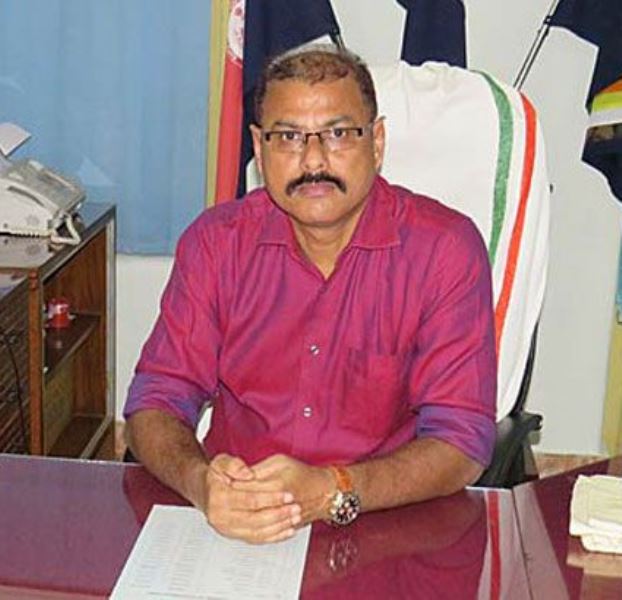 Physical Appearance
Hair Colour: Black
Eye Colour: Black
Family
U. Sharaf Ali comes from a Malayali family in Malappuram, Kerala, India.
Parents & Siblings
There is not much information about his parents and siblings.
Wife & Children
There is not much information about his wife and children.
Career
Football
Sharaf Ali started playing football during his school days. He played for the Calicut University team and made his professional debut with the Kerala Police football club. He started his career by playing as a wing-back, and later, he was shifted to the centre of defence. Sharaf Ali also played as a midfielder during his career. His defensive awareness, tackling ability, positioning awareness, and stamina made him an indispensable player.
Domestic Football
He played his entire professional career in India, representing clubs like the Kerala Police club, Mohun Bagan, and Mohammedan Sporting. He has played a season each at Bagan and Sporting.
Kerala Police football club
Sharaf Ali's career is closely associated with the Kerala Police football club, where he played for a significant time during his professional career. He nearly played 12 years for the Kerala police and was an important player who helped in its evolution as one of the dominant forces in the domestic league. Sharaf Ali, I M Vijayan, Jo Paul Ancheri, and CV Pappachan were all crucial for the Kerala Police club's dominant run during the late 80s and early 90s. He enjoyed a fruitful spell with the club and was associated with it even after announcing his retirement from professional football.
Mohun Bagan
He was approached by the Mohun Bagan officials during the 1991 Santosh Trophy tournament. Sharaf Ali, reluctant to move from Kerala, demanded a lucrative salary and hoped the officials would not sign him. He was signed by the club the very next day for an undisclosed fee. He left the Kerala Police club to join Mohun Bagan in the 1991-1992 season, playing a season with the Kolkata club. His debut season with Mohun Bagan was so successful that they won six titles including the Federation Cup (1991) against their arch-rivals East Bengal. He left the club after the end of the season and rejoined the Kerala Police club.
International football
Sharaf Ali made his international debut against the Korean Republic in Nehru Cup at Thiruvananthapuram, Kerala on 20 January 1986. He was part of the Indian national football team during 1985-1995, with more than 50  appearances in his nation's colours. He captained the Indian national team on a few occasions. His splendid performance for the Kerala Police Team and the Kerala State team earned him the opportunity to represent his nation at the international level. His international career lasted over a decade and placed him as one of the best players ever to play for the Indian national football team.
Post-retirement
He finished his professional career as a player with the Kerala Police football club. He then joined them as their manager and coached them during his time at the Kerala Police. In 2022, he announced his dream project, the Novus Soccer Academy, a mega-funded project to be executed in different phases. Sharaf Ali, the chief coordinator of the academy, was rejoined with many of his former teammates, including I. M. Vijayan, who held various positions at the academy. [2]The New Indian Express
Kerala Police (Law Enforcement Agency)
Sharaf Ali served the Kerala Police for 36 years and was commandant of the Rapid Response and Rescue Force, Kottakkal.
Indian football: Kerala Police's U Sharaf Ali active in the fight against Coronavirus https://t.co/SZ3kXsJF8e pic.twitter.com/Is6qy8D1Tl

— GOAL Africa (@GOALAfrica) May 10, 2020
Sharaf Ali retired from his Kerala Police job on 30 May 2020 along with KT Chacko and M Baburajan, with whom he played together at the Kerala Police club and the Indian national team. I M Vijayan termed the retirement of these three officials from the Kerala Police as the end of an era. [3]AIFF
Awards
Kerala Sports Council's G V Raja Award for the best sportsperson in Kerala: 1993
Kerala Sports Council's G V Raja Award for the best senior footballer in Kerala: 1994
Facts/Trivia
He supported Brazil in the FIFA World Cup held in Qatar in 2022. In an interview, he predicted that the winner would be among Brazil, France, and Spain; he emphasised that France was likely to be the World champions. [4]

Mathrubhumi
Sharaf Ali was the Brazil U-17 team's liaison officer when they came to India to compete in the 2017 FIFA U-17 World Cup. He was in charge of managing the Brazil team's security during their stay in India. [5]

The Times of India