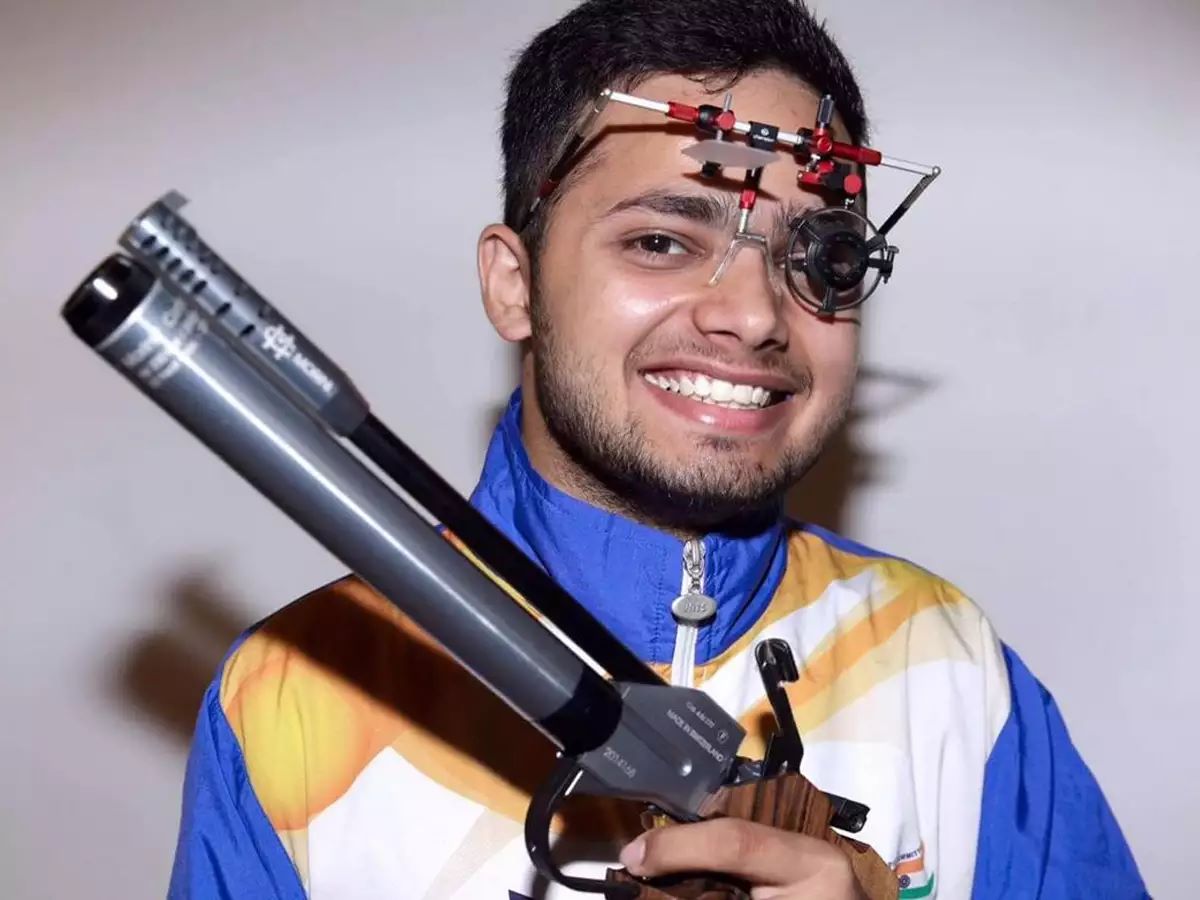 Manish Narwal is an Indian Paralympian specialized in Air pistol Para-shooting. He plays in the SH1 category. SH1 is the classification of athletes on a basis of their single-arm or leg disability including loss of that body part or its partial impairment. He attained center stage with his splendid performance in the very first international game at the young age of sixteen. But his actual performance came at the 2020 Tokyo Paralympics (held in 2021 due to COVID-19 lockdown) that caught the limelight of the entire nation when he won the gold medal surpassing his experienced compatriot Singhraj Adhana. He has also won numerous other awards within a short span of his sports career.
Wiki/Biography
Manish Narwal was born on Wednesday, 17 October 2001 (age 20 years; as of 2021) in Faridabad, Haryana. His zodiac sign is Libra. He did his schooling at the Kundan Green Valley School in Faridabad. Then later, he took admission to the Faridabad college where he completed his Bachelor of Arts degree.
Physical Appearance
Height (approx.): 5′ 6″
Hair Colour: Natural Black
Eye Colour: Dark Brown
Family
Manish Narwal belongs to a sports-oriented family where his father was a wrestler. Both his siblings are in the same sport. Carrying that legacy forward, he also wanted to be a sportsperson. Rather he was more interested in football. But destiny has something else stored for him. In 2016, his father took him to 10X shooting academy in Ballabhgarh (near Faridabad) on a recommendation from their family friend. The main reason behind shifting from football to shooting was later revealed by his father.
He said that he wanted to protect his son from conspiracies and blame in the team's environment because of that disability. Being from a middle-class family, his father had to borrow the money to buy him the shooting pistol. Manish Narwal said during an interview that
"He was 13-years-old when he came to my academy. It took him sometime to like shooting. He would shoot for some days and not return. I know his father, so I would call him back. That happened for some days before he started taking interest in 2016. He would hardly talk. It is difficult for differently-abled kids to mingle with others at the start. It was difficult to teach him at first because his holding arm (left) would not get the support, balance from the other arm. He can only move his fingers a bit. So, it took some time to learn the technique."
Parents & Siblings
His father's name is Dilbagh Singh Narwal, and he is a farmer.
Manish Narwal's mother name is Santosh Narwal and she is a homemaker.
He has four siblings named Manjeet Narwal, Sikha Narwal, and Shiva Narwal. He also has a grandfather named Choudhary Dalip Singh Narwal. He is 95 years old (as of 2021).
Right-Hand disability
While he was in the first standard, he noticed some unusual pain in his right arm. As a result, he was having difficulty lifting heavier objects. After medical examination, it was later found that he is suffering from a rare congenital impairment in his right arm. Congenital refers to a disease that occurs to a person soon after his birth or in the mother's womb. He had an interview with a Youtube channel where he said that
"I noticed I was different when I was in the first grade. Something was wrong with my right arm. I cried a lot. I was afraid to be in front of people."
Career
He was spotted by Jai Prakash Nautiyal, the high-performance director of the Indian para-shooting team who saw him shooting precise targets. He was very impressed with his talent. Later, he decided that he will train this youngster and make him a successful sportsperson.
His decision proved right when Manish started winning medals at the national level. He soon went on to play for his country, when in November 2017, he got selected for the World Shooting Para Sports World Cup to be held in Bangkok (Thailand). He won the gold medal in the P1-10m Air Pistol Men SH1 category along with his compatriot Singhraj Adhana who bagged the silver medal.
He also won the silver medal at the World Shooting Para Sport World Cup held in Al Ain (UAE) in March 2018. His score reads 234.6 in the Men's 10m Air Pistol SH1 category, just behind China's Xiaolong Lou (235.6), while Ukraine's Oleksii Denysiuk was the Bronze medallist. He also scored 525 in the P4 Mixed 50m Pistol SH1. Avani Lekhara and Rajveer Singh Sekhon were the other rising performers from India. By this time, he had 16 international and 19 national medals under his belt. In the same year, the third edition of the Asian Para Games was held in Jakarta (Indonesia) in October 2018, where 302 Indian para-athletes took part. Manish won the gold medal in the Men's Para shooting 10m Air Pistol event. But it was not finished yet. He also bagged the silver medal in the P4-mixed 50M Pistol category taking India's medal tally to 72, which is the highest number in terms of Indian medals so far in the Asian Para Games history.
Again carrying that form forward, he won gold medals in the P1, P4, P6 events at the 2019 Osijek World Cup in Croatia.
He again chipped in with a bronze medal in the Mixed 50m Pistol SH1 event at the 2019 World Para-shooting Championship in Sydney (Australia). He also won two other bronze medals in the Men's 10m Air pistol SH1 and Mixed 50m Pistol SH1 categories in the same tournament. In late 2019, the COVID-19 pandemic started spreading its feet across the whole nation. As a result, he was forced to sit outside for a long duration. But rather than sitting, he chose to practice daily. He came back few years later at the 2021 World Shooting Para Sport World Cup in Al Ain (UAE), where he won the gold medal in the mixed 50m pistol SH1 individual event outshining the three-times world champion Iran's Sareh Javanmardi and his teammate Singhraj Adhana. He also broke the world record with a score of 229.1 which was previously held by Serbia's Rastko Jokic (228.6) in 2019. He also bagged the silver medal in the P4-Mixed 50m Pistol SH1 team event with Rahul Jakhar Sekhon and Singhraj Adhana.
A few months later, the 2020 Tokyo Paralympics games took place from 24 August to 5 September 2021. 4537 para-athletes took part in this mega-event out of which 54 were from India. Tek Chand (Shot Put and Javelin Thrower) was leading the Indian side during its inauguration ceremony. He started slowly finishing at the seventh position in his first match which was in the 10m air pistol SH1 category. As the tournament went, the hopes of the nation were getting fulfilled when Narwal started displaying his class in his next game which was the mixed 50m pistol SH1 event. It was a tough competition between him and his counterpart Adhana. Rather it was a bit Roller Coaster in the beginning. But soon, he steadied up his pace with a healthy score of 19.6 and 19.7 in the 4th and 5th series. Sergey Malyshev from Russian Paralympic Committee was leading the table at that time. But pressure felt on him and he performed poorly in the 8th series. This saw Narwal and Adhana rising up at the top two positions. Giving India yet another gold and silver medal. The total medal tally in the 2020 Tokyo Paralympics was 19 by India which is the highest so far in paralympic history.
Soon after he won that gold medal, joy erupted in his hometown and his residence. People started gathering outside his house and distributing sweets. His grandfather remarked
"This is the happiest moment for me. The residents of our village have decided to felicitate my grandson once he returns from abroad."
Awards
Arjuna Award
In 2020, he was bestowed with the Arjuna Award by the Government of India.
Khel Ratna
In 2021, the Ministry of Youth Affairs and Sports announced his name for the prestigious Major Dhyan Chand Khel Ratna Award.
Favorites
Sports-Wrestling, Football, and Badminton
Sportspersons- Lionel Messi and Usain Bolt
Food– Indian Food
Facts/Trivia
Manish Narwal belongs to a Kathura Village in Sonepat (Haryana). In 1993, his family shifted to Faridabad where he spent his entire childhood.
He started shooting with his left hand after the disability. In the beginning, he didn't know about generic terms like paralympic games or para-sports.
His daily routine as revealed by his mother is waking up at 4 AM, then after doing his physical activities, he goes to the shooting academy where he completes his 15-hour training.  Then after reaching home at around 7:30 PM, he eats his dinner then goes to sleep.
After scripting the history at the 2020 Tokyo Paralympics, Manish Narwal told the media that


"I am really happy that we both finished in the top two and won gold and silver for our country. I got goosebumps when the national anthem was played. It was a huge moment for me and I will cherish that forever. No feeling can match it. I am just 19 and I have to go a long way. But I will not be sitting satisfied with one gold medal. I can play at least 4 to 5 Paralympics and I am sure I will return with a medal in every edition."

Elated with his performance, the Chief Minister of Haryana Manohar Lal Khattar announced a cash reward of INR 6 Crore and a government job for Manish Narwal.
He received a warm welcome at the IGI Airport (Delhi) from his fans and family members after his arrival. Soon his fans gathered in his home city  Ballabhgarh to welcome their hero.  He got a rousing welcome as soon as he reached there.
Bollywood stars like Kareena Kapoor, Anushka Sharma, and Taapsi Pannu appreciated his performance. Abhinav Bindra, the gold medallist at the 2008 Beijing Olympic Games tweeted
1-2 for India! The stuff of dreams…Gold for Manish Narwal with a Paralympic record in mixed 50m SH1! And Silver for Singhraj Adhana, his second medal of the #Tokyo2020 Paralympics. Just Incredible. Congratulations to both, we all are so proud #Praise4Para

— Abhinav A. Bindra OLY (@Abhinav_Bindra) September 4, 2021
Mixed 50m Pistol SH1 Final.

Manish Narwal 🥇
Singhraj Adhana 🥈 pic.twitter.com/HYUynm8Uej

— Trendulkar (@Trendulkar) September 4, 2021