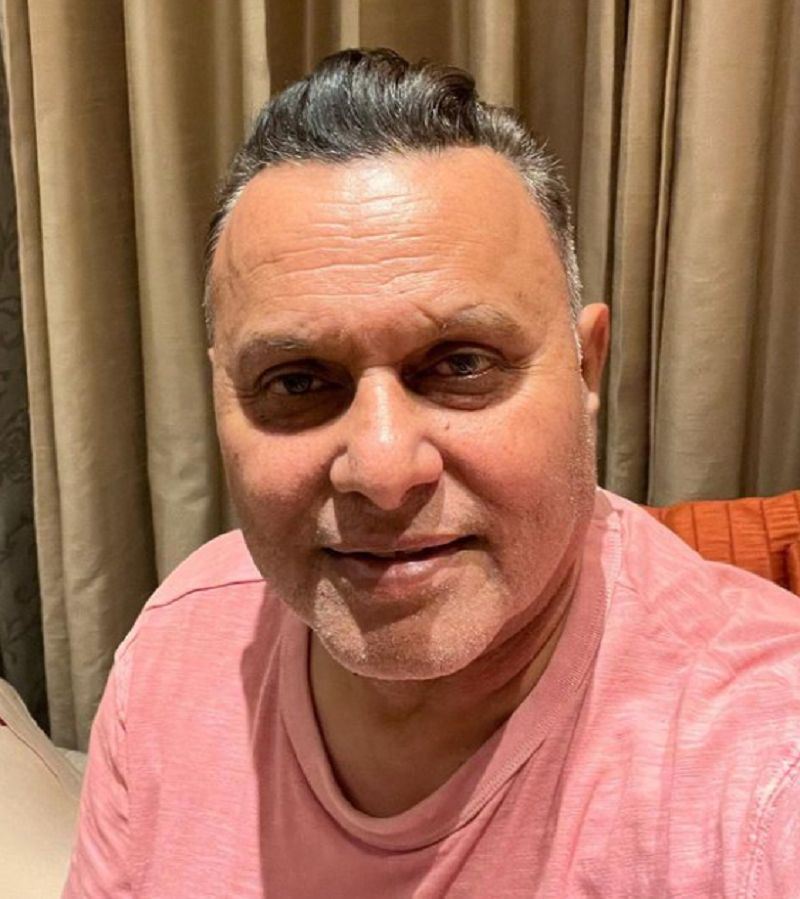 Anil Sharma is an Indian director and producer who mainly directs Bollywood movies. He is famously known for directing the films Gadar: Ek Prem Katha (2001) and Apne (2007).
Wiki/Biography
Anil Sharma was born on Monday, 7 March 1960 (age 63 years; as of 2023) in Mathura, Uttar Pradesh. His zodiac sign is Pisces. He pursued a bachelor's degree in science at Guru Nanak Khalsa College, Mumbai. Anil's paternal grandfather, who he lovingly called Baba, was a famous fortune-teller. Back then, some movie stars like Geeta Dutt, KN Singh, and Tuntun followed him and would often ask for his guidance. In return, they used to offer their assistance (seva). When he was young, he used to notice big groups gathering outside his house and would wonder why they were coming to see the stars. Seeing these crowds whenever those visitors came, he decided he wanted to work in the movie industry. When he was five, he went with his grandfather to a wedding in Meerut. They stayed in a hotel near a cinema hall. Before the wedding, he asked his baba to take him there. They saw a movie called "Ganga Ki Lehrein" for only 10 minutes. When he grew up and went to Mumbai, he showed his first script as a director to a producer and realized that this producer had also produced the movie "Ganga Ki Lehrein." He told the producer about his Meerut experience and asked about the actor who played the hero. Surprisingly, he found out it was Dharmendra. So, Dharmendra was the first hero he had seen in his life.
When he turned 14, he learned all the stories from the Gita by heart. His grandfather would often ask him to narrate these stories to wise scholars, who would be touched and even cry at his storytelling. He could effortlessly tell even complex tales. Through these experiences, he realized he was really good at telling stories. His father moved to Mumbai, but Anil stayed in Mathura with his grandfather at first. After his grandfather passed away and Anil finished his 12th grade, he went to Mumbai at 17 with his father. In an interview, he shared that Mahatma Gandhi once came to his house when he visited Mathura.
Physical Appearance
Height (approx.): 5′ 7″
Hair Colour: Black
Eye Colour: Black

Family
Parents & Siblings
Anil's father's name is Kishan Chandra Sharma, who was an astrologer. He died in 2022.
His mother's name is Bimla Sharma, who died in 2018.
He has three brothers, Anuj Sharma, Sanjay Sharma and Kapil Sharma. [1]Hamara Photos
Wife & Children
Anil got married to Suman Sharma on 20 February 1992.
Together, they have two children, a son, Utkarsh Sharma, who is an actor and a daughter, Kairvina, who is a musician.
Religion
Anil follows Hinduism.
Career
While Anil was studying in college, he was involved in theatre, writing poetry, and creating content for radio. At the age of 18, he got a chance to join the Hindi movie industry as an assistant director. He helped the Indian director Baldev Raj Chopra with films such as Pati Patni Aur Woh (1978), The Burning Train (1980), and Insaf Ka Tarazu (1980).
Director
In 1980, at the age of 21, he began his career as a director with the movie "Shradhanjali," which starred the well-known veteran actress Raakhee. His first film got a lot of attention and appreciation, becoming very popular and successful in cinemas.
In 1983, he directed the movie "Bandhan Kuchchey Dhaagon Ka," which looked at how married life works. The film got good reviews from critics. He directed other Hindi films including Hukumat (1987), Elaan-E-Jung (1989), Farishtay (1991), Tahalka (1992), and Maharaja (1998). In 1992, following the popularity of the movie "Tahalka," he chose to stop making films for some time.
He turned his attention to building a studio city in India like Universal Studios in Los Angeles, but this plan didn't work out. Later on, he returned to making movies with "Maharaja" in 1998. In 2001, Sharma directed the hit film "Gadar: Ek Prem Katha," starring Sunny Deol and Ameesha Patel. The film became incredibly popular and got praise from critics. It is considered one of the biggest blockbusters in the history of Hindi cinema and remains the most successful film of the early 2000s.
In 2003, he directed another hit movie "The Hero: Love Story of a Spy," starring Sunny Deol and Preity Zinta. This film also marked Priyanka Chopra's debut. The story was about spies and the tension between India and Pakistan. It was one of the most expensive movies made in Bollywood at that time and turned out to be the third highest-earning film of that year.
In 2004, he directed the film "Ab Tumhare Hawale Watan Saathiyo," where he worked with Amitabh Bachchan, Akshay Kumar, and Bobby Deol for the first time. The film also introduced Divya Khosla Kumar. It is recognized for its powerful patriotic message.
The film "Apne," directed by Anil in 2007 got a lot of praise for showing family feelings and values. It got good reviews and did well at the box office. Importantly, it was the first film to have all three Deols – Dharmendra, Sunny Deol, and Bobby Deol.
In 2010, he directed the film "Veer," which starred Salman Khan, Mithun Chakraborty, Jackie Shroff, and newcomer Zareen Khan. He also directed other successful movies like "Singh Saab the Great" in 2013 and "Genius" in 2018. In the film "Genius" (2018), he introduced his son Utkarsh Sharma as the main actor. He had previously introduced Utkarsh as a child artist in "Gadar" (2001). They filmed "Genius" in his hometown, Mathura. Unfortunately, the film got mostly bad reviews because of its unclear story and acting quality.
In 2018, he directed a music video for the song "Dil Meri Na Sune," sung by Atif Aslam, Himesh Reshammiya, and Manoj. In 2019, he directed four episodes of the web series "Julie." In 2023, he directed the sequel of his film "Gadar: Ek Prem Katha," with the same actors Sunny Deol, Ameesha Patel, and Utkarsh Sharma. On the first day, "Gadar 2" earned around Rs. 40.10 crore ($5.0 million) to Rs. 53.71 crore ($6.7 million) worldwide. By 13 August 2023, the film had made Rs. 175.5 crore ($22 million) globally. In 2023, he is also in the process of creating a sequel to the 2007 movie "Apne."
Producer
Anil made his debut as a producer with the film Shradhanjali (1981). Later, he produced other films including Bandhan Kuchchey Dhaagon Ka (1983), Hukumat (1987), Elaan-E-Jung (1989), Tahalka (1992), Maa (1992), Faisla Main Karungi (1995), Policewala Gunda (1995), Ab Tumhare Hawale Watan Saathiyo (2004), Singh Saab the Great (2013), and Genius (2018).
Script Writer
He made his debut as a scriptwriter with the film Shradhanjali (1981). He also contributed as a writer to the films Bandhan Kuchchey Dhaagon Ka (1983), Hukumat (1987), Elaan-E-Jung (1989), Farishtay (1991), Tahalka (1992), and Genius (2018).
Actor
Anil made his acting debut with the film Kahani Kismat Ki in 1973.
He also made an appearance in the Hindi films Dushman Devta (1991), The Burning Train (1980), and Ladki Bholi Bhali (1976).
Controversy
In 2023, actress Ameesha Patel took to Twitter to claim that while working on the set of 'Gadar 2', the production company run by Anil Sharma didn't handle things well. She mentioned that people like makeup artists and costume designers, who worked on the movie, were not given the money they were owed. [2]India Today After she talked about the issue, Anil Sharma, in an interview, said he appreciated her for bringing attention to his production company and making it more well-known. In the interview, he said, said,
I have no clue why she said all of this. All I would like to say is that this is all false, none of it is true. At the same time, I would like to thank Ameesha Patel. She made my production house famous. What can be bigger than this? I thank her for making our new production house famous." [3]The Indian Express
One month later, Ameesha said that she felt like she had a father-daughter bond with Anil. [4]Hindustan Times
Facts/Trivia
In an interview, Anil talked about the success of the film 'Gadar 2' and said,


We expected Gadar 2 to be a hit. Lekin yeh to gadar se bhi aage gadar ho gaya. Ek Gadar 2001 mein machi tthi.Abb ek Gadar 2023 mein machi hai. I won't lie, the volume of success has taken us by surprise. On Saturday night I went to the cinema to see my film for the first time as a member of the audience. What I saw left me overwhelmed. So much love, my son Utkarsh got mobbed. I have always been to the movies as an audience. This time the experience was something else."
In an interview, Anil mentioned that Sunny Deol agreed to a lower payment while filming "Gadar 2" since the film's budget wasn't very high.
In 1991, Anil planned to produce a film titled "Break Dancer," which was to be directed by and starred Javed Jaffery. Nevertheless, the project was eventually cancelled.
In 2023, in an interview, Anil remembered that back in 2001, he was thinking about creating a movie with the late actor Dilip Kumar. However, he decided to make "Gadar" instead and had to say sorry to Dilip Kumar for not going ahead with their original plan.
In an interview, Anil discussed his 2001 film "Gadar" and mentioned that it received a lot of negative feedback from the industry. One reviewer even called it 'gutter', while another from an English newspaper felt it wasn't worth their time to review the film.