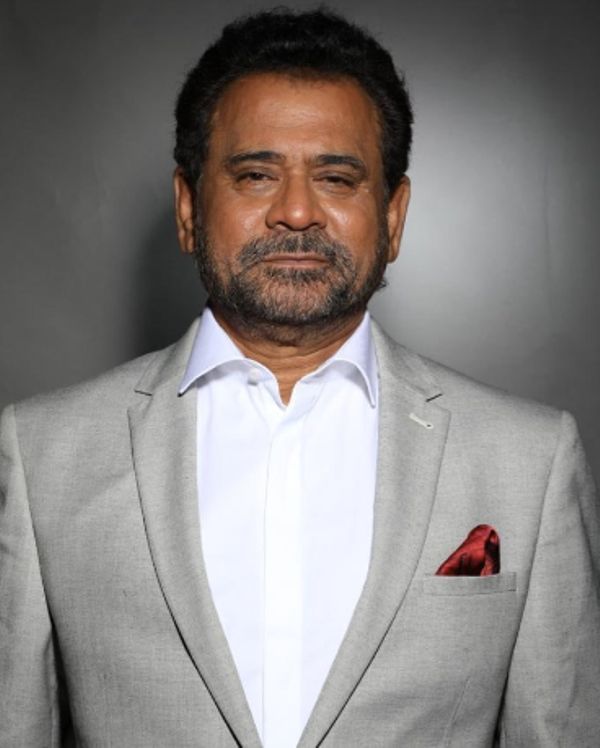 Anees Bazmee is an Indian film director and screenwriter famous for directing and writing scripts for Bollywood films. He is well known for directing famous Bollywood films No Entry (2005), Welcome (2007), and Singh Is Kinng (2008). In 2022, his directorial film, Bhool Bhulaaiya 2, the sequel to the famous Bollywood film Bhool Bhulaiyaa (2007), made a whooping worldwide gross collection of Rs 266.88 crore, making it the fourth-highest-grossing Hindi film of 2022.
Wiki/Biography
Anees Ahmed Abdul Hameed Bazmee [1]Zauba Corp was born on Thursday, 1 November 1962 (age 60 years; as of 2022) in Modasa, Gujarat, India. His zodiac sign is Scorpio. When Anees was a year old, his father shifted from Gujarat to Mumbai with the entire family. Anees completed his education till the tenth standard at the Farooq School in Mumbai. [2]Jashn-e-Rekhta – YouTube
Physical Appearance
Height (approx.): 5′ 8″
Hair Colour: Salt & pepper
Eye Colour: Dark Brown
Family
Anees Bazmee belongs to a Muslim family.
Parents & Siblings
Anees' father, Abdul Hameed 'Nerang' Bazmee, was an Urdu poet, and her mother, Khatoon Begum, was a homemaker.
Anees has four siblings, two sisters and two brothers.
Wife & Children
Anees Bazmee is married to Fatima Bazmee Anees. Together, they have three daughters, Sana Bazmee, Sarah Bazmee, and Saba Shaikh, and a son, Faizan Bazmee, a writer, who was born on 25 February 1998.
Religion/Religious Views
Anees follows Islam.
Career
Anees hailed from a poor family. At the age of 12, Anees, out of the responsibility of his family, entered the film industry, and he started working as a child artist. In 1977, Anees made his debut as a child actor in the Bollywood film Kitaab.
In 1979, he acted in the film Bhayaanak. In 1981, Anees' performance as young Vicky in the film Naseeb was well-received by the audience.
After acting in a few films, Anees realised his calling was somewhere else. In an interview, he talked about the reason why he didn't pursue his career as an actor and said,
I never wanted to be a part of the film industry. That time it was a necessity for me to work and I got a job in this profession. I always had the feeling that I am not meant to be an actor. Not because I wasn't a good actor but I lacked satisfaction."
In 2015, Anees made a guest appearance in the Kannada film Care of Footpath 2.
Director
After appearing as a child artist in a few films, Anees developed an interest towards filmmaking and direction, and he worked with a few filmmakers to learn the aspects of filmmaking like sound direction, art direction, and editing. At the beginning of his career, Anees even worked as a clapper boy for many Bollywood films. In 1982, he got the opportunity to assist the renowned filmmaker Raj Kapoor in the famous Bollywood film Prem Rog, starring Rishi Kapoor and Padmini Kolhapure.
Later, Anees assisted a few directors for Bollywood films like Lava (1985), Jaanoo (1985), and Insaaf Aone Lahoo Se (1994). In 1983, Anees assisted the director in the Rajasthani film Mhari Pyari Chanana.
In 1995, he made his directorial debut in the Hindi film industry with the film Hulchul starring Ajay Devgn and Kajol.
Anees gained recognition in the Hindi film industry with his directorial Bollywood film Pyaar To Hona Hi Tha, which emerged as Anees' first commercial hit. [3]The Times of India Later, he directed some popular Hindi films like No Entry (2005), Welcome (2007), Singh Is Kinng (2008), and Ready (2011). In 2022, Anees' direction for the Bollywood film Bhool Bhulaiyaa 2, starring Kartik Aaryan and Tabu, was well appreciated by the audience. In 2023, he was nominated for the Best Director Award for the Bollywood film Bhool Bhulaiyaa 2 (2022) at the International Indian Film Academy Awards.
Writer
During his childhood days, Anees' father, Abdul Hameed Bazmee, encouraged him to write poetry in the Urdu language, and soon he developed an interest in writing. Besides assisting film directors, Anees wrote scripts for many films for which he was never credited, but the audience's reaction to the film boosted his confidence in pursuing a career as a writer. Initially, he worked as an assistant writer to well-known film writers, Ravinder Peepat and Jainendra Jain. In 1990, Anees made his debut as a screenplay writer with the Bollywood film Swarg, starring Rajesh Khanna and Govinda.
The film went on to become a hit, and his script was immensely appreciated by the viewers. Later, he wrote scripts for a few famous Bollywood films like Shola Aur Shabnam (1992), Aankhen (1993), Raja Babu (1994), Laadla (1994), Deewana Mastana (1997), Pyaar To Hona Hi Tha (1998), Sirf Tum (1999), and Mujhse Shaadi Karogi (2004). In 2005, he was nominated for Best Screenplay Award for the Bollywood film Mujhse Shaadi Karogi (2004) at the Zee Cine Awards.
Controversy
Non Payment of directorial fees
In September 2011, Anees Bazmee filed a case at the Bombay High Court against the film and music producer Bhushan Kumar and T-Series for the non-payment of his fees for directing the Bollywood film Ready in 2011, starring Salman Khan and Asin Thottumkal. Anees alleged that he was supposed to get his directorial fees amounting to Rs 9 crore and 11 lakhs inclusive of 30% of the film's profit, but Bhushan failed to furnish his fees. The court ruled the decision in Anees' favour and ordered Bhushan Kumar to pay his outstanding dues amounting to Rs 9 crores. [4]The Times of India
Awards
2008: Popular Award for Director with Comic Excellence at the Star Gold Comedy Honors Awards
2017: Most Successful Director Award at the Dada Saheb Phalke Film Foundation Awards
2021: Dadasaheb Phalke Icon Award Films for Best Film Director
2022: Best Director Award for the Bollywood film Bhool Bhulaiyaa 2 at the Society Achievers Awards
Assets/Properties
Anees owns a farm in Lonavala in the Pune district, Maharashtra.
Favourites
Film: Mughal-E-Azam (Bollywood)
Novelist: Ibn-e-Safi (a Pakistani Urdu poet)
Shoot Location(s): Dubai, London
Facts/Trivia
In an interview, Anees stated that he was immensely inspired to write films by the famous Indian screenwriting duo Salim-Javed, comprising Salim Khan and Javed Akhtar.
During his childhood days, Anees spent most of his time with his father's friends, who were also poets. His father Abdul Hameed Bazmee and his friends frequently gathered at the Wazir Hotel in Mumbai, and Anees served them refreshments like tea, paan, or cigarettes. [5]

Firstpost Apart from writing poetry, his father used to construct buildings in Mumbai, and Anees also accompanied his father to the construction site.
In an interview, Anees talked about his first salary and revealed that his first salary amounted to Rs 13.
In 2007, Anees organized the first trial screening for his film Welcome. Later, he was admitted to the hospital due to hypertension after he received negative feedback for his film from the viewers. While talking about the incident, Anees said,


I made the film Welcome, nobody liked it after the first trial screening. I asked them what they didn't like about it, and they said, 'It's not funny at all'. I became stressed about taking the film to the public. I decided to write the screenplay again, I was in the hospital at the time because of high blood pressure. I was very stressed. But when I wrote the script, I became doubly sure that Welcome was a fantastic film and I had no idea why people hadn't liked it."
The graphic humour painting of a donkey over a horse depicted in the Bollywood film Welcome (2007) was drawn by Anees and his art director, Pritam Patil.
While directing the Bollywood film Singh is Kinng (2008), Anees revealed that he managed to sleep only one hour a day as in the daytime he used to direct the film's scheduled sequence and at night he used to write the script for the next day's shoot.
In 2015, Anees directed the Bollywood film Welcome Back, which is the sequel to the film Welcome (2007), but he failed to receive the specified remuneration for his direction. Anees accused the film's producer Firoz Nadiadwala of not paying his fees and alleged that he was supposed to get his fees before the release of the film but the producer failed to do so. In an interview, Anees expressed his displeasure of not receiving the due amount on time and said,


I am waiting for the producer to pay my dues. I gave three years of my life for this film. I worked hard for this project, but I still haven't got my remaining payment. I was to get over Rs 4.5 crore but he asked me to do some settlement, so I asked him to pay me Rs 2 crore, I let go the remaining amount. I was supposed to get the money before the release of the film. But I still went and made the film for the relationship we share (Firoz and I). I kept patience. Even though the film has released and is doing well, I am yet to get my money. I am not greedy. I am not angry, I am hurt. I will not take any harsh step. I am not that kind of a person. I called up (Firoz Nadiadwala), but no response from him."
Anees is fond of reading novels, playing cricket on film sets, and travelling.
Anees was appointed as a designated partner at a few firms like Buzz Mee Films Llp, Anees Bazmee Production Llp, Kosei-Teki Healthcare Llp, Silverleaf Builders And Pramoters Llp, and Afb Production Llp.
Anees, in an interview, revealed that he used to write the film's script on the spot in the Urdu language and afterwards, it was translated into other languages based on the preference of the cast and crew.
In February 2019, Anees's daughter, Saba, registered a complaint at Oshiwara police station, Andheri, Mumbai and accused her husband Mohammed Wasim Shaikh, and her in-laws of harassing her mentally and physically for dowry since 2011 when she got married. She alleged that her husband demanded a role in her father's film and after she refused his demand, he started torturing her mentally and physically and even demanded cash from her father, Anees Bazmee. [6]

Mid-Day
In September 2021, in an interview, when asked about her replacement in the sequel of the Bollywood film Welcome (2007), Mallika Sherawat alleged that she was not cast in the film as the director Anees Bazmee preferred to cast his girlfriend in the film Welcome Back (2015). She said,


Welcome ka sequel banega toh director apni girlfriend ko hi dalega na usmein. Welcome 2 bana toh usmein apni girlfriend ko daal diya batao, ab main kya karun." [7]Hindustan Times
Anees was appointed as a director of the companies "Anees Bazmee Creates And Directs Entertainment Private Limited" and "Anees Bazmee Creates Private Limited" on 21 and 22 September 2022 respectively.
In January 2023, Kapil Sharma invited three well-known directors from the Hindi film industry, Indra Kumar, Anees Bazmee, and Satish Kaushik to his talk show "The Kapil Sharma Show" on Sony TV. Upon the telecast of the episode, Anees revealed an incident, where his script was torn into pieces while filming for the climax scene of the Bollywood film Welcome in 2007. He stated that the culture of submitting the bound scripts earlier to the cast and crew was not prevalent at that time and the scenes were written on the day of the shoot. He wrote the climax scene of the film on the set, where Nana Patekar was supposed to ride a horse. Vijay Raaz, who was portraying a director in the film had to shoot a sequence in which he had to show his anger and unintentionally, he took the script and ended up tearing it into multiple pieces. [8]

The Times of India
Anees is often spotted consuming alcohol occasionally with friends.
In 2023, upon the telecast of the talk show "The Kapil Sharma Show," Anees talked about how he convinced Nana Patekar, who is known for portraying serious characters, to play a comic character of a gangster, Uday Shetty, in the popular Bollywood film Welcome (2007). Anees wanted to cast Nana as he believed that Nana would ace the character and would leave an impact on the coming generation on how to portray a comic character well.
Anees, in an interview, revealed that he never let his actors kiss onscreen in his films as he wanted his films to be complete and clean family entertainers rather than dirty comedies. [10]

Hindustan Times