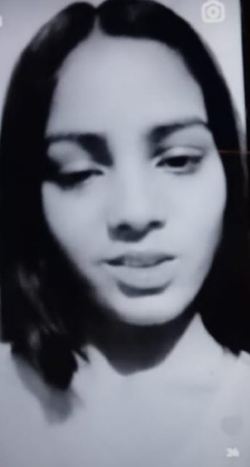 Sakshi Reddy was an Indian teenage girl who was brutally murdered by her alleged boyfriend Sahil on 28 May 2023 in the Shahbad Dairy area in Rohini, Delhi. Apparently, Sahil stabbed Sakshi with a knife over 20 times before smashing her head with a concrete block 6 times.
Wiki/Biography
Sakshi Reddy was born in 2007 (age 16 years; as of 2023) in Delhi. She passed her class 10 examination in 2023.
Family
Parents & Siblings
Sakshi's father, Janak Raj is a labourer (Raj Mistry). Her mother is a homemaker. She had a younger brother, who is 10 years old.
Religion
Sakshi Reddy followed Hinduism. [1]India TV
Relationship/Affairs
According to the police, Sakshi Reddy was in a relationship with Sahil. [2]India TV News
Sakshi Reddy Murder Case
On 28 May 2023, Sakshi Reddy was gruesomely murdered by her alleged boyfriend Sahil in the Shahbad Dairy area in Rohini, New Delhi. Apparently, Sakshi was on her way to the market to buy a gift for her friend's son (for his birthday) when Sahil accosted her in the densely populated street. When Sakshi refused to talk to Sahil, he repeatedly stabbed her, knifing her over 20 times and then crushing her head with a cement boulder. In a media conversation, while talking about the incident, her mother said,
At the market, Sahil approached her and asked her to come with him. But when my daughter asked him why, he stabbed her multiple times and soon fell unconscious. He then smashed her head repeatedly with stones."
As per some reports, Sakshi, who was in a relationship with Sahil for over three years, wanted to break up with him and the two had a quarrel on the matter on 27 May 2023. Their breakup reportedly enraged Sahil, who then decided to kill Sakshi. The incident got recorded in a cctv camera placed nearby. Post the incident, Sakshi was taken to Ambedkar Hospital by the police, where she was declared brought dead by the doctors. [3]Business Standard
As per the initial investigation in the case, Delhi Police Special CP Dependra Pathak said,
As per the information as of now, they (Sahil-Sakshi) knew each other and there was some quarrel or they parted ways. The accused (Sahil) had a grudge and he did this kind of gruesome murder. It's a crime of passion. Further probe is being done."
A case under Section 32 (muder) of the Indian Penal Code was registered by Sakshi's father at the Shahbad Dairy police station.
Sahil's Arrest
Sahil escaped from the spot soon after committing the crime. He headed to his home first, where he kept his phone, and later went to the Kashmiri Gate Bus Stand from where he took a bus to his aunt (Bua) Shamim's house. After reaching his aunt's house, Sahil called his mother and described the entire incident to her. After Sakshi's father registered a complaint against Sahil at the Shahbad Dairy police station, Delhi police started searching for him. On 29 May 2023, Sahil was arrested from Aterna village in Bulandshahr district of Uttar Pradesh after a call from his aunt to his father was traced by the Delhi Police. [4]Business Standard
Facts/Trivia
In a media conversation, Sakshi's parents claimed that they were not aware if Sakshi had any acquaintance with Sahil.
According to police, Sakshi had a tattoo bearing the name Praveen on one of her hands. [5]

Business Standard
In a media conversation, Sakshi's mother revealed that Sakshi aspired to become a lawyer.
She was residing with her family in JJ Colony, Delhi.
In a media conversation, Sakshi's mother revealed that Sakshi had been staying at her friend Neetu's house in Shahbad Dairy for the past 15 days as Neetu's husband was out of the station for some work. She said,


My daughter had been staying with Neetu and her two children for the past 15 days. Just yesterday (Sunday) around 1:30 pm, I spoke to my daughter. She told me that she would return home once Neetu's husband was back and I was eagerly waiting for her. Little did I know that she would never return."
A 90-second CCTV footage of the incident went viral on the internet after the incident in which Sahil could be seen pinning Sakshi to the wall with one hand and stabbing her repeatedly with another hand in the busy lane in the Shahbad Dairy area. Sahil did not stop even when Sakshi slumped to the ground. He jabbed the knife into her around 20 times, kicked her, and then slammed a cement slab on her head around 6 times.
Sakshi's parents have demanded capital punishment for Sahil. In a media conversation, while demanding a strict punishment for Sahil, her father said,


We need justice for our daughter. She was brutally stabbed multiple times and her head was smashed repeatedly with a stone. We want the accused to be hanged to death."

As per the police investigation, Sahil doubted that Sakshi was in contact with her ex-boyfriend. He had earlier threatened to kill Sakshi if she remained in touch with her ex-boyfriend. [6]

Live Hindustan