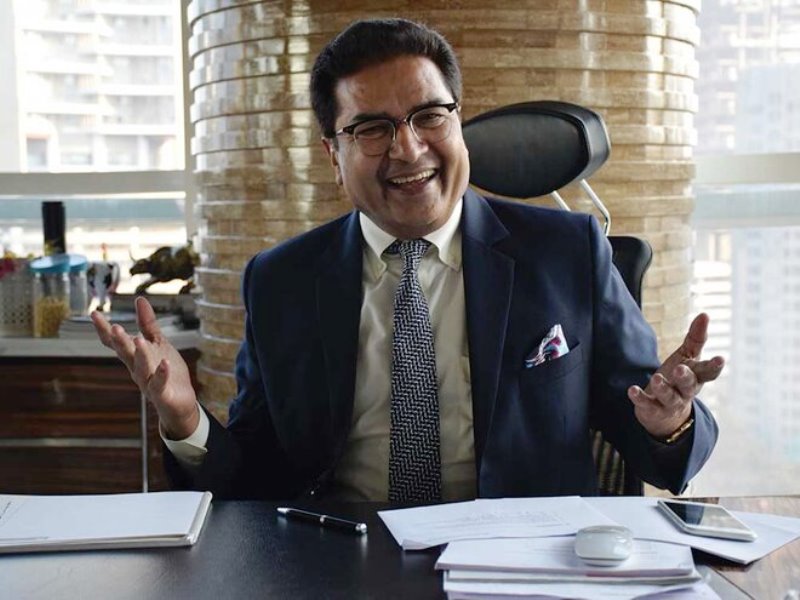 Raamdeo Agrawal is an Indian businessman, stock market investor, and the Co-founder and Chairman of the Motilal Oswal Group.
Wiki/Biography
Raamdeo Agrawal was born on Friday, 5 April 1957 (age 66 years; as of 2023) in a village near Raipur, Chhattisgarh. His zodiac sign is Aries. After completing his schooling in Raipur, he moved to Mumbai to pursue his higher education. There, he pursued a B.Com at the University of Bombay. He completed his chartered accountancy in 1983. [1]Forbes
Physical Appearance
Height (approx.): 5′ 8″
Hair Colour: Black
Eye Colour: Black
Family
Raamdeo Agrawal was born in a middle-class Marwari family hailing from Rajasthan. [2]Amazon
Parents & Siblings
Raamdeo Agrawal's father's name is Ramgopal Agarawal. He has five brothers, Karoon Ramgopal Agarawal, Vinay R. Agrawal, Sukhdeo Ramgopal Agarawal, Govinddeo R. Agarawal, and Satish Agrawal, and two sisters, Anita Anandmurthy Agrawal and Suman Agrawal. Sukhdeo Agarawal was a marine engineer.
Wife & Children
Raamdeo Agrawal is married to Sunita Agarwal. Together they have a son named Vaibhav Agarwal, who is the Fund Manager at Motilal Oswal Asset Management and Founder of Teji Mandi. Vaibhav is married to Vedika Karnani (Agarwal).
Career
Agrawal began his career as a sub-broker on the Bombay Stock Exchange in 1987, crowding inside a hall and shouting orders under the open outcry system. While talking about his onset in the investment journey in an interview, Agrawal said that once his brother Sukhdev wanted to save his supplement income of Rs 4-5 lakhs, and he suggested him to buy shares instead of putting the money in a bank deposit. Sukhdev handed over the responsibility of developing a portfolio of the money to Agrawal. Managing his brother's money helped Agrawal how the market works. In 1987, Motilal Oswal and Raamdeo Agrawal founded Motilal Oswal Group a small stock sub-broking firm.
As sub-brokers, they were able to build a portfolio of only 10-15 lakh till 1990. Thereafter, they used all his earnings to buy the membership of BSE. It was during the time of the Harshad Mehta Bull Run that they made Rs 30 crore in 20 months by investing Rs 15 lakhs. Eventually, the company started offering a range of services, including investment banking in 2005, private equity funds in 2006, and mutual funds in 2010. Later, the company turned into a financial conglomerate by entering wealth management, housing finance, and portfolio management services (PMS) as well. In FY16, the MOFSL garnered revenues of Rs 1,055 crore and a net profit of Rs 163.32 crore. By 2017, Agrawal was holding 36% of Motilal Oswal worth $900 million. [3]Live Mint
One the Agrawal's most epic bets was on Hero MotoCorp (then Hero Honda) in which he invested around Rs 10 lakh in the shares in 1995 at Rs 30 apiece. He held on to them for the next 20 years, till the share price rose to Rs 2,600 apiece. He sold out the shares in 2015. At that time, his holding in Hero MotoCorp was annually earning him Rs 3-4 crore in dividend income alone.
Awards
Raamdeo Agrawal was awarded the Rashtriya Samman Patra by the Central Board of Direct Taxes for a consistent track record of the highest integrity in tax payments for a period of 5 years from FY95-FY99
Net Worth
According to Forbes, his net worth in 2018 was $1 billion, but he was dropped off their list of billionaires in 2019. [4]Forbes
Facts/Trivia
Interestingly, Agrawal and Oswal lived in the same hostel in Mumbai while studying accountancy, but the two became friends much later.
Agrawal is an ardent fan of the American business magnate Warren Buffet and says that his investment strategy is largely inspired by him. Agrawal has been attending Berkshire Hathaway's annual general meetings since 1995.

Apart from Buffet, Agrawal said that he learnt about the power of compounding from Chandrakant Sampat.
He is a voracious reader. In an interview, he listed down the books that made him a better investor. Apart from fanatically reading Warren Buffett's annual letters to Berkshire Hathaway shareholders, he named the books Common Stocks and Uncommon Profits by Philip Fisher, Value Migration by Adrian Slywotzky, Understanding Michael Porter by Joan Magretta, and Intelligent Investor by Benjamin Graham.
He has authored several books like Wealth Creation Thoughts, Corporate Numbers Game (along with co-author Ram K Piparia), and The Art of Wealth Creation.

In 2005, Raamdeo Agrawal's son, Vaibhav, was kidnapped by Rahul Tyagi and his compliance Sanjeev Sharma. Vaibhav was kidnapped from his hostel in Kota, where he was preparing for his Indian Institute of Technology entrance exam. The kidnappers lured Vaibhav by saying that they had been sent by his uncle who is a doctor in Pondicherry and requested him to come with them to Bansal Institute for coaching. The kidnappers had demanded a ransom of Rs 10 crore, but the family agreed to pay Rs 3 crore for Vaibhav's safe release. The police took 15 days to rescue Vaibhav after they arrested Jai Kumar alias Bittu, the 22-year-old driver of the kidnappers, who was trying to flee after collecting the ransom of Rs 3 crore. Vaibhav was given a drink laced with sedatives and was driven to Delhi, then Dehra Dun, and then Kahtuli before he was finally rescued from Ghaziabad following a joint operation carried out by the UP, Delhi and Rajasthan police. [5]

Rediff Allegedly, it was Vaibhav's ex-girlfriend Amisha Agarwal who tipped off Tyagi about Vaibhav. Amisha was Vaibhav's classmate in Muzaffarnagar's DAV College. Later, she married one of India's richest MNC executives, Paresh Vaishya. The couple lived in the Samudra Mahal building in Mumbai's Worli area, where stockbroker Ramdev Agarwal also lived. [6]

The Times of India
In 2021, Agarwal, his wife Sunita, and son Vaibhav, jointly bought a sea-facing luxury duplex apartment at Samudra Mahal in Mumbai's posh neighbourhood of Worli for Rs 46.29 crore.