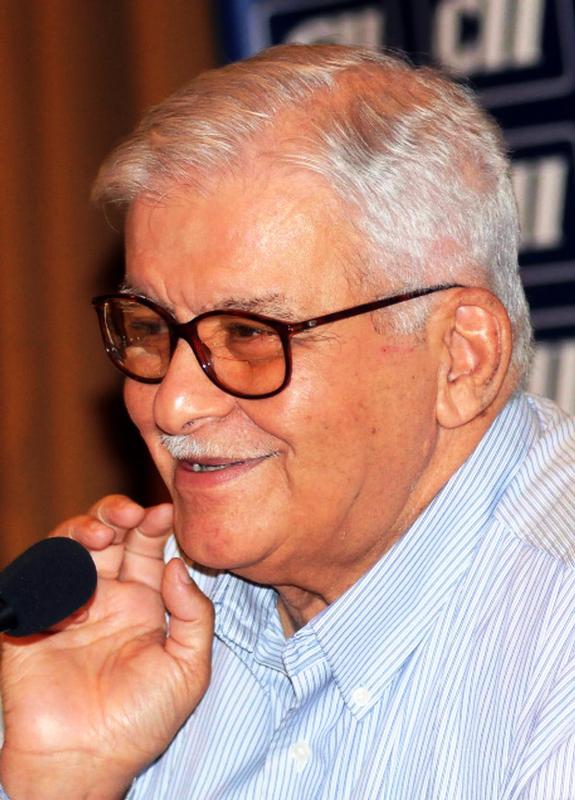 Jamshed J Irani (1936-2022) was an Indian industrialist and is best known for being the Managing Director (MD) of Tata Steel Limited. On 31 October 2022, he passed away owing to natural causes in Tata Memorial Hospital at Jamshedpur.
Wiki/Biography
Jamshed Jiji Irani was born on Tuesday, 2 June 1936 (age 86 years; at the time of death) in Nagpur District, Central Provinces & Berar, British India (now Nagpur, Maharashtra, India). [1]The Economic Times After completing his school studies, he enrolled at the Science College in Nagpur, where he earned a bachelor's degree in science in 1956. In 1958, he pursued a post-graduate degree in MSc Geology after which he went to the United Kingdom, where he earned a master's degree in metallurgy at the University of Sheffield in 1960. Upon completing his master's degree in metallurgy, he pursued and earned a PhD in Metallurgy at the University of Sheffield in 1963. [2]The Economic Times
Family
Jamshed J Irani belonged to a Parsi family.
Parents & Siblings
His father's name was Jiji Dhunjibhoy Irani. His mother's name was Khorshed (Guzder) Irani. He had a sister named Diana Hormusjee.
Wife & Children
His wife's name is Daisy Irani.
He had three children. His son, Zubin J. Irani, is an engineer and a businessman.
His younger daughter's name is Tanaaz J. Irani. His elder daughter, Niloufer J. Irani, is an HR Manager in a private firm.
Religion
Jamshed J Irani followed Zoroastrianism.
Career
Jamshed J Irani's career in the corporate began in 1963 after he completed his PhD in Metallurgy in the United Kingdom. From 1963 to 1968, Jamshed J Irani worked with the British Iron and Steel Research Association (BISRA) as a senior scientific officer. At BISRA, Jamshed received a promotion and was made the head of the Physical Metallurgy Division (PMD); however, according to several sources, Jamshed wanted to work for his country rather than a foreign country as a result of which he decided to leave his job in the UK and shift back to India in 1968, where he joined Tata Iron and Steel Company (TISCO), which was renamed as Tata Steel Limited in 2005. There, he worked as an assistant to the Director-in-Charge of Research and Development till 1978 after which he was given a promotion and made a General Superintendent (GS) of TISCO. In 1979, Jamshed was once again promoted and made the General Manager (GM) by TISCO. In 1981, he became a board member of TISCO, a post that he retained till 2011. Tata Iron and Steel Company once again promoted Jamshed and appointed him as the president of TISCO. In 1988, Jamshed became the Joint Managing Director (JMD) of the company, a post that he held till 1992 after which he took over TISCO as its General Manager. He held the post of general manager till the time he got retired in 2001. In 1993, the Tata Group gave Jamshed the additional charge of Tata Sons Private Limited and made him its director. In the same year, Tata Group appointed Jamshed as a board member of Tata Motors. Jamshed Jiji Irani retired from all of the appointments that he held in the Tata Group in 2011.
Awards, Honours, Achievements
In 1997, Jamshed Jiji Irani was conferred with the Knight Commander of the Order of the British Empire by Queen Elizabeth II, the former Queen of England.
In 2007, the Government of India bestowed Padma Bhushan, India's third-highest civilian award, on Jamshed Jiji Irani.
In 2008, Jamshed Jiji Irani was conferred with the Lifetime Achievement Award by the Government of India.
Death
On 31 October 2022, at 10 PM, Jamshed Jiji Irani passed away while he was admitted at the Tata Main Hospital (TMH) in Jamshedpur due to natural causes. [3]The Times of India [4]Mint Tata Steel Limited, in its official statement, said,
The Steel Man of India passes away. It is with profound grief that Tata Steel informs of the demise of Padma Bhushan Dr Jamshed J Irani. He passed away on October 31, 2022 at 10 PM at TMH (Tata Main Hospital) in Jamshedpur. Tata Steel family offers its deepest condolences to his family and loved ones."
Facts/Trivia
From 1992 to 1993, Jamshed Irani worked with the Confederation of Indian Industry (CII) as its national president.
Jamshed J Irani was appointed as an International Fellow in 1996 by the Royal Academy of Engineering.
Jamshed J Irani has been accredited with establishing the Tata Education Excellence Program in 2003 along the lines of the Malcolm Baldrige Performance Excellence Program.
After he retired from the Tata Group in 2011, Jamshed J Irani was appointed by the Indian government as the director of the Indian Institute of Management (IIM) in Lucknow.
According to his wife and daughter, Jamshed J Irani passionately followed his hobby of collecting antique coins and stamps. Talking about it, during an interview, his wife and daughter said,


Jamshed collects a lot of things on our vacations together. He has got at least 300 key chains, each a souvenir of a place we have vacationed at! Apparently key chains are not all he collects but also stamps, an enviable readers' digest collection, photographs of family trips..!"
Jamshed and his sister Diana Hormusjee founded the Jiji Irani Challenge Cup Cricket Tournament in 1987 in memory of their father, and since then, they used to organise a cricket tournament every year in Secunderabad with the help of the Zoroastrian Club.
According to several sources, Jamshed Irani was keenly interested in field sports like football and cricket.