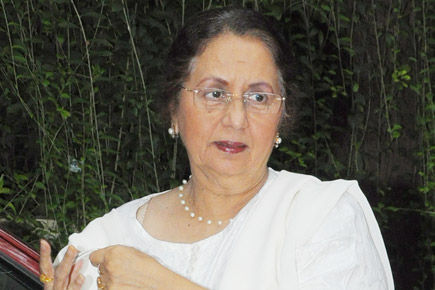 Nanda Karnataki [1]India TV News, popularly known as Nanda, was an Indian actress who mainly worked in Hindi and Marathi films. She worked in around 300 films in her career spanning over 30 years. Nanda is best known for her stellar performances in the films Bhabhi (1957), Chhoti Behen (1959), Dhool Ka Phool (1959), Kala Bazar (1960), Kanoon (1960), Hum Dono (1961), Jab Jab Phool Khile (1965), Gumnaam (1965), Ittefaq (1969), The Train (1970), and Prem Rog (1982). She is the recipient of the Filmfare Award for Best Supporting Actress for the film 'Aanchal' (1961).
Wiki/Biography
Nandini Winayak Karnataki [2]Film Festivals was born on Sunday, 8 January 1939 (age 75 years at the time of death) in Kolhapur, Kolhapur State, British India (now, Maharashtra, India). Her zodiac sign is Capricorn. She was a studious child. One day, when she was around 5 years old, her father asked her to accompany him to the sets of his film. At that time, her father was making the Hindi film "Mandir" (1948) in which Lata Mangeshkar was playing the role of a sister. Nanda loved school and refused to go with him. She complained about it to her mother and said that she didn't want to act. However, her mother persuaded her by saying it would be the first and last time. When Nanda reached the set of the film, her father made her dress like a boy and gave her a small role in the film.
On 19 August 1947, her father died of a heart complication. A few days after his death, her father's production manager came to their home with a man and told her mother,
Vinayak saab had taken money from this man."
Her mother didn't want a blemish on her (Nanda) father's name and decided to sell off their house, properties, and cars to pay off her father's debts. Soon, Nanda and her family was on the streets with hardly any money left with them. Subsequently, they shifted to her maternal aunt's house, who lived in the Sonawala building in Tardeo, Mumbai. In 1948, the film "Mandir" was released and 'Baby Nanda' got noticed in the film. Nanda then decided to pursue a career in acting in order to provide financial support to her family. By making a career in films, Nanda supported her six siblings' education. As she got involved in films, her studies took a backstep. Later, she was home-schooled by the renowned teacher and Bombay Scouts commissioner Gokuldas V. Makhi.
Physical Appearance
Height (approx.): 5′ 3″
Hair Colour: Salt & Pepper
Eye Colour: Brown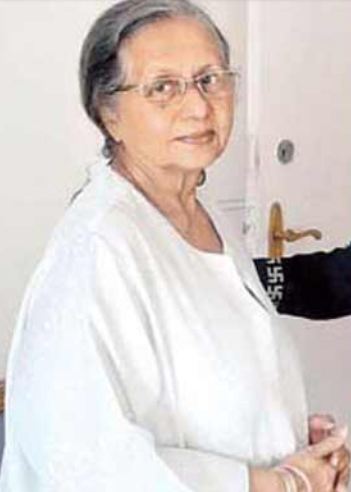 Family
Parents & Siblings
Nanda was born in a show-business family to Vinayak Damodar Karnataki and Sushila (Meenaxi) Karnataki. Her father, also known as Master Vinayak, was a well-known Marathi and Hindi filmmaker and producer and her mother was a homemaker. Nanda had four sisters named Meena, Jaymala, Mangala, and Bharati. Mangla and Bharati were twins. She also had two brothers named Subhash (elder) and Jaiprakash Karnatki (younger; director and producer).
Husband
Nanda remained unmarried all her life. Reportedly, her mother suggested many suitable grooms to Nanda, but she refused them all and said,
I'll only marry when my heart says so. If I get married to someone you suggest and something goes wrong, I'll curse you all my life."
Even her brothers introduced many prospective grooms to her, but she rejected them all.
Other Relatives
Nanda was the great niece of the Indian filmmaker and producer Shantaram Rajaram Vankudre. [3]India Times Vasudev Karnataki (cinematographer) was her paternal uncle. The popular actors Baburao Pendharkar and Bhalji Pendharkar were her step-uncles (her father's half-brothers).
The film actress Jayshree T. was her sister-in-law (married to Nanda's brother Jaiprakash Karnatki). She was also the sister-in-law of the Hindi film producer C. V. K. Sastry (married to Nanda's sister Meena).
The Indian film actor, director, and producer Shreyas Talpade is also related to Nanda. Shreyas father, Bhupesh Talpade, is the brother of the Bollywood actress Jayashree T., who is married to Nanda's brother Jaiprakash Karnatki.
Relationships and Fiance
In 1965, during the shooting of the film "Jab Jab Phool Khile," a Maharashtrian lieutenant colonel was smitten by Nanda. He asked the director Suraj Prakash to forward his marriage proposal to Nanda's mother. However, nothing came out of it later. Nanda was also rumoured to be in a relationship with the actor Vijay Anand. When Vijay was asked about their relationship, he neither confirmed it nor denied it. Nanda was very upset when she came to know about it.
Reportedly, she also received proposals from some of the actors she had worked with. However, she turned them down saying,
Our temperaments don't match."
The Indian film producer and director Manmohan Desai was a huge fan of Nanda. He liked her so much that he would often park his car near Nanda's film posters and stared at them. He would purposely shoot near Nanda's bungalow in Bandra to get a glimpse of her. It is said that Desai married Jeevanji just because she resembled Nanda and even her wife was aware of his obsession with Nanda. A few months after Jeevanji's demise, Waheeda Rehman invited Nanda to her home saying that Yash Johar and Manmohan Desai were coming over to her place for dinner and Desai wanted to speak to her (Nanda). During the dinner, while talking to Nanda, Desai said,
Forget that I was once your fan. I like you and wish to marry you."
Nanda replied,
That's fine. What about your son Ketan?."
Manmohan told her that his son Ketan had approved of it. The duo exchanged rings in April 1992. Soon, they were planning to get married. However, in March 1994, Manmohan died after falling from the terrace of his rented flat in Girgaon, Mumbai. A day before he died, Desai talked to Nanda about buying a bungalow in Bandra. According to Nanda, Manmohan had stepped onto the terrace to take a break from his routine. Supposedly, he sat on the parapet, lost his balance, and fell down. When Nanda heard the news of his death, she was shocked and started sobbing uncontrollably. After Desai's death, Nanda lived the life of a Sanyasin. She started wearing white clothes and stopped attending social events. Nanda avoided meeting anyone and taking any calls after 7 pm. On Desai's death anniversaries and birthdays, she used to cook his favourite food and also did puja.
Ethnicity
Nanda belonged to a Maharashtrian family. [4]E Times
Career
As a Child Artist
Nanda worked as a child actress in Hindi and Marathi films from 1948 to 1956. She started her career as a child actress in 1948 with the Bollywood film "Mandir." She got noticed in the film and became popular with the name 'Baby Nanda.' Next, she appeared as a child actress in the film "Jaggu" (1952). She also played a child actress in the films "Angarey" (1954), "Bandish" (1954), and Jagriti (1954).
Nanda featured as a child artist in the Marathi films "Jagat Guru Shankaracharya," "Kuldaivat" (1955), and Shevgacha Shenga (1955).
As a Supporting Actress
When Nanda was in her teens, her paternal uncle producer and director V. Shantaram gave Nanda a big break by casting her in the film "Toofan Aur Diya" (1956). It was her first film as a grown-up supporting actress and she played the role of 'Nandini' in the film. She was praised for her performance in the film by the audience and critics alike.
The film's success led her to more supporting roles, gaining popularity with the role of 'Lata' in the Bollywood film "Bhabhi" (1957). Nanda received her first Filmfare nomination for her performance in "Bhabhi." However, she couldn't win it.
Next, she played the role of 'Meena' in the film "Chhoti Bahen" (1959), and it became a major hit. After the film, Nanda became a star and earned a reputation of a talented actress who could do impressionist roles.
Subsequently, she played supporting roles to Bollywood stars such as Dev Anand in "Dhool Ka Phool" (1959) and "Kala Bazar" (1960).
Some of her popular Hindi films as a supporting actress include "Amar Rahe Yeh Pyar" (1961), "Aashiq" (1962), "Nartakee" (1963), "Aaj Aur Kal" (1963), and "Mera Qasoor Kya Hai" (1964).
In addition to Hindi films, she also played supporting roles in many Marathi films like "Deoghar" "Jhale Gele Visrun Ja" (1957), and "Aai Vina Baal."
As a Main Lead
Nanda made a name for herself in the industry mainly as a supporting actress, however, she also gained popularity as a lead actress in her later years. Nanda played the lead roles of 'Ruma' and 'Nanda' in the films "Hum Dono" (1961) and "Teen Devian" (1965).
Both the films were a huge hit. Next, she played a lead in B.R. Chopra's "Kanoon" (1960), a film with no songs at all. Subsequently, she shared screen space with popular actors like Shashi Kapoor, Ashok Kumar, Kishore Kumar, Dev Anand, Waheeda Rehman, and Rajesh Khanna. She did eight films with Shashi Kapoor when Kapoor was yet to make a name in the film industry. While their two films "Char Diwari" (1961) and "Mehndi Lagi Mere Haath" (1962) did not perform well at the box office, the rest of the films were huge hits. The successful films of the pair include "Mohabbat Isko Kahete Hain" (1965), "Jab Jab Phool Khile" (1965), "Neend Hamari Khwab Tumhare" (1966), "Raja Saab" (1969), and "Rootha Na Karo" (1970). In the film "Jab Jab Phool Khile" (1965), Nanda played a westernised role for the first time in her life.
In 1965, she shared screen space with Manoj Kumar in the hit film "Gumnaam" which placed her in the top league of heroines. In 1969, she played a lead in the film "Ittefaq" opposite Rajesh Khanna. The duo then appeared together in the hit films "The Train" (1970) and "Joroo Ka Ghulam" (1972).
She even had some hit films with Jeetendra including "Parivar" (1956) and "Dharti Kahe Pukar Ke" (1969).
She worked in the films "Abhilasha" (1968) and "Beti" (1969) opposite Sanjay Khan.
With Dharmendra, Nanda starred in the films "Mera Kasoor Kya Hai" (1964) and "Akashdeep" (1965).
Retirement from Acting
After playing a small role in Manoj Kumar's 1972 film "Shor," Nanda reduced her work in the films. She played small roles in the films "Chhalia" (1973), and "Naya Nasha" (1974), which did not work at the box office. She started losing work slowly as she could not pair well with young actors like Navin Nischol, Vinod Mehra, Deb Mukherjee, and Parikshit Sahni. She made a brief return to acting in 1982 with three hit films "Ahista Ahista" (1981), "Prem Rog" (1982), and "Mazdoor" (1983). Surprisingly, she played the role of Padmini Kolhapure's character's mother in all three films. Thereafter, she retired from acting.
Popular Songs picturised on Nanda
There have been many popular songs that were picturised on Nanda. Some of them include:
Meethi Meethi Baaton Se from the film "Qaidi No. 1" sung by Lata Mangeshkar (1958)
Bhaiya Mere Rakhi Ke Bandhan Ko Nibhana from the film "Chhoti Behen" sung by Lata Mangeshkar (1959)
Aaha Rimjhim Ke from the film "Usne Kaha Tha" sung by Lata Mangeshkar and Talat Mahmood (1960)
Allah Tero Naam, Ishwar Tero Naam from the film "Hum Dono" sung by Lata Mangeshkar (1961)
Yeh Samaa, Samaa Hain Ye Pyaar Ka from the film "Jab Jab Phool Khile" sung by Lata Mangeshkar (1965)
Likha Hai Teri Aankhon Mein Kiska Afsanaa from the film "Teen Devian" sung by Lata Mangeshkar and Kishore Kumar (1965)
Kabhi Tere Daaman Na Chodenge Hum from the film "Neend Hamari Khwab Tumhare" sung by Mohammed Rafi, and Asha Bhosle (1966)
Pyar Hua Hai Jab Se from the film "Abhilasha" sung by Kishore Kumar and Lata Mangeshkar (1968)
Ke Hum Tum Dori Se from the film "Dharti Kahe Pukar Ke" sung by Lata Mangeshkar and Mukesh (1969)
Kisliye Maine Pyar Kiya from the film "The Train" sung by Lata Mangeshkar (1970)
Ek Pyar Ka Nagma Hai from the film "Shor" sung by Lata Mangeshkar (1972)
Naino Mein Kajra Hai from the film "Jooru Ka Ghulam" sung by Kishore Kumar and Lata Mangeshkar (1972)
Controversies
In 2016, Nanda's family members filed a suit at the Bombay High Court challenging a will in which she left a large part of her estate, including a triplex apartment in Versova to a trust. Her nine family members alleged that the will was fake and claimed that Nanda was very close to them and had no reason to appoint her business partner and chartered accountant to look after her estate. They also claimed that Shah and Hirji (Nanda's s business partner and her chartered accountant) had declined to share the copy of the will, a handwritten list of jewellery owned by Nanda and the deed of settlement of the trust which held the bulk of her assets. [5]Mumbai Mirror
Death
On 25 March 2014, Nanda died of a heart attack at her Versova residence in Mumbai. She was 75 years old at the time of her death. [6]BBC On her sudden demise, one of her relatives while talking to a news channel said,
It is shocking as she did not have any history of illness."
Her funeral was performed at the Oshiwara crematorium in Mumbai on the same day. For her last rites, Nanda was made to wear the white Salwar Kameez that Saira Banu had gifted her on her birthday. On seeing her dressed up in that attire, Saira Banu broke down and said,
This was not the occasion for which I had gifted the attire!"
A day before her death, Nanda chatted with her brother Jaiprakash Karnatki over the phone for about an hour. Nanda while talking to Jaiprakash (who had just returned from Shirdi) said,
You must have told Sai Baba about the pain in my legs but you mustn't have prayed that I go hanste khelte without hospitalisation na?"
Further, she made a plan to meet her siblings and their family members on Gudi Padva (on 31 March 2014). However, on 25 March, the news of her demise reached her brother. While sharing the details of the incident in an interview, Jaiprakash said,
On the morning of March 25, my wife and I were on the way for my health check-up when we received a call asking us to come immediately. Didi lived on the 14th floor. But every morning at 10 am, after having her breakfast and medicines, she'd go to the 12th floor, also her apartment, to have coffee. When she didn't come down for long, her maid went to check on her only to find her fallen outside the bathroom. She had suffered a massive heart attack."
On her demise, while remembering Nanda, her youngest brother Jaiprakash said,
Right from our childhood, we brothers and sisters remained attached to Nanda didi. In my next birth, I want to be her elder brother, so that I can repay her debt."
He further said,
My wrist will now remain empty. There's no one to tie rakhi anymore…"
Assets & Properties
Nanda owned a sea-facing triplex apartment in Quarter Deckbuilding in Versova, commercial space at Four Bungalows, land parcels in Shahpur in Thane district, jewelry, silverware, stocks, cash, bank deposits, and other movables worth over Rs 20 crores. [7]Mumbai Mirror
Favourities
Food: Prawns, Crabs, Chaat from Shetty Bhelwala, Chinese food served at Fredericks Chinese (restaurant), Biryani, Shami Kebabs
Radio Program: Binaca Geet Mala
Facts/Trivia
Nanda loved travelling abroad and watching films in her home theatre whenever she was free.
While in her teens, she loved listening to the radio. However, her family couldn't afford a radio in the '50s as her father had died and she had just begun working. So, she would often sit in the Sonawala balcony and listen to the radio playing in a sweet shop close to her balcony. Once Nanda planned to buy a radio and collected money for it. However, at that time her brother Prafull had a fall and suffered a fracture. He had to undergo an operation. Nanda decided to spend that money on his surgery and dropped the idea of buying the radio.
Nanda was self-reliant and never took any monetary favours from anyone. Even after becoming so popular, she had never ordered her food at a producer's expense. She always carried her own lunch to the sets of her films. If she ever took her family members to the shooting sets, she always paid for their fares. She even footed her own laundry bills. Sometimes, if a film got shelved, she'd return the pre-received amount.
According to her brother, Nanda was a calm personality and never believed in arguments. If she was ever upset with someone, she just stopped talking to him for a while. Nanda liked keeping her life personal and disliked being asked personal questions.
The song "Bhaiya Mere Rakhi Ke Bandhan Ko Nibhana" (picturised on Nanda) from the film 'Chhoti Behen' (1959) became immensely popular and Nanda became the nation's sister after that. After the success of the song, her fans started sending her rakhis on Raksha Bandhan, and she'd autograph and send them back. [10]

FilmiBeat
Once, Dev Anand approached her to play his sister in the Hindi film "Kala Bazaar" (1960). However, she refused the offer saying that she would then never get a chance to play his heroine in a film. On this, Dev assured her that he would soon give her a chance to play her heroine as well. Dev kept his promise and in 1961 in the Hindi film "Hum Dono" the duo appeared as a couple.
Nanda and Shashi Kapoor were a hit pair of their times and usually, the credits of their films were written as Nanda and Shashi Kapoor. However, after Shashi became a superstar, he insisted on having a priority in credits. At that time, Nanda declined all films with Shashi, and his films started to flop. On seeing her husband's popularity decrease over time, Jennifer Kapoor asked Shashi to apologise to Nanda for his behaviour. Thereafter, the duo paired again and their movies went well at the box office. Nanda and Shashi appeared in a total of 8 Hindi films and almost all of them were huge successes.
Reportedly, Nanda was the only actress whom Jennifer Kapoor (Shashi Kapoor's wife) invited home. Jennifer had asked her husband to stay away from all the other actresses.
Nanda was offered a few films like "Junglee" (1961), "Badtameez" (1966), Rajkumar (1964), Janwar (1965) opposite Shammi Kapoor. However, she rejected them all as she was cautious given his reputation. Kapoor also offered her a double price to do the film, but she remained firm on her decision. Once Shammi asked her,


You work with my younger brother Shashi, a newcomer, why not me?"

She remained quiet and just smiled. After a long time, Nanda signed the films Ahista Ahista (1981) and Prem Rog (1982) with Shammi Kapoor. While they were practising a scene on the set of the film "Prem Rog," Kapoor facetiously said,

When I was a hero, you never worked with me. But now that I'm playing your brother-in-law in the film, you've agreed."

Nanda was very disturbed to notice that the funerals of veteran actors like Ashok Kumar and Mehmood were poorly attended. She considered it a disrespect for them. One day she called her brother Jaiprakash and said,


When I'm gone don't call the media. Perform my rites as soon as possible at the Jogeshwari crematorium. Immerse my ashes at the Banganga Temple at Babulnath instead of Nasik (as is the familial tradition). Instead of a 13-day mourning period, observe it just for three days."
Nanda shared a great bond with the Bollywood actress Waheeda Rehman despite being her contemporary. Their friendship began when they worked together in the film "Kala Bazar" (1960). In fact, it was Waheeda who convinced Nanda to tie the knot with Manmohan Desai. They both shared a bond of around 55 years. While talking about Nanda in an interview, Waheeda said,


Both Nanda and I were fond of cooking. Whenever she visited me, she'd be in the kitchen cooking up a fun meal and asking me to cook up something. She was like my soul sister."
Nanda first met Waheeda Rehman on the stairs of the Central Studio. At that time, Nanda who was shooting for the film "Naya Sagar" greeted Waheeda who was filming for "Kaagaz Ke Phool," but Rehman was lost in some thoughts and did not respond to her. The incident made Nanda upset. However, the duo again met while shooting for "Kala Bazar" and friendship grew between the two.
Besides Waheeda Rehman, Nanda was close to a few more Bollywood actors like Asha Parekh, Helen, Saira Banu, and Shammi Kapoor. She was often seen hanging out with them for a lunch.
Reportedly, Nanda was one of the highest-paid actresses of her time. From 1960 to 1965, she was the second-highest-paid Hindi actress along with Nutan and from 1966-1969, she remained the second-highest-paid Hindi actress along with Nutan and Waheeda. She was the third-highest paid Hindi actress with Sadhana from 1970-1973. [12]

E-Times
Nanda received her first Filmfare Award for Best Supporting Actress in 1960 for the film 'Aanchal.' Interestingly, She gave some of the biggest hits of her life at the end of her career.
It was Nanda's father, Master Vinayak who first introduced Lata Mangeshkar to the film industry with the 1942 Marathi film "Pahili Mangalagaur." Later, Lata went on to become the most frequent playback voice for Nanda in her films. Lata had sung some of the most popular hits picturised on Nanda including "Allah Tero Naam" from the film 'Hum Dono,' "Yeh Samaa" from the film 'Jab Jab Phool Khile,' and "Ek Pyar Ka Naghma Hai" from the film 'Shor.'
When the shooting of the film "Ahista Ahista" (1981) started, Shashi's wife Jennifer asked her son, Kunal Kapoor, to touch Nanda's feet and seek her blessings. She told her son that Nanda was the one who launched his father's career.
A unique and unparalleled achievement of Nanda was that she worked with almost every Dadasaheb Phalke laureate relevant to her times, like with the singers Lata Mangeshkar and Asha Bhosle, and filmmakers V. Shantaram, B.R. Chopra, Yash Chopra, L.V. Prasad, Hrishikesh Mukherjee, and Nitin Bose. Nanda also enacted songs written by Majrooh Sultanpuri in many of her films.
Nanda believed in giving a chance to the newcomers in the industry and willingly used to sign films with the new heroes. She helped many new entrants to catapult a star status. Some of the fresh talents of her times whom Nanda agreed to work with include Shashi Kapoor, Rajesh Khanna, Manoj Kumar, Dharmendra, Biswajeet, Joy Mukerji, Sanjeev Kumar, Jeetendra, Sanjay Khan, Navin Nischol, Vinod Mehra, Deb Mukerji, and Parikshat Sahni.
The immortal song "Ek Pyar Ka Naghma Hai" filmed on Nanda was previously offered to Sharmila Tagore. However, the actress turned down the offer. Later, Manoj Kumar's wife suggested Nanda's name for the film. Initially, Manoj was reluctant to accept his wife's suggestion of casting Nanda but his wife called her up and offered her the role. Nanda went through the script and agreed to accept the offer only on the condition that she would not charge a single 'paisa' for it. Talking about it in an interview, Manoj said,


To date, I regret not repaying this debt to her, though she stole the show!."

In the film "Shor," a picture of Nanda from her previous unreleased film was used as a framed picture in the film, as her character had died and she was only shown in the flashback in the film.
Nanda always said that the reason her father cast her in the film was that she was her parents' favourite child.
Nanda was of a shy and introverted nature and stayed close to her family and friends.
She had a good command of languages like Hindi, English, and Marathi (her mother tongue).
Her favorite song that was picturized on her was "Yeh Sama" from the hit film "Jab Jab Phool Khile" (1965).
Nanda was not so social and hated going to parties and events.
Nanda was honored by prime minister Jawaharlal Nehru for her role in the Marathi film Shevgyachyaa Shenga.
While talking about Nanda in an interview, Saira Banu said,


Nanda baaji, that's what I called her, was a Capricorn just like my mother. I saw a lot of my mother's beautiful traits in Nanda baaji. She was gentle, soft spoken and so unassuming."
Reportedly, Waheeda was supposed to grace a book launch event in March 2014, however, when she heard the news of Nanda's demise, she cancelled the event as she couldn't dress up and face the camera.