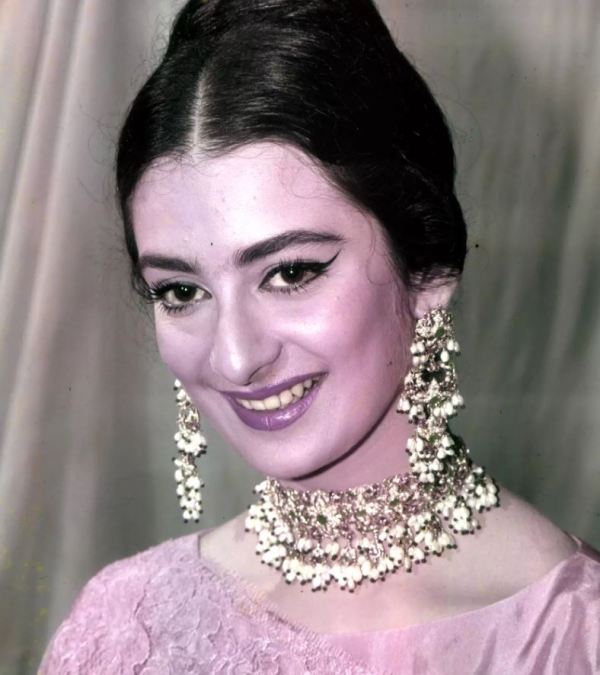 Saira Banu is a prominent Indian actress in the Bollywood film industry. She is regarded as the most popular actress in Indian film history. From 1963 to 1969, Saira Banu was the third highest-paid actress of Hindi Cinema, and she was the fourth highest-paid actress from 1971 to 1976.
Wiki/Biography
Saira Banu was born on Wednesday, 23 August 1944 (age 77 years; as of 2021) in Mussoorie, United Provinces, British India (now Uttrakhand). [1]India Her zodiac sign is Virgo. She studied at Queen's House, an elite school in London. [2]The Hindu
Physical Appearance
Height (approx.): 5′ 6″
Weight (approx.): 70 kg
Hair Colour: Black
Eye Colour: Dark Brown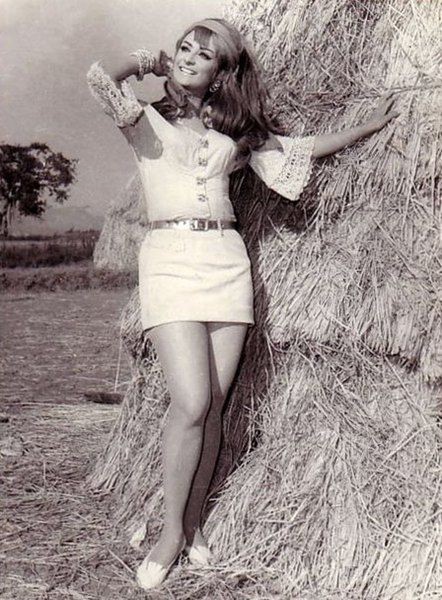 Family
Parents
Her father's name was Mian Ehsan-ul-Haq, who was a film producer, and her mother's name was Naseem Banu, who was an Indian film actress.
She had a brother named Sultan Ahmed.
Nasir Khan is Saira Banu's brother-in-law. Her niece's name is Shaheen Banu. Saira has a grandniece named Sayyeshaa Saigal.
Husband & Children
Saira Banu got married to Dilip Kumar on 11 October 1966. She married him at the age of 22. Dilip Kumar was 22 years older than Saira Banu.
The couple has no children. In 2014, Dilip Kumar released his memoir 'Dilip Kumar: The Substance and the Shadow,' and he revealed in it that in 1972, Saira became pregnant, but in her eighth month of pregnancy, she developed high blood pressure. Soon, the doctors revealed that the baby had been strangulated by the umbilical cord, and they could not save it. Later, the couple decided not to have children in the future and accepted it as God's will. [3]Free Press Journal
Dilip Kumar died at 7:30 am on 7th July 2021 due to prolonged illness. [4]Indian Express On his death, in an interview with a media house, doctors said at the hospital where Dilip Kumar was admitted,
Dilip Kumar suffered from advanced prostate cancer that had spread to other organs of his body. He had water in pleural cavity, and he suffered a kidney failure. He required blood transfusion multiple times. We carried the last transfusion but it did not help."
Relationship/Affair
Reportedly, Saira Banu fell in love with veteran Indian actor Rajendra Kumar while working with him in the movie 'Ayee Milan Ki Bela' in 1964. Later, they did three movies together, and consequently, the love started blooming between them. However, Saira Banu's mother was not happy with this relationship, and their relationship did not last long. Soon, Saira's mother, Naseem, felt that the situation was not in her control as Saira insisted to be in a relationship with the actor Rajendra Kumar. Naseem asked Dilip Kumar to help her in this situation. Dilip did the same and tried a lot to convince Saira not to be in a relationship with Rajendra Kumar but in vain. Ultimately, Dilip Kumar fell in love with Saira Banu and married her in 1966, when Saira was 22 years younger than him. [5]Zee5
Signature
Career
In 1960, Saira started working in Hindi films when she was 16 years old. According to Saira, she had basic dancing talent and experience when she joined the Hindi films, but all of her peers were trained in classical dancing and that was the reason that she was not put in the top league of that time. Later, she began Kathak training and Bharata Natyam lessons to brush up her dancing skills professionally. Soon after learning classical dancing, she became a professional dancer and most of her films featured more of her dancing skills.
In 1961, Saira Banu marked her debut with the Indian film 'Junglee' opposite the veteran Indian actor Shammi Kapoor. F0r her outstanding performance in this movie, she received her first Filmfare nomination as Best Actress. Reportedly, the most popular song of the movie 'Junglee' was "Yaahoo!! Chahe Koi Mujhe Junglee Kahe," which was sung by Mohammed Rafi and was a big hit. Later, Saira Banu appeared in many romantic movies in Hindi cinema that gave her an image of a romantic heroine.
In 1963, Saira did another film 'Bluff Master' with the Indian actor Shammi Kapoor. The film was directed by Indian director and producer Manmohan Desai.
During the 1960s, some of her successful films were Jhuk Gaya Aasman (1968) and Aayi Milan Ki Bela (1964), with Indian actor Rajendra Kumar.
In 1964, she appeared in the movie April Fool with the Indian actor Biswajeet.
Soon after the movie April Fool, she appeared in the movies Aao Pyaar Karen (1964) and Shagird (1967) with Indian actor Joy Mukherjee.
After her marriage in 1966, Aman (1967) was her first release opposite to the Indian veteran actor Rajendra Kumar.
During her acting career, Saira appeared with the veteran actor Manoj Kumar in various movies including Shaadi (1960), Purab Aur Paschim (1970) and Balidan (1971).
In 1968, Saira performed opposite Sunil Dutt in the movie Padosan that put her in the top league of that era in the Indian film industry.
In 1985, Saira's biggest hit movie was Victoria No. 203 with Navin Nischol.
In the 1970s, Saira appeared with her husband, Dilip Kumar, in three movies: Bairaag (1976), Gopi (1970), and Sagina (1974). Reportedly, the movie Gopi of Saira and Dilip Kumar was a successful film at the box office. Later, she acted with the veteran actor Dharmendra in six movies: Pocket Maar (1974), Jwar Bhata (1973), Resham Ki Dori (1974), International Crook (1974), Chaitali (1975), and Aadmi Aur Insaan (1969).
In 1974, Saira Banu was paired with the veteran Indian actor Vinod Khanna in the movie Aarop.
In 1976, Saira appeared with the veteran actor Amitabh Bachchan in the movies Zameer and Hera Pheri.
In 1976, she acted opposite Sunil Dutt in the movie Nehle Pe Dehla, and it was her last super hit film. Later, she gave few flop movies including Daaman Aur Aag (1973), Mounto (1975) and Koi Jeeta Koi Haara (1976). Reportedly, she acted in the movies like Faisla, Mera Vachan Geeta Ki Kasam (1977) and Aarambh (1976), but these movies were not released as she ceased her acting career in the late 1970s. However, in 1988, the movie 'Faisla' was released, and it was her last officially released movie. Reportedly, for the movies Shagird (1967), Diwana (1968), and Sagina (1974), Saira received the Filmfare nominations for Best Actress.
Filmography
1961: Junglee as Rajkumari. She was nominated for Filmfare Award for Best Actress
1963: Bluffmaster as Seema
1964: Ayee Milan Ki Bela as Barkha, April Fool as Rita Christiana, Aao Pyaar Karen as Shalini, and Door Ki Awaz as Bela/Jyoti
1966: Saaz Aur Awaaz as Geeta, Yeh Zindagi Kitni Haseen Hai as Princess Sarita, and Pyar Mohabbat as Rita Singh
1967: Shagird as Poonam (Nominated for Filmfare Award for Best Actress), Diwana as Kamini Gupta and she was nominated for Filmfare Award for Best Actress, Aman as Meloda
1968: Padosan as Bindu, Jhuk Gaya Aasmaan as Priya Khanna
1969: Aadmi Aur Insaan as Meena Khanna
1970: Gopi as Seema, Purab Aur Paschim as Preeti
1972: Victoria No. 203 as Rekha
1973: Jwar Bhata as Gayatri, Daaman Aur Aag
1974: Resham Ki Dori as Anupama, International Crook as Seema, Sagina as Lalita (Nominated for Filmfare Award for Best Actress), Pocketmaar as Asha Rai, Aarop as Aruna, Paise Ki Gudiya as Madhavi.
1975: Zameer as Sunita Singh, Saazish as Sunita, Chaitali as Chaitali, Aakhri Daao as Reena, Mounto as Meena
1976: Bairaag as Tara, Hera Pheri as Kiran Singh, Koi Jeeta Koi Haara, Aarambh, Nehle Pe Dehla
1977: Mera Vachan Geeta Ki Kasam as Champa
1980: Lahu Pukarega, Desh Drohi
1984: Duniya as Mrs Sumitra Kumar (Cameo Appearance song "Teri meri Zindagi")
Awards, Honours, Achievements
1975: Nominee – Filmfare Award for the Best Actress in Sagina (1974)
1969: Nominee – Filmfare Award for the Best Actress in Diwana (1967)
1962: Nominee – Filmfare Award for the Best Actress in Junglee (1961)
Facts/Trivia
Saira Banu was 22 years old when she married Dilip Kumar who was 44 years old at the time of marriage. [7]

The Times of India
Reportedly, Saira Banu was a 12 years old teenager when she fell in love with the veteran actor Dilip Kumar. Dilip was a big star at that time, and he was 34 years old. When Saira turned 16 years old, she wanted to meet Dilip Kumar for the first time at the premiere of the movie Mughal-e-Azam in 1960. Reportedly, she had a crush on him. Dilip Kumar did not attend the premiere due to some personal reasons, and Saira Banu left disappointed. [8]

Indian Express
In 1952, when Saira was 8 years old, she watched the movie 'Aan' which was a coloured film by actor Dilip Kumar. Saira got instantly attracted to the hero of the film 'Dilip Kumar.' Reportedly, while studying in London, she kept on writing missives to her mother to get more information about Dilip Kumar.
Saira's mother, Naseem Banu, was a big Bollywood star in the 1930s and 1940s. Reportedly, Naseem Banu was remembered for her stunning appearance and looks. Naseem had two children Saira Banu and Sultan Ahmed, and Saira's parents parted ways when Saira was a teenager. Initially, Saira and her brother were sent to Delhi and later, to London for their education. Apparently, Saira was sent away from the world of films by her mother.
In the 1960s, Saira did some unique and bold songs of her era. In the movie Padosan and Jhuk Gaya Aasman, she was picturised in a bathtub.
In 1968, Saira was the lead heroine of the comedy film 'Padosan' along with the veteran actors and comedians Mehmood, Kishore Kumar, and actors Sunil Dutt, Mukri, and Keshto Mukherjee. Reportedly, every song of the movie Padosan was a hit.
During the making of the movie, Purab Aur Paschim in 1970, Saira fell ill. It was said that she underwent bed rest for several weeks. Veteran actor and the co-star of this movie, Manoj Kumar, patiently waited for Saira to recover from the illness as Manoj Kumar scripted the role of the heroine in the movie with only Saira Banu in mind. Reportedly, following the sickness of Saira Banu, the veteran Indian actor Manoj Kumar stated that he would stop picturising the movie project if Saira could not play the role.
In 1980, Saira Banu's husband, Dilip Kumar married another woman named Asma Rehman. However, Dilip got divorced from Asma after two years of marriage and went back to Saira Banu again.
In 1984, Saira appeared opposite her husband, Dilip Kumar, in the movie 'Duniya,' and the song from the movie "Teri meri Zindagi" was a hit.
Reportedly, Saira adored wearing exquisite saris and classic pieces of jewellery during her adulthood. These sarees and jewellery were designed by her mother, Naseem Banu, which became a rage at that time. Apparently, Saira was a fashion trendsetter of her era.                                                 
Supposedly, Saira Banu, at a very young age, was a huge fan of Dilip Kumar. She wanted to become a big actress in Indian cinema, and her dream was to marry Dilip Kumar.
Reportedly, Saira Banu adores dancing.
In 2012, in an interview, Saira Banu said that she regretted that she had missed the chance of working with the veteran Indian actor Rajesh Khanna. She quoted,


I was supposed to work with him in Choti Bahu (1971), but I could not because I was ill. I shot with him for two days and found that he was very charming, humble and a shy person."
In an interview, Saira Banu revealed that she did not watch Dilip Kumar's films much, because these films made her emotional and that was why he was known as the 'King Of Tragedy.' She explained,


I watched a few films of his (Dilip). But if you pick any film.. it's a tragedy film. I only watch films which are on a lighter note and revolve around comedy. My favourite film is Ganga Jumna but till today, you will be surprised, I haven't seen the film's end. I can't tolerate it even though I became a wife later but was a fan first."
According to Saira Banu, she had no regrets about not having a child in her life. In an interview, she said that she did not miss a child because Dilip Kumar was like a child at heart. She further added that she was thankful that she was surrounded by the people she loved. She narrated,


I don't miss having a child because Saab is like a child at heart. I am not being a martyr when I say I don't regret putting my career on the back burner. I am grateful for every day that I get with the people I love. Now it is just Yusuf Saab and me. It's a small but happy family. I am at my best within my family fold. Outside, I am withdrawn, aloof and reserved."
In an interview, Saira was asked that if she considered herself a devoted wife. Saira replied that she was lucky that she was Dilip Kumar's wife. She further added that she was chosen to be Dilip Kumar's wife because she was special. She said that to be Dilip Kumar's wife, one needed to be of high calibre. She explained,


He could have married anyone, any woman he wanted. He chose me. I consider myself very fortunate. I always call him the Kohinoor of the film industry. I am lucky to be so close to him for so many years. But seriously, all Indian wives look after their husbands. In my family, I've seen women being devoted to their husbands. I grew up watching that."
According to Saira Banu, she turned down the prominent role in the Indian movie Guide in 1965 opposite ti the veteran actor Dev Anand. In an interview, she said,


Guide was offered to me twice. It is a fact that Ted Danielsky (director of the English version) came to me with Guide. At that time I was supposed to start Mehboob Khan's Habba Khatoon."
In an interview, Dilip Kumar said for his wife Saira Banu:


I'm grateful to God for giving me such a girl as a friend and companion, who has given everything to me. I'm indebted to her in every possible way. When anyone calls, when anything needs my attention, Saira makes a note. There's no aspect of my life that she doesn't touch with her generosity. No, not possible. Saira keeps me in touch with what's going on around me. The children of yesterday have grown up. Some know how to conduct themselves well, others not so well. I've to deal with both kinds. Saira ji helps me to sift through all the people I've to connect with, almost like a woman who separates the wheat from the chaff. She has a much higher designation than a wife in my life. Sometimes she gets angry, with or without reason. Even now she's monitoring and observing me. She's constantly making me repay my debts to my audience and well wishers."

Dilip Kumar, Actor
Reportedly, after completing her studies in London, Saira returned to India, and soon, she started taking Urdu lessons from an Urdu tutor because Dilip Kumar spoke excellent Urdu, and she admired him deeply.
In the movie Victoria No. 203 (1972), Saira Banu shot a full song of the movie just draped in a towel with the villain Ranjeet.
The song of the movie 'Padosan' featuring Saira while cycling remains an iconic song.
Various Indian magazines and tabloids also featured Saira Banu on their cover page.