Manuraj Singh Rajput is a renowned Indian flautist. Manuraj is accomplished in classical, semi-classical, light, folk, and western forms of music. He is a noted musician who has been well trained by Padma Vibhushan Pandit Hariprasad Chaurasia at his Mumbai located Vrindaban Gurukul. In March 2022, Manuraj Singh Rajput came into the limelight when he participated in the Indian reality show India's Got Talent, and his musical performance with his teammate Divyansh Kacholia, who is a beatboxer, was so liked by Indian director Rohit Shetty that he offered Divyansh, Manuraj Singh, and Badshah to compose a theme song for his film Cirkus.
Wiki/Biography
Manuraj Singh Rajput celebrates his birthday on 19 February every year. He was born in Bharatpur, Rajasthan. His zodiac sign is Libra. He is a college dropout. [1]Manuraj's Blog
Physical Appearance
Height (approx.): 5′ 6″
Hair Colour: Black
Eye Colour: Black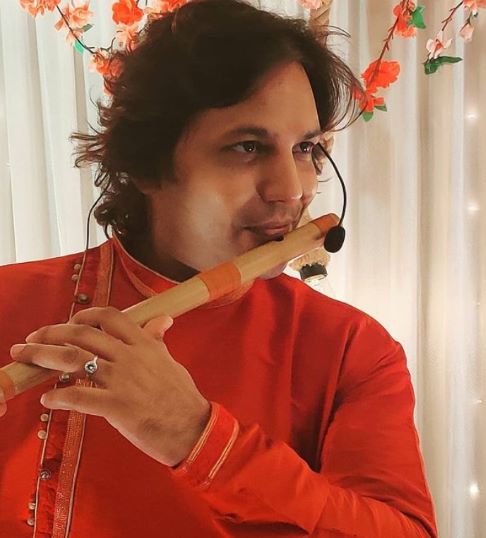 Family
Parents & Siblings
Manuraj Singh Rajput's father's name is Ram Sevak. His mother's name is Shushila Tomar.
He has two sisters.
Wife
He is not married.
Early Life
When Manuraj Singh Rajput was a child, he was motivated by his mother to learn music and singing. He began singing religious songs at the age of eleven at local temples. Guru Rakesh Bansiwala Ji was Manuraj Singh Rajput's first music teacher, who used to teach music in a temple named Bihari Ji in Bharatpur, Rajasthan. His music teacher and his musical skills were described by Manuraj Singh Rajput in one of his blog writings. Manuraj Singh Rajput wrote,
He runs a tea shop and the sweet sound of his flute in the temple still resonates today. When I learned a little from him, he started playing flutes in stories, hymns and temples. When stage performance was given in the town hall of Bharatpur, the audience used to give heavy applause."
To pursue a degree in engineering, Manuraj Singh Rajput was sent to Jaipur by his parents soon after finishing his school studies. According to Manuraj Singh, he got admission to Jaipur college, but he never went there to study. Manuraj Singh Rajput was so much inclined toward music and singing that he left college studies and went to Delhi to learn music from his second music teacher Ravi Prasanna. His financial expenses were borne by his close friends, and Manuraj Singh Rajput used to lie to his parents that he was attending a regular college. In one of his writings, he wrote,
In my mind, the flute would resonate daily, so here I started learning flutes from Sandeep Soni sir. During this time, friends in college helped a lot. They used to pay my fine with their pocket money. While training in B.Tech, I started lying at home and started training at Ravi Prasanna sir in Delhi. In two months of engineering training, I took 'Flute' training. The real struggle started after this."
Manuraj Singh Rajput learns music from Maihar Gharana of music and also belongs to the same. Manuraj Singh Rajput stated in one of his blogs that he is the disciple of Pandit Hariprasad Chaurasia of Mumbai. Manuraj Singh Rajput further mentioned in his writings that Pandit Hariprasad Chaurasia did not give admission to his gurukul easily. Initially, one had to learn the basic music skills and traits in a particular stream from other teachers of the gurukul. Manuraj Singh Rajput stated that he travelled almost 1300 km from Bharatpur to Mumbai to get enrolled himself in the gurukul of Pandit Hariprasad Chaurasia and to learn flute from him. He wrote,
Guruji does not give admission to anyone so easily, but the notes that I received from there, I would come to Bharatpur and practice them for six to eight hours daily. Panditji saw my ascendant and was happy. I told them that this is the last year of my engineering, if I do not get your support, then the engineering job will have to be done at the will of the family."
Manuraj Singh Rajput further mentioned his struggle to get enrolled in the Pandit Hariprasad Chaurasia's gurukul in Mumbai. He was highly motivated by the wordings and sayings of Swami Vivekananda during his struggle period. One of his favourite quotes is-
On the day that life does not come into difficulty, on that day understand that you are on the wrong path"
He continued by writing that he also get six months of training in flute at the Orissa gurukul of Pandit Hariprasad Chaurasia. From 2011 to 2015, Manuraj Singh Rajput received formal flute training from Pandit Hariprasad Chaurasia at his Mumbai music gurukul.
Flautist
Soon after receiving formal training in music from Pandit Hariprasad Chaurasia, Manuraj Singh Rajput started performing various live concerts and stage shows in India and outside the country such as at the University of California, San Fransisco, University of Pittsburg, New York White Light Festival, University of Georgia (Atlanta), Sony Center Canada along with Nrityagram Dance Ensemble, Indian Embassy Poland (Europe), Asolo Theatre Florida, Los Angeles, China Festival, Dubai, Doha, South Africa, Indonesia and many others. Manuraj Singh Rajput made his television debut with the Indian reality show Dil Hai Hindustani Season 2, which was telecasted on Star Plus in 2018. During the show, he was ranked among the top eight finalists of the show. Various well-known Indian Bollywood singers such as Sunidhi Chauhan, Sonu Nigam, and Richa Sharma are often seen sharing musical stage shows alongside Manuraj Singh Rajput. At The Kapil Sharma Show, he often plays the flute at the show's musical band.
In 2022, Manuraj Singh Rajput participated in the Indian reality show India's Got Talent in which his flute performance with beatboxer Divyansh Kacholia was so appreciated by Indian filmmaker Rohit Shetty that Rohit offered Manuraj Singh Rajput to compose a theme song for Rohit's picture 'Cirkus' along with Indian rapper Badshah.
Manuraj, along with his teammate Divyansh Kacholia, was declared the winner of the TV reality show 'India's Got Talent' season 9 on 17 April 2022. They received a car and a cash prize of Rs 20 lakh for winning the contest.
Facts/Trivia
The renowned  Indian flute player Pandit Hariprasad Chaurasia is often seen sharing the stage with his disciple Manuraj Singh Rajput at various live music shows and events.
Manuraj Singh Rajput is often featured by various renowned Indian newspapers and magazines in their articles.
Manuraj Singh Rajput often posts his flute videos sessions on various social media platforms. Over 17.2k people follow him on Instagram, and over 7k people follow his Facebook page.