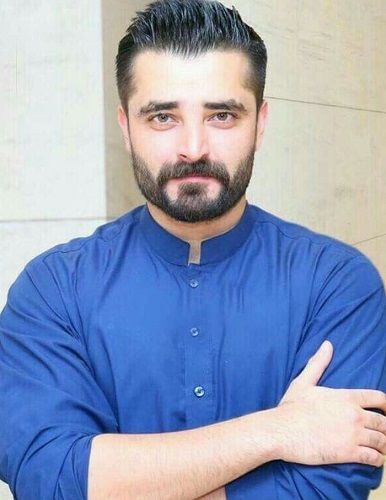 Hamza Ali Abbasi is a Pakistani film & TV actor and film director. He is known for appearing in the Pakistani dramas 'Pyarey Afzal' (2013) and 'Mann Mayal' (2016).
Wiki/Biography
Hamza Ali Abbasi was born on Saturday, 23 June 1984 (age 38 years; as of 2022) in Multan, Punjab, Pakistan. His zodiac sign is Taurus.
While he was studying in school, he was not so fluent in English.
He pursued Bachelor in International Relations at JCC Kansas City, KS, USA. He did his post-graduation at Quaid-e-Azam University, Islamabad, Pakistan. Hamza then appeared for Central Superior Service Exam and was selected for the Pakistan Police force. [1]HIP in Pakistan [2]Parhlo
Physical Appearance
[3]HIP in Pakistan Height: 5′ 11″
Hair Colour: Black
Eye Colour: Light Brown
Family
Hamza belongs to a Punjabi Muslim family. [4]Galaxy Lollywood
Parents & Siblings
His father, Mazhar Ali Abbasi, is a Major (retd.) from Pakistan Army.
His mother, Begum Nasim Akhtar Chaudhry, is a politician, and she is associated with the Pakistani political party Pakistan Peoples Party.
He has a sister named Fazeela Abbasi, who works as a dermatologist.
Wife & Children
After dating the Pakistani actress Naimal Khawar for almost two years, the couple got married on 25 August 2019.
Hamza confirmed his wedding news through his Twitter account. The nikkah took place at The Monal, Islamabad, Pakistan, and their valima (an Islamic marriage ritual) was held on 26 August 2022 at the Marriot Hotel in Islamabad, Pakistan.
In July 2020, the couple was blessed with a boy named Mustafa.
Relationships/Affairs
In 2014, there were rumours that Hamza was in an alleged relationship with the Pakistani actress Saba Qamar. They were often spotted together at various events. However, they both denied the rumours. [5]Bol News
Religious Views
In 2019, Hamza Ali Abbasi uploaded a video on his self-titled YouTube channel in which he talked about his journey from being an atheist to following Islam.
In the video he said,
I had this divine intervention some time back, that all that I am doing in this world will end the moment I die. All these trophies, all these accolades will not bring me any good on the Day of Judgment when I meet my Maker. I have decided that I want to leave everything that might be a hurdle when it comes to making my matters easier on the Day of Judgment."
He further shared that when he was in his teens, he became an atheist. [6]The Express Tribune He said,
I thought about it and it came to my understanding that there has to be a Divine power that is controlling all of this. That's how I started reading and then came back to Islam. I found out that there is so much that has to be understood. My perspective of life has been changed since I realised that I have to meet my God. With this realisation, what I decided to do is that I now wish to talk to people. I wish to spread the message."
Caste
In 2014, in one of his Facebook posts, he talked about his caste. [7]Facebook- Hamza Ali Abbasi He wrote,
As for those who ask me if i am a Shia because i have "ALI" as my middle name? I am not a Shia…neither am i a Sunni or Brailvi or Wahabi ……..I am a Muslim…maybe not a Momin, but surely a Musalman…i believe that THERE IS NO OTHER GOD BUT ALLAH….AND MUHAMMAD (S.A.W) IS HIS LAST PROPHET AND MESSENGER….after this…..everything else is secondary and negligible…….."
Autograph
Career
Theatre
In 2006, he started his career as a theatre artist with the Pakistani theatre play 'Dally in the Dark.' He then performed in various Pakistani theatre plays like 'Home is Where Your Clothes Are' (2007), 'Phantom of the Opera' (2008), 'Tom, Dick and Harry' (2009), 'Moulin Rouge' (2010), and 'Bombay Dreams' (2011). During an interview, he shared how he developed an interest in acting. He said,
Theatre is my first love. It started out as a hobby; I was doing my Masters when I met Shah Sharabeel. We became friends, he said, "Why don't you do a play?" So it started out as a part-time hobby and then I became passionate about it. I think theatre helped me realize how much I enjoyed acting."
Film
Actor
Documentary
Hamza made his Lollywood debut with the Urdu documentary 'The Glorious Resolve' (2011) in which he played the role of Tariq.
Feature Film
In 2013, he made his Urdu film debut with 'Main Hoon Shahid Afridi' as Maulvi Majeed.
Some of his other Urdu films are 'Waar' (2013), 'Jawani Phir Nahi Ani' (2015), 'Ho Mann Jahaan' (2016), 'Parwaaz Hay Junoon' (2018), and 'The Legend of Maula Jatt' (2022).
Television
Dramas
In 2012, Hamza made his debut in Urdu dramas with 'Meray Dard Ko Jo Zuban Miley' as Salaar/Azam.
Some of his other Urdu TV dramas are 'Pyaray Afzal' (2013), 'Mann Mayal' (2016), and 'Alif' (2019).
Telefilm
In 2013, he appeared in two Urdu telefilms 'Ek Tha Raja Aur Ek Thi Rani' and 'Gullo Weds Gogi.'
Host/Judge
He has also worked as a host in a few award shows like '1st ARY Film Awards' (2014), '3rd Hum Awards' (2015), and '4th Hum Awards' (2016).
In 2018, he hosted BOL Network's show 'Debate Headquarters.' He has also judged the Pakistani reality TV show 'Pakistan Star' (2019) aired on BOL Network.
Director
In 2011, he made his directorial debut with the Lollywood film 'Mudhouse And The Golden Doll.'
Politics
Hamza has been a supporter of the 22nd Prime Minister of Pakistan Imran Khan for a very long time. In 2014, he joined Imran Khan's party Tehreek-e-Insaf.
On 23 January 2015, he was appointed as the secretary of culture for the party in Karachi.
In April 2015, after the trailer launch of his film 'Jawani Phir Nahi Aani,' he resigned from the position of PTI's Cultural Secretary. He took to his Facebook account to talk about his resignation. He wrote,
The explanation I owe to my friends who have supported me so passionately. This is regarding the new film I have done. Even though it's a brilliantly written and directed film, I disagree with certain elements in its execution which I regard as not in line with our culture. My motivation to do this film was never money. I refused 2 Indian films, Baby and a film by Sajid Nadiadwala because they were against our ethics. I did this film for my friends who were there for me when I was nothing. So after initial refusals, I agreed to do it as my friends needed me on this. Regardless of my reasons, I did something against what I preach and I own it. I will not try to get away with it by staying silent or defending it senselessly. I vow never to do anything against my beliefs NO MATTER WHAT. Since I failed to act on my own beliefs, I deem I am no more eligible to represent Pakistani culture in a political party and hence, I am resigning as Sec. Culture PTI."
Controversies
Inappropriate Remarks on Item Songs
In 2019, he appeared as a judge in the Pakistani reality TV show 'Pakistan Star.' After watching a 16-year-old girl dancing to an item song, he said that he was embarrassed to watch a teenager dancing to such songs. He further said that such songs were filthy. He said,
The kind of songs we have, the kind of lyrics such item numbers have, I feel embarrassed that a 16-year-old is dancing to it. These kids look up to us and please let's not have any more item songs in our films. These songs are filth. Even India is trying to get rid of it. Our whole society is ruined because of it."
He continued,
How can the censor board allow such filth to run in cinemas and how can PEMRA allow this to be run on channels Pakistani artists finally managed to get enough respect in the society that now young educated boys and girls from good families are coming into this field, please don't spoil this hard earned respect by putting on a flesh show and calling it glamour. Item songs degrade women and objectify them. Which goes against the essence of Women's Empowerment and Women's Rights, our religion and our norms."
The netizens criticised him for passing such remarks and trolled him on various social media sites. [8]The Express Tribune
Criticised for Admiring Lashkar-e-Taiba Founder
In 2017, in one of his tweets, he praised Hafiz Muhammad Saeed, the founder of Lashkar-e-Taiba, which is designated as a terrorist group by the United Nations Security Council. He was criticised by the twitteratis for admiring a terrorist group. [9]The Express Tribune
Feud With Rehan Khan
In 2018, the ex-wife of the former Prime Minister of Pakistan Imran Khan, Reham Khan, accused Hamza of threatening her since 2017. She took to her Twitter account to talk about the same. Hamza and Rehan then had a Twitter fight. Rehan even shared a screenshot of her previous chats with Hamza. In her self-titled book, she shared that Hamza had a physical relationship with Imran Khan. [10]International Business Times
Criticised for His Controversial Views on Islam
In 2022, Hamza shared a long note on his social media accounts to talk about Islam. However, some of his views on Islam were not well received by the netizens. Netizens commented on his post that he was twisting and moulding the religious beliefs of people. He was brutally trolled for his remarks on the return of Hazrat Isa and Imam Mehdi as mentioned in the Quran. Following his tweet, #shameonyouhamzaaliabbasi started trending on Twitter. [11]Global Village Space
Awards
ARY Film Awards
2014: ARY Film Award for Best Supporting Actor for Waar
2014: Best Star Debut Male for Main Hoon Shahid Afridi
2016: Best Supporting Actor for Jawani Phir Nahi Ani
Lux Style Awards
2015: Best TV Actor for Pyarey Afzal
Hum TV Awards
2017: Best Actor Popular for Mann Mayal
2017: Best Onscreen Couple for Mann Mayal
International Pakistan Prestige Awards
2017: Style Icon of the Year Male
Favourites
Film: Forrest Gump (1994)
Facts/Trivia
While he was in class 5, he received his life's first award in the Urdu debate competition.
In an interview, Hamza shared that in childhood, he wanted to become a chef. He further talked about his career choices, he said,


To be honest, I wanted to become a chef. I have a passion for cooking; it's one of my stress-relieving activities. After completing my studies I joined the Police, but it was a very predictable future. I knew exactly where I would be in 20 years; I knew the maximum I could do was become an IG. There would be nowhere else to go from there. My father taught me that whatever you enjoy, you should try to make a living out of that, then life becomes much easier. So I left the force to do what I wanted to do."

He further shared that his mother was not happy with his decision to make a career in acting. He said,

My mum, meanwhile, is from a political background, and she's very against me being in show business. She wanted me to be in the Police; she said, Just join and then if you want you can leave. She occasionally watches my television dramas, and then she despairs about what I'm doing with my life."
He is well-versed in playing the guitar. He has learnt to play the guitar by watching guitar tutorial videos on YouTube.
He is an avid lover of motorcycles. However, to accumulate funds for his debut directorial film, he sold one of his most prized motorcycles. [13]

The Express Tribune
In 2016 and 2017, he was appointed as the brand ambassador of the Pakistani franchise T20 cricket team Peshawar Zalmi.
In 2019, he shared a video on Twitter in which he announced that he would quit showbiz. [14]

The Business Standard Earlier, in one of his tweets, he wrote,


A journey of more than a decade comes to an end. I have a very important announcement to make at the end of this month. Will hope my voice reaches many. Will be off social media till the end of October."

However, in 2020, he tweeted that he would not quit acting. He tweeted,

I haven't quit acting because I don't see it anywhere in Islam as being haraam in itself. I just took a long break from acting to give more time to religion."
Hamza has often been criticised for his controversial tweets. He once made insensitive tweets about the former Prime Minister of Pakistan Nawaz Sharif's wife Kulsoom Nawaz. [15]

Images Dawn He once tweeted on the #MeToo campaign. He tweeted,


With this entire #MeToo global epidemic on the rise, I am beginning to realise that Islam was right all along when it ordained gap between the two genders. So called modernism has brought us to a point where the line between flirting and harassment is insanely blurred."
In one of his tweets, he wrote that in Pakistan there was massive religious discrimination. [16]

The Express Tribune
Hamza has been featured in TV commercials for various brands like Lipton Tea, Tulsi Mouthfreshner, McDonald, and Zong Mobile.
He has been featured on the cover page of various magazines like Diva, G.L.A.M, and Hello!
In his leisure time, he loves to watch Iranian films and History TV channel.
Hamza is often spotted smoking cigarettes.