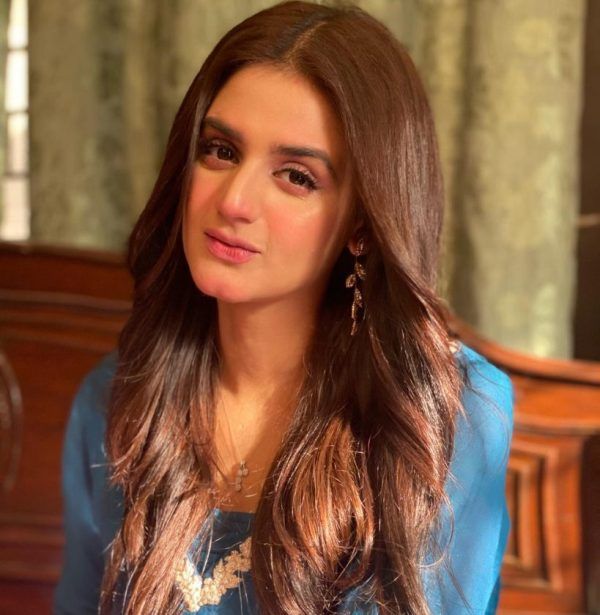 Hira Mani is a Pakistani TV actress, host, singer, and video jockey. She is a well-known actress in the Pakistani television industry. She is known for her performance in the drama "Meri Teri Kahani" (2012), which was loosely based on the American series "Curb Your Enthusiasm."
Wiki/Biography
Hira Mani was born Hira Jamal on Monday, 27 February 1989 (age 33 years; as of 2022) in Karachi, Sindh, Pakistan. She completed her schooling at a local school in Karachi. She earned a bachelor's degree after marriage.
Physical Appearance
Height (approx.): 5′ 5″
Weight (approx.):  55 kg
Hair Colour: Brown
Eye Colour: Black

Family
Hira Mani belongs to a middle-class family.
Parents & Siblings
Her late father, Syed Farrukh Jamal, was a banker, and her mother, Naheed Jamal works at The Educators. She has 4 brothers, Talha Jamal, Ubaid, Hasan, and Shahjamal. Hasan Jamal is her twin brother. His brother Talha Jamal is a Crew Member at Pakistan International Airlines.
Husband & Children
Hira Mani, at the age of 19, got married to Salman Saqib Sheikh (also known as Mani) on 18 April 2008. Mani is also an actor, host, and politician.
The couple has been seen together in many television projects such as "Hum 2 Humara Show," "Hira Mani Show," "Meri Teri Kahani," and "Bandish." They are blessed with two sons; Muzammil (born in 2009) and Ibrahim (born in 2014).
Relationships/Affairs
Hira was a huge fan of Salman Saqib Sheikh (popularly known as Mani) and used to listen to his show on FM. She met Mani through one of their mutual friends. Before that, Hira used to talk to Mani on phone pretending herself as Maryam Khan; however, she was engaged with a banker at that time. Later, when she realised her love for Mani, she broke her engagement with her then-fiance and marry Mani. 
Career
Television
Host
Hira Mani stepped into the television industry with the show "Hum 2 Humara Show" in 2010 as a co-host with her husband, Mani. The couple was seen together in another show "Hira Mani Show" as hosts in 2011. She also appeared as an advertisement lady in the show "Hum Sub Umeed Se Hain" in 2012.
Actor
 Drama
Hira made her television debut as an actor in 2013 with the Pakistani TV drama "Meri Teri Kahani" opposite Mani. The show was inspired by the American series "Curb Your Enthusiasm."
She has acted in many Pakistani TV dramas. Her performance as Heera in the drama "Jab We Wed" (2014) and Hareem in the drama "Firaaq" are among the most praiseworthy ones. She has also won the ARY People's Choice Award for Favourite Actress in the role of bahu in 2021 for her performance as Zaira in the drama "Ghalati" (2019).
Some of her other popular roles in the dramas are Shagufta Shehzadi in "Preet Na Kariyo Koi" (2015-16), Roshanay in "Sun Yaara" (2017), Gaiti in "Yakeen Ka Safar" (2017), Sania Junaid in "Bandish" (2019), Gaiti Ara in "Do Bol" (2019), Hania in Mere Pass Tum Ho (2019-20), and Sara in "Mein Hari Piya."
Television Film
Hira Mani did her first television film, Chaman Ara, in 2015 in which she played the role of Chaman Ara's daughter-in-law. The film won Hum Award for Best Television Film in 2017. She appeared in other television films such as Shilae Maseen (2016) and Dil Toh Bacha Hai (2019).
Singing
Hira Mani lent her voice to the title track for the television drama "Thays." She has also sung songs in the Pakistani television music show Kashmir Beats. She sang the song "Sawaari" for Season 1 in 2021 and "Tamanna" for Season 2 in 2022. Hira appeared with Raafay Israr in the Punjabi song "Taare" (2022).
Controversies
Controversial statement about overweight
In an interview on "Aik Din Geo Kay Sath," a Geo News television series, Hira Mani talked about her weight loss story and said that her husband helped her in losing her body weight. She said that her husband's taunts proved motivational for her, and she lost 10 kg of her body weight in 3 months. She said that it's okay to have a strict husband who keeps taunting their wife over being overweight, and that's how a woman can remain in shape. But many people got offended by her statement and criticised her. Her statement was considered insensitive which promoted body shaming. [1]Diva Magazine – Instagram
Trolled for making irresponsible comments on Dua Zehra's case
In April 2022, Hira Mani was heavily criticised for her comment on Dua Zehra's case. Dua Zehra is a young girl, 17-18 years old (as of April 2022), and her parents filed a case of her kidnapping in April 2022, but it was later found that Dua was not kidnapped, rather she eloped from Karachi to Punjab and married Zaheer. As Dua was underage, it was a case of child marriage, and she was sent to Child Protection Centre. The following day, Hira Mani remarked on social media that she didn't want Dua Zehra and Zaheer to part ways for which netizens trolled her on social media. Even Baarwan Khiladi actor Khaqan Shahnawaz reacted to this and said,
Dua Zehra case has progressed to a point where it was proven in a court of law using DNA evidence. This isn't a joke. She's a child that was kidnapped. Someone explain this to Hira Mani,". He added, that people like her "need to either go back to school or get psychological help because every time they open their mouths, it hurts human kind one way or the other!" [2]Dawn
Awards, Honours, Achievements
In 2021, she won the ARY  People's Choice Award for Favourite Actress in the role of bahu for her performance as Zaira in the drama "Ghalati" (2019).
Favourites
Actors: Fahad Khan, Humayun Saeed, and Feroz Khan
Perfume Brands: Fendi, Armani
Facts/Trivia
Hira Mani started her career as a video jockey. Later, she appeared as a host for many television shows, and thereafter, she tried her hand at acting.
On the show "Speak Your Heart with Samina Peerzada," Hira Mani revealed that she had cheated on her fiancé with Mani. She disclosed that she was a big fan of Mani since her college days, and she stole Mani's contact number from the phone of their common friend, whom Mani was dating at that time. [5]

Business Recorder
During the lockdown, when there was havoc of coronavirus all around the world, Hira Mani started a ration campaign to distribute rations among the poor. In an interview with Samina Peerzada, she said,


Quarantine is a blessing for me, I will feel good when i will go out. I am enjoying it and i will continue this work, this is what I wanted in life. The shine on the face of girls who came to get ration is the real achievement." [6]Daily Times
In an interview, when Hira was asked what kind of characters she likes to play, she revealed that she likes to play sad characters and said,


I like crying. Since the beginning, I've always liked playing sad characters. Dukh jis dil mein hota hai wo dil bara hota hai.
In an interview, she told that had she not become an actor she would be a director. 
In 2022, Hira Mani was heavily trolled on social media for singing the song "Pasoori" at a live concert.
In March 2022, Hira Mani launched her own fragrance titled "Fantasy" in collaboration with the fashion brand "J," which was founded by the late Junaid Jamshed. The brand is famous for upholding the founder's Islamic philosophy and never used women to promote its products. Netizens criticised the brand for featuring Hira Mani in the ad campaign for the fragrance and considered it against the late

Junaid Jamshed's Islamic values.