Junaid Sami Khan is a Pakistani singer. He is known for being the younger brother of the singer and composer Adnan Sami Khan.
Wiki/Biography
Junaid Sami Khan was born on Friday, 22 June 1973 (age 50 years; as of 2023) in Rawalpindi, Pakistan. His zodiac sign is Cancer. Junaid did his schooling at Iqbal Hussain High School, Garhi Shahu, Lahore and American Lyceum International School, Lahore, Pakistan; in his O-levels, he got a C. For his A-levels, he attended Grammar School, Islamabad, Pakistan and Kungsholmens Gymnasium, Stockholm, Sweden. After pursuing a Bachelor of Arts, he pursued a Master of Business Administration at Preston University, Karachi, Pakistan. [1]Facebook – Junaid Sami Khan
Physical Appearance
Height (approx.): 5′ 11″
Hair Colour: Black
Eye Colour: Black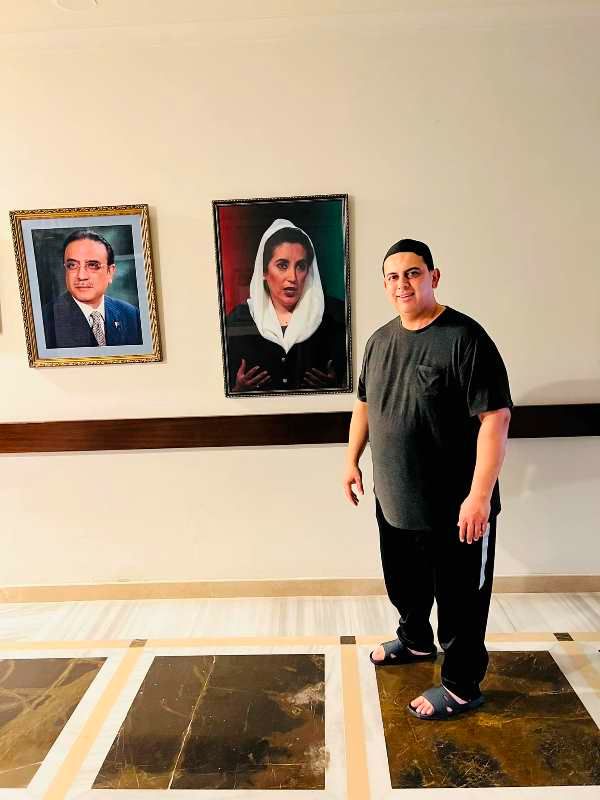 Family
Parents & Siblings
Junaid Sami Khan's father, Arshad Sami Khan, was a Pakistani diplomat, civil servant, and fighter pilot. He passed away on 22 June 2009 after suffering from a prolonged illness. Junaid's mother, Naureen Sami Khan, was a homemaker. His elder brother, Adnan Sami Khan, is an Indian singer and musician.
Wife
On 2 December 2022, Adnan Sami Khan got married to Fatima Fida Khan.
Relationships/Affairs
In 2022, Junaid Sami Khan talked about his previous relationships in a social media post and recalled that in 1987, he was dating a girl; however, in 1989, the girl left him. Further, in the same social media post, Junaid wrote about his second relationship and how it ended in 2022. Junaid Sami Khan wrote,
1987! My 1st Hajj. I was 15 years old and in Makkah, in God's Holy Haram Sharif Mosque, with the Kaaba in front of me – I loved a certain girl. I prayed earnestly to God that when I grew up, she would become my wife. In 1989, two years later – she fell for someone else. And she has been married twice in her life. 2022! My last relationship! We were happy. In love. Even my Mother said, "This is it!" Almost mysteriously – she changed overnight. All ended in January. God took her away. There is no other explanation. So I blame no one as man is helpless in front of God's will.

[2]

Facebook – Junaid Sami Khan
Religion
Junaid Sami Khan follows Islam. [3]Facebook – Junaid Sami Khan))

Career

In 2013, Junaid Sami Khan made his playback debut with the Hindi-language music album Main Challa. In 2018, he lent his voice to the music album Uff Yeh Adha.

Controversy
Allegations Against His Brother

In 2023, Junaid Sami Khan shared a social media post in which he made various allegations against his brother, Adnan Sami Khan. In his Facebook post, Junaid Sami Khan revealed that Adnan Sami was born on August 15, 1969, in Rawalpindi, Pakistan and accused his brother of sharing false details about himself. ((India Today In the Facebook post, Junaid Sami Khan wrote,
Adnan Sami was born on 15 August 1969 in a Rawal Pindi hospital. I was born in the same hospital in 1973. So him stating he was born in England or any other place are all lies. He failed his O levels in England and got the degrees made from Lahore. He did his A levels privately in Abu Dhabi."
In the same social media post, Junaid Sami Khan accused Adnan Sami Khan of releasing objectionable videos of his second wife and ruining his musical career. Junaid penned,
This thing bothers me. I can't do the same with my girlfriend. Adnan made porn DVDs with his/her second wife Saba between the years 2007-2008. A lot happens between husband and wife and it should be kept to oneself. Adnan had claimed in the court that this video was not made by him/her, but Saba's boyfriend and also gave the DVD to the court, so that the whole of India could see it. All these things are lies.Adnan Sami could have helped me musically big time! He knows I have talent too and can sing. Many have said to me I have a slightly better voice than him even! The edge! But he never cared and remained selfish as he is. Never launched me in India! He is a shady character. Did he fear I may have overtaken him career-wise? Don't rule it out! Now I sit at home doing nothing! Adnan Sami is the main reason for it."
Further, Junaid revealed that Adnan went to jail in Canada during a major raid and how their father lost his Ambassador post and developed diabetes. Junaid also mentioned Adnan Sami's Indian citizenship and said that Adnan had adopted Indian citizenship because he could earn a better amount of money in India than in Pakistan; however, later, Junaid deleted the social media post.
Facts/Trivia
He follows a non-vegetarian diet.
In a social media post, Junaid shared his favourite religious quotes. He wrote,


1. "It's important to pray. How you pray doesn't matter."2. "If religion isn't true then life is meaningless. It's a tragic farce.

An avid dog lover, Junaid had a pet dog named Funk; on 6 March 2021, his pet dog passed away.
A fitness enthusiast, Junaid often shares his workout regime on various social media platforms. In a social media post in 2016, he talked about how through his fitness regime he lost 43 kg of weight. He quoted,


Fitness Regime back in full force. Some weights, squash, walk & swimming.Current weight = 124 kilos from 167. Target?? 99 (2 digit weight at least). Will work out at home as well.This Really is it. Failure will not b an option. Ameen."
References

↑

1
Facebook – Junaid Sami Khan

↑

2
Facebook – Junaid Sami Khan

↑

3
Facebook – Junaid Sami Khan))

Career

In 2013, Junaid Sami Khan made his playback debut with the Hindi-language music album Main Challa. In 2018, he lent his voice to the music album Uff Yeh Adha.

Controversy

Allegations Against His Brother

In 2023, Junaid Sami Khan shared a social media post in which he made various allegations against his brother, Adnan Sami Khan. In his Facebook post, Junaid Sami Khan revealed that Adnan Sami was born on August 15, 1969, in Rawalpindi, Pakistan and accused his brother of sharing false details about himself. ((India Today