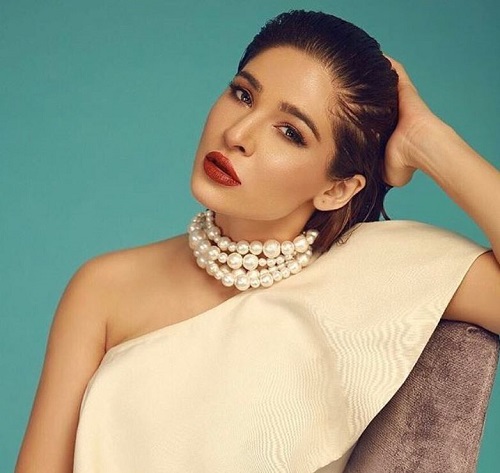 Ayesha Omar is a Pakistani model, actress, singer, and YouTuber. In 2022, she made headlines for having an alleged relationship with the Pakistani cricketer Shoaib Malik. [1]Zoom TV Entertainment
Wiki/Biography
Ayesha Mehreen Omar [2]YouTube- Ayesha Omar Official was born on Monday, 12 October 1981 (age 41 years; as of 2022) in Lahore, Punjab, Pakistan. Her zodiac sign is Libra. She did her schooling at Lahore Grammar School, Lahore.
She then pursued her graduation in fine arts from the National College of Arts, Lahore. Thereafter, she did her post-graduation at the National College of Arts, Lahore. While she was pursuing graduation, she participated in various Urdu theatre plays and dance competitions. [3]The Express Tribune [4]MAG The Weekly In an interview, while talking about it, she said,
I was part of a sitcom made by students and graduates. Its shooting used to take place in the college and the plot was based on life in NCA. A number of people spotted me there and offered me roles in different television projects. I couldn't juggle acting in additional projects while I was at college because education was my first priority. However, after graduating, I started taking up more work."
Physical Appearance
Height (approx.): 5′ 6″
Weight (approx.): 55 kg
Hair Colour: Brown
Eye Colour: Light Brown
Figure Measurements (approx.): 34-28-34
Family
She belongs to a Muslim family. [5]Bol News
Parents & Siblings
Her father, Malik Omar, passed away when Ayesha was only a year old.
Her mother, Bushra Omar, is an educationist.
She has a brother named Aziz Omar.
Before getting married to Ayesha'a mother, her father was married to a foreigner with whom he had two children named Jamila Omar and Rashad Omar.
Husband
As of 2022, she is unmarried.
Relationships/Affairs
In November 2022, amid the divorce rumours of Shoaib Malik (Pakistani cricketer) and Sania Mirza (Indian Tennis player), Ayesha's steamy photoshoot with Shoaib went viral. People believed that her affair with Shoaib became the reason for his divorce from Sania. [6]The Siasat Daily
Career
Model
Ayesha has appeared in various print advertisements.
She has also been featured in TV commercials for various brands like Kurkure, Harpic, Capri, Pantene, and Zong.
She has walked the ramp for many Pakistani ace fashion designers.
Television
Host
At the age of 8, she started her career as a TV host for the Pakistani TV show 'Meray Bachpan Kay Din,' which aired on PTV. In an interview, while talking about it, she said,
One of my aunt's best friends was the general manager of PTV back then and she got me to host my first TV show. At just eight years of age, I was given the coveted chance to interview the biggest celebrities of Pakistan like Inzamam-ul-Haq, Javed Miandad, Adnan Sami Khan, Tina Sani, Arshad Mehmood, and many more."
She has hosted a few other Pakistani TV shows like 'Rhythm' (2005), 'Yeh Waqt Hai Mera' (2010), 'Hot Chocolate' (2012), and 'Battle of the Bands' (2016).
TV Drama
In 2000, she made her acting debut with the PTV Urdu TV drama 'Kollege Jeans' in which she played the role of Sabahat.
She then appeared in Urdu TV dramas like 'Kaun' (2001), 'Kuch Lamhe Zindagi Kay' (2006), and 'Muthi Bhar Aasman' (2006). She came into the limelight with the 2009 Urdu TV drama 'Bulbulay' as Khoobsurat. The TV drama was first aired on ARY Digital and then on BOL Entertainment.
Ayesha has acted in many Urdu TV dramas like 'Dolly Ki Ayegi Baraat' (2010), 'Zindagi Gulzar Hai' (2012), 'Mr. Shamim' (2015), and 'Selahaddin Eyyubi' (2022).
Telefilm
In 2014, she appeared in the Urdu telefilm 'Meri Guriya' in which she played the role of Qurat-ul-Ain.
Film
In 2017, Ayesha made her Pakistani film debut with the Urdu film 'Yalghaar' in which she played the role of Zarmina.
She has acted in a few other Pakistani films like '7 Din Mohabbat In' (2018), 'Kaaf Kangana' (2019), and 'Rehbra' (2022).
Special Appearance
She has made special appearances in a few songs of Pakistani films like 'Love Mein Ghum' (2011; title track), 'Main Hoon Shahid Afridi' (2013; "Beautiful Night"), and 'Karachi Se Lahore' (2015; "Tutti Fruiti").
Singer
Ayesha has also worked as a singer. She has lent her voice to Pakistani songs like "Man Chala Hai" (2010), "Laage Re Nain" (2013), "Miyan Ki Malhaar" (2013), and "Tutti Fruiti" (2015). In 2012, she released two Pakistani music albums like 'Chalte Chalte' and 'Khamoshi.'
In 2013, she released her third music album 'Gimme Gimme' (2013).
Entrepreneur
She owns a beauty, cosmetic & personal care brand Ayesha.O.Beauty. She also owns a clothing line 'The Attire' along with the Pakistani actress Anoushey Ashraf. In an interview, while talking about her fashion label, she said,
Celebrities all over the world have their own brands and clothing lines because people like their style and want to dress like them. Anoushey and I decided to make our "style" available to others, too. Don't forget that I have a degree in fine arts so my aesthetics are pretty strong anyways."
Awards
2013: Best Album of the Year by Lux Style Awards for the music album Khamoshi
2016: Best Star Debut Female by ARY Film Awards for the film Karachi Se Lahore
2017: Style Icon of the Year Female by International Pakistan Prestige Awards
Favourites
Travel Destination(s): Samui in Thailand, Europe
Colour(s): Yellow, Blue, Green, Orange, Red
Fashion Icon(s): Kate Moss, Madonna, Anna Wintour, Victoria Beckham, Amal Clooney, Blake Lively
Cartoon(s): Tom & Jerry, Pink Panther
Facts/Trivia
In an interview, Ayesha shared that in childhood, she was a tomboy. She said,


I am still taken aback when people refer to me as a style icon because I never really cared about what I wore. I was a tom boy as a child and never really cared about how I looked. I am still more of a tomboy than a style icon. I keep my style very easy-going and laidback. My inner style plays well with the monochromes."
In 2015, Ayesha, along with other Pakistani actors like Azfar Rehman and VJ Anoushey Ashraf, were invited to attend an event in Hyderabad, Pakistan. Ayesha and Azfar were travelling in the same car, while Anoushey was in a different car. While they were heading towards Hyderabad, Ayesha's car was hit by a truck which was overtaking them. In an interview, while talking about the accident, she said,


I thought it would be a fun day trip. We'd chit chat on the drive. Interestingly, I had to shoot Bulbulay (her hugely popular sitcom) the next day. And we have never cancelled a shoot ever before. But, somehow, my team and I figured out a way for me to take time out. Everything fell into place a little too smoothly. We hit an overtaking truck on the highway just before Hyderabad and had two collisions due to being bumped into by another truck from the back. It's a miracle that me and Azfar came out alive because the car was completely destroyed. I was immobile and picked up by Azfar and a group of passersby and put into a police mobile that transported us to a rundown govt clinic in Jamshoro."
Once, there were rumours that she went under the knife to get a toned body. [7]

The News on Sunday During an interview, while talking about it, she said,


I've been hearing lately is that I've gone under the knife and had surgery to lose weight! I've made a whole lifestyle change. I've cut out all the junk and processed food from my life and embraced the natural. The transformation has been miraculous. I've never exercised in my life, yet I've managed to lose more weight than people who do. I eat pure and desi and I take my own food with me when I'm shooting. It's hard work and requires wholehearted commitment but you shouldn't expect to look good without having to work for it."
In 2015, the rumours of her marriage with the Pakistani actor Ali Kazmi started. [8]

The News on Sunday Later, in an interview, she denied such rumours, and said,


That really is the strangest rumour I've heard about myself. If you check out my Wikipedia page, it mentions Ali Kazmi as my spouse, which is bizarre!"

In an interview in 2022, she shared that 12 years back, she was trolled for her leaked pictures on Facebook after which she was mentally traumatised. [9]

24 Digital She said,


Twelve years ago, when I was very young, Facebook was just newly invented and everybody was joining it, so, I also joined it and started uploading my pictures, I uploaded my vacations pictures from Sumui, Thailand. There was nothing wrong in the pictures, there were just two girls who were enjoying their vacations and were chilling around, also, the pictures were leaked because maybe my privacy settings were not on and somebody had stolen them from my laptop as well, after that, people started emailing my pictures to each other because there was no WhatsApp at that time, it became a biggest issue at that time."
As of 2022, she is among one of the highest-paid actresses in Pakistan. [10]

Best Stylo
She is trained in one of the classical music forms.
She has a YouTube channel 'Ayesha Omar Official' in which she uploads videos of her daily life and a few videos of her acting projects.
In her leisure time, she loves to read books and do painting.
In 2022, she was trolled for a video in which she was seen riding a horse along with the Pakistani actor Ahsan Khan. [11]

The Current Later, she uploaded the video of the shoot on her Instagram and wrote the caption,


P.s. turned off comments! Don't want negative energy around. We just doing our work baby and laughing through the hard, tough shoot to keep our energy, mood and focus up. It was freezing and raining and we hadn't slept properly in days because of nonstop shoot. We had 30 minutes to finish the entire sequence. We still put in our best with smiles on our faces. And that's NOT easy."
She has been featured on the cover page of various magazines like The Express Tribune, Paperazzi, The Nation Weekend, and Hello!
She has worked as the brand ambassador for WWF Earth Hour (global volunteer movement) and Jahanara (fashion label).
Ayesha Omar follows a non-vegetarian diet.
She is an avid animal lover and had a pet dog named Guddoo.
During one of her interviews, she shared her #MeToo moment. [12]

Naya Daur She said,


A huge powerful man, twice my age. I had just entered the industry, I was this young 23-year-old, fresh out of college, and bam, this started happening. And it went on for years. It wasn't a one-off incident, and I just didn't want to process it. I put in a box, I said okay, this is happening in my life, I have to deal with it. I didn't wanna share it with anybody. I let it stay there for 15 years, and I finally spoke about it to someone two years ago."