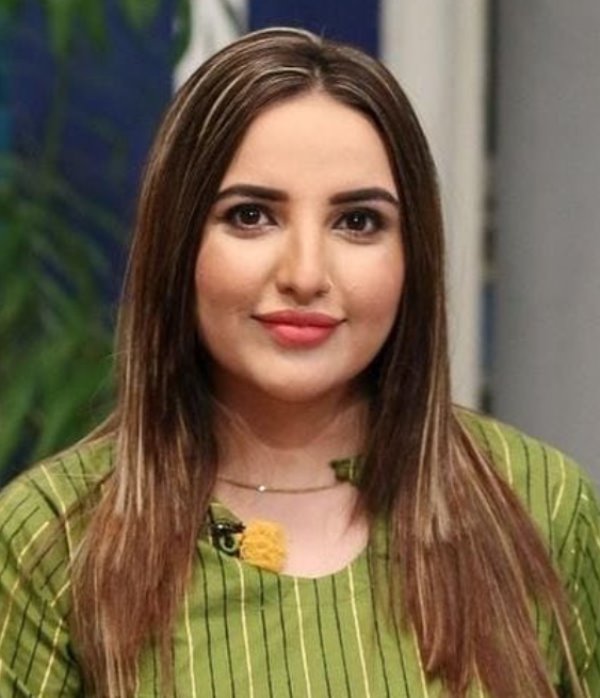 Hareem Shah is a Pakistani social media influencer and TikToker. In 2023, her husband, Bilal Shah, went missing in Pakistan.
Wiki/Biography
Hareem Shah was born on Saturday, 28 December 1991 (age 32 years; as of 2023) in Peshawar, Pakistan. Her zodiac sign is Capricorn.
Physical Appearance
Height (approx.): 5′ 5″
Weight (approx.): 75 kg
Hair Colour: Brown
Eye Colour: Black
Figure Measurements (approx.): 38-32-38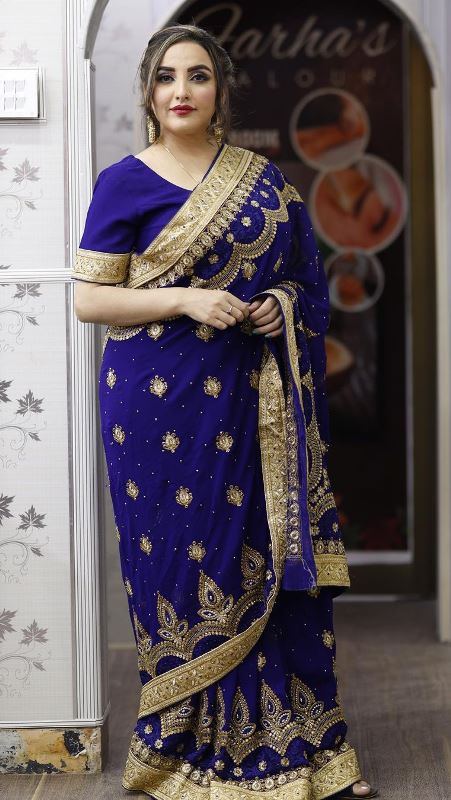 Family
Parents & Siblings
Her father, Syed Zarar Hussain, works in the forest department.
Husband
In June 2021, she got married to Bilal Shah, a Pakistani businessman.
Career
Social Media Influencer
Hareem Shah is a social media influencer, who creates and shares content related to beauty and lifestyle. She has more than 330k followers on Instagram. She has garnered more than 130 million followers on TikTok. In 2019, she created her YouTube channel 'Hareem Shah Official,' where she uploads videos related to the latest news.
Controversies
Sex Scandal
In 2019, a video was leaked on social media in which Hareem Shah was said to have accused Sheikh Rasheed Ahmad, a minister of Pakistan Railways, of his vulgar behaviour. She also accepted that the footage in the video was authentic and one of her friends leaked the video on social media. In the video, a woman who is not visible in the frame could be heard accusing a man during a face-to-face call. She said,
Aap nanga hoke mujhe dikhaate the. Video pe galat-galat kism ki hartakein karte the. (You used to get naked and show me. You did inappropriate things on camera.)" [1]India Today
In an interview with a Pakistani TV channel, she said that she was receiving death threats and would go to different countries to ask for citizenship with a plan to never come back to Pakistan. [2]India Today
Abduction of her Husband
On 26 August 2023, her husband, Bilal Shah, was abducted in Karachi, Pakistan. On 3 September 2023, she posted a video on X (previously known as Twitter) in which she said that her husband, Bilal, was kidnapped in Pakistan a week ago. She explained that they had been in London, but Bilal had to return to Pakistan for work. Later, one evening after dinner, when he left his house in Karachi's Qayyumabad Street No. 6, he was abducted by people who arrived in vehicles. In the video, she asked Pakistan's intelligence agency (ISI) for help. She said,
It has been seven days. Bilal and I were in London. He had to go back to Pakistan for some work. This was evening time when he stepped out after lunch and some cars and people in civil illegally abducted him and took him somewhere. There is no information about Bilal after that, he has been illegally and wrongfully held by some people. I request the ISI (Pakistan's intelligence agency) to find out about this incident." [3]The Free Press Journal [4]The Print
She mentioned that she and Bilal's family had filed a petition in a Pakistan court, but there hasn't been any progress on it. She also accused the police of not taking any serious action in the case. In the video, she also expressed her confusion about why the police were not taking any action in the case. She said that Bilal had no political affiliations and no legal cases against him. Despite their efforts to handle the situation through legal means, there has been no progress or breakthrough in the case, according to her video statement. She said,
This is an insult to Pakistan and the law and order situation in Pakistan." [5]The Free Press Journal
میرے شوہر بلال کو سادہ کپڑوں میں ملبوس افراد اغواہ کرکے لئے گئے ہیں۔ قانون نافذ کرنیوالے اداروں سے درخواست کرتی ہوں میرے شوہر کا پتہ کروائیں۔ بلال کا کسی سیاسی جماعت سے کوئی تعلق نہیں۔ pic.twitter.com/lYebJ2clx6

— Hareem Shah (@_Hareem_Shah) September 3, 2023
According to the complaint filed by Bilal Shah's mother, a 25-second video clip that allegedly featured former Pakistani Prime Minister Shehbaz Sharif walking with a woman led to her son's disappearance. The video was posted by Hareem Shah on her social media accounts. Hareem Shah has accused Maryam Nawaz, a leader from the PML-N party and the daughter of former Prime Minister Nawaz Sharif, of ordering the abduction of her husband Bilal from Karachi. [6]The Print On 21 August 2023, Hareem shared a video on X of PML-N leader and former prime minister Shehbaz Sharif with a woman walking alongside him. She captioned the video which read,
Shehbaz Sharif's two-hour-long meeting with his new 'girlfriend' at a private hotel in London? First sat in the hotel lobby and drank tea for half an hour and then went to the room. Any shame?" [7]The Print
وڈیو 1 : 4 شادیاں کرنے والے شہباز شریف کی لندن کے نجی ہوٹل میں اپنی نئی "گرل فرینڈ" سے دو گھنٹے طویل ملاقات؟ پہلے ہوٹل لابی میں بیٹھ کر آدھ گھنٹہ چائے پی پھر کمرے کی طرف چل پڑے۔ کوئی شرم حیا؟@CMShehbaz pic.twitter.com/0Wv5kcuf7o

— Hareem Shah (@_Hareem_Shah) August 21, 2023
On 5 September 2023, Bilal Shah returned home after spending five days in detention by the Federal Investigation Agency (FIA). During his detention, he was asked questions about the controversial social media posts made by Hareem Shah. In an interview, while talking about the time he spent in detention, he said,
I am back. I was treated with respect by the members of an investigation agency. They asked me questions about the Twitter account running in the name of Hareem, and I told them that I had no idea what this was all about. They checked my phone and everything and found that I had nothing to do with this account." [8]Geo News
He also said that the FIR, which was filed by his family against some unknown men, he would take it back. According to security sources, Bilal informed the investigators that he was unaware of the individual responsible for managing Hareem's account on the microblogging site 'X;' however, he expressed his belief that the account was being operated with Hareem's consent and approval, and he said that she knew the person behind it. The sources also mentioned their interest in speaking with Hareem about the account. Many prominent figures, including leaders from Jamiat Ulema Islam-Fazl (JUI-F), lodged complaints with the FIA regarding the alleged defamatory content on the account. [9]Geo News
Facts/Trivia
Hareem Shah is one of the most popular social media influencers in Pakistan, she often trends for many hours on Pakistan's X (previously Twitter).
Being a travel enthusiast, she has visited many countries including UAE, France, Malaysia, and Sri Lanka.
She is often spotted smoking hookah in public.