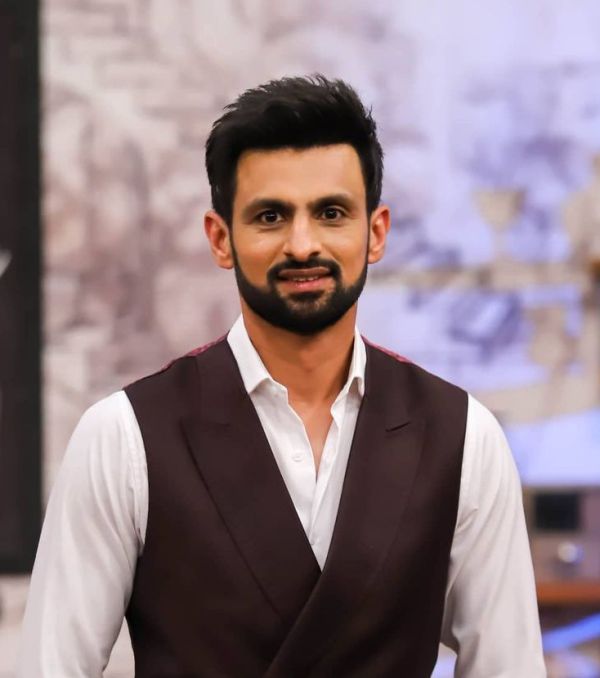 Shoaib Malik is a Pakistani cricketer. He is a right-handed batsman and off-break spin bowler. He was also the captain of the Pakistani team and has played for them in all 3 formats of cricket. He was part of the Pakistani team that won the 2009 T20 World Cup and the 2017 Champions Trophy. He has appeared in many Pakistani TV shows including The Pavilion as a panellist alongside Wasim Akram, Misbah-ul-Haq, and Waqar Younis, The Ultimate Muqabla as the host, and the second season of The Couple Show alongside his wife, Sania Mirza.
Wiki/Biography
Shoaib Malik was born on Monday, 1 February 1982 (age 40 years; as of 2022) in Sialkot, Pakistan. His zodiac sign is Aquarius. He played cricket in his locality during his childhood and attended Imran Khan's Pepsi coaching clinics in 1993-1994 in Sialkot. His family wanted him to focus more on education; however, his father wanted him to become a cricketer. He would put his cricket kit inside his school bag and would go to cricket matches instead of his school. In 1996, he attended the trials for the Under-15 World Cup in Lahore, and coach Noman Shabbir picked him up after seeing his impressive off-spin bowling.
Physical Appearance
[1]Shoaib Malik's Official Website Height: 5′ 10″
Weight (approx.): 70 kg
Hair Colour: Black
Eye Colour: Brown
Body Measurements (approx.): Chest 40″, Waist 32″, Biceps 13″
Family
Parents & Siblings
His father's name was Saleem Hussain Malik alias Faqeer Hussain Malik, [2]DNA India and his mother's name is Sultana Malik. His father died in 2006 after a prolonged illness. His younger brother, Adeel Malik, is also a professional cricketer. He has 2 sisters, Sadaf Imran and Shazia Imran.
Wife & Children
Reportedly, Shoaib Malik got married to Ayesha Siddiqui in 2002. He divorced her on 7 April 2010.
On 12 April 2010, Shoaib got married to Indian tennis star Sania Mirza in Hyderabad, India. They first met at a restaurant in Hobart, Australia and married after 5 months of courtship. [3]DNA India The Walima ceremony (the marriage banquet) was held on 25 April 2010 at Sialkot, Pakistan. The couple has a son, Izhaan Mirza Malik, who was born on 30 October 2018. In July 2021, they were given Golden Visa by the United Arab Emirates. [4]Khaleej Times They also hosted a talk show titled 'The Mirza Malik Show" on Urduflix in 2022. [5]Amar Ujala
Relationships/Affairs
In November 2022, it was reported that Shoaib Malik was in a relationship with a Pakistani model, actress, and YouTuber, Ayesha Omar. They, reportedly, first met during a photo shoot for the lifestyle magazine OK Pakistan in 2021.
Religion
Shoaib Malik follows Islam.
Signature/Autograph
Career
Domestic
He made his domestic cricket debut for the Gujranwala team against Karachi and picked 5 wickets in his first match. He was selected for the Pakistan A team in 1997. In 1998, he played for Pakistan International Airlines (PIA) team and in the Wills Cup semifinal; he took 2 wickets. Wasim Akram and Moin Khan saw his performances and advised Pakistan Cricket Board to select him for the Pakistan national team. In 2013, he joined Zarai Taraqiati Bank LTD. He has played for Sialkot Stallions and won the National T20 Cup 8 times.
International
Test
He played his debut test match on 29 August 2001 against Bangladesh at Multan Cricket Stadium, Multan, Pakistan. In his debut match against Bangladesh, he took 2 wickets in the match. He scored his first half-century with a score of 59 runs on 24 October 2004 against Sri Lanka. In the second innings of the first test of Pakistan's tour of Sri Lanka in 2005-2006, he scored his maiden century with 148 runs not out. In the second innings of the third test of Pakistan's tour of Sri Lanka in 2009-2010, he scored his second century with a score of 134 runs. In the first innings of the first test played against England at Sheikh Zayed Stadium, Abu Dhabi, United Arab Emirates, he made his highest score of 245 runs. In his last innings, he was out for a duck. He played his last test match on 1 November 2015 against England at Sharjah Cricket Stadium, Sharjah, United Arab Emirates.
ODI
He played his debut ODI match on 14 October 1999 against West Indies at Sharjah Cricket Stadium, Sharjah, United Arab Emirates. On 15 February 2002, he scored his first ODI century with a score of 111 runs not out against West Indies at Sharjah Cricket Stadium, Sharjah, United Arab Emirates. On 27 April 2002, he scored 115 runs against New Zealand at Gaddafi Stadium, Lahore, Pakistan. He scored 895 runs in the 2004 calendar year, his highest number of runs in one calendar year. On 24 July 2004, he scored his highest ODI score of 143 runs against India at R Premadasa Stadium, Colombo, Sri Lanka. On 13 February 2006, he scored 108 runs against India at Gaddafi Stadium, Lahore, Pakistan. On 26 September 2009, during the 2009 Champions trophy, he scored 128 runs against India at SuperSport Park, Centurion, South Africa. On 26 May 2015, he scored 112 runs against Zimbabwe at Gaddafi Stadium, Lahore, Pakistan. On 11 April 2017, he scored 101 runs not out against West Indies at Providence Stadium, Providence, Guyana, West Indies. In 2017, he was a member of the Pakistan team which won the 2017 ICC Champions Trophy in England.
He played in the 2007 and 2019 World Cups. He scored his maximum runs against India with 1782 runs in 42 matches at an average of 46.89. He has won 19 Man of the Match awards. He played his last ODI match on 16 June 2019 against India at Old Trafford Stadium, Manchester, England, in which he was out for a duck.
T20I
He played his debut T20I match on 28 August 2006 against England at County Ground Stadium, Bristol, England. On 17 September 2007, he scored his first half-century with a score of 57 runs against Sri Lanka at Wanderers Stadium, Johannesburg, South Africa. On 25 December 2012, he scored 57 runs not out against India at M Chinnaswamy Stadium, Bengaluru, India. On 30 November 2015, he made his highest score of 75 runs against England at Sharjah Cricket Stadium, Sharjah, United Arab Emirates. On 12 June 2018 and 7 November 2021, he scored 53 runs and 54 runs not out against Scotland at Grange Cricket Club, Edinburgh, Scotland and Sharjah Cricket Stadium, Sharjah, United Arab Emirates respectively. He has won 6 Man of the Match awards.
2009 T20 World Cup Triumph
He was a member of the Pakistan team which won the 2009 ICC T20 World Cup. He played in all matches and scored 144 runs. He also took 1 wicket. He made 24 runs not out in the final and helped his team win the World Cup.
Captaincy
Pakistan Cricket Board announced Shoaib Malik as captain in all formats of the Pakistani team on 19 April 2007; he was 25 years old at that time. [6]Hindustan Times He captained Pakistan in 3 tests, 36 ODIs, and 17 T2oIs. On 27 January 2009, he was removed from captaincy. [7]The Guardian Many sources claimed that he was removed as captain due to his lack of leadership qualities. [8]The Daily Star
Indian Premier League (IPL) Career
He played in the first season of IPL in 2008 and played for Delhi Daredevils. He took 2 wickets and scored 52 runs in 7 matches.
Pakistan Super League (PSL) and Other Leagues
In PSL, he has played for Karachi Kings, Multan Sultans, and Peshawar Zalmi. In the Caribbean Premier League, he played for Barbados Tridents from 2013 to 2017. He played for Guyana Amazon Warriors in 2018, 2019, and 2021. In the Bangladesh Premier League, he played for Comilla Victorians (2015, 2017, and 2018), Chittagong Vikings (2016), and Rajshahi Royals (2019). In Lanka Premier League, he played for Jaffna Stallions (2020) and Jaffna Kings (2021 and 2022). In 2003, he played for Gloucestershire County Cricket Club, and in 2010, he played for Lancashire County Cricket Club, and in 2014, he played for Warwickshire County Club.
Jersey Number
His jersey number was 18.
International Retirement
He retired after the Pakistan-England test series in 2015. While announcing his retirement, he said,
"The reason of my leaving Tests is not because of slump in form but it's because I want to give more time to my family and concentrate on the 2019 World Cup. I realised today that this is the right time to leave the place for youngsters and Pakistan have many talented players who can fill in." [9]The Tribune
He took retirement from the ODI format of the game on 5 July 2019.
Today I retire from One Day International cricket. Huge Thank you to all the players I have played with, coaches I have trained under, family, friends, media, and sponsors. Most importantly my fans, I love you all#PakistanZindabad 🇵🇰 pic.twitter.com/zlYvhNk8n0

— Shoaib Malik 🇵🇰 (@realshoaibmalik) July 5, 2019
Stats
Test Cricket
Batting
Fielding and Bowling
Most catch in an innings: 2
Best bowling figure in an innings: 4 wickets for 33 runs
Best bowling figure in a match: 7 wickets for 59 runs
One Day Internationals
Batting
Fielding and Bowling
Best bowling figure: 4 wickets for 19 runs
Controversies
Bowling Action Controversy
Shoaib Malik allegedly copies Pakistan spinner Saqlain Mushtaq's bowling action and his bowling action was reported during 2002 and 2004. In December 2004, he went to Australia, and Professor Bruce Elliot of the University of Western Australia in Perth, Australia prepared a report on his bowling action. During his stay in Australia, Shoaib said that he could not extend his right arm fully after colliding with Shahid Afridi during a match at Lord's Cricket Stadium in 2001. Shoaib said that he was worried as it might affect his career. In 2005, ICC cleared him, and he was allowed to bowl with his bowling action. [10]Australian Broadcasting Corporation [11]CNN [12]Dawn
Police Complaint by First Wife, Ayesha Siddiqui
When Shoaib Malik announced his marriage to Sania Mirza in 2010, a woman Ayesha Siddiqui, also known as Maha Siddiqui, came out in the media and alleged that she was Shoaib Malik's wife. Ayesha belongs to Hyderabad and worked as a teacher in Jeddah, Saudi Arabia. She alleged that she knew Shoaib since 2000 and was married to him since 2002. Shoaib, reportedly, confessed during the India-Pakistan match in 2005 that he was married. In early 2010, a video clip went viral on the internet in which Shoaib was reportedly spotted saying,
"Mera Nikah ho chuka hai. Woh Jeddah mein rehte hain aur India Hyderabad ke rehne waale hain. Unka naam Ayesha hai aur mein ab bahaut khush hun, Allah ka shukar hai." [13]The Siasat Daily
Apparently, Shoaib and Ayesha did Telephonic Nikaah. Ayesha said in an interview,
"An Islamic scholar was talking to a channel and he did say that telephonic nikah is valid and we did have witnesses on both sides and we did have the paperwork too. And he told me he would register the marriage at the Sialkot court marriage bureau But he did not do that apparently. But according to the Shariah, a nikah is a nikah." [14]The Times of India
Later, Shoaib denied that he was married to Ayesha and said that he once visited Hyderabad to meet her; however, Ayesha did not meet her. Shoaib also alleged that Ayesha later introduced herself as Maha Siddiqui to him. Later, Ayesha replied to this in an interview and said,
"My name is Maha Siddiqui. Ayesha is the name given to me by my grandmother. Maha is my name in my passport. So ironically, when he says the wrong name was given during the nikah, well both names belong to the same person – me." [15]The Times of India
Later, it was reported that he was trying to marry Sania Mirza without divorcing Ayesha. In April 2010, Ayesha submitted the video footage of nikah and filed a police complaint against Shoaib. On 7 April 2010, Shoiab divorced Ayesha. He paid Rs 15000 as alimony (Rs 5000 per month for 3 months) under Shariah law. Ayesha's family withdrew all police cases against Shoaib, and Farisa Siddiqui, Ayesha's mother, said in a press conference,
"Divorce papers have been signed. The settlement is done. My daughter's wish was to gain a divorce without any money. She has got it. I am very happy that finally Shoaib gave her a divorce." [16]Samaa English
It was later revealed that Ayesha got Rs 15 crores as alimony from Shoaib. [17]DNA India
One-Year Ban and 2 Million Fine by Pakistan Cricket Board
In March 2010, Pakistan Cricket Board banned Shoaib Malik for 1 year and imposed a 2 million fine after team management alleged that Shoaib misbehaved and did not cooperate with the team management during the 2009-2010 Australian tour. [18]The Economic Times He appealed against the ban, and it was lifted in May 2010. The fine was also reduced to 1 million only. [19]India Today
Accusing Pakistan Cricket Board of Nepotism
In May 2021, he accused the Pakistan Cricket Board of nepotism and selecting players on the basis of players' connections instead of their skills. He said in an interview,
"We have a system of liking and disliking in our cricket, which is something that is present in the rest of the world as well but seems to be a bit more in our culture. The day things change in our cricket system where more importance is given to skills rather than who a person knows, only then will things improve." [20]India Today
Car Collection
Shoaib Malik owns a Toyota Widebody Supra, Mitsubishi Lancer Evo 9, Nissan 350Z, Honda Civic, Accord CL-9, and Mazda RX-7. [21]Facebook – Karachi Track
Net Worth
Malik's net worth for the financial year 2022-2023 was estimated to be $ 28 million. It excludes the net worth of his wife and dependents (minors). [22]DNA India
Favourites
Facts/Trivia
He loved to fly kites during his childhood, and his father gave him a kite for each cricket match he played.
He has been a brand ambassador of Gillette, Toni & Guy, and Pakistan's Population Welfare Ministry.
He is the fourth youngest captain of Pakistan.
He was out on a duck in his last test innings and last ODI match.
He is the first male cricketer to play 100 T20Is.
Shoaib Malik becomes the first male cricketer to play in 100 T20Is #Cricket #AUSvPAK

— Saj Sadiq (@SajSadiqCricket) July 2, 2018