An all-new set-up, 16 new contestants, and 100 days inside the house! Your favourite show, Bigg Boss Telugu, is back again with an all-new season. The much-awaited show premiered its fourth installment on Sunday, 6 September 2020 with all the pomp and dazzle. With King Nagarjuna back as a host on the show, the show is all set to serve you with a high dose of drama and entertainment.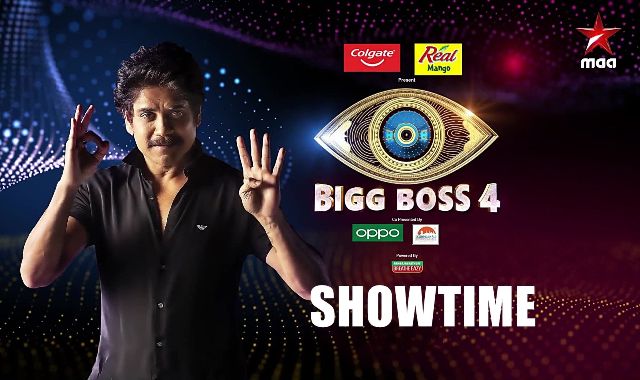 Considering the COVID‑19 pandemic, the makers of the show earlier decided to cancel the show for the year 2020. However, after getting repeated requests and noticing the high demand for the show, the makers decided to do the show with utmost safety measures.
Like every year, the show is likely to witness some major changes. Wondering, what are those changes? Well, for that tune into Star Maa at 9 PM Monday to Sunday.
Bigg Boss Telugu 4 Timings & Details
Channel: Star Maa (Also available on OTT platform Disney+ Hotstar)
Show Host: Akkineni Nagarjuna
Broadcast Time: 9:00 PM – 10:30 PM (Everyday)
Premier Date: 6 September 2020
Prize Money: Rs. 50 Lakhs
Voting Process
Initially, there are 16 contestants inside the house of Bigg Boss Telugu 4. Nominations happen at the beginning of each week. Each week, Bigg Boss provides a unique set of guidelines for the contestants, based on which, the nominations happen. Following the nominations, the voting lines get open for those contestants who get nominated. The voting lines remain open throughout the week, and at the end of the week, the contestant with the minimum votes gets eliminated from the BB house.
So, if your favourite contestant is in the nominated list too, save them by casting your vote right now. To vote for your favourite contestant, the viewers have two options, one is through the OTT platform Disney+ Hotstar, and the other option is to cast your vote through a missed call. Let's understand these processes in a better way.
How to Vote using 'Disney+ Hotstar'
You can 'vote' for your favourite contestants using the Disney+ Hotstar Mobile Application. Follow the below-mentioned steps to cast your vote:
Download the app 'Disney+ Hotstar'
Register yourself on the app using your E-mail ID/Mobile Number
You will get directed to the voting page where you can vote for your favourite contestant by clicking the image of the contestant and then pressing the 'Done' button.

Note: One person can cast a maximum of 10 votes per day.
Voting through 'Missed Call'
Fans can also show their love and support for their favourite contestants by casting their votes through missed calls. A unique 10 digit number is allotted to each contestant for voting purposes. The viewers have to dial the number allotted to their favourite contestant in order to cast their vote. Once a user dials a number, his/her vote gets counted, and the call disconnects automatically. No charges will be applicable for voting through a missed call. A single user can cast a maximum of 10 votes a day.
Below, we have mentioned the missed call numbers allotted to each contestant for the ease of the viewers.
| Bigg Boss Telugu 4 Contestant Name | Missed Call Number |
| --- | --- |
| Monal Gajjar | 8886658201 |
| Surya Kiran | 8886658202 |
| Lasya Manjunath | 8886658203 |
| Abijeet Duddala | 8886658204 |
| Sujatha | 8886658205 |
| Mehaboob Dil Se | 8886658206 |
| Devi Nagavalli | 8886658207 |
| Alekhya Harika | 8886658208 |
| Syed Sohel Ryan | 8886658209 |
| Ariyana Glory | 8886658210 |
| Amma Rajasekhar | 8886658211 |
| Karate Kalyani | 8886658212 |
| Noel Sean | 8886658213 |
| Divi Vadthya | 8886658214 |
| Akhil Sarthak | 8886658215 |
| Gangavva | 8886658216 |
Bigg Boss Telugu 4: Contestants List
Here is a list of the 16 contestants who are a part of Bigg Boss Telugu 4.
Name
Occupation/Profession
Current Status
Actor
Winner
Actor
1st Runner up
Actor & Film Director
Evicted
Actor, TV Anchor & TikTok Star
3rd Runner up
Actor
2nd Runner up
Actress
Evicted
Actress & Model
Evicted
Actress & Model
Evicted
Writer & Film Director
Evicted
Playback Singer
Evicted
Actor, Dancer & YouTuber
Evicted
Actress & TV Anchor
Evicted
Actress & YouTube Star
4th Runner-up
Actress & Comedian
Evicted
Rapper, Music Composer & Actor
Walked Out of the house
Actress & YouTube Personality
Walked Out of the show
Wild Card Contestants
Actor & Comedian
Evicted
Actor & Comedian
Evicted
Actress
Evicted
Bigg Boss Telugu 4: Voting Rules & Regulations
Remember these rules before you vote:
One person can cast 10 votes per day using his/her Email ID/Mobile Number.
Any further votes from the same email address/mobile number will be considered null and void.
A viewer's vote gets counted only when it reaches the server of the concerned telecom/internet operator. It is solely the right of the show/channel to cancel any vote which comes from an incomplete user ID or through an inappropriate user account.
Bigg Boss Telugu 4: Evicted Contestants List