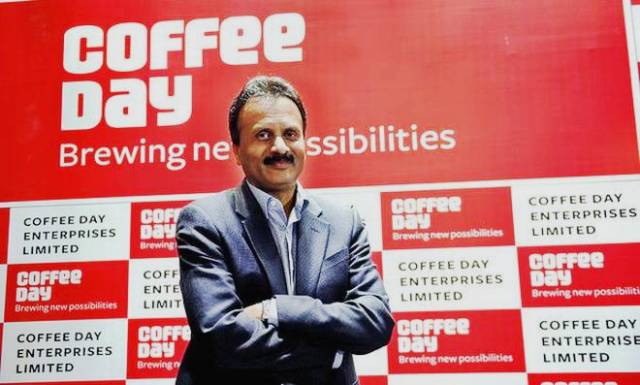 VG Siddhartha was an Indian businessman from Karnataka. He was the founder and owner of the popular food and beverage chain Cafe Coffee Day.
Wiki/Biography
VG Siddhartha was born in the year 1959 (age 60 years; at the time of death) in Chikmagalur, Karnataka. He attended a local school of Chikmagalur. He pursued undergraduate from the St. Aloysius College, Mangalore. He pursued Masters in Economics from the Mangalore University. When he was in college, he wanted to be in the Indian Army, and he had also joined the NCC when he was in college.
After completing his studies, he went back to his hometown. His father wanted him to join the family business, but, Siddhartha wanted to do something on his own and make a name for himself. In 1985, he travelled to Mumbai to try his luck. He stayed at a place called Fort in a single room with a shared washroom. He then went to JM Financial, a financial security company, and asked for an interview. Even though he did not have an appointment, the receptionist was from Karnataka, and he asked him to wait. He got an interview with the Vice Chairman of the company, Mahendra Kampani. The interview went well and he was selected.
Siddhartha was very fond of Mahendra and used to call him Mahendrabhai. He learnt everything from him and also considered him as his idol. Siddhartha used to invest money in stocks and other financial securities, but, Mahendra advised him not to invest everything in one place. It made Siddhartha invest his money in coffee estates, and, by the end of his career at JM Financials, he had 3000 acres of coffee plantations to his name. He quit JM Financials in 1985 after working there for two years.
He went home and asked for his father to lend him some money to start his financial securities firm. His father lent him a 7.50 Lacs INR and said-
When you lose it, you can come home"
It was at this moment that Siddhartha decided that he cannot lose the money. He bought land worth 5 Lacs INR and he started his firm, Sivan Securities, with the remaining money. Later, he renamed his firm as "Way2Wealth Securities". While he was in the financial securities business, he was also running his coffee plantations.
Physical Appearance
Height (approx.): 6′ 2″
Weight (approx.): 70 kg
Eye Colour: Black
Hair Colour: Black
Family, Wife, and Caste
VG Siddhartha belongs to the Vokkaliga Caste (traditionally identified as landlords and village headmen). His father, Gangaiah Hegde, was the owner of many coffee estates. His mother, Vaasanthi G Hegde, was a homemaker. His family was in the business of exporting coffee. Siddhartha got married to Malavika Krishna in 1991. Malavika is the daughter of the former Karnataka Chief Minister, SM Krishna. They have two sons, Eshaan and Amartya.
Career
During the early 1990s, Siddhartha was simultaneously managing his firm and his coffee estates. In 1994, he bought a dying coffee curing unit and turned it into a success. He started a company, Amalgamated Bean Company (ABC), and started selling the brand's coffee powder locally. In 1995, he had a meeting with the owner of a German Coffee Company, Tchibo, which was the second-largest company in Europe. Siddhartha thought that Tchibo must have been running for a century for it to become such a success. When the owner told him the story of how his company became the second-largest in just 5 decades, Siddhartha was inspired and motivated. He set up 10 retail stores in Bengaluru to sell ABC coffee powder. He started exporting his coffee powder to other countries too, mainly Brazil. By the end of 1995, his company was the largest exporter of coffee in India.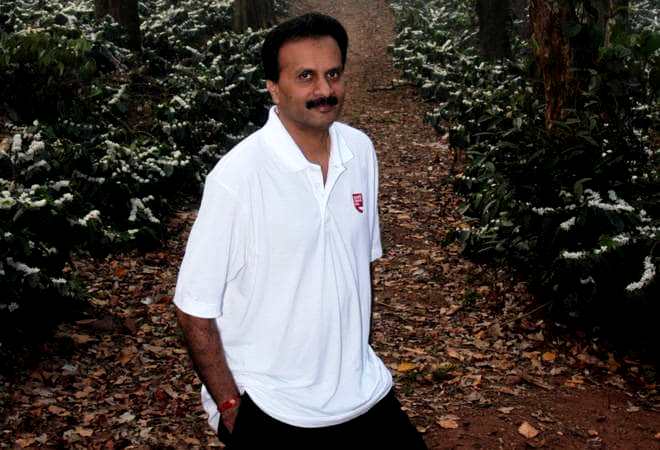 In 1996, Siddhartha came up with the idea of starting a cafe. He narrated the idea to his wife and his business partner. They rejected the idea as soon as they heard it; as he wanted to sell coffee for 25 INR per cup, at a time when coffee was available at 5 INR per cup. The internet was a new thing for the people in India, and everyone wanted to surf the internet. The internet cafes used to charge up to 100 INR for an hour of surfing the web. Siddhartha then came up with the idea that they'll start a cafe where you can have coffee and surf the web simultaneously, and it would also justify the 25 INR price. He pitched the idea to his partners and stated- "Let's start it as an experiment". In 1996, he opened the first Cafe Coffee Day outlet in Brigade Road, Bangalore.
Cafe Coffee Day (CCD) was an instant hit, and the youth was intrigued by the idea that they can surf the internet and hangout while having coffee at the same time. By the end of 2000, CCD had 22 cafes across South India. In 2001, Siddharth noticed that in cities like Mumbai and Delhi, people were copying his idea and had opened cafes just like CCD. It was then, that he decided to open up stores in North India too. During the next few years, Siddhartha started expanding CCD, and by the end of 2007, there were more than 200 CCD outlets across India. In 2005, CCD opened its first international outlet in Vienna. Since then, it has spread to more than 7 countries. By the end of July 2019, CCD had around 1850 outlets spread across the globe.
Controversy
On 21 September 2017, 20 of his offices were raided by the Income Tax Department in Karnataka and Goa. They claimed that Siddharth was involved in tax evasion.
Signature
Disappearance and Death
On 29 July 2019, Siddhartha left his Bengaluru office and headed for Sakhleshpur by road with his driver. On the way to Sakhleshpur, he suddenly asked his driver to head towards Mangaluru. While on the way to Manguluru, his car was near a bridge, and he asked his driver to stop the car. He got out and asked his driver to go ahead and wait at the end of the bridge, and he will walk till there after a while. His driver did as instructed, but, after an hour, when Siddhartha did not return, he got worried and called him. Siddhartha's phone was switched off, so, he drove back and searched for him. The driver called Siddhath's son and informed him, and then, he went to the nearest police station to file an FIR.
The police began search operations on 30 July 2019. They searched the areas near the bridge and also in the Netravati River; a fisherman reported that he had seen someone jumping in the river. On 31 July 2019 at 07:43 in the morning, the search crew found a body in the Netravati River. Manguluru Police Commissioner Sandeep Patil stated- "We have found a body resembling VG Siddhartha, and it is being taken to the Wenlock Hospital in Mangaluru, for the family to identify".
His family arrived at the hospital and identified his body. His body was taken for post mortem, and, after all the formalities were done, his family took his body to Chikmagalur. On 31 July 2019, his body was kept at the Chikmagalur office for anyone who wishes to pay their respects to VG Siddhartha. The Karnataka Chief Minister BS Yeddyurappa was also present to pay his last respects to Siddhartha.
On 31 July 2019, at 4:30 in the evening, his body was cremated at Belur Taluk, Karnataka. His family decided to have his funeral there as it was in Belur Taluk, at his father's coffee estate, that he had decided to be an entrepreneur.
The final report of his post-mortem confirmed that he died of drowning. [1]The Hindu
Net Worth
As of 2018, VG Siddharth's net worth was $1.2 Billion.
Facts/Trivia
Apart from Cafe Coffee Day, Siddhartha had many other businesses.
On 31 July 2019, all the CCD outlets across India were shut down to honour him. CCD also paid a tribute to him on Twitter.
Today we remember the legend that inspired us all. Thank you Chairman VG Siddhartha for your vision, leadership and the great legacy. pic.twitter.com/tYMiglgofe

— Cafe Coffee Day (@CafeCoffeeDay) July 31, 2019
After his death, the CCD management appointed SV Ranganath as the Interim Chairman, and Nitin Bagmane as the interim Chief Operating Officer (CEO).
Nearly a month after Siddhartha's death, his father, Gangaiah Hegde, who was in a coma, passed away on 25 August 2019. He was admitted to the hospital for a long time and was in a coma for more than a month. His father was even unaware of his son's death.
In June 2022, a biopic on VG Siddhartha was announced by production companies T-Series and Almighty Motion Picture. The biopic is an adaptation of the book Coffee King: The Swift Rise and Sudden Death of Cafe Coffee Day Founder V. G. Siddhartha, written by investigative journalists Rukmini BR and Prosenjit Datta. [2]

The Hindu