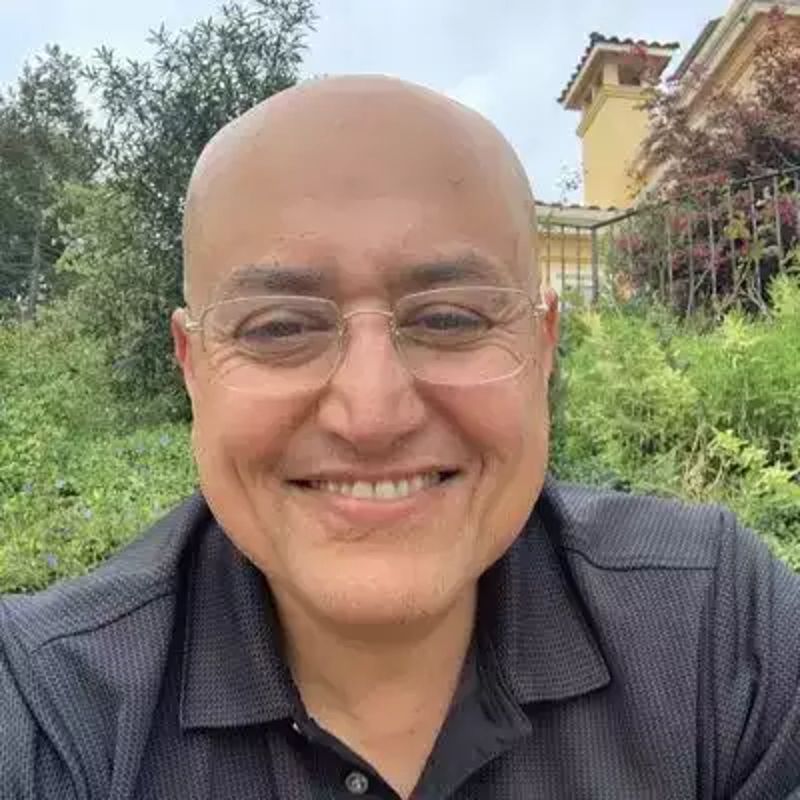 Sabeer Bhatia was born on Monday, 30 December 1968 (age 54 years; as of 2022) in Chandigarh, India. He grew up in Bangalore. Sabeer did his schooling at St Joseph's Boys High School in Bangalore and The Bishop's School in Pune. In 1986, he began his graduation at the Birla Institute of Technology and Sciences (BITS) in Pilani, India, and was transferred to the California Institute of Technology after two years. In 1989, he moved to the United States and obtained a master's degree in electrical engineering from Standford University.
Physical Appearance
Height (approx.): 5′ 8″
Weight (approx.): 65 kg
Hair Colour: Black
Eye Colour: Dark Brown

Family
Sabeer Bhatia grew up in a Sindhi middle-class family in Chandigarh, India.
Parents & Siblings
Sabeer Bhatia's father, Baldev Bhatia, served in the Indian Army as a captain, and his mother, Daman Bhatia, worked with the Central Bank of India. He has a younger sister named Samina Bhatia.
Wife & Children
Sabeer Bhatia got engaged to lawyer Geeta Rao in November 2003; however, it didn't last long, and they parted ways. In 2008, Sabeer got married to Baidyanath heiress Tanya Sharma in San Francisco. The couple have a daughter together. Sabeer filed a divorce from his wife Tanya in 2013. [1]The Times of India
Relationships/Affairs
Sabeer Bhatia was rumored to be dating Bollywood actresses including Aishwarya Rai, Yukta Mookhey, and Sushmita Sen. [2]The Times of India He also dated Geeta Rao and Tanya Sharma.
Religion
He follows Hinduism.
Career
Corporate Sector
After completing his master's degree, Sabeer got placed in Apple company as a hardware engineer. He then joined 'Firepower Systems Inc' along with his colleague Jack Smith. After Hotmail was acquired by Microsoft, Bhatia worked with the venture briefly.
Hotmail
In August 1995, Bhatia and Smith started looking for funding for "JavaSoft," a Net-based personal database. They later realized the possibilities of a web-based e-mail system while pursuing this notion and thus founded Hotmail on 4 July 1996. They conceptualized this idea of a web-based email service that would allow users to access their emails from any internet-connected device. Sabeer was actively involved in the product development of Hotmail. He played a key role in shaping the feature and functionality of the web-based email service. Sabeer Bhatia was involved in the negotiations and acquisition of Hotmail by Microsoft in 1997. The acquisition marked a significant milestone for both Hotmail and Sabeer as it provided the necessary resources and support to further develop the email services. In an interview, Sabeer talked about the acquisition of Hotmail by Microsoft and said,
Bill Gates intimidated me: When Microsoft popped the question, Hotmail had 10 million subscribers. At my first meeting with Bill Gates, he intimidated me. Slowly, I learned that he was rather nice. There was negotiation after negotiation. Finally, Microsoft offered $ 400 million more than twice what it had first offered."
Other Ventures
In addition to his work with Hotmail, Sabeer Bhatia has been involved in various other ventures.
Arzoo Inc.
After his time with Hotmail, Bhatia founded Arzoo Inc. The company focused on travel search technology. Arzoo aimed to simplify and enhance the online travel booking experience, but the company was shut down in 2001. Nevertheless, Sabeer came up with an updated version and relaunched Arzoo.com, which offered customers to book domestic or international flights, make hotel reservations, plan vacations, etc.
Live Documents
In 2007, Bhatia established Live Documents, a web-based productivity that offers all the features of Microsoft Office 2007 and was available for free. Live Documents was developed by Sabeer's Bangalore-based company InstaColl in which he holds his shares. Live Documents allowed users to create, edit, and collaborate on documents, spreadsheets, and presentations using a web browser. [3]The Economic Times
Sabse Technologies Inc.
In 2008, Sabeer Bhatia co-founded Sabse Technologies Inc. Sabse, also known as SabseBolo Technologies, is a communication technology company that focuses on proving affordable and accessible communication systems, especially in emerging markets. Sabse Technologies aims to connect people through voice, video, and messaging services, addressing the needs of individuals, businesses, and communities. In 2018, Ratan Tata also invested in Sabeer Bhatia's Sabse Technology. [4]DNA India
JaxtrSMS
In January 2008, Sabeer Bhatia and Yogesh Patel launched a chat application for mobile users called JaxtrSMS. This application was designed to allow users to deliver free SMS to their friends and family all across the globe without any registration. The company was later acquired by Sabse Technologies in 2009, and it started operating in Latin America, US, and Europe. Over 15 million people were registered to the app globally. However, in India, it was not permitted by the government as consumer voice-over IP services are not allowed for national security reasons.
Nano City
The government of Haryana along with Sabeer Bhatia proposed the concept of Nano city in India. This project was proposed to build a city like Silicon Valley in northern India. The metropolis was planned to be built on 11,000 acres of land close to Panchkula. However, the size of the developing area was reduced later. In this public-private affair, 52 % stake lies with Sabeer Bhatia, 10% with the government, and 38% stake was picked up by the real estate company called Parsvnath Developers Ltd in 2008. [5]The Times of India
ShowReel
Sabeer launched an application named 'ShowReel' in 2021. The app aims to enable employment for job seekers globally. He claims of creating a video version of Linkedin. It emerged as an ecosystem for entrepreneurs. The idea behind the app was to motivate young entrepreneurs to come up with innovative ideas, and if the ideas would actually be helpful, then they would be funded. [6]The Economic Times In an interview, he talked about ShowReel and said,
ShowReel aims to bring conversations alive and drive real value for job seekers and companies alike." [7]Rediff
Awards, Honours, Achievements
In 1997, Sabeer was given the "Entrepreneur of the Year" award by the venture capital firm Draper Fisher Jurvetson.
In 1998, he was named the "Elite 100" by Upside magazine.
Sabeer was awarded the "TR100" by MIT in 1997.
 Bhatia was selected as one of the ten most successful entrepreneurs by the San Jose Mercury News and POV magazine in 1998.
Net Worth
Sabeer Bhatia's net worth is $300 Million.
Inspired by his father, Sabeer wanted to be an Army General.
His invention Hotmail actually stands for HTML (Hyper Text Markup Language), and within 6 months of its launch, Hotmail had a million subscribers.
Sabeer started his first business at the age of 19 called "Beginners All-Purpose Symbolic Instruction Code" (BASIC), which offered computer programming training. Later, he co-founded a company, "Hotwire Development."
Sabeer is a humanitarian. He has established the "Bhatia Foundation" which promotes education and supports underprivileged children in India.