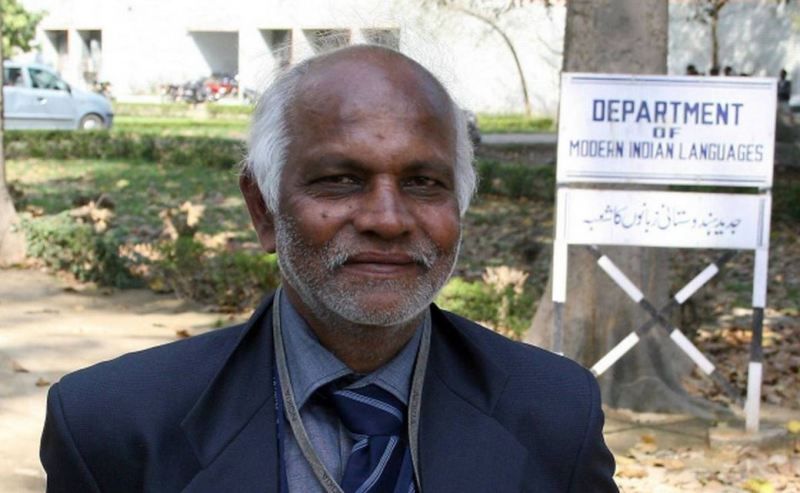 Ramchandra Siras was an Indian author and linguist who specialized in Marathi literature. Dr. Siras headed the Department of Modern Indian Languages at Aligarh Muslim University (AMU), and the popular Bollywood film, "Aligarh" (2015) is inspired by his life.
Wiki/Biography
Ramchandra Siras was born in 1948 (age 62 years; at the time of death) in Nagpur, Maharashtra. Siras grew up in Nagpur where he spent most of his childhood and adulthood. After his schooling in Nagpur, he attended Nagpur University where he studied linguistics and psychology. He did his post-graduation in Psychology from Hislop College, Nagpur. He also studied Clinical Psychology at Central Institute of Psychiatry in Kanke, Ranchi. [1]Rediff In 1985, he completed his PhD on 20 political novels of Madkholkar, which was considered a very rare and difficult subject by many. [2]The Times of India He had also published a collection of seminar papers in English on comparative literature. In 1988, he joined Aligarh Muslim University (AMU) as a professor. [3]The Times of India Before joining AMU, Dr. Siras had worked in the Department of Linguistics at Ranchi University as a research assistant. [4]The Times of India In 1998, Ramchandra Siras was appointed reader in Modern Indian Languages at AMU. [5]The Times of India Later, he went on to become the Chairman of the Department of Modern Indian Languages at the Aligarh Muslim University (AMU).
Family & Caste
Ramchandra Siras belonged to a Marathi-speaking family.
Parents & Siblings
There is not much information about his parents and siblings. He lived in Nagpur along with his mother and sister. [6]Rediff
Relationships, Wife and Children
The doctors had advised him against marriage because he had epileptic fits since his childhood. However, later, when he was cured, he got married to a woman from a renowned family in Akola. Later, after a long separation, they got divorced. [7]The Times of India
Gay-Sex Controversy & Suspension
Reportedly, Ramchandra Siras was a gay, a thing that he had been keeping a secret since his teenage, had an alleged affair with a rickshaw-puller (Abdul) in Aligarh. On 8 February 2010, he was caught on camera having consensual sex with that rickshaw-puller when two local cable TV journalists secretly filmed him doing sex with that rickshaw-puller. Later, the journalists barged into Dr. Siras's room and kept on filming while Dr. Siars was shown in the footage pleading them to stop filming. [8]Pen Outwrite On 9 February 2010, AMU suspended him on the pretext of "gross misconduct." Rahat Abrar, AMU public relations officer, while pronouncing Dr. Siras's suspension, said,
Siras was captured on camera having sex with a rickshaw-puller. He was placed under suspension by the order of the vice-chancellor, professor P. K. Abdul Aziz." [9]The Times of India
Later, Dr. Siras went to Allahabad High Court against his suspension, and on 1 April 2010, the judgement came in his favour, and he was reinstated as a professor. While talking about being gay and his relation with AMU, once, Dr. Siras said,
I spent two decades here. I love my University. I have always loved it and will continue to do so no matter what. But I wonder if they have stopped loving me because I am gay." [10]The Times of India
Death
On 7 April 2010, Dr. Ramchandra Siras was found dead in his apartment in Aligarh in mysterious circumstances. Initially, police termed it a case of suicide; however, after his autopsy report showed traces of poison in his body, the police registered a case of murder and arrested six people. Later, the case was closed after the police could not gather any substantial evidence. [11]University World News
Favourite Things
Film(s): Awara (1951), Shree 420 (1955)
Song: "Ajeeb Dastaan Hai Ye" from the film Dil Apna Aur Preet Parai (1960)
Facts/Trivia
During his stint as a professor and reader at AMU, Dr. Siras created interest in many students to study Marathi, though most of the students were from Urdu and Hindi background.
In Nagpur, Dr. Siras had guided many students in their research projects.
Ramchandra Siras is known for his extensive research work on BC Mardekar's poems, and he presided many symposia on Mardekar's poems at Dharampeth's Raja Ram Library in Nagpur. [14]

The Times of India
Dr. Siras was a poet himself, and in 2002, the Maharashtra Sahitya Parishad awarded him for his collection of poems – Paya Khalchi Hirawal (Grass under my feet). [15]

The Times of India
He was a great cook and during his stay in a hostel in Ranchi, he used to cook his own food. While talking about his cooking skills, Dr. Sinha who was the hostel mate of Dr. Siras at Central Institute of Psychiatry in Kanke, Ranchi, says –


While we ate at the hostel mess he cooked himself. Very plain food — rice, dal and one sabzi, that's all." [16]Rediff
Dr. Siras was very fond of knitting. Dr. Sinha, while talking about this unique hobby of Dr. Siras, says –


Siras was also very fond of knitting. While walking from the hostel to the institute, he always knitted pullovers. He carried a bag in which he had yarn. He said he was knitting for his nieces." [20]Rediff
The 2015 Bollywood film "Aligarh" by Hansal Mehta is inspired by Dr. Ramchandra Siras's life in which the noted Bollywood actor Manoj Bajpai portrayed Ramchandra Siras's role. The film received critical reviews.