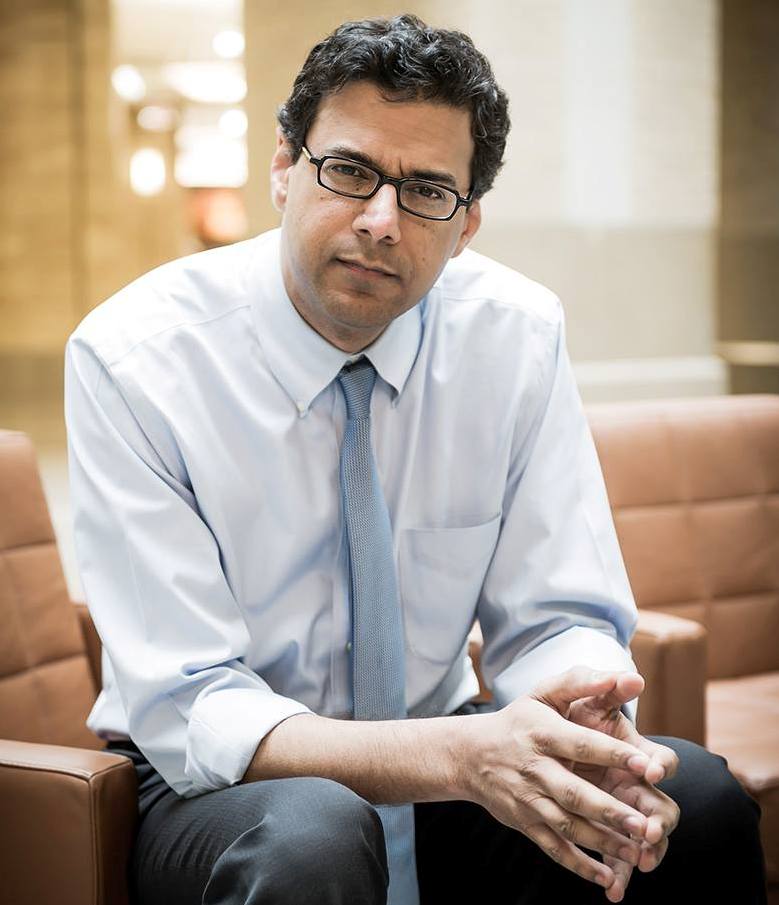 Atul Gawande is an Indian-American surgeon, professor, writer, and public health associate. The multifaceted doctor regularly writes articles on medicine and public health-related topics for The New Yorker magazine and Slate magazine.
Wiki/Biography
Originally from Maharashtra's Uti village, Atul Gawande was born on Friday, November 5, 1965 (age 55 years; as of 2020), in Brooklyn, New York. He grew up in Athens, Ohio, as his family moved to Athens in 1973, and completed his schooling from the Athens High School in 1983. He received a bachelor's degree in political science and biology in 1987 from Stanford University. In 1989, he become a Rhodes Scholar at Oxford and earned a master's degree in Philosophy, Politics, and Economics from Balliol College affiliated to the University of Oxford. He volunteered as a healthcare advisor for influential US politicians, which included being part of Bill Clinton's presidential campaign, and then went back to medical college for further studies, as he did not want his career to be limited to Politics alone. In 1995, he received a Doctorate in Medicine from Harvard Medical School and then attained a Master's degree in Public Health from the Harvard School of Public Health in 1999. In 2003, he completed his training as a general surgical at Harvard and has been serving in the medical field since then. [1]Harvard T.H. Chan
Family & Ethnicity
Parents & Siblings
He was born to Marathi Indian United States immigrants Atmaram Gawande (father) and Sushila Gawande (mother). [2]Maharashtra Times
Both of his parents were doctors by profession. His mother was MD in Pediatrics while his father was MD in Urology. His parents contributed significantly towards philanthropic activities in the US and India. His father, Atmaram, died of a spinal cord tumor in 2011. Atul's younger sister, Meeta, is a lawyer by profession.
Wife & Children
Atul lives in Newton, Massachusetts, with his wife, Kathleen Hobson (cartoon artist), and their three children: Walker Gawande, Hattie Gawande, and Hunter Gawande.
Career
Dr. Gawande is a man of many hats. After a brief stint in politics, Gawande took up the medical profession. However, he can't be typecast as a physician; he works as a professor, journalist, and author, along with fulfilling his medical duties.
In Politics
When he was an undergraduate, he volunteered for Gary Hart's presidential campaign that laid the foundation of his political career. In 1988, he joined Al Gore's presidential campaign and also worked as a health-care researcher for Rep. Jim Cooper. In 1992, he became a senior advisor in the US Department of Health and Human Services under former President Bill Clinton. He was also a part of Bill Clinton's presidential campaign prior to attaining the post.
As a Physician
Atul Gawande is a physician practicing general and endocrine surgery at Brigham and Women's Hospital in Boston, Massachusetts, and a professor at Harvard T.H. Chan School of Public Health and Harvard Medical School. Dr. Gawande is also the founder of a joint center for health systems innovation named Ariadne Labs, and chairperson of Lifebox, a nonprofit organization aimed to make surgeries safer across the world. Atul Gawande was the CEO of Haven, an affordable healthcare venture launched in partnership by Amazon, Berkshire, and JP Morgan Chase, from 2018 to 2020. In November 2020, he was appointed as a member of President-elect Joe Biden's COVID-19 Advisory Board.
As a Writer
Soon after commencing his residency at Harvard, he was asked by his friend Jacob Weisberg, who was then editor of Slate, to write for the online magazine. Several articles written by him have appeared in The New Yorker magazine. In 1998, he was appointed as a staff writer for The New Yorker and has been a part of the magazine since then. One of his articles that compared the health care of two towns gained a lot of momentum and was also mentioned by President Barack Obama at the United States Congress. He has written on various topics related to surgical techniques and errors in medicine. Along with being a staff writer for two popular magazines, Atul Gawande is also an award-winning author who has penned four books; Complications (published in 2002 by Picador), a finalist for the National Book Award; Better (published in 2007 by Penguin Books India), picked by Amazon as one of the ten best books of 2007; The Checklist Manifesto: How to Get Things Right (published by Metropolitan Books in 2009). His latest book is Being Mortal: Medicine and What Matters in the End (published by Metropolitan Books in 2014).
Awards & Achievements
Atul Gawande has a number of awards and achievements to his name, including a few prominent ones that are mentioned below.
Mr. Gawande was named as one of the 20 Most Influential South Asians in 2004 by Newsweek.
In 2006, Gawande won a MacArthur Foundation "genius" award.
In 2010, Atul Gawande appeared in Time magazine as one of the most important thinkers in the world.
His essays have been featured in the Best American Essays 2003, The Best American Science Writing 2002, The Best American Science Writing 2009, and The Best American Science and Nature Writing 2011.
In 2014, he was honoured with the Lewis Thomas Prize for Writing about Science at a ceremony in Rockefeller's Caspary Auditorium.
He received a Governor's Award in the Humanities in 2016 in Massachusetts for championing "humanism in healthcare" through his work.
In 2018, Atul Gawande was again named in Time magazine's 2018 list of the 50 most influential people who are working towards bringing affordable and better health care in the US.
In 2019, he was ranked fifty-first in Modern Healthcare's 100 Most Influential people in healthcare.
Facts/Trivia
In 2007, Dr. Gawande led the World Health Organization's global effort to scale back surgical deaths. This was after he wrote an article on expensive healthcare services in the United States and an e-book on enhancing efficiency in surgical procedure theaters.
In 2009, Atul received a $20,000 cheque from an executive in Warren Buffett's inner circle as a token of appreciation for an article that he wrote titled "The Cost Conundrum," an analysis of why inflating health care costs in the U.S. were not matched by corresponding gains. He returned the cheque to the sender only to receive two in return. He then donated the sum of money to charity.