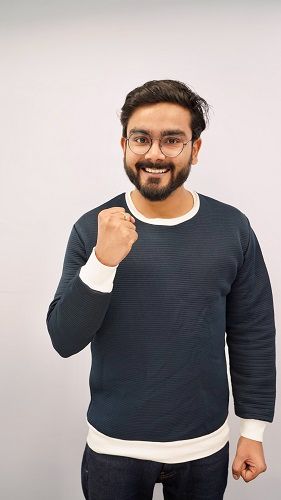 Abhishek Jain is a social media influencer and educator. He is also known as The IIM Guy on YouTube and is becoming a renowned name in the field of MBA education and awareness in India. His videos are becoming a massive hit on YouTube because of his raw, honest approach. Abhishek shoots his videos in one take. There are no reshoots. The videos are not edited. The sole purpose is to educate the audience with real, honest information that could add value to their lives and help them make better decisions.
Wiki/Biography
Abhishek Jain was born on 14 January 1992 (age 30 years; as of 2022) in Panjipara, West Bengal. His family hails from Kishanganj, Bihar. His zodiac sign is Capricorn. He did his schooling at DPS RK Puram, Delhi. He pursued his graduation from St Xaviers College Kolkata. He then did MBA from IIM Visakhapatnam.
Physical Appearance
Height: 5′ 8″
Weight: 64 kg
Family
He is unmarried.
Religion
He follows Jainism.
Career
As stated by Abhishek in many of his videos, he joined an MBA course which was high on ROI but not to his liking hence he dropped out of it and started working at Groupon India. In an interview, he said,
 Exactly 7 years ago on this very day, I had taken the metro from an office I was interning in Gurgaon to my flat in GTB Nagar and I had to prepare myself to live with the fact that I probably would never be able to do an MBA in life. I had joined an MBA in Analytics program I wasn't interested in and I hadn't appeared for 3 final term exams hoping I would convert one of the tier 1 B schools I was waitlisted in (I had reappeared for CAT again while still being in an MBA program). I was 23 and I had failed a masters course.I took up a job where other MBAs worked. I was okay never doing an MBA in life. Seven years later today, I am an educator and a content creator on MBA programs in India. Life takes such U turns. If you are 23/24 and you feel all doors have closed in on you on something you are passionate about, just know that life is a marathon and not a sprint. You never know what you can achieve tomorrow."
The biggest mistake as recalled by Abhishek was that he did things he should do until the age of 23. It was only after age 23 that he started doing what he wanted to do and his life changed for the good. After completing his MBA, Abhishek joined Capgemini Management Consulting Company in Mumbai as a management consultant where for 3 years until 2021. In 2021, he quit consulting to join his family business and started YouTube. In an interview, while talking about it, he said,
I had quit my well-paying management consulting job in September 2021. I did not have a well structured plan going ahead but I wanted to give atleast a year to our family business. A lot of experts questioned this decision- without me having asked them (that's India for you- we are great at throwing opinions on others' lives as opposed to our own). No doubt, the decision could have had massive consequences."
He further talked about starting YouTube. He said,
However, a year forth, I happened to build a YouTube channel out of nowhere. Today when I am an influencer in the MBA space, the first question that I get asked is- How did I go about planning to build this YT channel? And I answer honestly every time- I had no plans of building a YT channel. Building a channel is different from making videos. I just wanted to create a few videos. I happened to keep making videos because I began enjoying it. Why did I begin enjoying it- this is where my September 2021 decision came into play; I had time to myself. Time for yourself."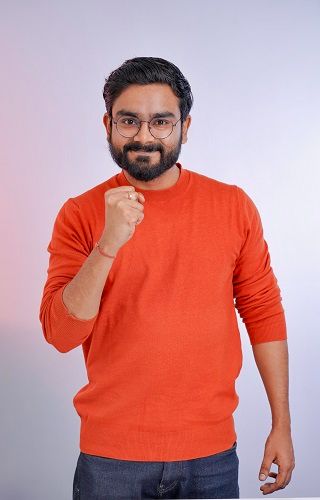 Abhishek thoroughly enjoys making videos and says he will continue to make at least 2 videos a week even if people stop watching them. Abhishek is a fan of Harsha Bhogle who also graduated from an IIM and always wanted to make a mark in the creative field just like Harsha. Abhishek comes from a small place called Kishanganj where he has shot the first 120 of his YouTube videos. He set up a small studio on the top floor of his house where he shoots three videos on a Sunday. On his remaining 6 days, he used to contribute to his family business of textiles which is set up on the ground floor of his house. Currently, Abhishek has joined a startup as their YouTube head. Despite managing YT with his full-time commitments, Abhishek has amassed 58k subscribers in a short span of 1 year.
He has gone on to live in 8 cities- including all the metros of India. Abhishek even dropped out of an MBA college in Delhi before he joined his first company Groupon which he considers to be the best decision of his life. He later joined IIM Visakhapatnam and was part of the Placement committee. Most of Abhishek's videos give the viewers a true and real picture of how life is in B Schools and how life is beyond. Abhishek worked for a good 5 years in the corporate world before starting on YouTube. He has studied in the best institutions in India- DPS RK Puram, New Delhi and St Xaviers College Kolkata.
Favourites
Place(s): Mumbai, Vizag, Goa
Beverage: Nothing except water
Facts/Trivia
As a child, Abhishek was always a bright student. He would always stand among the top three students in his class in school. When he would come 4th rarely, his mother would be very disappointed as she was an achiever herself throughout her life. For the love of his mother, Abhishek topped his class consecutively for years. He left his hometown Kishanganj when he was 15 to study at DPS RK Puram Delhi. He then followed it up with a BBA in Marketing from St Xavier's Kolkata. In 2016, he did his MBA from IIM Visakhapatnam. In an interview, while talking about his school and college, he said,


I would always stand among the top 3 students in class (out of 150 plus) for 10 consecutive years in school. On the rare occasions that I would come 4th, my mother would be drenched with tears in her eyes and she would later tell me that there is a reason that there are three classes in a train and that the 4th rank doesn't exist for her. For the love of my mother, I would excel for 10 straight years in school. However as soon as I left my hometown, one definition of freedom also meant for me to be able to get any rank in class. Freedom meant not studying. This was one of the reasons I was among the last rankers in college- St. Xavier's. However I soon realised that I craved the attention that I got in school. I had lost my identity. So when I went for my MBA at IIM Visakhapatnam, I did everything I could- be part of placecom, take part in B school competitions, compere/anchor in the B school fest, teach marketing and OB to peers, bag multiple job offers. I did not top but I never wanted to. I did things I actually wanted to do and still be renowned in college. I wish I could do more of such things in school. I guess as people get old, they become more of what they should always have been. The sooner we do it, the happier we are!"

He follows a vegetarian diet.
His hobbies include travelling, writing, and watching cricket. Travelling, Writing, watching cricket
The 3 best things which Abhishek likes doing a lot are –Connecting with people, Storytelling and spending time with family.
He lives to live a very healthy life. He daily follows a nice exercise routine and doesn't eat after sunset at home which is also according to the Jain religious practices.
His Instagram ID is theiimguy, and his YouTube channel is The IIM Guy.
He considers Harsha Bhogle and Shah Rukh Khan his role model.