Madhu Kishwar is an Indian academic, author and commentator. She is the co-founder and editor of Manushi: A Journal about Women and Society.
Wiki/Biography
Madhu Purnima Kishwar was born on Friday, 6 April 1951 (age 72 years; as of 2023) in Delhi. Her zodiac sign is Aries. Madhu did her schooling in a convent school. Madhu Kishwar finished her Bachelor of Arts and Master of Arts at the Miranda House, University of Delhi, where she was Student Union President and part of the NCC for 6 months. She has also done her Master of Philosophy from the Jawaharlal Nehru University in Delhi. In the early 1990s, Madhu Kishwar was an anchor, editor, scriptwriter and investigative reporter for the Newswatch program which was telecast at prime time by Doordarshan. Madhu worked as a lecturer at the Satyawati College, University of Delhi, from 1973 to 1987. From 1988 to 2o00, Madhu was a Reader at the Satyawati College, University of Delhi. From 2001 to 2016, Madhu Kishwar was a Professor at the Centre for the Study of Developing Societies in New Delhi, where she directed the Indic Studies Project. In 1979, Madhu Kishwar co-founded Manushi: A Journal about Women and Society and has been an editor for the magazine since then. She has also been a National Professor at the Indian Council for Social Sciences Research in New Delhi, since 2017. [1]LinkedIn
Physical Appearance
Height (approx.): 5′ 2″
Hair Colour: Black
Eye Colour: Black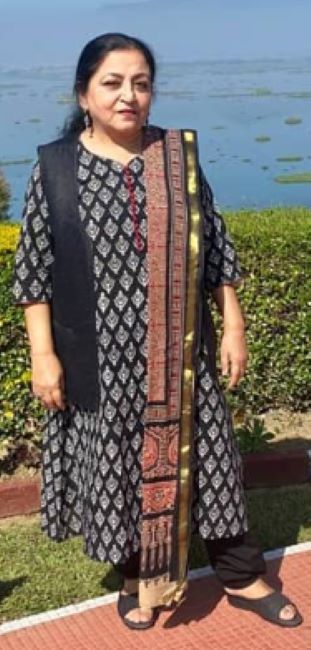 Family
Madhu Kishwar's family are refugees from present-day Pakistan due to the partition. Madhu's father's family came from Lahore, and her mother's came from Peshawar and Rawalpindi. They travelled to Delhi as refugees after being forced out of their homelands due to massacres targeting Hindus. [2]JSTOR
Parents & Siblings
Her father's name is K. L. Kishwar (deceased). Madhu has two brothers named Aditya and Vikram.
Religion/Religious Views
Madhu Kishwar follows Hinduism.
Address
C-174, Lajpat Nagar I, New Delhi, 110024.
Career
Fellowships
In 1989, she was a fellow at St Antony's College, Oxford, England, United Kingdom. She was a Rama Watumull Distinguished Scholar at the University of Hawaii at Manoa, Hawaii, United States in 1991. In 1995, she was a Fellow at the National Centre for South Asian Studies in Melbourne, Victoria, Australia. She was a Fellow at the Centre for the Study of Developing Societies in New Delhi from 1991 to 1997.
Manushi
Madhu Kishwar and Ruth Vanita co-founded the magazine Manushi: A Journal about Women and Society in 1978.
The magazine focuses on feminism, gender studies and activism in India, and also publishes novels and short stories with more general subjects. Manushi also publishes articles related to women's struggles all over the world, especially in various South-Asian countries such as India, Pakistan, Nepal, Bangladesh and Sri Lanka. Madhu Kishwar and other editors' aim with the magazine is to cover stories that do not make it to the English-dominant media avenues. Manushi's main goal is to help find solutions to India's economic, political, and social problems by conducting thorough research, remaining impartial, engaging with the people affected, and taking culturally sensitive and informed actions. Manushi looks for practical and creative ideas to address contemporary challenges without being tied to rigid ideologies. The Manushi Trust was established in 1979 to support the publication of the magazine. The Trust was established as Madhu Kishwar, who is the founder and managing trustee, decided not to accept money from foreign sources or government grants to maintain the journal's independence and freedom. The Manushi Trust also publishes books, produces documentary films, and carries out various activities, including legal assistance and public interest litigation (PIL), using the funds generated from sales and subscriptions.
Author
Madhu Kishwar has authored several books, papers and articles. She focuses on subjects such as gender, religion, politics, law, and culture. Madhu Kishwar has written academic papers such as The Women's Movement in India (1986), Gandhi on Women (1986), Laws Against Domestic Violence: Underused or Abused? (2000), and Codified Hindu Law: Myth and Reality (2015) etc. She is an author on the Economic & Political Weekly, and The Economic Times where she has a devoted section named the Madhu Purnima Kishwar Blogs. Madhu Kishwar is the author of several books including In Search of Answers: Indian Women's Voices co-authored by Ruth Vanita in 1984, Women Bhakta Poets: Manushi (1989), The Dilemma and Other Stories co-authored by Vijaydan Detha in 1997, Religion at the Service of Nationalism and Other Essays (1998), Off the Beaten Track: Rethinking Gender Justice for Indian Women (1999), Deepening Democracy: Challenges of Governance and Globalization in India (2005), Zealous Reformers, Deadly Laws: Battling Stereotypes (2008), Modi, Muslims and Media: Voices from Narendra Modi's Gujarat (2014), and The Girl from Kathua: A Sacrificial Victim of Ghazwa-e-Hind (2023).
Documentaries 
Madhu Kishwar has made documentary films such as "Dahej: Majboori ya Zaroorat? 1996", which is a documentary on dowry, "उदारीकरण: केवल ऊपर का उदार? The livelihood battles of our Nano Entrepreneurs", which was telecast in 1997, and "मेरा भारत परेशान, A Documentary Film on the Farm Policy of India".
Controversies
Madhu Kishwar & Others vs. State Of Bihar & Others on 17 April 1996
A challenge was made by Madhu Kishwar to specific provisions of the Chota Nagpur Tenancy Act of 1908, which stated property inheritance was to go to male members of the family. The argument from Madhu Kishwar was that these provisions discriminate against women and violate the Constitution's equality clause. Initially, there was a suggestion that the State of Bihar might amend these provisions. However, it later became clear that the local tribal community preferred to maintain their existing customs. The court acknowledged the constitutional rights of scheduled tribe people and the need to protect their inheritance rights. They also recognized the importance of preserving tribal customs and property within the community. The court didn't make a final judgment but instead asked the State of Bihar to reevaluate the matter. The court provided relief to female dependents by suspending the exclusive male succession right in cases where females depend on the land for their livelihoods. It also directed the State of Bihar to comprehensively examine the issue, considering possible amendments while respecting the cultural and customary practices of tribal communities. [3]Indian Kanoon
Defamation Case
A complaint was filed against Madhu Kishwar based on her tweets against Kashmir's media. Her tweets were labelled as defamatory, and the case was filed by Syed Shujaat Bukhari, editor of Rising Kashmir. Kishwar had approached the Supreme Court to transfer the defamation case from Srinagar to Jammu due to safety concerns, but her request was denied by the high court. When Kishwar had failed to appear in Court, a non-bailable warrant, issued by a trial court in Srinagar, was set out for her arrest. The Supreme Court in New Delhi cancelled the non-bailable warrant (NBW) against her. The Supreme Court's order allowed Kishwar to participate in the Srinagar court proceedings through video-conferencing from a Delhi court. [4]The Indian Express
Misinformation Case
Madhu Kishwar and four others in Uttar Pradesh were booked in Uttar Pradesh by the Saharanpur Police. They were accused of spreading misinformation by sharing a video on social media about a sensitive incident from 2017 which claimed that a Muslim person was hit by a vehicle carrying Hindu devotees during the Kanwar Yatra pilgrimage, suggesting that the devotees did it on purpose. The police clarified that the incident happened in 2017, and they had already taken action. They said the video was misleading and false and the accused were asked to delete it. Since Kishwar and the others didn't remove the post, they had been charged under Sections of the Indian Penal Code related to spreading rumours with the intent to incite a class or community and using the internet for foul purposes under the Information Technology Act. Madhu Kishwar is known to often spread misinformation and post content about Muslims on social media that fact-checkers have found to be incorrect. [5]The Wire
Fake News against Riteish Deshmukh 
Madhu Kishwar accused actor Riteish Deshmukh and his brother Amit of wrongly getting a farmer's loan waiver worth Rs 4.70 crore. Kishwar shared details of the loan waiver on Twitter. People criticized Riteish for the same, but he clarified that he and his brother hadn't availed of any such loan, and it was false information. Riteish called her out on spreading misinformation, and Kishwar acknowledged her error and apologized to Riteish, mentioning that she had been misled by someone she trusted. [6]IBTimes India
@Riteishd ji, an otherwise reliable Mumbai friend sent me that info. Knowingly,I never publish misleading info even against someone I may hate.Sorry,in this case I was misled. From now on, won't trust even good friends on SM matters. Sincere apologies.BTW I admire your acting https://t.co/30aa2DTqvb

— Madhu Purnima Kishwar (@madhukishwar) December 3, 2019
Fake News on Anti-India Islamic Rally, 2020
Madhi Kishwar uploaded a video on her Twitter account about an Islamic rally suggesting that the rally was anti-India. The video was of a rally that took place in Bangladesh and was passed off as one taking place in Kolkota by Madhu Kishwar. In the video, a song was played in the background with the lyrics "Hindustan (India) will not find its place because it has taken a stand against Islam…". However, the lyrics, which were in Bengali, were in reference to Bangladesh and its several flags. The Kolkota Police marked the video as Fake News and stated that legal action was being initiated against Madhu Kishwar. The Kolkata Police registered a First Information Report against Madhu Kishwar. [7]Hindustan Times
#FakeNewsAlert
A video clip from Bangladesh is being falsely claimed to be from Kolkata. Legal action initiated. pic.twitter.com/FcL1LP12Ln

— Kolkata Police (@KolkataPolice) November 9, 2020
Awards, Honours, Achievements
Madhu Kishwar received the Order of Human Rights from the All India Sikh Conference in 1985.
Mashu Kishwar received the Chameli Devi Jain Award for Best Woman Journalist of the Year from the Media Foundation, New Delhi in 1986.
Madhu Kishwar received the Haldi Ghati Award for Outstanding Journalist of the Year from the Rana Mewar Foundation, Udaipur in 1993.
Madhu Kishwar received the Prabha Puruskar for "distinguished service to the cause of women" from the Keshav Smarak Sansthan, Lucknow in 1997.
Madhu Kishwar received the Vidula Samman instituted by Vikas, An Institution Dedicated to the Cause of Education and Knowledge, Calcutta in 1998.
Madhu Kishwar received the Deshasnehi Award from the India Development Foundation, Bangalore in 1998.
Madhu Kishwar was awarded by the Indians for Collective Action, USA for strengthening the rights of urban self-employed poor in 2009.
Facts/Trivia
Madhu Kishwar has a YouTube channel named Manushi India, which has 105k subscribers as of 2023. The channel tackles topics such as the social, political and cultural climate of India.
Madhu Kishwar is very active on her Twitter account which has about 1.9 million followers as of 2023.
Madhu Kishwan appears to be a big fan of Prime Minister Narendra Modi and has even written a book on him named Modi, Muslim and Media. However, she also criticises PM Modi.
I dont hate Modi.
I am not his enemy.
But his pampering of enemies of India is distressing https://t.co/CA44779Vl3

— Madhu Purnima Kishwar (@madhukishwar) February 25, 2023