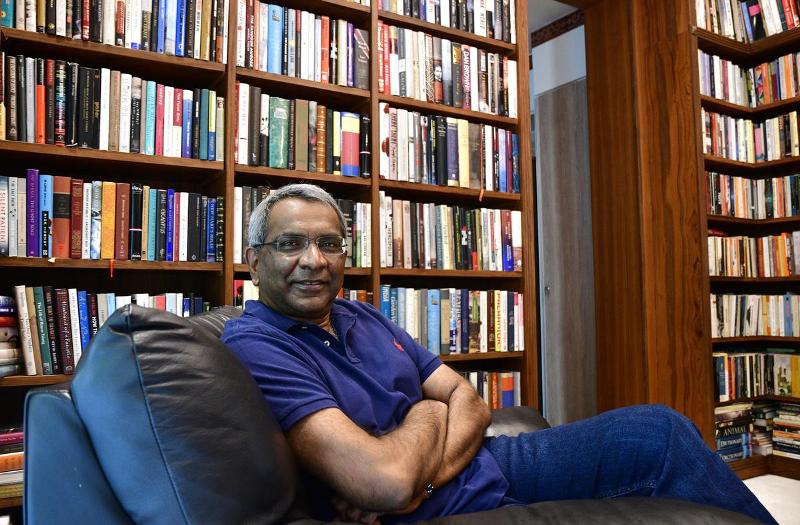 David Davidar is an acclaimed Indian novelist and publisher who is recognised for his notable writings in 'The House of Blue Mangoes' (2002), 'The Solitude of Emperors' (2007), and 'Ithaca' (2011).
Wiki/Biography
David Davidar was born on Friday, 27 September 1958 (age 64 years; as of 2023) in Nagercoil, Kanyakumari district, Tamil Nadu. His zodiac sign is Libra. He completed his schooling at Sainik School in Amaravathinagar, Tiruppur district. In 1979, David attained his BSc degree in botany from Madras Christian College. After 5 years in 1985, he completed his diploma in publishing at the Radcliffe Publishing Procedures Course, at Harvard University. Having no background in publishing and writing, young David's interest in reading was developed by his grandfather, and eventually, reading led him to the work of writing.
Family
Parents & Siblings
David Davidar's father was a tea planter and his mother was a teacher. David Davidar has only one sibling, a sister, Ruth Swamy, who is a dietician and nutritionist.
Wife & Children
David Davidar got married to Rachna Singh, a bookseller, in 1997. Rachna Singh used to work at her family-owned bookstore, The Bookshop, in New Delhi. Apart from this, she also worked at various bookstores in Canada, like Nicholas Hoare, McNally Robinson, and Ben McNally Books. They don't have any children together.
Relationships/Affairs
In 2005, David Davidar was in a romantic relationship with a colleague, Lisa Rundle. While David Davidar was working at Penguin Publishing House, both of their offices were next to each other, which developed their friendship. David and Lisa used to spend a considerably good amount of time with each other by playing tennis together, attending tournaments, going out on meals, and exchanging gifts. Everything went well between both of them until 2010, when things went downhill for their affair. [1]Outlook
Career
Journalist
In his mid-twenties, as soon as graduating from college, David moved to Bombay to pursue journalism. David Davidar got his first job in 1979 when he joined the journalism industry with the Bombay-based activist magazine 'Himmat,' which was founded by Mahatma Gandhi's grandson Rajmohan Gandhi. David later joined the features magazine 'Keynote' which is renowned for featuring speakers, events, and feature editorials. In the 1990s, David Davidar also worked as a columnist with the Indian daily newspaper 'The Hindu.' His last job in the journalism department, before becoming a full-time writer was as an Executive Editor with the English Language Literary Magazine 'Gentleman'. David Davidar was well acquainted with editing and rewriting. David Davidar holds multiple articles and book reviews under his name for magazines and newspapers in India, US, and UK.
Author
David Davidar's first published novel is 'The House of Blue Mangoes' (2002), a book mainly about David's own family. The book was based on India's situation in the late 19th Century when caste divisions and discriminations were active evils along with the struggles during the independence wars. The novel carries with it the hurt of many generations, which awakens a sense of patriarchy amongst its readers. It took 12 years for David to complete the writing of this book, which covers 50 years of South Indian history. 'The House of Blue Mangoes' was an international best-seller and was also translated into 16 languages. Famous international newspapers like 'The New York Times,' London's 'Sunday Times,' and 'San Francisco Chronicles' made positive remarks and appreciated the book on the global front.
David Davidar published his second novel, 'The Solitude of Emperors' (2007), an insightful text about David's experience as a journalist in modern India, its beliefs, and the battles with modern society. The moving nature of the book is all about the pleas of people during the tough times of colonialism. Communal violence was a subject for David that didn't require any kind of gimmickry. 'The Solitude of Emperors' was widely praised and was nominated for the Commonwealth Writers Prize.
David Davidar published his third novel, 'Ithaca' (2011), which provides a deeper understanding of the industry of journalism and a journalist's mind. It was positively reviewed by the famous newspaper 'The Hindu' for its real depiction of the publishing industry. David Davidar published his anthology, a mere collection of short stories, 'A Clutch of Indian Masterpieces: Extraordinary Short Stories from the 19th Century to the Present,' in 2015. The book comprises a total of 39 short stories of different writers which were widely acclaimed throughout the world. The text is full of different themes, such as humour, horror, fantasy, romance, and much more. It is also labelled as one of the best works of Indian Literature. David Davidar published his 5th book under Aleph Book Company, an anthology, 'A Case of Indian Marvels: Dazzling Stories from the Country's Finest New Writers,' in 2022. This text features near about 40 short stories written by prominent millennial and Gen Z writers. The different subjects of this book are sex, LGBTQ, sexuality concerns, and so on. The future of fiction in India excited David which encouraged him to work on this project.
Publishing House
David Davidar was appointed as one of the founding members of Penguin India in 1985. At the age of 26, he became the very first editor of Penguin India. David later edited and published some of the famous writers of India such as Ruskin Bond, Arundhati Roy, Kiran Desai, Khushwant Singh, and so many more. When David moved to Canada, he was appointed as the CEO of Penguin International, which includes India, Africa, the Middle East, and Canada. In 2011, David Davidar, in partnership with the owners of Rupa Publications (R. K. Mehra and Kapish Mehra), founded an Indian Publishing Company, Aleph Book Company. Situated in New Delhi, the publishing house publishes both fiction and non-fiction. Under the company's name, David has published works of famous names like Vikram Seth, Shashi Tharoor, Upamanyu Chatterjee, Shobhaa De, Kiran Desai, and more.
Controversy
Accused of Sexual Assault
In 2010, a dismissed employee of Penguin, Lisa Rundle, who also had an affair with David Davidar, filed a $423,000 lawsuit against the company for her unjustified dismissal from the company. A separate lawsuit of $100,000 was filed by Lisa Rundle against David Davidar for 'sexual harassment' and 'sexual assault.' The suit was later settled out of court as David Davidar claimed for everything to be consensual. Even though the case was settled, David had to voluntarily step down from his position as CEO of Penguin Canada, and return to India with his wife to focus on his writing career. [2]NDTV.com
Favourites
Sport(s): Tennis and Swimming
Facts/Trivia
David Davidar published short stories and poems in magazines and newspapers before writing and publishing his first novel, 'The House of Blue Mangoes' in 2002.
There is a homestay named after David Davidar's first novel, 'The House of Blue Mangoes' in Pondicherry.
David Davidar loves Bengali literature and enjoys reading the work of Bengali writers.
David Davidar was inspired by J. M. Coetzee, the South African-Australian novelist, and George Orwell while writing his second novel, 'The Solitude Of Emperors.'
David Davidar was also the CEO of Pearson, India in 2023. He served the position for one year.
David Davidar's publishing firm has won the Publisher of the Year Award twice at Publishing Next Industry Awards 2022. [3]

News Click