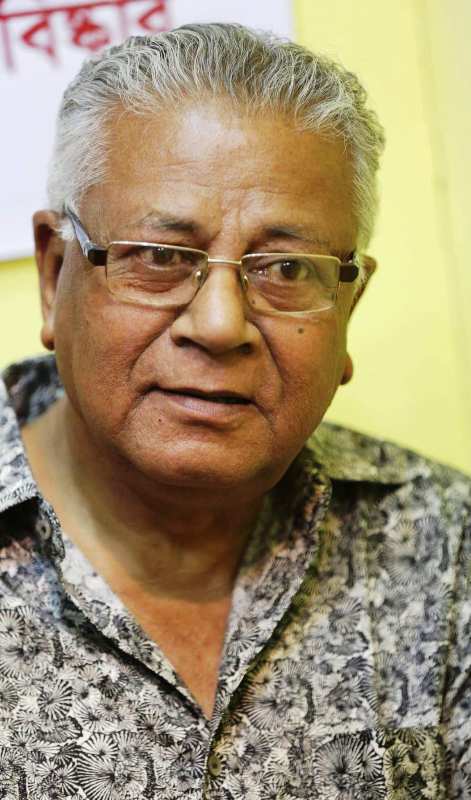 Samaresh Majumdar (1944-2023) was an Indian writer who is well known for writing many famous Bengali novels including Jutay Rakter Daag (1989), Din Jay Rat Jay (1993), and Agniratha (2000). He gained popularity after writing Uttoradhikar (The Inheritance), Kalbela, and Kalpurush (A Man of Our Time) between 1979 and 1989; the novels were a part of the political quartet titled Animesh Series. He received the Sahitya Akademi Award in 1984 and the Banga Bibhushan Samman in 2018 for his work in the field of literature. Samaresh passed away on 8 May 2023 in Kolkata, West Bengal, at the age of 79.
Wiki/Biography
Samaresh Majumdar was born on Friday, 10 March 1944 (age 79 years; at the time of death) in Jalpaiguri, Bengal Province, British India (now West Bengal, India). His zodiac sign is Pisces. He spent his childhood in Duars, Jalpaiguri, where he completed his schooling at the Jalpaiguri Zilla School.
Thereafter, Samaresh relocated to Calcutta (now Kolkata), where he enrolled at the Scottish Church College (SCC) and pursued a bachelor's degree in arts in Bengali literature. Thereafter, he earned a master's degree in arts in Bengali literature at the University of Calcutta. [1]Business Standard In 1967, Samaresh wrote an article for the Bengali magazine Desh, which was later adapted into a play.
Family
Samaresh Majumdar was born into a Hindu Bengali family in West Bengal.
Parents & Siblings
There is not much information about his parents and siblings.
Wife & Children
Samaresh Majumdar was married and is survived by his two daughters, Doel Majumder, and Parama Majumdar.
Address
He resided at House number 64D, Shampukur Street, Shyambazar, Kolkata – 700004, West Bengal, India.
Signature/Autograph
Career
Samaresh Majumdar wrote his first novel Dour (Run) in 1967, which was published by Desh, a renowned literary magazine in Bengal in 1976.
Between 1979 to 1989, Samaresh published three books titled Uttoradhikar, Kalbela (1981), and Kalpurush under a series titled Amritesh. The series was based on the rise of the Naxalite movement in West Bengal in the 1960s and the 1970s. For the book Kalbela, Samaresh received the Sahitya Akademi Award in 1984. Goutam Ghose directed a 2009 Bengali film titled Kaalbela, which was based on the novel Kalbela.
In 1983, Samaresh penned Khutimari Range, the first book under the fictional detective series Arjun. In the series, Samaresh went on to publish more than thirty books including Kalimpong e Sitaharan, Chandigarh e Gandogol, Arjun Samagra (1-6), and Arjun Ebang Chinese Cigarette.
In 2013, he published Mousholkal, the fourth book under the Amritesh series. In 2014, Buno Haansh, a Bengali film based on his novel Buno Haansh, was released. Later, he authored Satkahan, whose character Dipaboli gained popularity amongst the readers. Samaresh Majumdar published many books including Lokkhir Pachali, Showar, Haramir Hatbaksho, Ora Ebong Oder Maera, Buker Bhetor Bangladesh, Panchti Rahasya Upanyas, Bondinibash, and Kosto Kosto Sukh.
Awards & Honours
In 1982, Samaresh Majumdar received the Ananda Purashkar from the ABP Group.
In the same year, he won the Bengal Film Journalists' Association Award under the Best Script Writer category.
In 1984, Samaresh won the Sahitya Akademi Award for the book Kalbela (1981). The award was presented to him by India's National Academy of Letters, Sahitya Akademi.
In 2009, he received the Bankim Puroshkar from the Government of West Bengal for the novel Kolikataye Nobokumar.
In 2015, the North Bengal University conferred a D.Litt. degree on Samaresh Majumdar.
In 2018, Samaresh Majumdar won the ABP Ananda Sera Bangali Award.
In the same year, he was honoured by the Government of West Bengal with the Banga Bibhushan Samman.
In 2018, he was given the Best Bengali Award by ABP.
Death
Samaresh Majumdar passed away on the evening of 8 May 2023 at the Apollo Hospital in Kolkata. According to the hospital staff and his family, Samaresh was diagnosed with Chronic Obstructive Pulmonary Disease (COPD) more than twelve years ago. He was admitted to the hospital on 25 April 2023 due to internal bleeding in the brain leading to a haemorrhage. The haemorrhage led to a stroke as well as a speech and swallowing impairment (bulbar palsy), which ultimately impacted his breathing. As his condition deteriorated, he was put on a ventilator; however, he could not recover from it and passed away at the age of 79 due to a cardiac arrest. [2]The Daily Star Following Samaresh's passing, Doel Majumdar, his daughter, said in an interview,
My father is no more. He left us in the evening. His condition has improved a lot in the last two or three days. We were also very optimistic. But today he had a major cardiac attack. He did not return from there. Father's body will be kept for a while tomorrow morning at Shyampukur's house. After that, it will be taken to Balighat for the last rites."
Facts/Trivia
His name is also spelt as Samares Mazumdar.
According to his friends, Majumdar was interested in acting. He had directed and written the script for numerous plays and stage shows.
Reportedly, before beginning his career as an author, Samaresh Majumdar worked in the Income Tax Department in West Bengal.