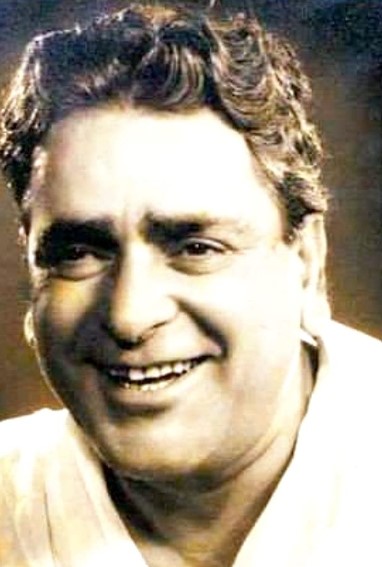 Prithviraj Kapoor (1906 – 1972) was a prominent Indian filmmaker and actor. His name is listed among the founding figures of Hindi cinema. In 1943, the Indian People's Theatre Association was founded, and he was one of its founding members. He established the Prithvi Theatre, famous as a travelling theatre company, in Bombay in 1944. The root of the Kapoor family in Bollywood is Prithviraj Kapoor. He was the recipient of the Padma Bhushan award and the Dadasaheb Phalke award by the Government of India.
Wiki/Biography
Prithviraj Kapoor was born on Sunday, 3 November 1906 (age 65 years; at the time of death) in Samundri, Punjab, British India (present-day Punjab, Pakistan). His zodiac sign was Scorpio. Soon after completing his school education, he joined the Edwardes College in Peshawar, Pakistan to pursue a bachelor's in arts degree. He was born and brought up in an extended family. His father used to work in Samundri in Punjab as a sub-inspector with the British police, which transferred his father to Peshawar in the North-West Frontier Province after a few years of Prithviraj's birth. Soon after his father's transfer, the whole family shifted to Peshawar where Prithviraj attended the Edwardes College in Peshawar, Pakistan for higher education. [1]Hindustan Times He joined a law degree course for one year to become a lawyer; however, he quit his studies to pursue his interest in theatre.
Physical Appearance
Height (approx.): 5′ 7″
Hair Colour: Black

Eye Colour: Black

Family
Parents & Siblings
His father's name is Basheshwarnath Kapoor, and his mother's name is Vaishno Devi. The couple had three sons, and two of their sons died at a very young age. Prithviraj is the third and only son of Basheshwarnath Kapoor from his first wife. Basheshwarnath Kapoor married twice and had four sons named Trilok, Amar, Ram, Vishi, and three daughters named Kailash, Prem, and Shanta from his second wife.
The popular Bollywood actor Trilok Kapoor was his younger brother.
The noted Bollywood actors and producers Anil Kapoor, Boney Kapoor, and Sanjay Kapoor are his nephews and the sons of his cousin of Surinder Kapoor.
Wife & Children
In 1923, Prithviraj Kapoor got married to Ramsarni Kapoor. The couple has three sons named Raj Kapoor, Shammi Kapoor, and Shashi, Kapoor. They have a daughter named Urmila Sial Kapoor.
Prithviraj Kapoor was 17 years old and Ramsarni Mehra was 15 years old at the time of their marriage. It was an intra-community marriage, which was arranged by their parents by following Indian traditional ceremonies. It is said that their marriage was fixed by their parents in their childhood, but was officially held with a 'Gauna' ceremony when Ramsarni attained the age of fifteen and became old enough to leave the house of her parents. The couple parented their first child Raj Kapoor on 14 December 1924 in Peshawar, the North-West Frontier Province. Prithviraj Kapoor became a father of a child at the age of eighteen. In 1927, Prithviraj Kapoor, who was the father of three children at this time, shifted to Bombay from Peshawar. In 1930, he called his wife, who was pregnant with her fourth child, and three children to Bombay. In the same year, two of their sons died within a gap of one week. His elder son, whom they named Devinder or Devi, died of double pneumonia, and the other one, whom they named Binder or Bindie, died after swallowing the rat-poison pills that the couple had scattered in their garden area. Later, the couple gave birth to three children named Shamsher Raj or Shammi Kapoor, Balbir Raj or Shashi Kapoor, and a daughter named Urmila Sial who got married to a coal mine owner from Nagpur named Charanjit Sial at a very young age. Urmila and Charanjit Sial have three daughters named Anuradha Sial, Priti Sial, and Namita Sial, and a son named Jatin Sial.
Caste
Prithviraj Kapoor belonged to a Punjabi Hindu Khatri family in Lyallpur, Punjab Province. [2]Bengali Cinema: 'An Other Nation'
Career
Films
When he was a teenager, he began performing in the theatres of Lyallpur and Peshawar and initiated his acting career. In 1928, he decided to shift to Bombay from Peshawar to pursue his dreams of acting and took a loan from his aunt for the same. Soon after he reached Bombay, he became a part of the Imperial Film Company and started appearing in a few Hindi movies in minor roles. In the same year, he rose to prominence when he appeared in the film of the year 'Be Dhari Talwar' in a side role. He was then cast in the film Cinema Girl as a lead actor in 1929. Thereafter, he went on to appear in 9 silent Hindi films including Sher-e-Arab and Prince Vijaykumar. In 1931, he worked in a supporting role in India's first talkie film, Alam Ara. In 1937, his work was acclaimed nationally in the film Vidyapati. His acting skills and performance were highly appreciated in Sohrab Modi's film Sikandar as Alexander the Great.
Thereafter, he joined the grant Anderson theatre company, which was considered an English thetical company of that time. However, the company was uprooted from Bombay within a year. Gradually, Prithviraj Kapoor started appearing in enormous stage plays and on screen, which earned him the prestige of a very fine and versatile actor.
Prithvi Theatre
Prithviraj Kapoor founded his own theatre group named Prithvi Theatre in 1944.
His eldest son Raj Kapoor started directing and producing Hindi films by the year 1946, and Prithviraj Kapoor started keeping himself involved in many theatre plays, which were organised by him to inspire the young people of India to participate in the Indian independence movement and the quit India movement. The 'Prithvi Theaters' staged more than 2662 performances after sixteen years of its initiation, and Prithviraj Kapoor used to appear in a leading role in almost every show. One of its most popular stage plays was 'Pathan,' which was staged continually nearly 600 times in Mumbai on public demand in 1947.
The period of travelling theatre was replaced by Hindi cinema in the 1950s. With the passage of time, many theatre groups started shifting toward cinema as it became a feasible and less costly way to earn money. On the other side, the ticket sales of theatre groups rapidly started declining. This factor also affected the position of Prithviraj theatre, whose fine actors, producers, directors, and technicians began shifting to Indian cinema. His sons too started investing in Hindi movies. In his late fifties, Prithviraj Kapoor quit appearing in theatre plays and began working as an actor in Hindi movies, which were to him by his own sons. He was cast in the film Awara in 1951 and the director of the film was his son Raj Kapoor.
In 1960, Prithviraj Kapoor worked in the film Mughal-e-Azam as the Mughal emperor Akbar, and his performance in this film is considered as the most remarkable performance of his career.
He then appeared in a lead role in the film Harishchandra Taramati in 1963. He appeared as a grandfather in the movie Kal Aaj Aur Kal in 1971 along with his son and grandson Raj Kapoor and Randhir Kapoor, respectively. During his career in Hindi cinema, he contributed a lot of films to Punjabi cinema too. He appeared in many popular Punjabi movies such as Nanak Nam Jahaz Hai (1969), Nanak Dukhiya Sub Sansar (1970), and Mele Mittran De (1972).
In 1971, Prithviraj Kapoor appeared in the Kannada movie Sakshatkara, which was directed by Puttanna Kanagal. Later, the Prithviraj Theatre was merged with an Indian Shakespeare theatre company named "Shakespeareana" by his son Shashi Kapoor and his wife Jennifer Kendal and was inaugurated on 5th November 1978 in Mumbai.
Politics
From 3 April 1952 to 2 April 1960, he served as the Rajya Sabha Member from the Bombay constituency.
Awards, Honours, Achievements
In 1954, he earned the Sangeet Natak Akademi Fellowship from the Indian Sangeet Natak Akademi. In 1956, he was honoured with the Sangeet Natak Akademi Award by the Sangeet Natak Akademi. In 1969, he was felicitated the Padma Bhushan by the Government of India. In 1972, he was honoured with the Dadasaheb Phalke Award (Posthumous) for the year 1971 for his immense contribution to the Hindi theatre and cinema. After receiving this award after his death, he became the third person in India to receive this award, which is regarded as the highest honour in Indian cinema.
Death
On 29 May 1972, he died in Bombay, Maharashtra, India (present-day Mumbai) at the age of 65 years after battling a long with cancer. His wife also died of cancer, fifteen days after his death. Later, the family members of Prithviraj Kapoor founded a memorial in his memory at their farmhouse named "Rajbaugh," which is situated on the side of the Mula-Mutha River in Loni Kalbhor village of Pune in Maharashtra. Reportedly, Prithiviraj used to shoot films on this farm. These films include Satyam Shivam Sundaram, Mera Naam Joker, Bobby, and Prem Rog. According to some media sources, his residential bungalow was preserved after his death. One of the most popular songs of Hindi cinema "Hum Tum Ek Kamre Mein Band Ho" from the film Bobby was shot by Prithviraj Kapoor in 1973.
Facts/Trivia
Soon after the marriage of Prithviraj Kapoor and Ramsarni, her brother, Jugal Kishore Mehra, started receiving opportunities to work in Hindi cinema.
In 1951, his father, Basheshwar Nath Kapoor, appeared in the film 'Awara' and played a short role in the movie, which was directed by his grandson, Raj Kapoor.
Once, in a media conversation, the veteran Indian actor Anil Kapoor stated that initially, when he shifted to Mumbai along with his family members in search of work then he stayed at Prithviraj Kapoor's garage for a few years and later, moved to a chawl in Mumbai and lived in a rented room for a long time.
In 1996, during the Golden Jubilee year of Prithviraj Theaters, the Government of India issued a special 2 rupees postage stamp to honour his contribution to Indian cinema. The picture of Prithviraj Kapoor and the logo of his theatre was featured on the postage along with the dates 1945 to 1995.
On 3 May 2013, on the occasion of 100 years of Indian cinema, the India Post and the Government of India issued a postage stamp featuring an image of Prithviraj Kapoor.
Prithviraj Kapoor started living in a cottage called Prithvi Jhonpra, which was built by him near Juhu Beach in West Bombay after taking superannuation from the Hindi film industry. His son Shashi Kapoor bought this cottage after the death of Prithviraj Kapoor and later, transformed it into a small experimental theatre and named it Prithvi Theatre.
Prithviraj Kapoor was proficient in Punjabi, Hindi, and Hindko languages.
According to Shammi Kapoor, during the shootings of the films, his father, Prithviraj Kapoor, used to get deep into the character to make it perfect and real. In an interview with a media house, Shammi Kapoor stated that Prithviraj always obeyed the script and the director. One of the incidents remembered by Shammi Kapoor during the conversation was a scene from the film Mughal-e-Azam in which Prithviraj Kapoor stood barefoot on the hot sand to shoot the scene and got blisters later on. He recalled,


In the war scenes, he uncomplainingly wore the real iron armour that was so heavy. During the sequence when Akbar walks to Ajmer Sharif to pray for a son, my father actually walked barefoot in the desert sun, and his soles were full of blisters."

Shammi Kapoor continued by saying that during the shooting of an anger scene in the film Mughal-e-Azam for the song 'Jab Pyar Kiya To Darna Kya,' Prithviraj did not apply glycerine and turned his eyes red with rage naturally. Shammi said,

During Madhubala's defiant song Jab Pyaar Kiya, the emperor's eyes turn red with rage. My father did that sequence without glycerine. I recall Asif saab telling him to take his time and watched my father grow into that mood and his eyes turning red."