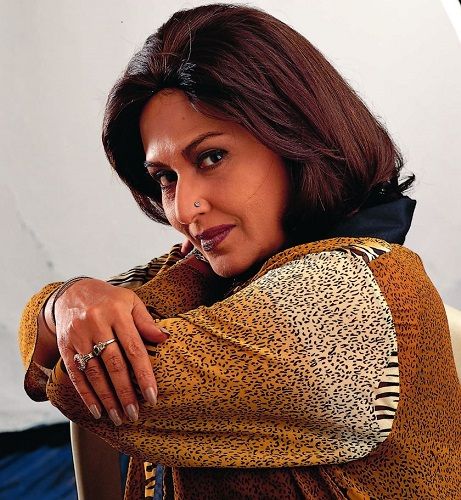 Anju Mahendru is an Indian film & television actress and fashion designer. She was in a long-term on-and-off relationship with the legendary Indian actor Rajesh Khanna.
Wiki/Biography
Anju Mahendru aka Anju Mahendroo [1]Bollywood Shaadis was born on Friday, 11 January 1946 (age 76 years; as of 2022) in Dehradun, Uttarakhand. [2]Miss Malini According to some sources, she was born in Mumbai, Maharashtra. Her zodiac sign is Capricorn.
Physical Appearance
Height (approx.): 5′ 2″
Hair Colour: Salt & Pepper (dyed black/brown)
Eye Colour: Brown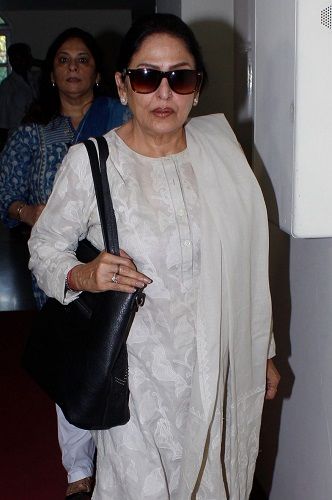 Family
Parents & Siblings
Her mother's name is Shanti Mahendroo. She has an elder sister named Anu Mahendroo.
Husband & Children
Anju was married to an Indian businessman named Imtiaz Khan.
Other Relatives
The legendary Indian music director Madan Mohan was her maternal uncle.
Relationships/Affairs
Rajesh Khanna
In 1966, the rumours of her relationship with the popular Indian actor Rajesh Khanna started. At that time Anju was a struggling actor while Rajesh Khanna had appeared in a few Hindi films. The rumoured turned out to be true when people spotted Rajesh Khanna's red-coloured car in the parking lot of her apartment. Soon, the duo started making public appearances together. Rajesh even gifted a bungalow to Anju. Later, they moved into a live-in relationship. Everything was going well between the two until Rajesh started getting over possessive about Anju. Even when he was shooting for his films, he used to call Anju to check whether she was at home or not. Soon, his behaviour started affecting Anju mentally. During an interview, while talking about it, Anju said,
He is a very orthodox man, yet somehow, is always attracted to ultra-modern girls. Confusion was a part of our relationship. If I wore a skirt, he'd snap, why don't you wear a sari? If I wore a sari, he'd say, why are you trying to project a Bhartiya nari look?"
During an interview, when Rajesh was asked about the same, he said,
Often after a hard day at the studios, I'd return home to find a note saying that she had gone to so-and-so's party…Or when I would drop in tired and lonely, at her house, I would find her entertaining friends…I'd want to spend evening alone with her. Sometimes I used to ask Anju to spend time with my mother but she didn't want to make the effort. Yes, I didn't want Anju working in films. But what career did she sacrifice for me? Those two bit roles…Where would those stray roles have taken her?"
Then, the phase came when Rajesh's films were getting flopped which affected his personal life as well. Rajesh even started realising that Anju never talked about their relationship in public. In an interview, while talking about it, Anju said,
It was getting difficult day by day to understand Rajesh Khanna. His flop films had disappointed him. He was also very moody and was under a lot of tension all the time. To me he was Jatin or Justin, a man I loved, not Rajesh Khanna, a Superstar or The Phenomenon. As much as I could, I had submerged my individuality, my personality, my identity into his, to make him happy. He wanted me to give up modelling at a time when I was paid very highly, I did. He wanted me to quit acting so he made me get out of a film with Sanjeev Kumar. I was keen on a film career but Rajesh came first to me."
One day, they had a major fight after which they stopped talking to each other and started living separately. Anju then started dating the West Indies cricketer Garfield Sobers. Later, she broke up with him and returned to Rajesh Khanna. When Rajesh got to know about Anju's affair, he got very upset. He then met the Indian actress Dimple Kapadia while he was travelling in a chartered plane. At that time, Dimple was not an actress. Their seats were next to each other and from there they started their conversation. Rajesh and Dimple then started meeting more often. Soon, the rumours of Rajesh and Dimple's affair started in the media. When Anju got to know about the affair, she confronted Rajesh, but he said they were good friends. A few days later, Rajesh organised his birthday party at his home and asked Anju to prepare the list of guests. Anju deliberately excluded Dimple Kapadia and her (Dimple's) father's name from the list. When Rajesh got to know that Dimple's name was not on the guest list, he personally invited Dimple and his father to the party. In an interview in 1973, while talking about Dimple, Anju said,
Dimple was a clever girl. She first call me Anju aunty and him as Rajesh uncle. She then started taunting me acting innocently."
At the party, Anju taunted Dimple, and when Rajesh got to know about this, he got very upset. By that time, Rajesh and Anju had realised that it was time to end their relationship. Rajesh then started spending more time with Dimple. He once went to Dimple's house and proposed to her with a ring. Dimple accepted the proposal, and they then went to Khandala, Maharashtra for a film shoot. When Anju got to know about the same, she decided to confront Rajesh Khanna. While she was driving her car to Khandala, she met Rajesh's driver midway, who asked her to avoid going there. Anju then realised that the rumours of Dimple and Rajesh were true. Anju returned to her home. In an interview, while talking about the incident, Rajesh Khanna said,
When I returned from Khandala, my driver told me that Anju Madam said that she never want to meet me nor she want me to call her. She even returned my gifts with driver. Even I wanted to end the relation, but I was upset that she ended the relation like this by telling everything to a driver."
After almost 7 years of their relationship, the couple parted their ways in 1972. Rajesh Khanna then proposed to Dimple Kapadia for marriage, and the couple got married on 27 March 1973. While Rajesh's baraat was going to Dimple's house, he intentionally asked to divert the way of the baraat from Anju Mahendru's bungalow.
However, the marriage of Dimple and Rajesh did not last long, and in 1982, they got divorced. Post Rajesh and Dimple's divorce, Anju started meeting Rajesh more often. During the last days of Rajesh, she used to take care of him. [3]Bollywood Shaadis Even at his last breath, he held Anju's hand. In an interview, Mahesh Bhatt talked about Anju and Rajesh's relationship. He said,
After I learnt of Khanna's death through the media, I thought of Anju because I knew she would be affected by his death. I managed to reach her late at night and learnt that Khanna and Anju had got together in the last years of his life. She used to take care of his medical needs and even accompanied him to hospital. Holding back her tears, she told me, 'My only consolation is that I was holding his hand when he took his last breath'."
Garfield Sobers/Gary Sobers
Anju once had a major fight with Rajesh Khanna after which she left his home. Later, while she was attending her friend's party, she met the West Indies cricketer Gary Sobers. It was love at the first sight for Gary. He became friends with Anju, and while they were in Kolkata, he proposed to her for marriage. She liked the attention he used to give her, so, she accepted his proposal. Gradually, she started realising that she liked Gary, but she deeply loved Rajesh Khanna. She then returned to Rajesh Khanna's home and from there she called Gary and broke up with him. [4]Jansatta In an interview, while talking about it, she said,
'To be honest, I was in a relationship with Kaka at that time. We had a fight over something and I had an affair with Gary out of anger but that doesn't mean I liked Gary. I called Gary from Kaka's house and called off the engagement.
Later, when Gary was asked about Anju, he said that he did not know any girl named Anju.
Career
Model
At the age of 13 or 14, she started her modelling career.
She then worked as a model in various modelling assignments.
She has been featured in TV commercials and print advertisements for various brands like Brooke Bond Taj Mahal.
Actor
Film
In 1957, she appeared as a child actor in the Hindi film 'Paying Guest.'
She was first spotted by the Indian poet and lyricist Kaifi Azmi. Kaifi then recommended her name to the Indian film director Basu Bhattacharya, who offered Anju a role in the 1966 Hindi film 'Uski Kahani.'
She then played supporting roles in various Hindi films like 'Jewel Thief' (1967), 'Darwaza' (1978), 'Ganga Ki Saugand' (1978), 'Pyaas' (1982), 'Khatarnaak Irade' (1987), and 'Hum To Chale Pardes' (1988). However, her films failed to do well at the box office.
She was then offered small roles in Hindi films such as 'Saathiya' (2002), 'Satta' (2003), 'Page 3' (2005), 'Hum Ko Deewana Kar Gaye' (2006), and 'The Dirty Picture' (2011).
Television
Apart from films, Anju has also acted in many Hindi TV serials like 'Shingora' (1986), 'Swabhimaan' (1995), 'Kasautii Zindagii Kay' (2003), 'Ek Hazaaron Mein Meri Behna Hai' (2011), and 'Yeh Hai Mohabbatein' (2015).
Facts/Trivia
Anju has been featured on the cover page of various magazines.
She is often spotted smoking cigarettes.
She is an avid animal lover and owns a few pet dogs.
View this post on Instagram
Anju has campaigned for 'Bahena' which focuses on the protection of birds.
In her leisure time, she loves to do gardening.
She loves watching cricket, and her favourite cricketer is Sunil Gavaskar.