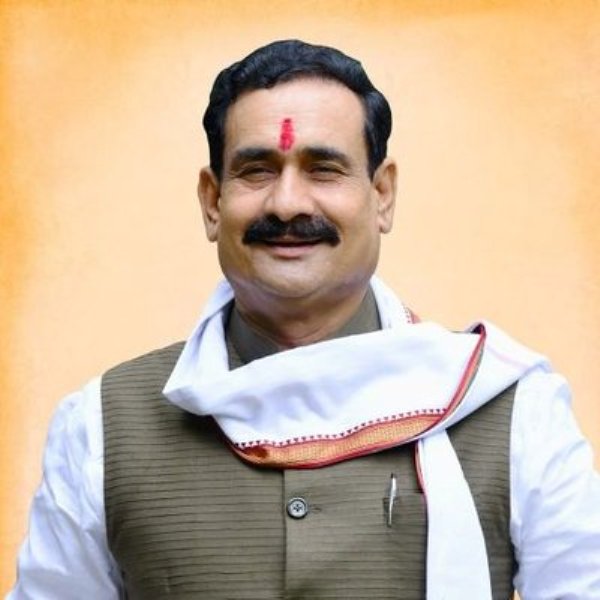 Narottam Mishra is an Indian politician and is the incumbent minister of Home Affairs, Law and Legislative Affairs, Prisons, and Parliamentary Affairs in the Government of Madhya Pradesh. He is the leader of the Bharatiya Janata Party (BJP) and represents the Datia constituency in Madhya Pradesh Legislative Assembly.
Wiki/Biography
Dr Narottam Mishra was born on Friday, 15 April 1960 (age 62 years; as of 2022) in Gwalior, Madhya Pradesh, India. He attended Sant Kanwar Ram Higher Secondary School in Gwalior. Narottam graduated with a Bachelor of Commerce degree from one of the colleges of Gwalior. He holds a master's degree in Hindi from Jiwaji University. In 1998, he pursued PhD in Hindi Literature at Jiwaji University in Gwalior, Madhya Pradesh.
Physical Appearance
Height (approx.): 5′ 6″
Hair Colour: Black
Eye Colour: Black
Family
Narottam Mishra belongs to a Hindu Brahmin family in Gwalior, Madhya Pradesh. [1]ThePrint
Parents & Siblings
Narottam Mishra's father, Shivdutt Mishra, was a doctor and RSS vistarak. Narottam's elder brother, Anand Mishra, is the ex-registrar of Jiwaji University, Madhya Pradesh.
Wife & Children
Narottam is married to Gayatri Mishra and has a son – Sukarn Mishra – and a daughter.
Other Relatives
Narottam's uncle, Mahesh Dutt Mishra, is an MLA and a Congress minister. [2]Newslaundry
Religion
Narottam Mishra follows Hinduism. [3]ThePrint
Signature
Address
B-6, Char Imli, Bhopal, Madhya Pradesh
Career
Politics
Narottam Mishra started his political journey in 1977-78 with the Akhil Bharatiya Vidyarthi Parishad (ABVP) and Bharatiya Jana Yuva Morcha (BJYM).
Member of Legislative Assembly (MLA)
Narottam Mishra first won the 1990 Madhya Pradesh Legislative Assembly elections from the Dabra constituency. In 1993, he lost the elections. Narottam was re-elected in 1998 from the Dabra assembly constituency. In 2008, he won the Madhya Pradesh Legislative Assembly elections from the Datia constituency for the third time. In 2013 and 2018, Narottam won the elections and represented the Datia constituency in Madhya Pradesh Legislative Assembly.
Minister
In 2005, he served as Madhya Pradesh government's minister under Babulal Gaur, an Indian politician from the Bharatiya Janata Party who served as the 16th Chief Minister of Madhya Pradesh. On 1 June 2005, he was elected as the Minister of Parliamentary Affairs and the Minister of Law; he retained the posts till 12 December 2008 and 27 August 2007 respectively. On 29 November 2005, he was appointed as the Minister of Education, and he served till 27 August 2007. Narottam Mishra served as the Minister of Urban Development from 27 August 2007 to 12 December 2008. He again served as the Minister of Law and Parliamentary Affairs from 28 October 2009 to 14 December 2013. On 26 May 2010, Narottam was appointed as the Minister of Housing, and he served till 14 December 2013. From 27 January 2011 to 14 December 2013, Narottam Mishra served as the Minister of Health & Family Welfare. Mishra again served as the Minister of Parliamentary Affairs from 21 December 2013 to 17 December 2018. On 21 December 2013, he was also appointed as the Minister of Health & Family Welfare, the Minister of Medical Education, and the Minister of AYUSH; Narrottam served till 4 July 2016 and was simultaneously elected as the Minister of Information & Public Relations and continued serving the post till 17 December 2018. From 4 July 2016 to 17 December 2018, Narottam also served as the Minister of Water Resources. Narottam Mishra, for the third time, served as the Minister of Health & Family Welfare from 21 April 2020 till 13 July 2020. On 21 April 2020, he was also elected as the Minister of Home Affairs. On 13 July 2020, he was appointed as the Minister of Law and Parliamentary Affairs.
Controversies
Banned by Election Commission (EC)
Reportedly, a report was published in November 2008 in some local newspapers including Dainik Bhaskar and Nai Dunia, favouring Narottam Mishra with the headline "toh isiliye sabse alag hai Narottam" (this is why Narottam is different from the others). Later, the news turned out to be paid news by Narottam Mishra during the election year. As per some sources, similar articles could be seen on polling day, i.e., on 27  November 2008. According to the Election Commission report, Mishra had paid for the news and advertisements between 8 November 2008 to 27 November 2008, and he provided false information about election expenses to the panel. As a consequence, the Election Commission banned Narottam Mishra from contesting elections for three years in June 2017. Narottam, however, was given a clean chit by the Delhi High Court. Following the row, the Election Commission (EC) filed an appeal in the supreme court, but the court did not stay the high court order; Mishra contested and won the state elections in 2018. [4]Newslaundry
Narottam Mishra – An Excellent Man or A Despicable Human
In 2013, a local magazine Jagat Vision published a cover story on Narottam Mishra titled 'Narottam Ya Naradham' (excellent man or despicable human), which included the allegations of extortion, forceful possession, exploitation, corruption, ransom, and murder against him.
In an interview, the magazine's editor, Vijaya Pathak, talked about his statements mentioned in the article about Narottam Mishra and said that the story on Mishra was decided to be covered because he was in the headlines for his controversial activities. Vijaya Pathak, in the interview, said,
I did that story based on evidence. Narottam Mishra was quite controversial. He had many cases against him, so we thought a story should be done on him. Although most cases against him were pushed under the carpet, he filed no defamation suit against me." [5]Newslaundry
In an interview, Narottam Mishra, contrary to the allegations mentioned in the story by Jagat Vision magazine, denied any corruption cases against him and added that he had received a clear chit on all cases against him from the Supreme Court of India. Narottam Mishra said,
I speak only what I think is right. I have no cases of corruption against me. According to me, paid news is not a matter of corruption and I've gotten relief from the Supreme Court in this. About the bullying of Congress people, the case against them in Datia was filed by their own district president, not any BJP worker." [6]Newslaundry
Corruption
Narottam Mishra has also been accused of corruption. According to some media reports, Narottam allegedly received crores of money after granting a tender worth Rs. 267 crores to a construction film in Hyderabad. It is claimed that the money was transferred to him through shell companies to one of his confidants Mukesh Sharma and around 14 farmers of his constituency Dabra at the time. Reportedly, nearly Rs. 9.5 crore was routed through the firms out of which Rs. 5 crore was used for the purchase of the land. According to a report from the Income Tax Department, some documents were discovered in Mukesh Shamra's house, claiming that around 14 residents of Dabra town in Madhya Pradesh were not in a position to buy the expensive land that was bought for Narottam Mishra in Ratanpur, Bhopal, with the alleged amount. Mishra, however, was granted relief by the income tax tribunal after appealing against the above-mentioned report before the income tax tribunal. Reportedly, the income tax tribunal wanted to impose a tax for his alleged unaccounted income and filed an appeal to the Madhya Pradesh High Court; however, the judgement of the Madhya Pradesh High Court ruled in favour of Narotam Mishra.  [7]Newslaundry
Horse Trading
Reportedly, Narottam Mishra courted controversy when Dr Anand Rai Mishra, an Indore-based medical officer and one of the three main whistleblowers in the Vyapam scam (an entrance examination and recruitment scam) in Madhya Pradesh, shared a purported sting video titled 'Horse Trading BJP Exposed' on social media in 2020, claiming that Narottam Mishra offered Rs. 100 crores and ministerial posts to the MLAs of the Digvijaya Singh-led Congress government for dethroning the Kamal Nath government.
Madhyapradesh #horsetrading Exposed जनमत को खरीदने की जुगत में भाजपा @CMMadhyaPradesh @OfficeOfKNath @digvijaya_28 @VTankha @Profdilipmandal @TribalArmy @BhimArmyChief @kanhaiyakumar @jarariya91 @ReallySwara @ABPNews @ndtv @PrannoyRoyNDTV @PTI_News @ANI @News18MP @vijaymandge pic.twitter.com/sS4YodtMJm

— Office Of Dr Anand Rai (@anandrai177) March 4, 2020
Sabyasachi 'Mangalsutra' Campaign
In 2021, Madhya Pradesh Home Minister Narottam Mishra raised controversy around a mangalsutra advertisement by the fashion house Sabyasachi by mentioning it as "obscene and objectionable" and demanded the designer Sabyasachi Mukherjee withdraw the advertisement as it included a woman wearing mangalsutra, along with a brassiere, and a woman wearing mangalsutra and posing in an intimate position with a man. The advertisement campaign was called 'against Hindu culture' by the netizens. Narottam Mishra issued a warning against the advertisement and said that "direct action" would be taken if the advertisement would not be taken down by the fashion house immediately. In an interview at Datia in Madhya Pradesh, Mishra talked about the Sabyasachi mangalsutra advertisement campaign and said,
I have warned earlier about such advertisements. I am personally warning designer Sabyasachi Mukherjee, giving him a 24-hour ultimatum. If this objectionable and obscene advertisement is not withdrawn, then a case will be registered against him and legal action will be taken. The police force will be sent for the action." [8]The Wire
Soon after the threat, the campaign was withdrawn by Sabyasachi and an apologetic message was posted on its official social media handle.
Mishra raised a similar voice against Dabur when it put out a controversial same-sex advertisement on Karva Chauth, a festival celebrated by Hindu women.
Narottam Mishra vs Bollywood 
Narottam Mishra could be witnessed turning his gun against Bollywood and delivering statements in objection to many films and people associated with it – actors, directors, and producers. Reportedly, Madhya Pradesh Home Minister Narottam Mishra, in 2022, objected to the song 'Besharam Rang' from the Bollywood film 'Pathaan' (2023), featuring Deepika Padukone and Shah Rukh Khan. According to Mishra, Deepika's costumes in the above-mentioned song were prima facie objectionable, and it came out of a contaminated mentality. In an interview in Indore, Narottam Mishra talked about it and said,
I would request to correct the scenes and her (Padukone's) costumes (in the song), otherwise whether this film should be allowed in Madhya Pradesh or not will be a question to be considered." [9]The Economic Times
Films including 'Adipurush' (2023), an adaptation of Indian mythology Ramayan, by Om Raut and 'Kaali' by Leena Manimekalai  were also triggered by Narottam Mishra.
Assets & Properties
Movable Assets 
Bank Deposits: Rs. 61,14,015
Insurance Policies (LIC): Rs. 13,59,359
Motor Vehicles: Rs. 3,00,000
Other Assets (Revolver Gun): Rs. 75,000
Immovable Assets
Agricultural Land: Rs. 1,57,21,614
Residential Buildings: Rs. 1,38,75,731
Note: The given estimates of movable and immovable assets are according to the year 2018. It excludes the assets owned by his wife and dependents (minor). [10]MyNeta
Net Worth
Narottam Mishra's net worth for the financial year 2017-2018 was estimated to be Rs. 3 crores. [11]MyNeta
Note: It excludes the net worth of his wife and dependents (minors).
Facts/Trivia
Reportedly, Narottam Mishra used to take tenders of the municipality's chungis in districts such as Shivpuri, Guna, and Ashok Nagar.
According to Shivpuri-based independent journalist Ajay Khemaria, Mishra unlike other politicians answers phone calls himself and ensures his availability for those in need of any kind of help. [12]

Newslaunry
Reportedly, Narottam Mishra's aids – Virendra Pandey and Nirmal Awasthi – were arrested in 2019 by the Economic Offence Wing of the Madhya Pradesh police in the alleged Rs. 80,000 crores e-tendering scam. As per reports, the case was related to the tampering of an e-tender floated by the Water Resources Department in 2018.
In 2022, Narottam Mishra ordered that Urdu words be removed from police documents, calling them "obsolete." According to sources, 350 words including 'adam pata' (untraceable), 'tarmeem' (amendment), 'ishtgassa' (petition), muddyyi' (complainant), 'istgasa' (complaint letter), and the fateful 'dastyab' would be removed. While talking about this in an interview, Narottam Mishra said,


The process of changing such words which are not in practice will be started here like in Uttar Pradesh and Rajasthan." [13]NDTV