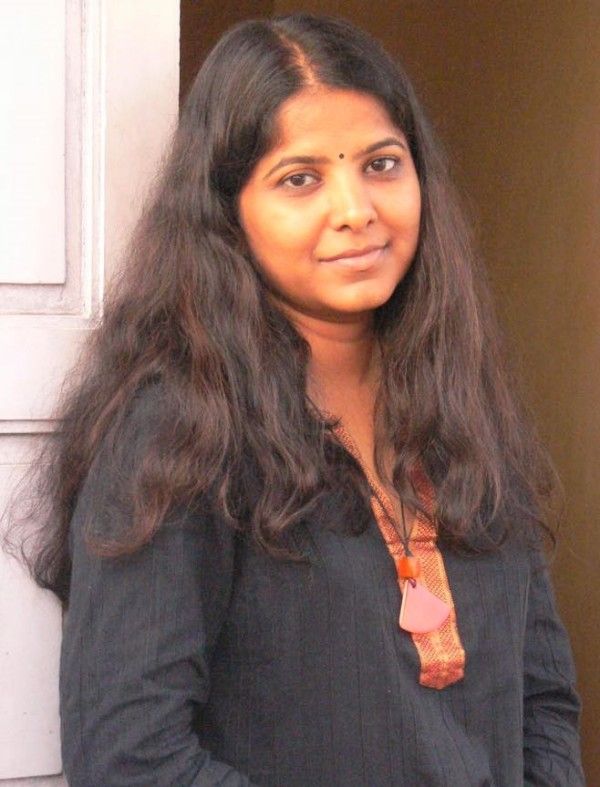 Leena Manimekalai is an Indian filmmaker, poet, and actor known for attracting controversy after releasing the film 'Kaali' poster showing a woman as goddess Kaali, who is smoking cigarettes and hosting the pride flag.
Wiki/Biography
Leena Manimekalai was born on Saturday, 7 June 1980 (age 42 years; as of 2022) in Srivilliputtur, Tamil Nadu. Her zodiac sign is Gemini. She attended the Holy Cross Convent School, Madurai. She pursued a B.E. degree in Instrumentation and Control Engineering at Madurai Kamaraj University, Madurai, Tamil Nadu and a Master of Fine Arts degree in Filmmaking at York University, Canada. [1]Leena Manimekalai – Facebook
Physical Appearance
Height (approx.): 5′ 5″
Weight (approx.): 55 kg
Hair Colour: Black
Eye Colour: Black
Figure Measurements (approx.): 36-26-36
Family
Parents & Siblings
Leena's father's name was Iragupathi, who was a college professor. He died when Leena was in the second year of her college.
Her mother's name is Rama.
She has one brother, Elango Raghupathy, who is a filmmaker.
Husband
The name of her husband is not known. She is divorced.
Sexual Orientation
Leena considers herself a bisexual.
I came out as a bisexual in my 2nd poetry book "Ulagin azhagiya Muthal Penn" in 2007. HinduMakkalKatchi filed police cases asking for ban. Ultra left gps like Vinavu wrote hate articles. Went on to publish Tamil's first lesbian poetry book "Antharakanni" in 2013.Happy #Pride2021 pic.twitter.com/eqjeOUfPO9

— Leena Manimekalai (@LeenaManimekali) June 2, 2021
Religious Views
According to her Facebook account, she is an atheist. [2]Leena Manimekalai – Facebook
Caste
Leena belongs to the shudra caste.
@maamallan, Am a born shudra who believes in annihilation of caste & I have nowhere concealed these facts or information abt my background!

— Leena Manimekalai (@LeenaManimekali) June 8, 2014
Career
Director
Leena made her debut in 2003 with the Tamil short film Mathamma.
She has directed other short films including Break the Shackles (2004), Love Lost (2004), Waves After Waves (2006), Is it too much to Ask (2017), and Maadathy (2021).
Actor
Leena debuted with the Tamil film Chellamma (2004) and played the role of a protagonist.
She has appeared as an actor in other films including The White Cat (2004), Love Lost (2005), and Sengadal (the Dead Sea) (2011).
Poet
She has written poems that include As a Lone Leaf (2003), The First Beautiful Woman in the World (2009), Queen of Sluts (2011), Antharakanni (2012), and Chichili (2016). She revealed her sexual preferences in the second poem, The First Beautiful Woman in the World. The poem, Antharakanni, written by her became Tamil's first lesbian poetry book.
Controversies
Leena's sexual harassment incident:
In 2018, Leena attracted controversy when she opened up about the sexual harassment she went through. In 2018, she took to Facebook and accused director Susi Ganesan of harassing her. Susi replied to her statement and said,
I shudder at your baseless allegations. I have evidence to prove your character is flawed. Because I did not give you an opportunity to work with me, you have levelled these allegations." [3]India Today
Hurting Hindu religious sentiments:
In 2022, Leena attracted controversy when she posted the poster of the film 'Kaali' on her Facebook account. The Delhi police registered an FIR against her after a lawyer complained about the controversial poster of her documentary film, 'Kaali', that presented the Goddess smoking a cigarette. In an interview, the police officers talked about the complaint and said,
The complainant attached the alleged photo of Goddess Kaali smoking a cigarette, posted by a verified Twitter handle belonging to Leena Manimekalai. Prima facie, the content appeared promoting enmity between different groups on grounds of religion and race and doing acts prejudicial to maintenance of harmony, which is likely to disturb the public tranquility." [4]Hindustan Times
Awards, Honours, Achievements
2004: Chicago Women in Director's Chair International Film Festival
2004: Silver Trophy for the Best Documentary in Europe Movies Film Festival
2005: Best Actor and Best Experimental Video in Independent Art Film Festival
2005: Best Documentary in Paris and Norway Independent Diaspora Festivals
2005: European Union Fellowship for Conflict Resolution in Media
2005: Retrospective, International Democratic Socialist Youth Film Festival, Venezuela
2006: International Jury in Asian Film Festival, Malaysia
2007: Jury Award for Best Cinema of Resistance
2008: Golden Conch for Best International Documentary in Mumbai International Film Festival
2008: Visiting Scholar Fellowship, Berlinale
2008: One Billion Eyes National Award – Best Documentary
2008: Commonwealth Scholarship and Fellowship Plan, Birds Eye View Film Festival, London
2008: Iyal Best Poetry Award from The Tamil Literary Garden for Ulakin Azhakiya Muthal Penn
2011: Sirpi Literary Award for the contribution to Tamil Poetry
2011: Indian Panorama Selections for Sengadal
2011: NAWFF Award for Best Asian Women Cinema (Tokyo) for the film Sengadal
2013: Lenin Award from Thamizh Studio
2014: Srishti Tamil Lambda Literary Award for her book Antharakanni
2015: L'Oreal Paris Femina Women Award
2020: AIFF award for the film Maadathy, an Unfairy Tale (2019)
Facts/Trivia
As a child, she used to watch film screenings with her father in their village.
According to her, in her village, there was a custom to get the daughter married to her maternal uncle as soon as she turned eighteen. Leena's family also decided the same, and when she turned eighteen, they fixed her wedding with her maternal uncle.
In an interview, she said that she didn't want to get married to her uncle, and for this, she started getting good marks in class, even when she did not like studying. She did this so that she could convenience her parents to let her study further and not get her married, but her parents did not change their mind and fixed her wedding with her uncle.
After listening to their decision, Leena runner away from her village and reached Chennai, where she started searching for a job. She went to a Tamil magazine office in Chennai for an interview, which called her family and handed her over to them. After reaching home, she told her family that she wanted to study engineering and not get married to her uncle. In the third year of college, she assisted director Bharathiraja and learned about films from him.
When she was working with director Bharathiraja, the media started printing about her affair with a married actor. Her family got affected by this rumour, after which they asked her to come back home. In an interview, while talking about the same, she said,


My mother went on a hunger strike. I initially refused to give in, but her health deteriorated, and I had to give up cinema and Bharathiraja."
Leena went back home and started working in an IT firm. According to her, she changed eleven jobs in two years, because she always wanted to direct films and not work in an IT firm.
In 2002, she started earning money through freelancing and spent that money on directing her films that gained international acclamation.
In 2017, she decided to make an independent film on Kamala Das. In an interview, she said that producer Kamal promised to feature her in the English version of the film, but did not make the film because Vidya Balan stepped out from the Malayalam version of the film. In an interview, she talked about this and said,


Kamal is a senior filmmaker and he might have his own reasons. But what bothered me is that after discussing the script and other details, he couldn't keep his word. So I've decided to go ahead and direct an independent film on Kamala Das. I would like to focus on the film I left behind three years ago. Only an independent expression can place a poet's soul ahead of market interests."
In 2018, her passport was taken away by the High court after she filed a harassment case against director Susi. In an interview, talking about the same, she said,


I am not aware of the basis on which the police have provided an adverse police verification report. If the exact details are provided, I will be in a much better position to give a suitable reply for the same."
According to her, she did not cast any actors in her movies because they were afraid of working on the subject she worked on.
She said that she directed the film Sengadal (the dead sea) on the fishermen that got caught on Sri Lanka borders. In an interview, she talked about why she directed the film and said,


As I come from a political family of Communists, I was directly and indirectly involved with the Sri Lankan crisis throughout my youth. I was part of a group that was involved in the anti-war movement and India's stance in the war."
In 2022, the poster of her film 'Kaali' became controversial. Amid the controversy, a priest threatened Leena to behead her if her movie 'Kaali' was released.
When she was in school, she liked doing Bharatnatyam.
She is often featured in various newspapers.
She is often spotted smoking on various occasions.
Like the smoke, Like the tray, Like the colors, Like the rings, Like the dust, Like the day, Like the life! pic.twitter.com/zMs51kUjON

— Leena Manimekalai (@LeenaManimekali) May 9, 2014
She is a passionate animal lover and often posts pictures of them on social media.