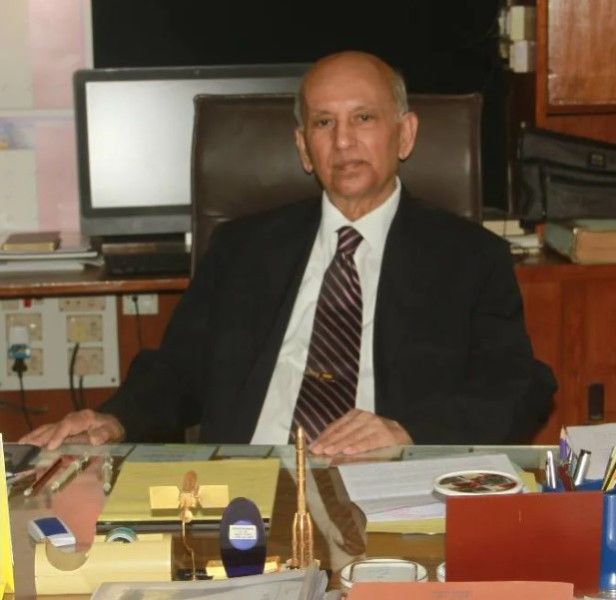 Udupi Ramachandra Rao, popularly known as 'The Satellite Man of India,' [1]ANI was an Indian space scientist and chairman of the Indian Space Research Organization between 1984 and 1994. He is also known for pioneering India's first satellite launch Aryabhata in 1975. Rao died in 2017 due to prolonged illness and age-related health issues.
Wiki/Biography
Udupi Ramachandra Rao, also known as U. R. Rao [2]ISRO was born on Thursday, 10 March 1932 (age 85 years; at the time of death) in Adamaru, Udupi, Karnataka (then South Canara district, Madras Presidency, British India). His zodiac sign was Pisces. He attended Christian High School, Udupi and Veerashaiva College, Karnataka. In 1952, he pursued a bachelor's degree in science at the University of Madras, Chennai, Tamil Nadu. In 1954, he pursued a master's degree in science at Banaras Hindu University, Varanasi. In 1960, he pursued a doctorate of Philosophy at Gujarat University, Gujarat. [3]The Indian Express
Physical Appearance
Hair Colour: Semi-bald
Eye Colour: Black
Family
Parents & Siblings
Rao's father's name was Lakshminarayana Acharya, who worked in a hotel. His mother's name was Krishnaveni Amma. He has three brothers, Krishnamurthy Acharya, who is a police officer, Vittal Acharya, and Sripathi Acharya.
Wife & Children
Rao's wife's name is Yashoda Rao, who is a scientist.
His son's name is Madan Rao, who works as a faculty at the National Centre for Biological Sciences, Bengaluru. His daughter's name is Mala, who is an architect.
Religion
Rao followed Hinduism.
Caste
Rao belonged to the Brahmin caste.
Career
Positions held
Chairman of the Governing Council of the Physical Research Laboratory in Ahmedabad and Nehru Planetarium in Bengaluru
Chancellor of the Indian Institute for Space Science and Technology (IIST) in Thiruvananthapuram
General President of the Indian Science Congress Association, West Bengal (1995)
Vice President of International Astronautical Federation (IAF), Paris (1984-1992)
Co-Chairman of the National Centre for Antarctic and Ocean Research, Goa (2012)
The first chairman of Prasar Bharati, New Delhi (2002)
Chairman of Karnataka Science and Technology Academy
Chairman of Bangalore Association of Science Education-JNP
Chancellor of Babasaheb Bhimrao Ambedkar University, Lucknow
Member of Central Board of Directors, Reserve Bank of India
Additional Director of Bharatiya Reserve Bank Note Mudran Private Ltd., Bangalore
Chairman of Governing Council of Indian Institute of Tropical Meteorology, Pune
Rao started working as a teacher at the Massachusetts Institute of Technology, Cambridge after pursuing PhD in 1960. He worked as an assistant professor at the University of Texas at Dallas after leaving MIT. He started his career as a scientist when he started working as a cosmic ray scientist under Dr Vikram Sarabhai after leaving his job as a professor. In 1966, joined the Physical Research Laboratory, Ahmedabad as a professor after returning to India from the US. In 1972, he contributed to the establishment of satellite technology in India. In 1972, after the death of physicist Vikram Sarabhai, Rao was made in charge of the satellite Aryabhata.
He led a team of students from the Indian Institute of Science (IISc), trained them at the industrial sheds in Peenya, and successfully launched the satellite Aryabhata in 1975.
Later, he made eighteen other satellites including Bhaskara 1 and 2, APPLE, Rohini, INSAT-1 and INSAT-2 with his team members. In an interview, he talked about India's contribution to making its own satellites, he said,
It saves the nation a lot of money. INSAT 2B, which we sent up last month, would have cost us Rs 300 crore in foreign exchange if we had bought it. But building it here cost us only Rs 78 crore. We build launch vehicles too at least a third cheaper than elsewhere. That's because in hi-technology almost 70 per cent of the costs go in scientific and engineering man-hours and in India it comes very cheap."
He researched a lot about Pioneer and Explorer spacecraft and laid theories on the concept of solar cosmic-ray and the electromagnetic state of interplanetary space. He contributed to the creation of the INSAT satellites that became popular in the 1980s and 1990s. The INSAT satellites provided telecommunication to many remote areas in India. In 1985, he joined the Space Commission as a chairman and the Department of Space as a secretary, where he started researching rocket technology. In 1992, he led the creation of the ASLV rocket. In 1991, he made the geostationary launch vehicle GSLV and cryogenic technology. In 1995, he made the PSLV launch vehicle that carried an 850 kg satellite into orbit. In an interview, he talked about the first failed PSLV launch vehicle mission in 1993, and said,
The launch, in our opinion, was 90 per cent successful. But space is an unforgiving business. Even a one-per cent error is enough for us to fail in the mission's objective of launching a satellite into orbit. But in terms of new technology it has been the greatest scale-up we have ever done. And all the major motors performed beautifully. The critical sequences in the most difficult powered phase through the earth's atmosphere went without a hitch."
He became the first Chairman of Antrix Corporation, the commercial hand of ISRO. He became a fellow of many educational institutions including the Indian Academy of Sciences, Bengaluru, Indian National Science Academy, New Delhi, National Academy of Sciences, Uttar Pradesh, Institute of Electronics and Telecommunications Engineers, Chandigarh, International Academy of Astronautics, Paris, and Third World Academy of Sciences, Italy. In June 1997, he was the chairman of the United Nations – Committee On Peaceful Uses of Outer Space (UN-COPUOS) and the UNISPACE-III Conference. In April 2007, he was the chairman of the 30th International Antarctic Treaty Consultative Committee Meeting held in Delhi. He had written three books including, 'Perspectives in Communications' (1987), 'Space and Agenda 21 – Caring for Planet Earth' (1995), and 'Space Technology for Sustainable Development (1996).' Reportedly, he published more than 350 scientific and technical papers on topics like cosmic rays, astronomy, space applications, satellite, and rocket technology.
Awards, Honours, Achievements
He received the Life Time Achievement Award constituted by ISRO and Astronautical Society of India (ASI) by Dr A. P. J. Abdul Kalam.
On 19 March 2013, he receive the Satellite Hall of Fame, Washington, becoming the first Indian to receive this honour in a ceremony organized by the Society of Satellite Professionals International.
Electronics Man of the Year Award by ELCINA (1994)
Jawaharhal Nehru Award (1995)
Press Bureau of India Award (2003)
Group Achievement Award by NASA, USA (1973)
Frank J Malina Award (1994)
Eduard Dolezal Award of ISPRS (2000)
Theodore Von Karman Award (2005)
In 2004, he was ranked by the U.S. magazine, Space News, among the top 10 international personalities for making a difference in civil, commerce, and military space in the world since 1989.
Note: He won many other national and international awards.
Death
Rao died on 24 July 2017 in Indiranagar, Bengaluru, Karnataka due to prolonged illness and age-related health issues. [4]The Hindu
Facts/Trivia
He was fondly known by the names Rao Bhava and Ramudu by his neighbours, friends and family members. [5]

Daiji World
Rao was interested in science since he was a child. He wanted to become an emergency commissioned officer of the armed forces after completing his education. After he started pursuing PhD under physicist Vikram Sarabhai, he advised him to conduct research and choose the field of science.
In the 1970s and 1980s, the two rupee notes had a picture of the Aryabhata satellite launched in 1975.
In 1992, the commissioner of the Police of Bengaluru informed Rao that he got away with a kidnap by some people who wanted to get famous by kidnapping Rao.
In 2004, a report made by Rao attracted controversy because he proposed a 30 per cent slash in the annual fees at the Indian Institutes of Management. In an interview, while talking about the same, he said,


Private self-financing institutions are charging a lot of money. For example, in Chennai, the fee paid by a student was much as Rs 30 lakhs for medical seats! The directors of various medical institutions, they even offer something called a package deal. That is, you pay upfront one crore, and in seven years you get a guaranteed MD or MS degree. What kind of nonsense is this! I mean, who can afford this kind of money, unless you have black money?"
Many universities including Mysore (1976), Calcutta (1981), University of Bologna (Italy) (1992), and Madras (Anna University) (1994) gave him Honorary Doctrine of Science (D.Sc).
On 15 May 2016, he was introduced as a member of The International Astronautical Federation (IAF).
On 10 March 2021, Google showed respect to Rao on his 89th birthday by making a Google Doodle. In the description, it wrote, 'Your stellar technological advancements continue to be felt across the galaxy.'
Some of the members of ISRO informed that Rao visited the office of ISRO headquarters before his death in 2017.
Rao liked playing cricket.