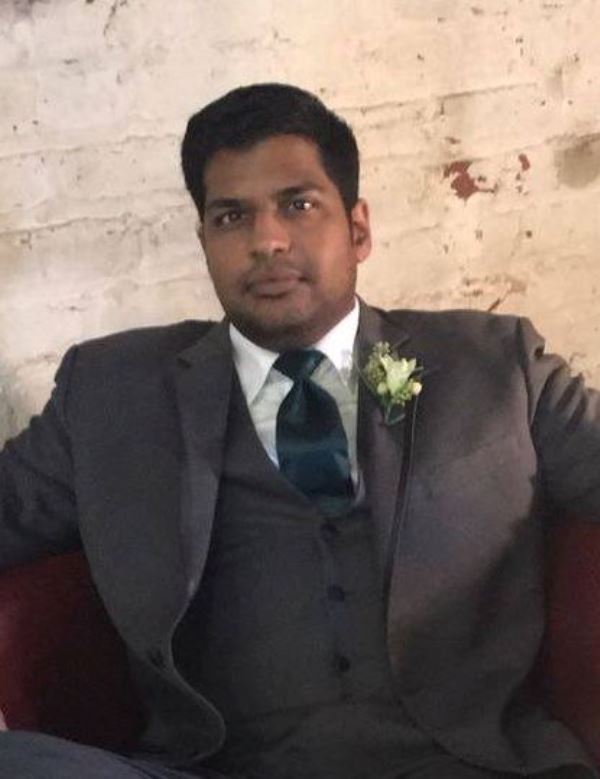 Vinesh Vasnani is a Miami-based cyber defence specialist, who works at Draktrace, a technology company specializing in AI software, which helps companies to protect their data from theft and breaches. He became popular after appearing on the second season of Netflix's wedding and romance reality TV series "Indian Matchmaking" in 2022.
Wiki/Biography
Vinesh Vasnani was born on Wednesday, 24 June 1987 (age 35 years; as of 2022) in South Georgia, United States. In 2004, he pursued a Bachelor of Business Administration in finance from Terry College of Business affiliated with the University of Georgia. [1]Linkedin – Vinesh Vasnani
Physical Appearance
Height (approx.): 6′
Weight (approx.): 90 kg
Hair Colour: Black
Eye Colour: Black
Family
Vinesh belongs to a Sindhi family in Atlanta, Georgia, United States.
Parents & Siblings
His father, Ramesh Vasnani, is the founder and CEO of HIKS Fashions in New York. His mother, Sony Vasnani, is a homemaker. His mother also goes by the name Meena Gurbani. He has one elder brother named Kishore Vasnani and one younger brother named Laveen Vasnani.
Relationships/Affairs
According to Vinesh, he was involved in three serious relationships before appearing on the show "Indian Matchmaking" season 2 in 2022; however, none of them worked out as a long-term relationship.
Career
IT Professional
In 2007, Vinesh started working as a project manager at a company named Screaming Sports. In 2008, he joined Merrill Lynch Investment Managers as a wealth management intern. He worked as board treasurer at Leader 4 Life company for more than one year. In 2009, he was appointed as credit manager at Wells Fargo. He worked as an analyst at UBS Investment Bank in London for one year. In 2011, he joined the sales team at Kyriba Corporation and worked till December 2012. In January 2013, he started working in the sales department at a company named Tufin, where he worked for 2 years. He worked at Reval, a software development company, as a regional sales director from 2014 to 2015. In November 2015, he was appointed as the director of a cyber security software company named Darktrace in New York. [2]Linkedin- Vinesh Vasnani
Indian Matchmaking Season 2
In 2022, he appeared on the show "Indian Matchmaking" season 2 in which the matchmaker on the show Sima Taparia introduced him to two girls. First, he met Mosum Parikh, a 30-year-old Gujarati girl from Brooklyn with a degree in finance. Vinesh and his family decided to meet Mosum, and after having similar thoughts about parental relationships, careers, and family, they approved Vinesh and Mosum to go out on a date with his brother and sister-in-law. At the end of the date, Mosum felt connected to him and wanted to move the conversation forward, but Vignesh did not feel the same. Although, by the end of the date, he took her number, he told her family that he was not physically attracted to her. He was even trolled over social media for his rude and judgemental behaviour. [3]MEAWW
The second girl he met was Meena Rai, a nurse. Vinesh felt a connection with her from the beginning, but she showed no interest in him and did not want to get into a relationship with him. [4]MEAWW In an interview, when he was asked why he decided to appear in the second season of Indian Matchmaking, he replied,
I've tried a lot of the apps, meeting girls in bars, etc. and everything I've done in the past hasn't given me long-term success. I saw the show and was pretty intrigued – given the track record of Sima Aunty, I thought it would be fruitful to give it a shot and kind of take it up as a life-changing adventure. I'm single and open to trying new things to find the one – my goals are to find a wife and potentially start a family if she's open to it. Also I've been challenging myself to take on new experiences and if something seems exciting and new but a little scary, if I have the ability to, I'd like to say yes." [5]Urban Asian
When he was asked about what kind of experience he had on the show and if he would like to come back to the show in the next season, he replied,
It was nerve-racking. Obviously something I've never done before.  But it was an incredible experience. I don't know if I would go back on – I'd have to talk to my family and think about it. Making a very personal journey like this "open to the public's eye" is a little scary. But it was incredible working with everyone from the show on this – definitely made life-long friendships (even though that wasn't what I was looking for). I promised myself I would be as authentic as possible, but a lot of nervousness can take over and I was a little camera-shy.  I think I laughed a lot on the show which is part of my personality, but it was a lot more than usual and a lot of it was trying to play off anxiety. I said "like" a lot, which definitely means I wasn't as comfortable as I would like… (LIKE) there was a huge camera in my face!  It's hard to listen to myself on zoom calls, much less on WATCH and listen to myself on TV.  So maybe I calmed myself a bit more with my meditation practice before going on air." [6]Urban Asian
Facts/Trivia
According to his social media account, his nickname is Vinny.
Vinesh has a pet dog named Baags. On social media, he revealed that he named his dog Baags; it is the short word for the Hindi word Baaghi which means rebel. He rebelled against his family to get the dog as they did not like dogs, and also, the dormitory where he lived while studying in college was named Boggs.
On the Indian Matchmaking show, while sharing what kind of girl he wanted, he said,


If I had to design the woman of my dreams, she would be 5'8″, family-oriented, ambitious, equally extroverted as introverted, and would have to get along with my dog [Baags], I think." [8]The Cinemaholic