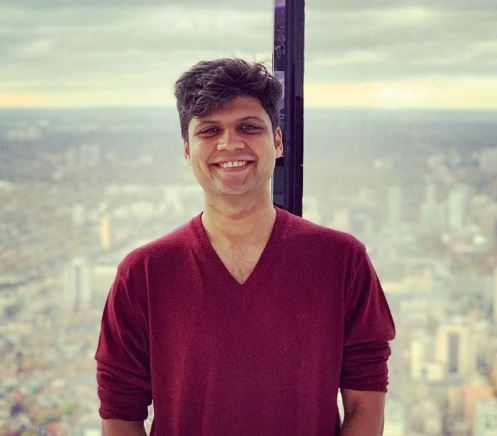 Rahul Subramanian is an Indian stand-up comedian. He is known for his crowd participation performances at bars, clubs, and birthday parties. In March 2023, he was featured in Amazon Prime Video's crowd-work special Rahul Talks to People.
Wiki/Biography
Rahul Subramanian was born on Tuesday, 10 May 1988 (age 35 years; as of 2023) in Mumbai, Maharashtra. His zodiac sign is Taurus. Rahul had a great sense of humour since childhood. During his school days, he often received compliments from his classmates and teachers for the quick jokes he delivered between his classes.
He attended Vivekanand Education Society's Institute of Technology (VESIT), Sindhi Society, Chembur, to pursue a Bachelor of Engineering and Information Technology from 2003 to 2007.
Thereafter, he pursued a Master of Business Administration in Marketing from the Institute of Management Technology, Ghaziabad (2009-2011). [1]LinkedIn – Rahul Subramanian A sports fanatic since childhood, Rahul was a part of his college's football team. Rahul also performed stand-up comedy at various stage shows during his college days.
Physical Appearance
[2]Rahul Subramanian Height: 5′ 7″
Hair Colour: Brown
Eye Colour: Dark Brown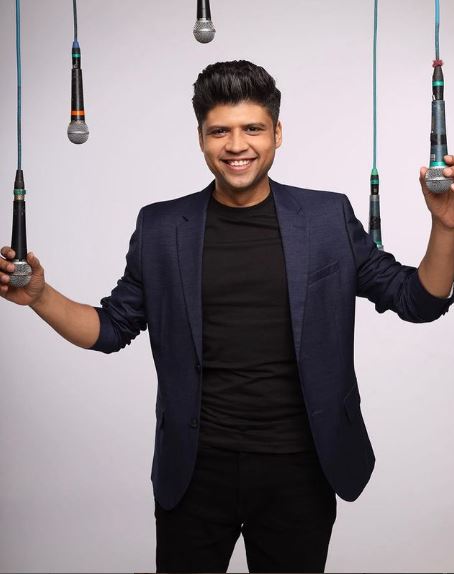 Family
Rahul belongs to a Tamilian family. [3]Instagram – Rahul Subramanian
Parents & Siblings
Not much is known about his parents and siblings.
Wife
Rahul Subramanian is married to Sonica Subramanian, who is a corporate employee.
Career
Corporate
Rahul Subramanian started his career as a sales manager at Convonix Inc., Mumbai, in July 2007. As a sales manager, Rahul handled B2B end-to-end sales along with post-sales client servicing primarily for US & UK. He also looked after internet marketing services like SEO, SEM, SMO, and Shopping Cart Development. He worked there for around a year and a half and then resigned from his position. In February 2009, Rahul joined Bare Associates International, Mumbai, as Business Development Manager and was accountable for client acquisition and retention there. He worked in the company till May 2009. Subsequently, he did a 3 months summer internship at Mahindra Retail Pvt. Ltd., Bangalore. During the internship, Rahul launched a loyalty program for Mom & Me across all stores in India. Following the internship, he joined Mahindra Retail Pvt. Ltd. as a management trainee. As a part of his job, he looked after digital marketing and consumer connect for Mom & Me in Bangalore. A year later, he was elevated to the position of e-commerce manager in the firm. As an e-commerce manager, Rahul set up and launched the e-commerce channel for Mahindra Retail and also handled digital marketing, business development, and customer retention departments. He quit the firm in June 2013. In July 2013, Subramanian joined Mahindra Rise, Mumbai, as a manager and handled corporate branding and digital marketing departments. There, he was a part of the team that oversaw the Mother Brand for the Mahindra Group. In 2015, while he was on his way to watch a play featuring Paresh Raval with his family, he received a text message, carrying a job offer from Godrej. Although Rahul desperately wanted to work in the position (that was offered to him by Godrej) for years, he realised that he was not cut out for the corporate world and declined the offer.
Stand-Up Comedy
Rahul Subramanian began doing open mics while he was studying in college. He continued performing stand-up comedy at shows and parties while he was doing a corporate job.
However, he never thought of pursuing stand-up comedy as a career option. When Rahul was working at Mahindra and Mahindra, he met Kumar Varun (solo comedian). A few months later, Rahul and Varun formed a comedy collective Random Chikibum (the other RCB). The duo created a YouTube channel named Random Chikibum in July 2015 and started uploading their comedy videos on it.
In the same year, YouTube, along with All India Bakchod Kanan Gill and Biswa Kalyan Rath, announced the OML's Comedy Hunt, an online contest for new and aspiring comedy creators. As per the format of the contest every Monday the contestants would have to create a sketch based on a specific theme like news comedy and branded content and eliminations took place on a weekly basis. The finale of the contest was held at the National Centre for the Performing Arts (NCPA), Mumbai, where out of the four finalists, Rahul and Varun's RCB won. In an interview, while talking about winning the contest, Rahul said,
I was mostly just relieved that I don't have to work on sketches late in the night, after a whole day of work and amused that we just won this. We were just having fun."
Soon after winning the contest, Rahul received an offer to work with the artist management company Only Much Louder. He accepted the offer and decided to give up his corporate job to pursue comedy as a full-time career option. At Only Much Louder, Rahul Subramanian started working on YouTube's daily comedy show, Laughter Games. Subsequently, he won a few stand-up comedy competitions by Virgin Pants and Canvas Laugh Club. Kal Main Udega, a one-hour solo, is Rahul's well-loved and enjoyed Crowd work in which he makes spontaneous and impromptu interactions with audiences in Chennai, Bengaluru, Delhi, Kolkata, and Mumbai. Later, the show was made available to viewers on Amazon Prime Video.
In addition to it, Rahul has also appeared in Amazon Prime Video's comedy shows Comicstaan (2018) and Comedy Premium League (2021). In 2018, he was featured on Amazon Prime Video's fun game battle Improv All Stars: Games Night. In the same year, on 17 January, he performed on the stage show Signature Start Up Master Class, where he shared his journey of confusion which led him to comedy. He has also appeared on MX Player's Kiski Sarkar (2019). Rahul has also appeared on various episodes of All India Bakchod. He is associated with several comedy clubs like That Comedy Club and Tuning Fork Comedy Club.
He has also toured various cities in India for his crowd work show You & Me. In 2023, Rahul was featured in the crowd work special Rahul Talks to People that streamed on Amazon Prime Video. Produced by OML and directed by Biswa Kalyan Rath, the crowd work featured, Rahul as a stand-up comic, engaging in unscripted and unrehearsed conversations with 6 different sets of audiences across 5 cities. The audience of the show ranged from a marketing professional to a bunch of friends. With his sharp sense of humour, ability to be extempore, and instant improvisations, Rahul was seen converting ordinary conversations like technology, corporate culture, cricket umpiring, stressful jobs, and marketing into a laugh riot for the live audience and viewers.
Other Work
In 2017, Rahul Subramanian appeared in a short film directed by Mrinal Bahukhandi.
In the same year, he appeared as Lakshman in Amazon Prime Video's comedy-drama series Pushpavalli. The series was originally released in four languages- English, Hindi, Kannada, and Tamil.
Favourites
Facts/Trivia
He is often spotted consuming alcohol on various occasions.
An avid dog lover, Rahul has a pet dog named Arya.
A food connoisseur, Rahul loves trying out different cuisines.
Although Rahul is very active on various social media platforms, he has joined them all out of pressure. In an interview, while talking about it, he said,


I go on a vacation and worry that I haven't posted anything in two days. And honestly, I spend less time than other comedians online. So, I guess that's the future. That's where I'm heading."
In an interview, Subramanian revealed that he is not a very superstitious person and does not follow any pre-show rituals. He also said that he has no lucky socks or any specific backstage song.
He is immensely influenced by Brian Regan.
In an interview, while describing the technique that he uses to stay mindful on stage, he said,


When you do a lot of shows, it becomes an easy habit; it's repetitive and you are not living the show anymore. So I don't over-prepare and when I get on stage, I'm completely blank for 10 seconds. I say whatever comes to my mind and sometimes I've actually just stood silently. It helps me get alert. I'm aware of the lights, the audience, I'm here, I'm on stage and I'm doing what I love. It's those first 10 seconds."

In an interview, when asked about his most memorable shows, he said,


The first time I did an open mic night, I bombed and I cried on my way home, and the first time my wife's parents came to watch me perform, I completely freaked out."