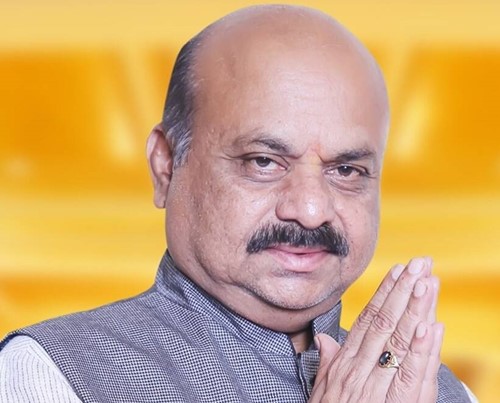 Basavaraj Bommai is a mechanical engineer-turned-politician who is well-known for being the 23rd Chief Minister of Karnataka. Basavaraj Bommai is a member of the Bharatiya Janata Party (BJP).
Wiki/Biography
Basavaraj Somappa Bommai, [1]Business Standard commonly known as Basavaraj Bommai, was born on Thursday, 28 January 1960 (age 61 years; as of 2021) in Hubli, Mysore State (now Karnataka) in India. His zodiac sign is Aquarius. He pursued a Bachelor of Engineering in Mechanical Engineering from B. V. Bhoomaraddi College of Engineering & Technology, Hubli, India. [2]MyNeta
Physical Appearance
Height (approx.): 5′ 5″
Eye Colour: Black
Hair Colour: Black (half bald)

Family
Parents
Basavaraj was born in a political family. His father, Somappa Rayappa Bommai, was the 11th Chief Minister of Karnataka. His mother's name is Gangamma.
Wife & Children
Basavaraj got married to Chennamma, and together they have two kids- Aditi and Bharat.
Religion/Religious Views
Basavaraj Bommai belongs to the community Sadar Lingayat, and he follows Lingayatism as his religion. [3]BusinessLine
Career
After completing his formal education, Basavaraj Bommai started working at the Pune division of Tata Motors as a mechanical engineer in its production plant. He worked there for three years and then decided to go independent and start his own business. In 1998, Basavaraj decided to follow in his father's footsteps and began his journey in politics by joining the Janata Dal Party. However, the party began dissolving in 1999, and in 2003, Sharad Yadav from Janata Dal decided to merge their party with the Lok Shakti Party and the Samta Party to form Janata Dal (United). He was then elected as a member of the Karnataka Legislative Council from the Dharwad constituency. While serving as a member of the council, he was appointed as the political secretary to the former Chief Minister of Karnataka JH Patel. Bommai left Janata Dal (United) party and joined Bharatiya Janata Party in 2008. He was elected as a member of the Karnataka Legislative Assembly on behalf of the Shiggaon constituency. He was appointed as the Minister of Water Resources from 2008 to 2013 in the Government of Karnataka. In 2019, B. S. Yediyurappa was serving his fourth term as the Chief Minister of Karnataka, and during that time, Bommai was appointed as the Minister of State for Home Affairs, Minister of Cooperation, and the Minister of Law and Parliamentary Affairs in the government of Karnataka. On 26 July 2021, B. S. Yediyurappa resigned from his post as the Chief Minister of Karnataka, and senior leaders of Bharatiya Janata Party (BJP) suggested Basavaraj Bommai's name for the post. On 27 July 2021, Bommai was sworn in as the 23rd Chief Minister of Karnataka.
Address
4883/1 Savanpur Road, Shiggaon, Shiggaon Taluk, Haveri District 581205
Assets & Properties
Movable
Bonds, Debentures, and Shares: Rs. 22.96 lakh
Motor Vehicle: Rs. 6.98 lakh
Jewelry: Rs. 96.14 lakh
LIC or other insurance: Rs. 11.74 lakh
Immovable
Agricultural Land: Rs.39.62 lakh
Non-Agricultural Land: Rs. 19.40 lakh
Commercial Buildings: Rs. 84.87 lakh
Residential Buildings: Rs. 3.83 crore
Net Worth
According to the documents submitted by Basavaraj Bommai, his net worth is Rs. 4 crore as of 2018. [5]MyNeta
Facts/Trivia
Basavaraj Bommai assumed office on 28 July 2021, and he held his first meeting with his cabinet in which he announced scholarships for children of farmers and the underprivileged. He also proposed the plan to increase the pension of widows, senior citizens, and the physically challenged.
Basavaraj Bommai follows the religious beliefs of the Lingayat community. Yediyurappa appointed him as the Chief Minister of Karnataka to maintain their hold over the thirteen per cent population of the state that followed Lingayat. Since 1956, Karnataka has seen 23 Chief Ministers of the state out of which fourteen belonged to the Lingayat community.
Basavaraj Bommai's father, S. R. Bommai, was the Human Resource Development Minister of the United Front government. He was appointed in the year 1996 and remained in the position till 1998. He also took part in the Quit India Movement of 1942. S. R. Bommai worked with leaders like Ramakrishna Hegde, J. H. Patel, and H. D. Deve Gowda to form the Janata Dal Party, and he also played a huge role in forming the first government in Karnataka in 1983.
After his selection as the Chief Minister of Karnataka, several BJP leaders came forward to support the decision and praised Basavaraj, saying that he was a calm and composed person, and he would thoroughly understand and examine a situation before taking a final decision.
While serving as the Minister for Water Resources, Basavaraj Bommai witnessed the election of three Chief Ministers in the Karnataka Government. Reportedly, Bommai was said to be close to the former Chief Minister of Karnataka B. S. Yediyurappa.
Basavaraj Bommai is an avid animal lover, and he had a pet labrador dog named Sunny. After his appointment as the CM of Karnataka, an old video of his family mourning the loss of their dog resurfaced on the internet in July 2021.
The news of Basavaraj becoming the Chief Minister of Karnataka spread like wildfire throughout the state, and his family was thrilled to get the news. In an interview, his wife spoke to the media and said-


As a chief minister's wife I would ask him to do work that benefits all. We feel that the hard work of Basavaraj has paid off. We feel that he will do good work as he had done during the Covid time."